It all begins with the brief:
Embarking on your first interior design project can be a little daunting, especially when it's for a client rather than family or friends. It all begins with the brief – how to give you clients what they want, make the space work and make the results jaw-droppingly amazing! This tutorial from NDA tutor and professional interior designer Stephen Matthewman-Knowles gives you the basics – from analysing the brief, to room planning considering the traffic flow and practicalities:
Let's get cracking!
Prior Planning Prevents.......
The room planning and design 'process' often gets left behind in favour of the more appealing elements of interior design. Choosing your concept, colour scheme, furniture and fabrics can only come after the interior design process has been thoughtfully considered.
Any successful interior design project comes from knowing exactly what your clients want and it's down to the interior designer to balance the requirements of the brief with the practicalities of the space. This is where the interior design process in critical to your success as an interior designer. You'll never get it right the first time – the room planning process can often take as long as everything else. Making sure you've considered the flow of how your clients will live in the and move around the space, the size and position of furniture, entry ways and electrics. Once you've got the interior design 'process' down, everything else will come easily!
If you lack confidence with sketching, or simply prefer more modern methods, there are lots of tools out there to assist with room planning. This blog has 5 free digital tools available online.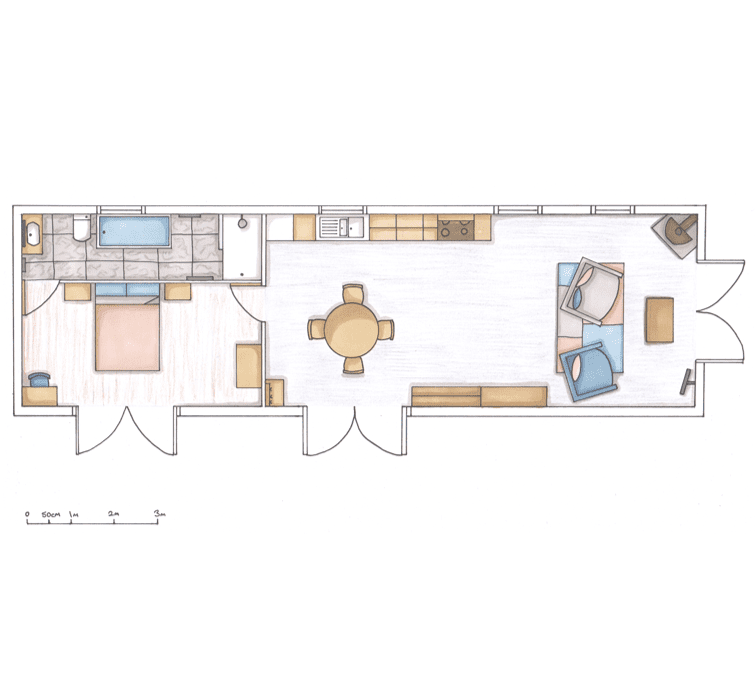 Interior Design is about living. It's about using space wisely, about using materials creatively. Becoming an interior designer isn't just about colour and putting together the right pieces of furniture. It's a technical job which requires careful consideration.
Many National Design Academy students are surprised by the depth of technical knowledge that they learn on our studio and online Interior Design courses. From room planning to technical drawing and elevation renders, you'll know everything you need to know to embark on a career as a professional interior designer.
Our team of tutors are all professional interior designers in their own right. Find out more about their experience and qualifications here.
If you'd like to fast track your interior design qualification, you can complete our Interior Design Diploma in as little as 12 weeks. Find out more about our in-studio interior design course here.
If you can't make it to our Nottingham studio, or are limited on the time you can dedicate each week, our Professional Interior Design course can also be studied 100% online. You can take up to 12 months to complete your course but still get access to our amazing tutors and resources via our Virtual Learning Studio.
Sign Up for More Tutorials
Sign up to our newsletter to receive free interior design tutorials to your inbox! Covering skills, topics and trends you'll also find the videos over on our You Tube channel.