BA (HONS) INTERIOR DESIGN TOP-UP
The BA (Hons) Top-Up Degree in Interior Design consists of the final 3 modules of the BA (Hons) Interior Design Degree. It is the perfect progression route for students who have completed a Foundation Degree (FdA) in Interior Design, either with NDA or from a different university or college.
Direct Entry students are always welcome. After one further year of study FdA graduates can top-up their degree to a full Bachelor's Degree with Honours. They can continue to study flexibly online, alongside their career or family and even choose their own start date.
You can enrol at anytime – choose your own start date! No Terms or Semesters – study when convenient for you
Students should hold ONE of the following to top-up to a full BA (Hons) degree:
Foundation Degree in Interior Design, or equivalent design subject
BTEC, HND or international two year design based degree or equivalent
Age 21+ extensive portfolio of Interior Design experience
The courses are taught in English, so international students will require a good standard of written English to study for a Degree. IELTS average 6.5 or TOEFL score of 550 is usually required, however all applicants are considered on an individual basis.
If you do not have the required qualifications to study a degree you can study an NDA Diploma either online or in-studio, for a place on a degree afterwards. Please request a Diploma Prospectus for more information about NDA Diploma courses.
If you are unsure about entry requirements, please contact us at admissions@nda.ac.uk.
12 months – flexible study
You will not have to take an exam! Your tutor will assess your assignments as you submit them throughout the course and your portfolio is moderated by a De Montfort University Leicester (DMU) External Examiner.
Each Module is self-contained, and has its own assessment, it has distinctive educational objectives and clearly defined content.
Accreditation
Your degree certificate will be issued by the University and is identical to those of students who study on-campus.
All successful NDA degree students can join us for a wonderful graduation ceremony as part of the De Montfort University Leicester (DMU). This is always a wonderful day and it is the perfect way to celebrate with friends and family, whilst also offering you a chance to reflect on all that you have achieved.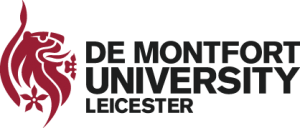 BA (Hons) Interior Design Top-Up awarded by our academic partner, De Montfort University Leicester (DMU).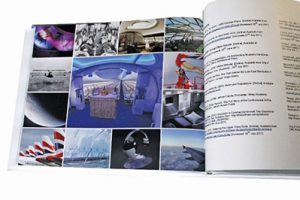 It is at this stage of the course that you will truly get to choose the direction of the work you produce, starting with the research of a topic close to your heart. If there is an area of design that you are passionate about, then this is an exciting opportunity to incorporate this into your degree. Within this module you will write a dissertation, with the support and guidance of your tutor, who by now will have a great understanding of you and how you study. This dissertation will then feed into your final module; the independent study.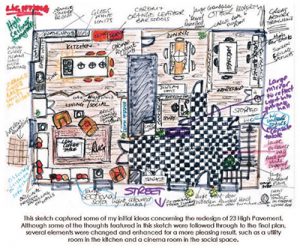 Building on the topic you have developed in the Research Study module, with the support of your tutor, you will be given double the amount of time of the previous modules, to focus on your chosen design based project. This will be the culmination of three years of hard work and will bring together all the skills you have learnt along the way. This module will provide you with visuals, presentation boards, development sketches and technical drawings to add to your portfolio.