In Studio Interior Design Course Dubai
IF YOU LOVE INTERIOR DESIGN, STYLING SPACES, FOLLOWING TRENDS AND TRANSFORMING HOMES… OR YOU DREAM OF STARTING AN INTERIOR DESIGN CAREER OR OWNING YOUR OWN BUSINESS; OUR LIVE 'IN STUDIO' INTERIOR DESIGN COURSE IN DUBAI IS THE PERFECT PLACE TO START.
Celebrating 30 Years in Education, the National Design Academy (NDA) has pioneered fully accredited online interior design qualifications from Diploma, BA (Hons) to Master's Degree level.
Adding to our online study portfolio, live 'In-Studio' interior design courses have been launched in our Dubai Studios allowing those have more time a more hands-on and collaborative approach to learning. Working with a client brief, you will work on an array of skills to take you from client concept stage, through to design development and final proposal stage for a residential project.
With these skills, you will be able to enter into the interior design industry with the practical knowledge required to work with potential clients. You'll also learn how to establish industry contacts, where to source materials, samples, furniture, lighting and start to build a design community with your peers.
Whilst receiving hands-on advice directly from our highly experienced NDA Tutors, the In-studio course brings together a fantastic mix of students, helping to create an exciting, friendly and dynamic class and the chance to share ideas with fellow up and coming designers.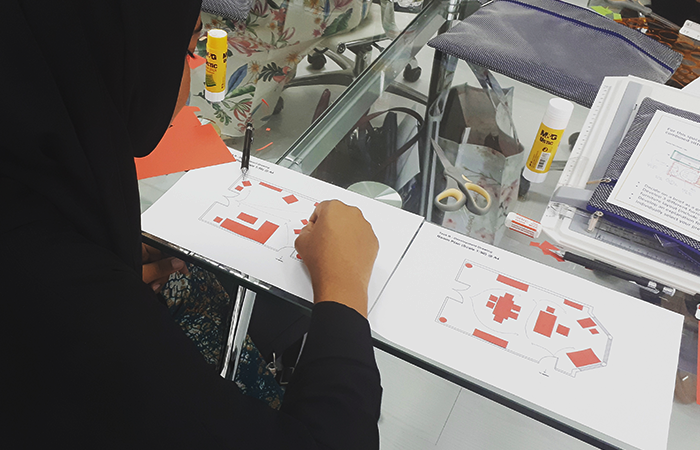 The course consists of one full-time week in-studio followed by six weeks home study (around 40 hours) then another week in-studio; meaning students can complete their diplomas in only eight weeks.
Dubai Studio Week highlights from NDA Foundation on Vimeo.
We are passionate about delivering high-quality courses to our students, which is why we cap the number of students who can attend each course. We believe that students learn better and faster in smaller groups, so we limit our in-studio course to 16 students.
The NDA takes accreditation very seriously. All our courses are accredited by Aim Awards and De Monfort University Leicester (DMU). These qualifications are globally recognised throughout the world including the UAE and MENA region (equivalent to a British A-level).
Our KHDA permit number is 62117 delivered through 'The Progression Agency'. Please check before doing any course if the education provider has a KHDA permit number.
Studying with the NDA in Dubai has really opened my eyes to the exciting world of interior design. The course content is structured and in-depth with hands-on practical experience applied on a continuous basis. The NDA is also extremely lucky to have one of the best tutors in the Dubai studio which has made my entire learning experience that much more fun and enjoyable.

Student Lorraine Jamison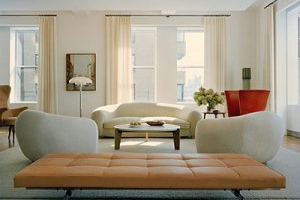 Unit 1 - Interior Design in Context
This unit defines the term 'Interior Design' and the fundamental principles adopted by Professional Interior Designers today. What you learn in this unit will provide an essential foundation that will underpin your future designs. This unit also includes:-
> The 7 design elements of good design
> Professional presentation boards
> How to write a short design report
> The history of interior design
> Identifying key designs from a historical period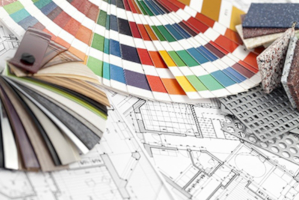 Unit 2 - Design Inspiration & Designers Role
This unit focuses on the role of the Interior Designer today and teaches you how to work with clients and the stages of developing design concepts. This unit also includes:
> Understanding a design brief
> Developing a concept
> Communicate your concepts through professional presentation boards
> Keeping up with trends in interior design
> The role and function of the interior designer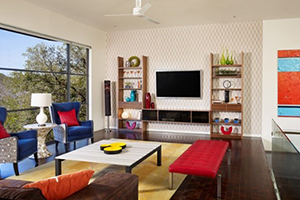 Unit 3 - Colour for Interior Design
This unit will spark your creativity by giving you the opportunity to play with colour. You'll explore practical colour theory to enable you to design both historical and contemporary colour schemes. This unit also includes.
> Create your own Colour wheel
> Understanding Primary, Secondary and Tertiary colours
> Exploring Tints, Tones and Shades
> Presentation boards for historical and contemporary colour schemes
> The psychological importance of colour in an interior space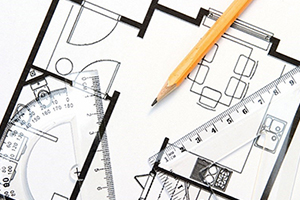 Unit 4 - Drawing Plans & Elevations
In this unit you will learn the key skills essential to any interior designer; how to draw plans and elevations. This can be achieved one step at a time and will provide you with all the skills you need to communicate your interior design schemes. This unit also includes:
> How to draw using scale
> Producing a floor plan
> Producing a wall elevation drawing
> Using industry recognised drawing conventions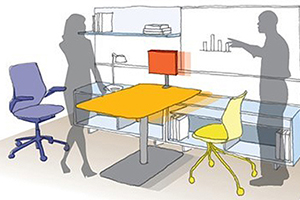 This unit shows you how to plan the space for a room design. After a few initial sketches you will produce a furniture plan for a room to meet a client brief.
This unit also includes:
> Determining the function of a room
> How to use development sketches - even if you can't draw!
> Producing room furniture layouts
> Traffic flow for interior design
> Producing a furniture plan to meet a client brief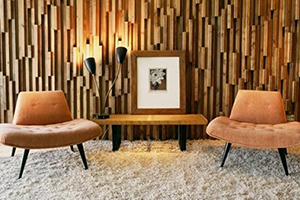 Unit 6 - Wall & Floor Finishes
This unit covers the wide and exciting range of wall and floor finishes now available to create beautiful interiors. Understand their properties and design a scheme to incorporate these finishes. This unit also includes:
> Recognising the properties of Wall & Floor finishes
> Designing a scheme to incorporate these finishes
> Creating a presentation board and specifying appropriate samples
> Explaining the use of responsible products within your scheme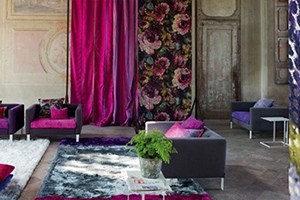 Unit 7 - Soft Furnishings
Soft Furnishings add the final touches to many interior design schemes. In this unit you will learn how to design soft furnishings schemes to complement your designs. This unit also includes:
> Choosing suitable fabrics & linings for soft furnishings schemes
> Calculating fabric quantities
> Correct methods for fitting curtains
> Designing a soft furnishings scheme for a client brief
> Creating a rendered visual of your chosen design
Unit 8 - Furniture Styles & Accessories
This unit will show you how to understand and source the limitless range of furniture and accessories available to the interior designer. Also, how to design a piece of bespoke furniture to meet a design brief. This unit also includes:
> Understanding different furniture styles, historical & contemporary
> Choosing & sourcing furniture
> Designing bespoke furniture to meet a design brief
> Understanding & dealing with suppliers
> Creating an accessories board to meet the client brief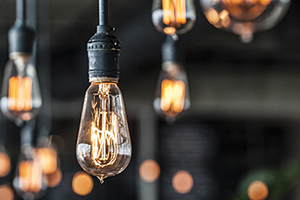 Unit 9 - Creative Lighting
This unit will show you how to understand the huge range of lighting products and the manufacturers who produce them. How to choose lighting for your schemes and dealing with suppliers. This unit also includes:
> Understanding different lighting products & manufacturers
> Task, ambient and decorative lighting
> Lighting levels for room designs
> Cool and warm lighting
> Creating a lighting scheme for a furniture layout
> Applying symbols appropriate to industry lighting plans
> Developing a lighting plan to meet a client brief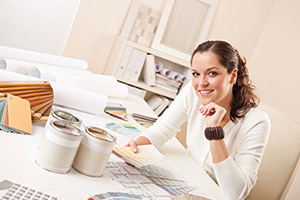 Unit 10 - Professional Practice
This unit contains everything you need to know to help you set up your own interior design business. It also helps you identify other career opportunities within Interior Design, such as working within an established design practice or studying for a degree. This unit also includes:
> How to set up an interior design business
> How to charge for your design service
> Different marketing methods
> Sourcing suppliers and using trade accounts
> Identifying other career opportunities within interior design
> Working within a design practice
> Studying for a degree
OUR NEXT IN-STUDIO PROFESSIONAL INTERIOR DESIGN DIPLOMA COURSE WILL RUN FROM OUR DUBAI STUDIOS IN KNOWLEDGE VILLAGE ON THE DATES BELOW. YOU DON'T NEED ANY PREVIOUS QUALIFICATIONS – JUST ENTHUSIASM FOR DESIGN!
WEEKDAY COURSES
Week 1: 27th - 31st October 2019 (9 am to 4:30 pm) in Dubai Studios
Weeks 2 – 6: Work on design projects at home
Week 7: 8th - 12th December 2019 (9 am to 4:30 pm) in Dubai Studios
Tuition Fee: $2,950
Fully accredited and globally recognised Interior Design Diploma
Equivalent to a British 'A-level'
8 week course
Highly experienced NDA tutors with real industry knowledge
AutoCAD and all materials included
KHDA permit number 62117
LIMITED PLACES!
If you are interested in joining this studio course or have any other questions, please call the NDA Dubai Office on +971 44 298 788 or email international@nda.ac.uk or fill the form below and we will get in touch with you!
DISCLAIMER
We are committed to keeping your e-mail address confidential. We do not sell, rent, or lease our subscription lists to third parties, and we will not provide your personal information to any third party individual, government agency, or company at any time. We will use your e-mail address solely to provide information about the National Design Academy courses and news.