IN-STUDIO COURSE
DIPLOMA IN PROFESSIONAL CURTAIN MAKING AND SOFT FURNISHINGS
As an alternative to flexible online study our live 'In-Studio' Course Diploma in Professional Curtain Making and Soft Furnishings allows you to join other like-minded design enthusiasts for a more hands-on and collaborative approach to learning. Working with a client brief, you will learn an array of skills taking you from concept stage, through design development and into final proposal stage for a residential project.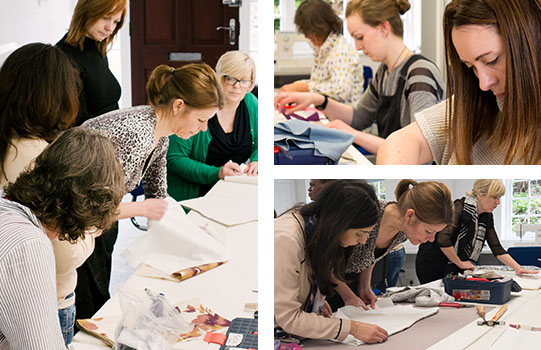 With these skills you will be able to tackle your own projects more professionally, start your own business or enter the curtains and soft furnishing industry with the practical knowledge required to work with your clients.
You'll also learn how to establish industry contacts, where to source material, samples, fittings and accessories, everything you need to start building a design community with your peers.
Whilst receiving hands-on advice directly from our highly experienced NDA Tutors, the In-studio course brings together a fantastic mix of students, helping to create an exciting, friendly and dynamic class with the chance to share ideas with fellow up and coming designers.
"
Looking at different aspects of the 'art' of curtain making in detail has really enabled me to improve the quality of my work. The feedback from an experienced Tutor has really helped me improve my practical technique. Finally, as time management has been a stretch, the course has shown me that I can work to multiple deadlines whilst balancing business and family life.
Student:
Caroline Wright
The In-Studio Diploma course consists of 1 week in-studio (Mon-Fri) followed by a five week home study project (around 40 hours.) Then a second week in-studio (Mon – Fri) followed by up to a further five weeks to complete projects ready for submission.
We are passionate about delivering high-quality courses to our students, and we believe that students learn faster in smaller groups, which is why we cap the number of students who can attend each course.
STUDIO COURSE AVAILABLE DATES
NOTTINGHAM, UK

| Studio 1st Week | Studio 2nd Week |
| --- | --- |
| 23rd - 27th September 2019 | 4th - 8th November 2019 |
| 10th - 14th February 2020 | 23rd - 27th March 2020 |
| 11th - 15th May 2020 | 22nd - 26th June 2020 |
UK Design Studio Address
National Design Academy
Rufford Hall,
Waterside Way, Trent Park
Nottingham
NG2 4DP
England
International (Dubai)
National Design Academy
(The Progression Agency Office)
Block 2b, First Floor F29
Knowledge Village, Dubai
United Arab Emirates
PO Box 333207