DIPLOMA IN PROFESSIONAL INTERIOR DESIGN
The Diploma in Professional Interior Design is a great introduction to interior design. This accredited course will provide you with a wide and detailed knowledge of the inspiring world of interiors.
This Diploma will provide you with the skills you need to design your own project or help family and friends with theirs, to start your own business or enter a new career and, it will even give you the confidence to move on to study a degree!
No qualifications are required to study this diploma course, so – if you already hold a Level 3 or A-Level equivalent qualification in an Art and Design based subject, you can enrol straight onto one of our degree courses.
Who should do the course?
Have you always loved Interior Design? Do you avidly read all the interior design magazines? Are you always changing your colour schemes and moving furniture? Do family & friends say you should start your own interior design business?
If your answer is yes… then the National Design Academy has just the course for you!
The NDA Accredited Diploma in Professional Interior Design will help you to start that business you have always promised yourself, and even gain you a place on one of our degree courses if you decide you would like to study further. You don't need any previous qualifications – just enthusiasm for design.
Study online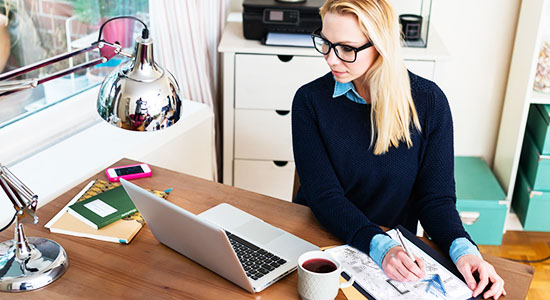 Course Duration – 6 – 12 months (flexible)
Our online Diploma course is designed to be flexible to your needs allowing you to study around your family, work or any other lifestyle commitments you may have. Choose your own start date and study from anywhere around the world as long as you have an internet connection. The online diploma is a 12-month course however, you can complete earlier if you have more time to study. All assignments consist of design projects which are assessed by your Personal Tutor – there are no examinations in this course.
Study In-Studio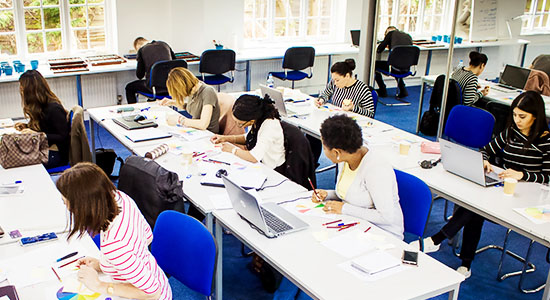 Course Duration – 12 weeks (2 weeks In-Studio)
If you prefer a classroom-based study environment then our In-Studio blended learning course could be for you. It is particularly useful if you are looking to fast-track your qualification, either for a new career or for progression to degree level study. You spend your first week in-studio followed by 5 weeks home study, then another full week in-studio with up to an additional 5 weeks to complete any project work for submission. Throughout the home study, you have full online access to our resources and your Personal Tutor.
Accreditation
As our Diplomas are accredited by AIM Awards, you will receive the AIM Awards Level 3 Diploma in Professional Interior Design Skills. It is really important that your Interior Design Diploma is fully accredited if you hope to start your own business, a new career or to progress onto a Degree. Accreditation is your only guarantee that our quality and teaching standards are inspected and regulated. NDA offers the ONLY online Professional Interior Design Diploma course accredited in the UK.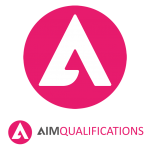 To be fully accredited a Diploma course must have an OFQUAL number, so you can check it on the OFQUAL register. If the course does not have this number – then it CANNOT be accredited and will not count. Your studies should always be rewarded with a qualification that will help you to progress and achieve your future goals.
You can find OFQUAL details here: 600/5622/8.
Progression
Further Education
Once you have successfully completed the NDA Diploma in Professional Interior Design, students completing our diploma will be offered a guaranteed place onto our degree with a generous Progression Scholarship. Degrees are awarded by our academic partner, De Montfort University Leicester (DMU), and they are studied online in the same way as your Diploma.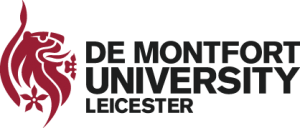 Career
The Diploma in Professional Interior Design is designed to help you start your own Interior Design business. Like the Diploma course itself, you can work flexibly for your clients around your family commitments and gradually expand your business.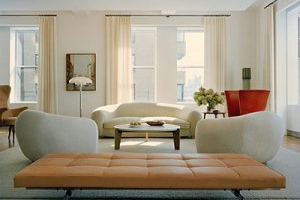 Unit 1 - Interior Design in Context
This unit defines the term 'Interior Design' and the fundamental principles adopted by Professional Interior Designers today. What you learn in this unit will provide an essential foundation that will underpin your future designs. This unit also includes:-
> The 7 design elements of good design
> Professional presentation boards
> How to write a short design report
> The history of interior design
> Identifying key designs from a historical period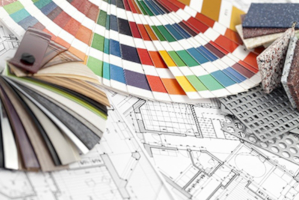 Unit 2 - Design Inspiration & Designers Role
This unit focuses on the role of the Interior Designer today and teaches you how to work with clients and the stages of developing design concepts. This unit also includes:
> Understanding a design brief
> Developing a concept
> Communicate your concepts through professional presentation boards
> Keeping up with trends in interior design
> The role and function of the interior designer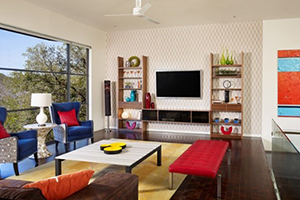 Unit 3 - Colour for Interior Design
This unit will spark your creativity by giving you the opportunity to play with colour. You'll explore practical colour theory to enable you to design both historical and contemporary colour schemes. This unit also includes.
> Create your own Colour wheel
> Understanding Primary, Secondary and Tertiary colours
> Exploring Tints, Tones and Shades
> Presentation boards for historical and contemporary colour schemes
> The psychological importance of colour in an interior space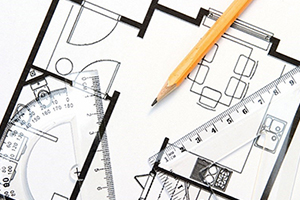 Unit 4 - Drawing Plans & Elevations
In this unit you will learn the key skills essential to any interior designer; how to draw plans and elevations. This can be achieved one step at a time and will provide you with all the skills you need to communicate your interior design schemes. This unit also includes:
> How to draw using scale
> Producing a floor plan
> Producing a wall elevation drawing
> Using industry recognised drawing conventions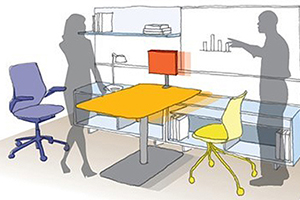 This unit shows you how to plan the space for a room design. After a few initial sketches you will produce a furniture plan for a room to meet a client brief.
This unit also includes:
> Determining the function of a room
> How to use development sketches - even if you can't draw!
> Producing room furniture layouts
> Traffic flow for interior design
> Producing a furniture plan to meet a client brief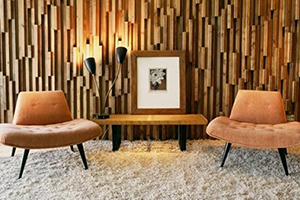 Unit 6 - Wall & Floor Finishes
This unit covers the wide and exciting range of wall and floor finishes now available to create beautiful interiors. Understand their properties and design a scheme to incorporate these finishes. This unit also includes:
> Recognising the properties of Wall & Floor finishes
> Designing a scheme to incorporate these finishes
> Creating a presentation board and specifying appropriate samples
> Explaining the use of responsible products within your scheme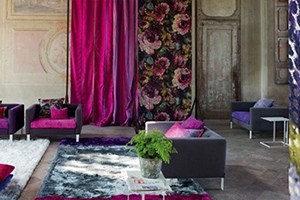 Unit 7 - Soft Furnishings
Soft Furnishings add the final touches to many interior design schemes. In this unit you will learn how to design soft furnishings schemes to complement your designs. This unit also includes:
> Choosing suitable fabrics & linings for soft furnishings schemes
> Calculating fabric quantities
> Correct methods for fitting curtains
> Designing a soft furnishings scheme for a client brief
> Creating a rendered visual of your chosen design
Unit 8 - Furniture Styles & Accessories
This unit will show you how to understand and source the limitless range of furniture and accessories available to the interior designer. Also, how to design a piece of bespoke furniture to meet a design brief. This unit also includes:
> Understanding different furniture styles, historical & contemporary
> Choosing & sourcing furniture
> Designing bespoke furniture to meet a design brief
> Understanding & dealing with suppliers
> Creating an accessories board to meet the client brief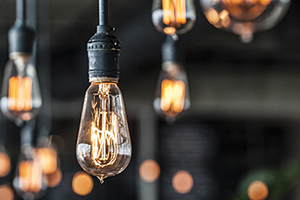 Unit 9 - Creative Lighting
This unit will show you how to understand the huge range of lighting products and the manufacturers who produce them. How to choose lighting for your schemes and dealing with suppliers. This unit also includes:
> Understanding different lighting products & manufacturers
> Task, ambient and decorative lighting
> Lighting levels for room designs
> Cool and warm lighting
> Creating a lighting scheme for a furniture layout
> Applying symbols appropriate to industry lighting plans
> Developing a lighting plan to meet a client brief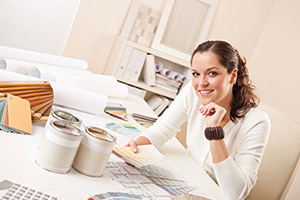 Unit 10 - Professional Practice
This unit contains everything you need to know to help you set up your own interior design business. It also helps you identify other career opportunities within Interior Design, such as working within an established design practice or studying for a degree. This unit also includes:
> How to set up an interior design business
> How to charge for your design service
> Different marketing methods
> Sourcing suppliers and using trade accounts
> Identifying other career opportunities within interior design
> Working within a design practice
> Studying for a degree