DIPLOMA IN PROFESSIONAL GARDEN DESIGN
The Diploma in Professional Garden Design is the ideal course if you would like to use professional techniques to design your own garden, help your friends and family with theirs or if you would like to set up your own Garden Design business.
If you already have a gardening or Garden Design business but don't have formal qualifications, then you can study this Diploma course flexibly to fit around your existing clients.
No qualifications are required to study this diploma course, so – if you already hold a Level 3 or A-Level equivalent qualification in an Art and Design based subject, you can enrol straight onto one of our degree courses.
Who should do the course?
Are you someone who loves natural surroundings, combining trees, plants and the colour of flowers with everyday life? Do you dream of designing beautiful landscapes? Have you got the creative talent but lack the professional training? Would you like to start a career in designing gardens but don't have the necessary qualification?
If the answer is yes… then this is the course you are looking for!
The NDA Accredited Diploma in Professional Garden Design will put you on the path to starting the business you have always wanted. It will also give you the opportunity to study one of our degree courses if you decide you want to push your skills further.
Study online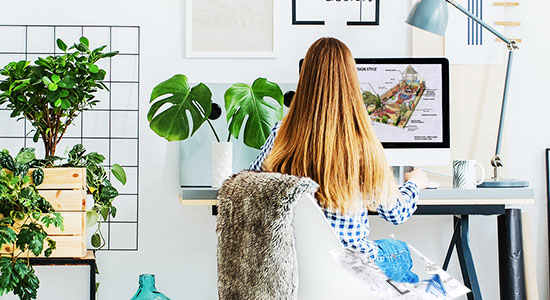 Course Duration – 6 – 12 months (flexible)
Our online Diploma course is designed to be flexible to your needs allowing you to study around your family, work or any other lifestyle commitments you may have. Choose your own start date and study from anywhere around the world as long as you have an internet connection. The online diploma is a 12-month course however, you can complete earlier if you have more time to study. All assignments consist of design projects which are assessed by your Personal Tutor – there are no examinations in this course.
Study In-Studio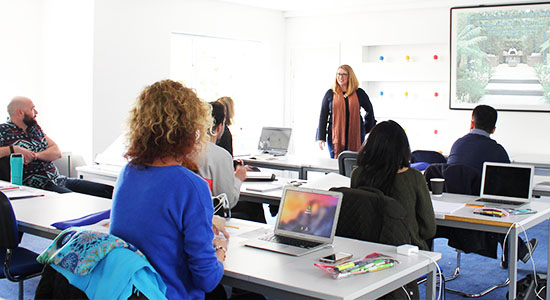 Course Duration – 12 weeks (2 weeks In-Studio)
If you prefer a classroom-based study environment then our In-Studio blended learning course could be for you. It is particularly useful if you are looking to fast-track your qualification, either for a new career or for progression to degree level study. You spend your first week in-studio followed by 5 weeks home study, then another full week in-studio with up to an additional 5 weeks to complete any project work for submission. Throughout the home study, you have full online access to our resources and your Personal Tutor.
Accreditation
As our Diplomas are accredited by AIM Awards, you will receive the AIM Awards Level 3 Diploma in Professional Garden Design Skills. It is really important that your Garden Design Diploma is fully accredited if you hope to start your own business, a new career or to progress onto a Degree. Accreditation is your only guarantee that our quality and teaching standards are inspected and regulated. NDA offers the ONLY online Professional Garden Design Diploma course accredited in the UK.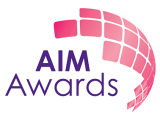 To be fully accredited a Diploma course must have an OFQUAL number, so you can check it on the OFQUAL register. If the course does not have this number – then it CANNOT be accredited and will not count. Your studies should always be rewarded with a qualification that will help you to progress and achieve your future goals.
You can find OFQUAL details here: 600/5882/1.
Progression
Further Education
Once you have successfully completed the NDA Diploma in Professional Diploma in Garden Design, students completing our diploma will be offered a guaranteed place onto our degree with a generous Progression Scholarship. Degrees are awarded by our academic partner, De Montfort University Leicester (DMU), and they are studied online in the same way as your Diploma.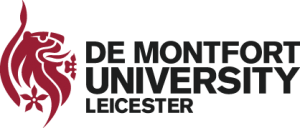 Career
The Diploma in Professional Garden Design is designed to help you start your own Garden Design business. The Diploma contains professional advice on how to set up a business, marketing tips, quoting and charging for your services and all the equipment you will need. Like the Diploma course itself, you can work flexibly for your clients around your family commitments and gradually expand your business. You could also study the Professional Interior Design Diploma to offer additional design services to your clients.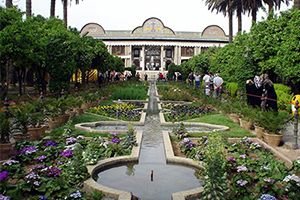 UNIT 1. THE BACKGROUND TO GARDEN DESIGN
This unit presents an overview of garden design through its' history, styles and most influential designers. The unit explores the concept of a designed garden, from first civilisations through to its development over historical periods and between world regions. The unit concludes with a study of the most influential designers of contemporary garden design and the many garden design styles that are used today.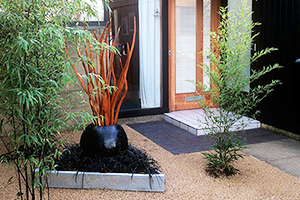 UNIT 2. UNDERSTANDING THE ROLE OF A GARDEN DESIGNER
This unit introduces the processes and realities which make up a garden design project. It details the sequence of running a project, developing the client brief, exploring the potential of individual sites and working with contractors and specialist consultants. The unit explores the importance of a good design brief and how it is used to guide a project towards completion.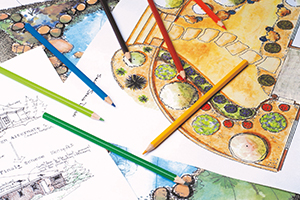 UNIT 3. PRESENTATION TECHNIQUES
Garden Designers must understand, analyse and communicate to clients, the information gathered from the site survey. This unit looks at the thought processes and technical skills required for developing a successful garden design and the communication of the design concept to the client.
An important part of such communication is drawing, and this unit explores the background and purpose of drawing techniques explaining the advantages and disadvantages of each type, and indicating their most suitable applications and techniques.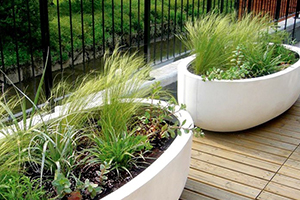 UNIT 4. UNDERSTANDING THE COMPONENTS OF GARDEN DESIGN
This unit discusses how the components of garden design; the plants, boundaries, structures, ornaments, land forms and surfaces can be selected, arranged and combined to make gardens which are greater than the sum of their parts. The unit shows how all components should be considered in relation to each other, contributing to the whole garden design vision, including the direction of movement through the space and the control of emotional and intellectual experiences.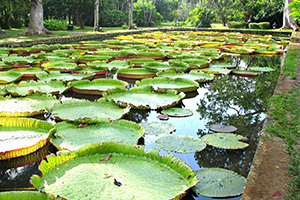 UNIT 5. UNDERSTANDING PLANTS
Planting is a key component which provides much of the character for the majority of gardens. This unit, the first of two specialist plant units, looks at the physical structure and features of different plant types relative to their garden environment. By looking at light, water, air, nutrients and soil conditions you ensure that each plant will thrive, reproduce and bring maximum impact to the garden.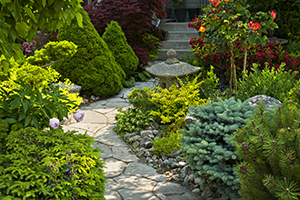 UNIT 6. USING HARD LANDSCAPING MATERIALS
This unit looks at the functional and visual qualities of materials which can be used in the garden, and their specific applications. The many external factors which determine the appropriate selection of materials, such as availability, cost, sustainability and realistic options for construction relative to the budget will also be evaluated.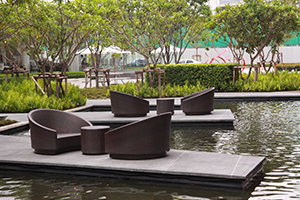 UNIT 7. SELECTING PLANT TYPES FOR GARDEN DESIGN
The second specialist planting unit expands upon the first, this time concentrating on the benefits that plants bring directly to a garden design through their visual qualities, placement and function. The unit looks at how to source, select and design with the unique qualities of plants. The unit also introduces a range of commonly used plants, identified by type, species, applications and use.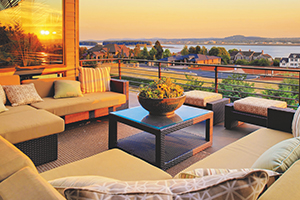 UNIT 8. SELECTING FURNITURE AND FEATURES
This unit discusses the furniture and features which bring added functionality to the garden space of your client. The unit considers the style, budget and positioning of these valuable elements of a design such as lighting technologies, water features and accessories. The commissioning of site specific elements such as gates, fire-pits and sculpture will also be discussed.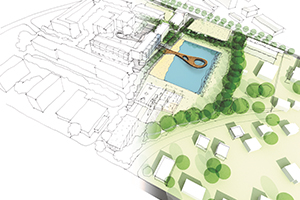 UNIT 9. PROFESSIONAL PRACTICE FOR GARDEN DESIGN
This Unit explores the various skills and approaches which are essential when practising as a garden designer such as marketing and sourcing projects, how to adopt a professional approach when charging for work produced and the sourcing of suppliers and contractors. The Unit also looks at potential sources of employment and routes for progression within the wider context of garden design.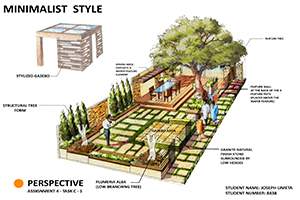 UNIT 10. PRODUCING A GARDEN DESIGN
This Unit brings together all the design elements of the course and shows how they can be woven together across the whole design spectrum to create an integrated, harmonious garden design. The Unit links all the stages of the design process, from fulfilling the brief to the generation of concepts and ideas leading to the final detailed drawings which landscape contractors can then use to implement the scheme.