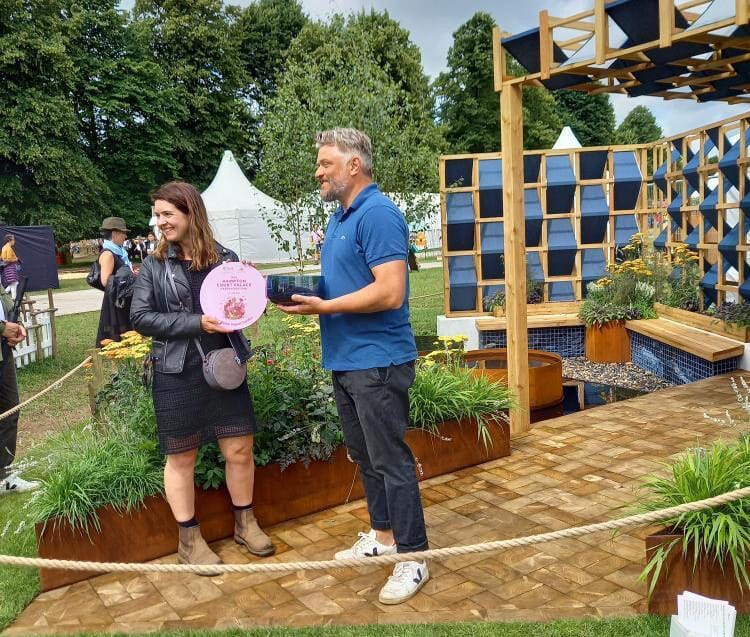 Baz Grainger was already highly successful in the fashion industry, working as Head of Apparel for Timberland, but something was nagging at him. After visiting the Chelsea Flower Show in 2000, Baz fell in love with the world of horticulture and garden design. It stayed in the back of his head for nearly 20 years until he was made redundant and he found himself helping friend and award-winning designer, Michelle Brandon to create a garden scheme at Hampton Court Garden Festival. This kick-started Baz's determination to turn his passion into a new career. Three year's on, and after studying on the NDA's Professional Garden Design Diploma, Baz is an award winning garden designer in his own right. Read Baz's success story.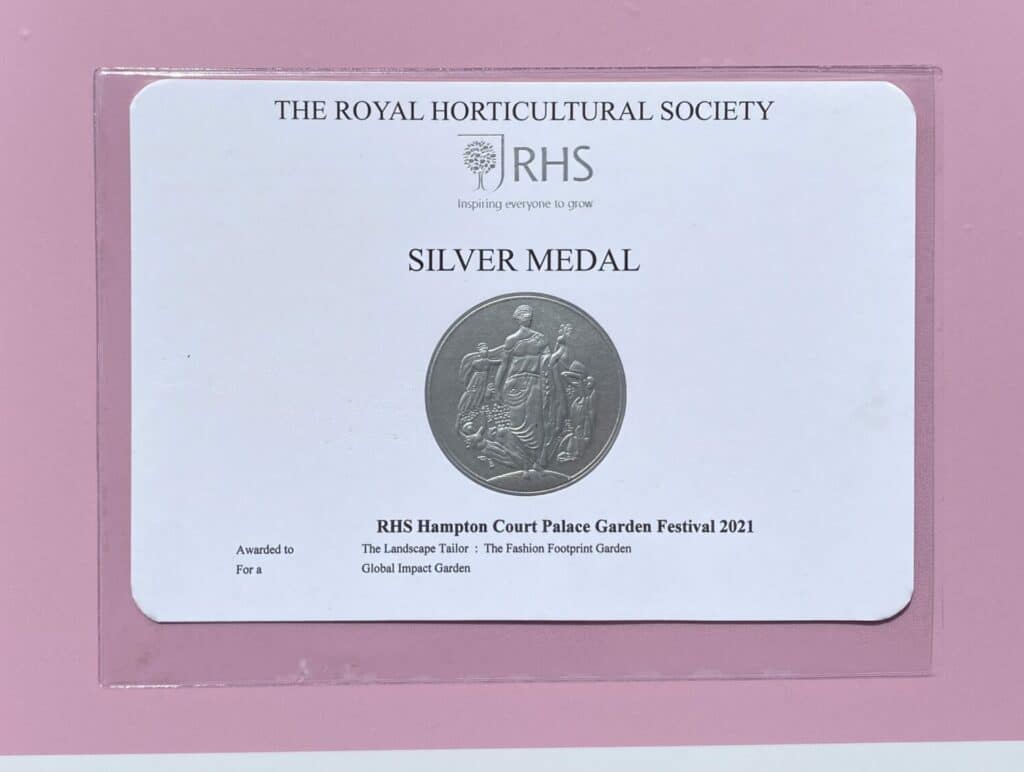 Tell us about your background before studying on the Garden Design course.
I graduated from the Royal College of Art with an MA in Menswear in 1998. I worked my way up to Head of Global Apparel for Timberland and moved to outdoor clothing brand Shakleton as Design Director in 2018. Despite success in my career, my love for garden design stayed in the back of my mind but always as a hope and passion outside of my day job. In 2017 I decided to study the NDA's Diploma in Professional Garden Design as a way to develop my hobby.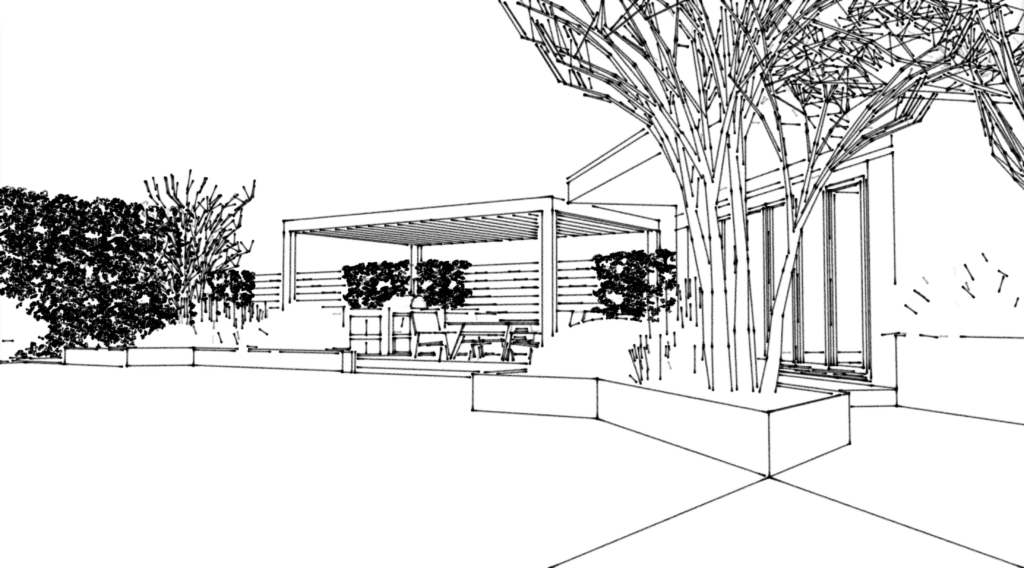 How did you end up moving from fashion into garden design?
After helping Michelle at the Hampton Court Show in 2019 I met so many wonderful people, including members of the RHS show team. I decided to submit an idea for the 2020 show based around the impact the fashion industry has on the planet – something I was incredibly passionate about. Unfortunately, the pandemic meant that all shows were cancelled the following year and I ended up taking a job as Head of Menswear at Fatface. And then the tide turned again – late in 2020, the RHS contacted me and asked whether I would be interested in creating the garden for the Hampton Court Show in 2021. This gave me the confidence I needed and the push to give my garden design career a go. I left Fatface and spent the first half of 2021 planning the garden and we finally got on site to start building in June 2021. The Fashion Footprint Garden won Silver overall and the Best Global Impact Garden.
Where did your original passion for outdoor spaces come from?
As I child my parents would take us on days out, a lot. We visited many of the great classical gardens in the UK. Chatsworth, Stourhead, Blenheim etc. I'm sure this subconsciously had an influence on me. My Father loved rockeries and I remember being enchanted by water and rocks from a young age. I always saw them as mini landscapes to be explored.
My father worked for a Norwegian company, and we became close friends with a family who lived there and the fairy tales of trolls, mountains and Fjords also resonated with this fascination of rocks, water and landscape.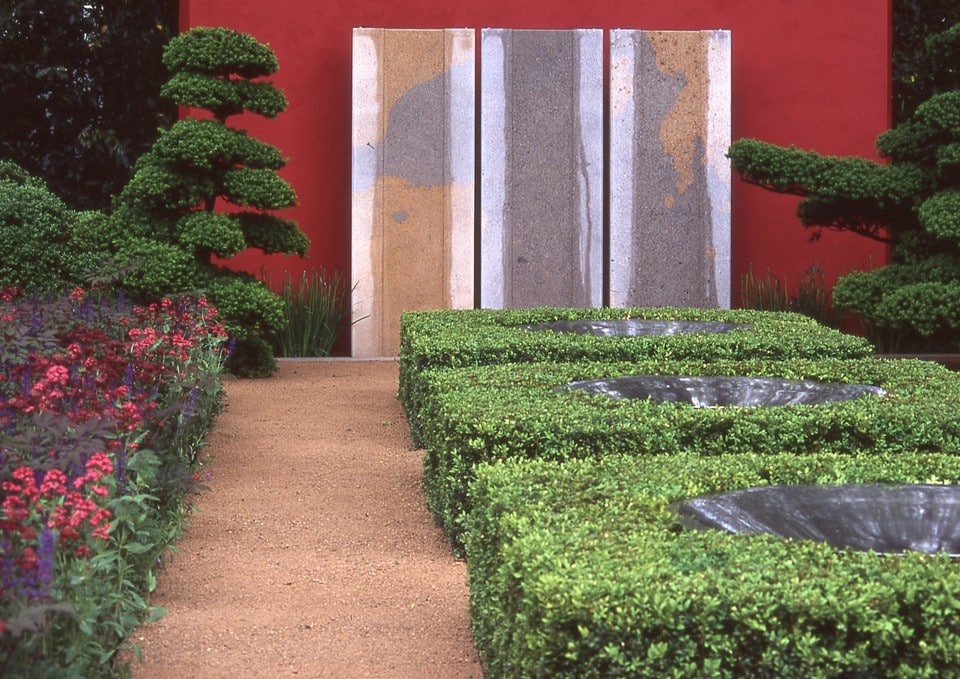 My real passion for garden design started in 2000 when I visited RHS Chelsea Flower Show for the first time. I remember the Arne Maynard and Piet Oudolf garden clearly. It won Best Show Garden and I was fascinated how the different elements all worked together to create this amazing contemporary space. I was really drawn to the plants, how amazing they looked, their colours, their forms but mostly how they were used to really create and define these amazing gardens. I was hooked. Piet Oudolf still has a big influence over how I see and use plants today.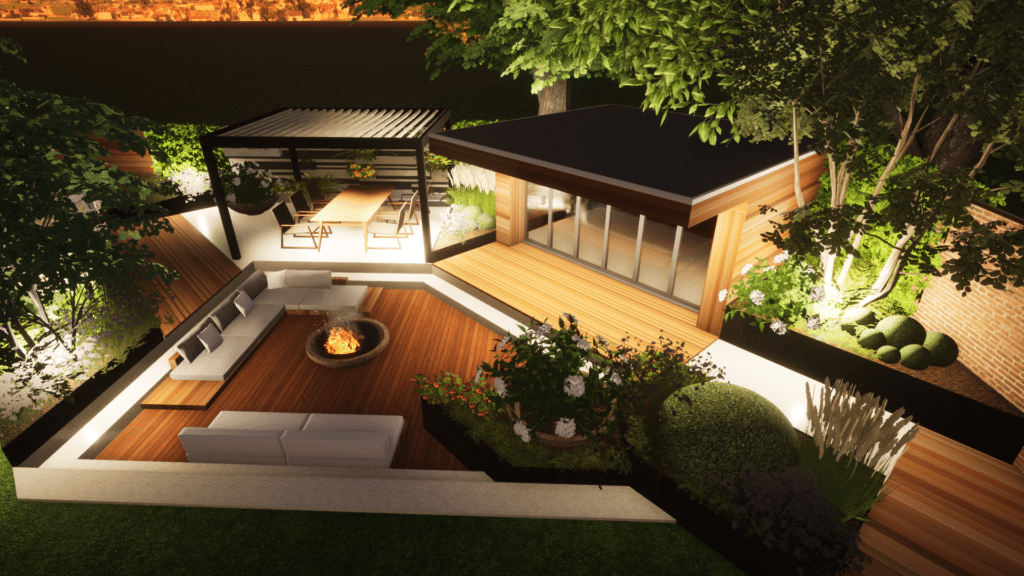 What excites you about garden design?
I love being able to transform spaces. I'm always drawn to making the manmade stand out in the natural environment or the natural standing out in the urban environment. Working with plants from an architectural stance, and then also from a colour perspective, it's a real joy.
Where do you draw your inspiration from?
The design process is incredibly transferable. Looking for trends and inspiration are just the same in garden design as they are in fashion and many other design disciplines. I love Richard Neutra, who really believed in bringing the outside landscape in. Frank Lloyd Wright too, who always started with the landscape and surroundings and the relationship to the buildings he designed.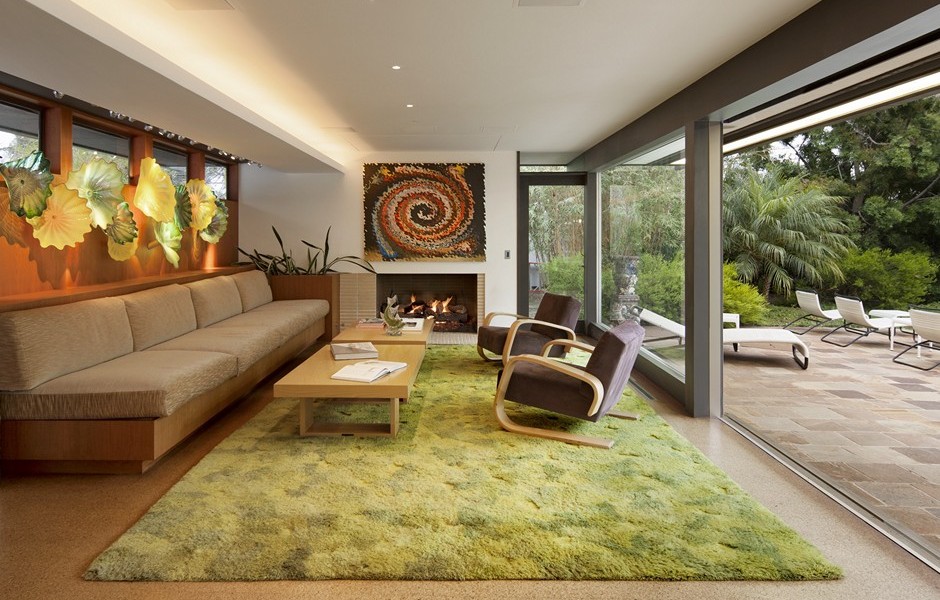 Your beautiful garden for the 2021 RHS Hampton Court Show highlighted the impact the fashion industry has on the environment. Tell us a bit more….
I had been involved in the sustainable side of the industry from 2004 when I worked for a wildlife conservation brand called Wildlifeworks. They owned an eco-sanctuary in Kenya where they were protecting endangered species, opening up ancient migratory routes through the Kenyan bush and employing and educating the local community on the power of keeping the animals alive. This led me to look at all aspects of the design and manufacturing process and how we sourced our raw materials, and what happened to our waste, what chemicals and dyes we used in printing and dying and how we shipped products around the world. Timberland were way ahead of the curve on sustainability, so I continued my journey into eco conscious clothing but on a big brand scale. After Timberland I worked for a luxury performance brand and implemented sustainable practices across all aspects of R&D and manufacturing as possible. The garden was the culmination of this journey, just in a different design discipline.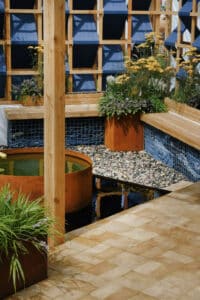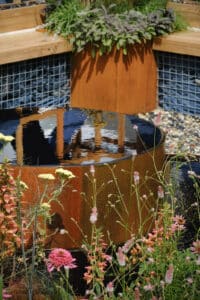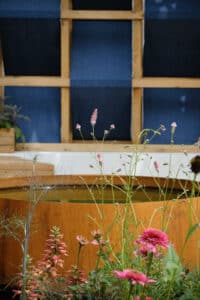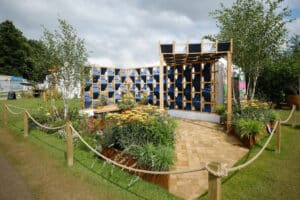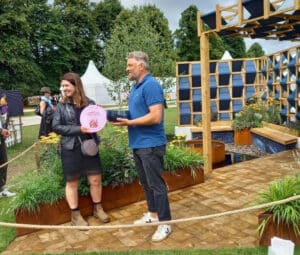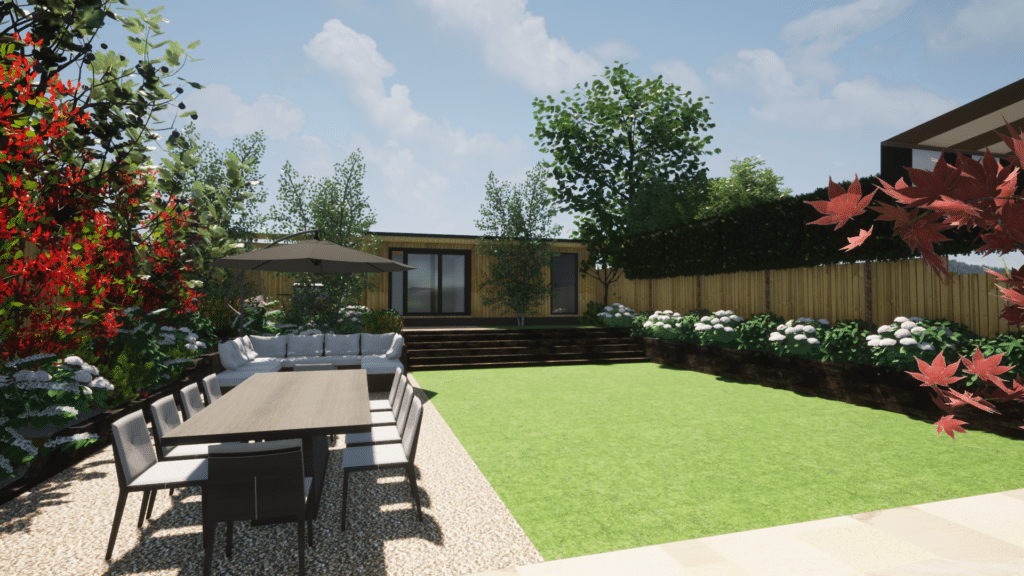 You've now started your own Garden Design business, the Landscape Tailor…
In our designs at the Landscape Tailor, we take our inspiration from the juxtaposition of the natural and the man-made. All of our hard landscaping materials are ethically sourced or recycled to minimize their footprint. We're now working on a number of projects across the south-east of England as well as building the Place2be garden, designed by Jamie Butterworth, for the Chelsea Flower Show in May.
It's going to be a busy year as I've also had my own second show garden excepted for RHS Hampton Court Garden Festival in July. Called The Moments of Clarity Garden, it's sponsored by Alzheimer's Research UK.
I am also part of a design collective exhibiting at the London Festival of Architecture. The garden is a pop up space for the urban environment allowing mental therapy and healing through sensory stimulation provided by colour scent and sound.
I Just wanted to say a massive thank you to all at the National Design Academy, as undertaking and completing the course gave me the confidence to change my passion from a hobby to a career.
For anyone considering doing the NDA's Professional Garden Design course – do it, you just don't know where it will take you down the line!
Many thanks to Baz for taking the time out of his busy schedule to answer our questions. 
Watch out for Baz's next project at this year's RHD Hampton Court Garden Festival or head over to his great website or Instagram feed to find out more.
Want to Learn More About Garden Design?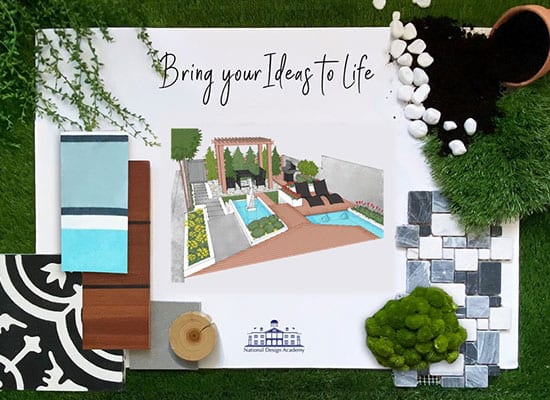 A great introduction to garden design. Learn skills to design projects for your garden, help friends and family with theirs, enter a design career, or set up your own business.
Online Fast-Track Diploma (via Zoom)
For students who want all the benefits of remote online learning, but are also looking for more structure and live interaction with tutors and peers, the 'Online Fast-Track' course offers an ideal mix.