If you rent or lease your home, it can be difficult to justify both the investment and time it takes to personalize your space.
You also have a security deposit to consider so chances are you'll be limited on what you can and can't do in your rented home. But you don't have to live with magnolia walls and vertical blinds forever!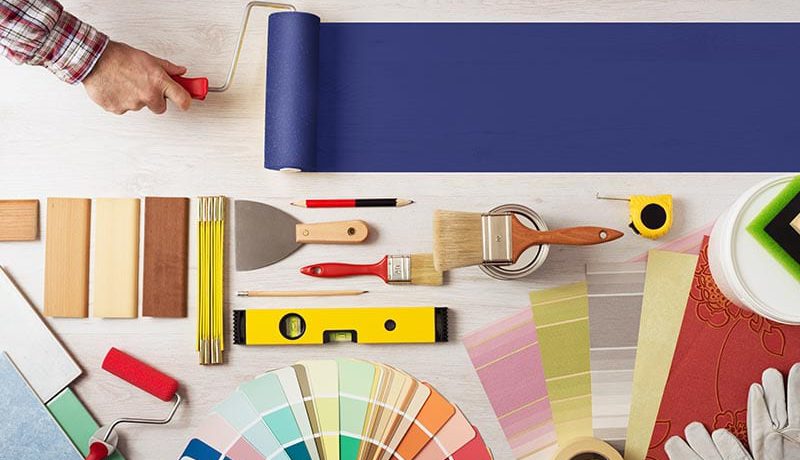 We've asked our team of tutors for their decorating ideas to help you turn your rented property into your dream home, without breaking the bank or your tenancy agreement!
For most millennials and many other age groups, renting a home is the only choice. But it's not just for economic considerations. Gone are the days when we'd all want to work for years to buy our own property, turn it lovingly into a home, then look forward to passing it on to the next generation.
Welcome to the 'serial renter' phenomenon. A lifestyle that offers all the flexibility needed by today's restless globe-trotting generation.
But flexible as it is, no one wants to live in a place that doesn't feel like it's theirs. And let's face it, rentals aren't always the most inspiring (or comfortable) of spaces.
Modern places tend to lack character and interesting features. Old places can have too much character or features that are out of sync with today's tastes.
So, if you're looking for some decorating ideas to help cheer up your rented flat or house, read on!
With a bit of investment and effort, and some clever design choices, we can help you transform any space from blah to beautiful.
Decorating Ideas to Make You & Your Landlord Smile 🙂
Landlords generally get a bad rep for being too strict and inflexible with tenants' requests for renovations. They may not be very design-savvy or keep up with the latest trends, but most (reasonable) landlords can spot a good idea when they see one.
Offering to modernise and improve their investment can only be a good thing right?  
Here's the trick: really think things through and do your research. Get to understand the long-term effects of the changes you're proposing; it is someone else's property after all! On top of that, be open to a bit of compromise.
Suggest changes that are in line with your aesthetics, but also mainstream enough to appeal to future tenants.
Remember that many landlords don't really know how to give their properties that 'wow' factor and will be very open to decorating ideas that don't break the bank.
Most will also look favourably on requests that will add value to their properties and make them more appealing. And many may even be open to splitting the redesign costs with you if the long-term benefits are obvious.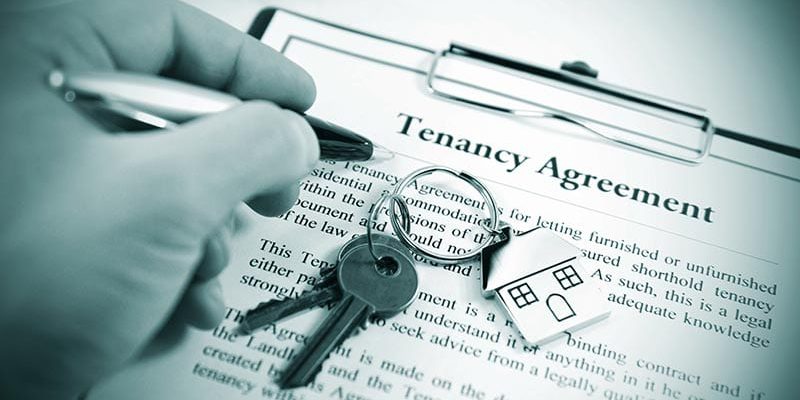 There's quite the element of trust required here too. No landlord wants to deal with the cost and hassle of correcting someone's badly chosen colour scheme at the end of a tenancy. Nor does anyone want to move into a property with someone else's personality stamped all over it so chances are, your deposit will go out the window if you get it wrong!
So, with a little common sense and hard work, these affordable interior design ideas can help you strike the right balance between personalization and neutrality to make everyone happy with the results.
10 Alternatives to Picking up a Paintbrush
It's tempting to take the easy route and simply repaint the walls of your rental property. And while that's definitely something you should consider, why not get more creative and think outside the box? There's a whole world of design possibilities that are so much more exciting.
These ten tried and tested decorating ideas from our interior design tutors are relatively simple and inexpensive to carry out but can offer a dramatic lift to the place you're renting… AND they'll easily get your landlord's seal of approval!
You can usually tell the age of a property by its kitchen or bathroom. Interior design trends used to be far more obvious in those areas – think retro brown and orange kitchen tiles or avocado coloured bathroom suites! Where nowadays we favour clean whites and polished metals. So, if you're not a fan of cooking in a space that was last fashionable in 1975, you'll probably want to put this high up on your priority list.
Kitchens play a key role in rental decisions when viewing a property. We all want a beautiful kitchen, and renting doesn't mean you can't have the kitchen you've always dreamed of. There are many simple decorating ideas if you want to upgrade a drab kitchen into the luxurious heart of the home and they don't have to cost a fortune. The first and most versatile of our easy decorating ideas: Vinyl wrapping.
You've heard of vinyl car wraps, well it's much easier to wrap something flat, than the complex curves of a car! You can transform an entire kitchen with vinyl wraps, from walls to splash backs, counter tops to cupboard doors. We've even seen fridges wrapped with family photos or tropical scenes. Yep, you can even have your vinyl printed in a design of your choice!
Kitchen vinyl wraps are a relatively inexpensive and easy way of giving a kitchen a new look, without having an expensive kitchen refit. You'll find many DIY videos by wannabe vinyl wrap experts on YouTube, but our advice is to work with a reputable company that uses the highest quality of vinyl which won't suffer from the heat and humidity found in a kitchen. In just a couple of hours your kitchen could look like a brand-new installation.
One of the biggest benefits of wrapping is that vinyl is easily removable. So once the lease has expired, you can return the property as you received it. That said – there's a good chance your landlord and the next occupant will love its updated look as much as you do!
Interior Design Tip:
At the moment, alternating the colour or finish in kitchens is very on-trend. So you could go with a dark blue or grey for the lower units and off-white for the overheads cabinets. Top this off with a contrasting marble-look countertop and brass handles, and you can instantly give your tired kitchen that designer look.
Most people focus on the walls when it comes to looking at quick and easy decorating ideas which will make maximum impact but what about flooring?
Sticking with our vinyl theme… When most people think of vinyl, they imagine the old-fashioned rolls of flooring their parents or grand parents had in their homes in the 70s and 80s. But vinyl has well and truly stepped into the 21st century. Vinyl 2.0 has a new look and a new edge.
Luxury Vinyl Tile – or LVT – can be a great revamp material for a rental property. It's a 3D printed technology offering varied designs and finishes that mimic natural materials. This flooring can really fool you, especially some of the wood finishes, which really do look like the real thing!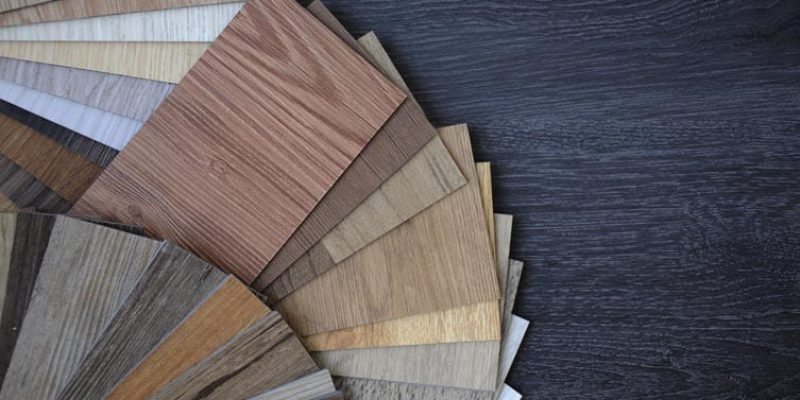 LVT can be laid over existing flooring without any glue, making it a great option for renters. When your lease expires, simply lift it up and move on to your next rental. And because it's thin, you won't have to alter your door height to allow for plank top fit, as you often would with other floating floors like wood or laminate.
Another great thing about LVT is that it has high-performance characteristics, with manufacturers providing up to 20 years warranty on high-grade vinyl. It's also moisture, heat and dent-resistant. And those living in apartments will be pleased to know that it has built-in soundproofing, which means you won't have to tiptoe around to avoid annoying the people living below.
So, for a relatively cheap and easy flooring solution that looks the part and will stand the test of time (as well as high heels and kiddie bikes), look at LVT. It's a great choice that ticks all the boxes for tenants.
Interior Design Tip:
You don't have to play it safe with LVT! Choose a natural looking wood-pattern LVT for a clean and homey feel or add some glamour with glitter patterns or marble effect. We've even seen some great projects where people have used samples and oddments to create a patchwork floor!
Have you ever viewed a really good property that unfortunately came with unsightly floor tiles? Those tiles could have been the one feature that held you back from signing the rental agreement. Imagine being able to replace dated or ugly floors with a beautiful concrete-look finish that is very current and won't cost the earth.
Enter another relatively cheap and effective decorating idea: Micro-topping! This adds a thin overlay to any level surface and is a simple way to resurface existing floors while also scoring high with visual appeal. It involves the application of a 2-3mm thick polymer with a modified protective coating and topping off with a polyurethane sealer.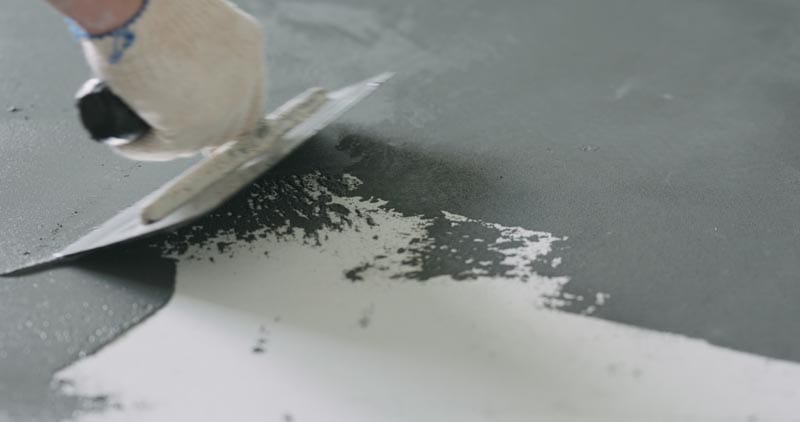 There are many versions of micro-topping, such as micro-Crete, micro-cement and micro-concrete. With advances in the production of these finishes, the possibilities are endless when it comes to the desired finish.
So if it's just the unappealing floor that's getting in between you and a great rental property, we suggest you try your luck with your future landlord. Put your negotiating hat on, adopt the most professional tone you can, and ask your landlord if they've ever considered micro-topping.
A word of warning: Unlike LVT, micro-topping can't be easily removed so make sure you have consent of the property owner!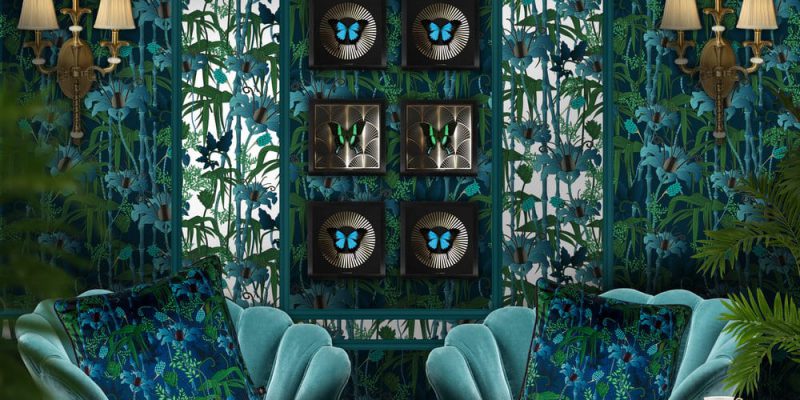 Ever wonder why wallpaper never seems to go out of fashion? It has this incredible ability to adjust to the times, evolving from its early forms of Egyptian papyrus and Chinese rice-paper to today's plethora of endless choice in pattern, texture or colour. And if you don't like what's available in the market, you can even create your own!
Wallpaper today is no wallflower (excuse the pun!). It's not content to keep a low profile and hide away in the shadows. The simple and subtle repeat patterns of days gone by have been replaced with designs that make you want to paper over all those perfectly plastered walls you wanted for so long!
The resurgence of wallpaper in the last decade has been all about making a statement within a room and asserting its presence. Hence, the arrival of the wallpaper mural – a design feature that's been a big hit and can be customised to specific wall sizes.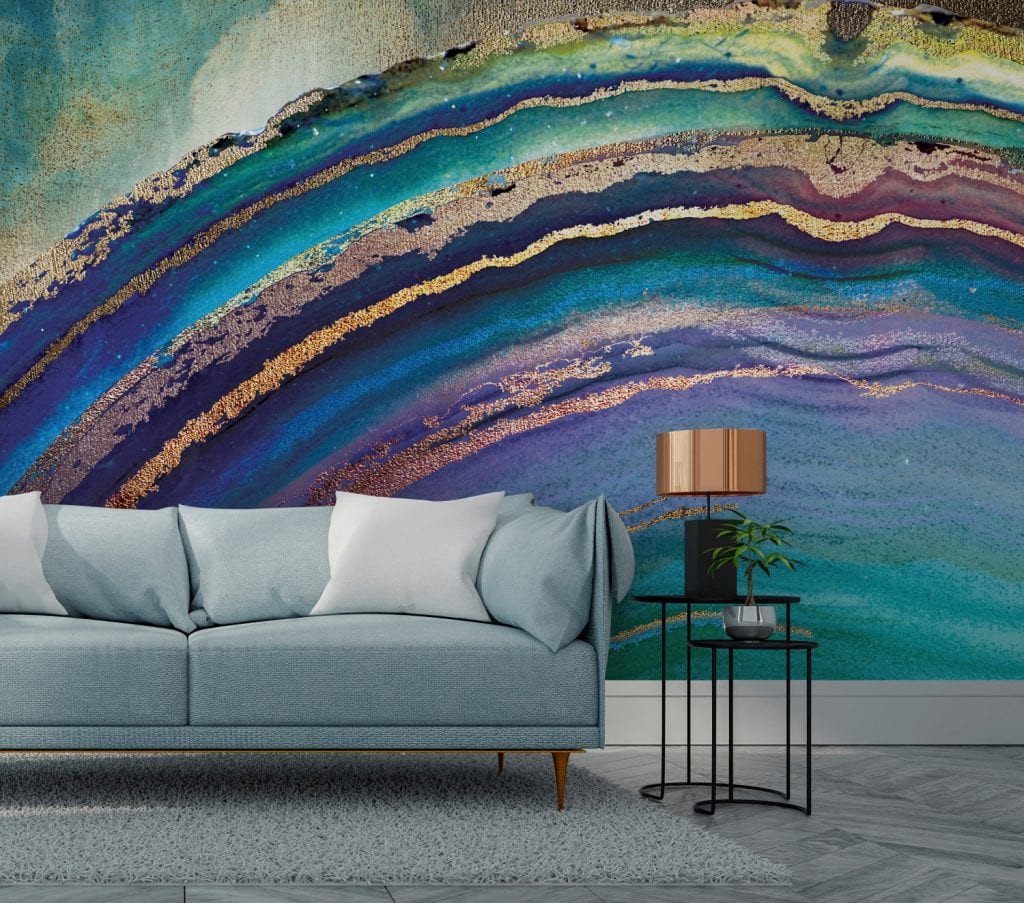 But what about having to painstakingly remove all that wallpaper when your lease expires? Don't fret – there's a simple solution. These days you can get self-adhesive wallpaper which works via a 'peel and stick' method. No glue required – and it can easily be removed or replaced. This also means you can DIY, saving on installation costs.
Another thing that's great about self-adhesive wallpaper is that most varieties can be wiped down with a damp cloth – handy for parents who have to constantly deal with small grubby hands.
So, next time you're staring at a blank wall and looking for some inspiration, think about how you can spend a few hours transforming it into an eye-catching feature wall that's worthy of Instagram.
5. Furniture and Hardware
Styling a rented apartment can be easiest and more cost-effective if you choose a neutral colour scheme and accessorize around it. Choosing good quality furniture and hardware is also an investment. A big tip when shopping for furniture is to choose pieces that you love and that have timeless character. That way, when you move, they'll work equally well in your new place.
Another consideration is to use adaptable pieces that can suit new layouts or design features. Modular pieces such as adjustable lounges or storage solutions can be reconfigured to work with your next new home. Also when choosing wardrobes or storage pieces, opt for pieces that are relatively tall, so that they resemble built-in cabinetry and give a more solid look to your space.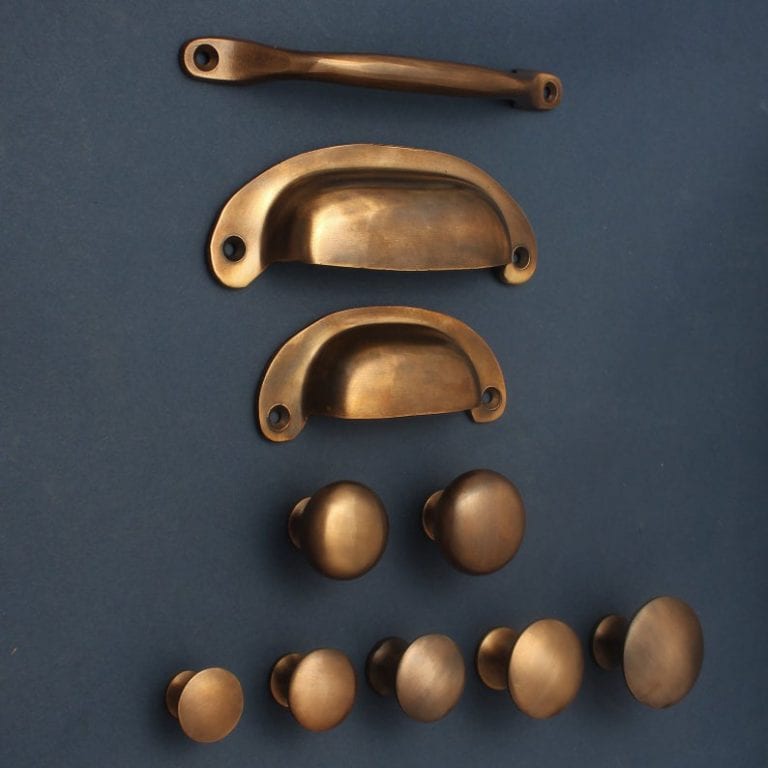 Interior Design Tip:
If you're decorating on a budget, you can get some great furniture finds second hand and then revamp using your favourite colours or even vinyl wrap. Check out local sales on eBay, Facebook Marketplace or local community pages.
With a quick trip to Ikea or your local hardware store, you can also get contemporary handles in gold metal or black finish that can jazz up boring or dated vanities and wardrobes.
6. Choosing Light Fittings
Ever noticed that your average rental comes with very basic light fixtures that have zero personality? The reason for this is so they can appeal widely to different tastes and they are cheap! Adding the right light fixtures can inject a lot of personality into a space and complete a certain look.
Depending on the light fittings you choose, you may need to bring in an electrician who can safely install them for you. Don't forget, you'll also need to store the existing light fittings so that you can replace them once you leave. But if you're planning to stay in the property for a while and find yourself flinching every time you look upwards, the effort and cost may well be worth your while.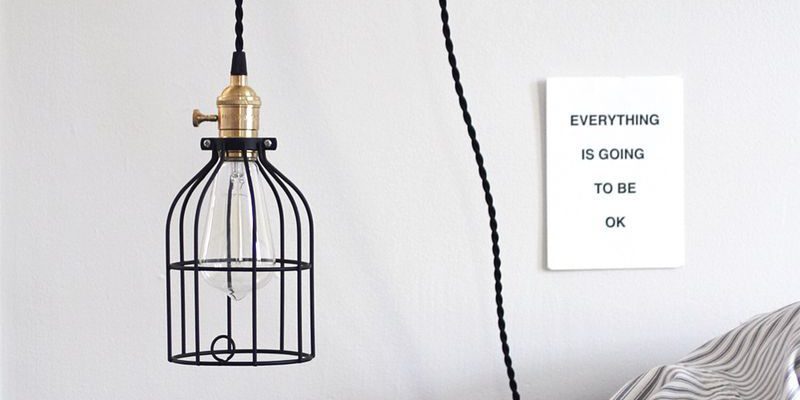 But what do you do if your dream layout requires that you have ceiling lights in spots where there are no outlets? For example, you'd like a low-hanging light just above your dining table, but there isn't one at the moment. A simple solution would be to extend the wiring from the nearest outlet. Don't be afraid to keep it visible – it's very on trend at the moment.
Again, if you require any electrical work to be carried out make sure you inform you landlord!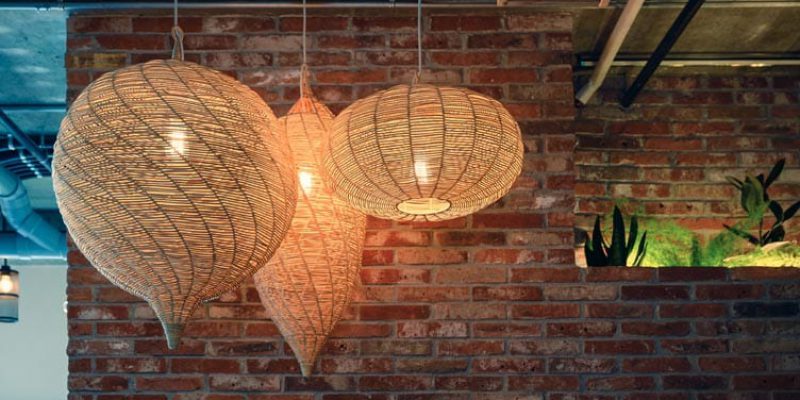 Interior Lighting Design Tip:
Good interior lighting used to be so expensive but now you'll find plenty of affordable and attractive options in the market to choose from. Bamboo and cane pendants are enjoying a lot of popularity at the moment because of their wonderful natural aesthetics. Or, for something a bit more luxurious, you can opt for an Art Deco or mid-century modern style fixture.
7. Removable Wall Panels and Wall Trim
Painting walls may work wonders for any interior, but having blank walls devoid of texture and personality can get a little boring sometimes, regardless of the colour. One solution? Adding some tasteful architectural features. These can add a sense of luxury and some points of interest – especially useful if the space you're working with is a basic 'white box' with very little to show off.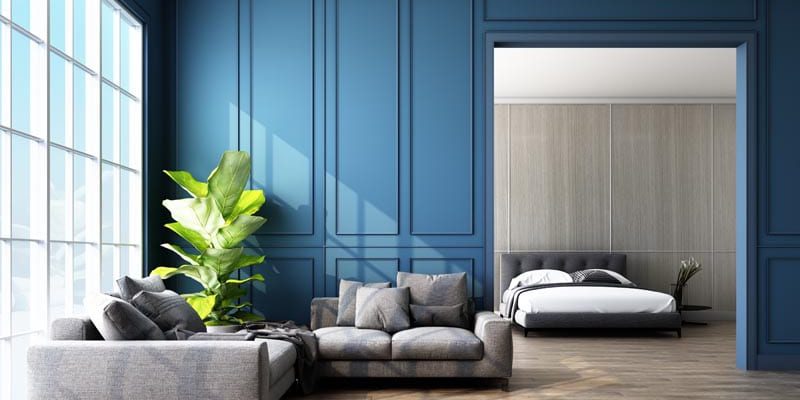 Painting walls may work wonders for any interior, but having blank walls devoid of texture and personality can get a little boring sometimes, regardless of the colour. One solution? Adding some tasteful architectural features. These can add a sense of luxury and some points of interest – especially useful if the space you're working with is a basic 'white box' with very little to show off.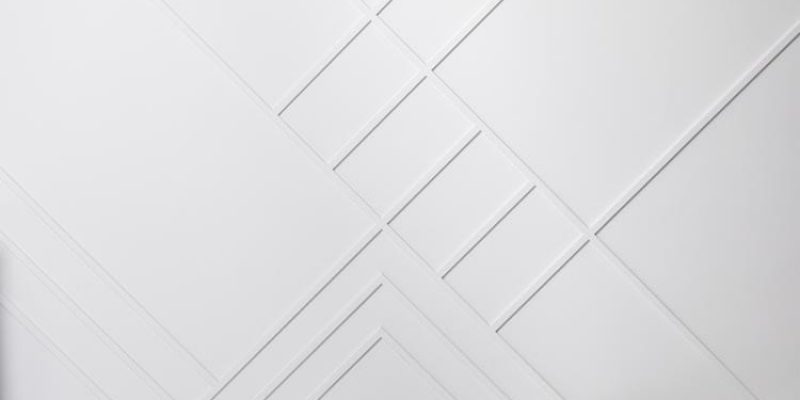 It's common knowledge that most rental policies prohibit tenants from boring holes or hammering nails into walls. This is understandable, since a pockmarked wall can be a nightmare to fix when a tenant exits a property. But guess what? This doesn't mean that you need to store away your favourite abstract painting and live with bare walls for the period of your lease!
There are many options in the market that will enable you to hang your art without any hassle. Peel-off hanging strips or hooks that can hold the weight of a small child are easily accessible and affordable. They are also super easy to remove without any residue.
You could also suggest to your landlord that you'd like to add a picture rail. This will help you adjust and change your wall art without any hassle… and can be useful to the next tenant. They may even help cover the cost.
Remember, art can add great personality to a rental home. You can also take it with you so choose it wisely! Like furniture, it's a great investment and can be the statement in the room.
9. Stick-On Tiles and Grout
Without painting every rental home with the same brush, most of them are pretty basic in style. Some even lack common features like a splash back above the vanity in a bathroom or behind a hob or cooker. These features aren't just practical considerations, when it comes to cheap decorating ideas, they can have a huge impact style wise.
Peel-off tiles or decals can be a great solution to add a little more pizazz to your space. How about a hexagon tile in a mosaic pattern that's been a big trend? There are lots of varieties to get the look and feel you want.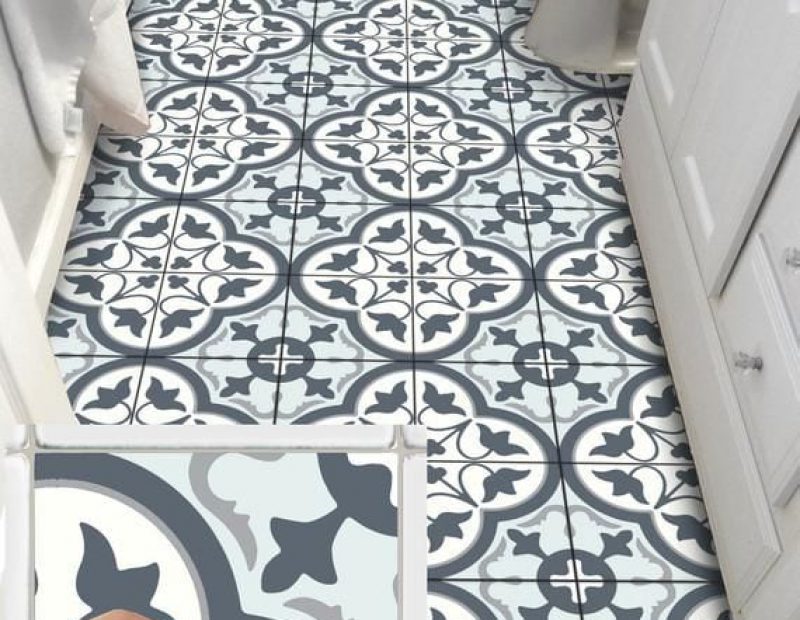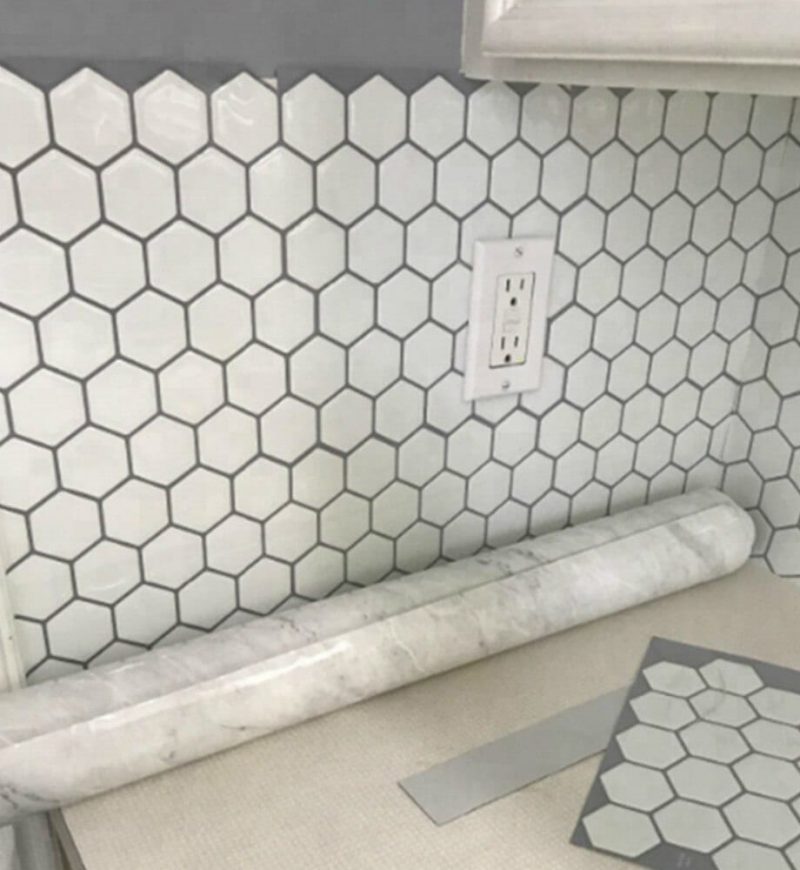 Stick-on tiles can also come with a bit more thickness. These are adhesive plastic or vinyl squares that mimic the look of tile and are extremely simple to install. The added advantage of using stick-on tiles is that you don't have to worry about dealing with mortar, grout, or any of the mess required for traditional tiles. It literally is just a matter of peel and stick!
But sometimes it's not the tile (or lack thereof) that's the problem. Many of us love ceramic tiles because they're so easy to clean. But the grout between the tiles often ages badly, and if the property isn't well maintained, it's common to see tile grout that looks very tired and even disgusting! Some of the oldest remedies are the best – a toothbrush and bleach spray work a treat on tired grout but not ideal if you have young children or pets around. 
But one of the best ways to fix grout without spending hours or a fortune is by using a grout pen or tape. They come in a range of colours so if you love the two-tone definition of white tiles and black grout, a grout pen is one of the cheapest options available. Grout tape is less readily available and we're not sure about the durability on floors in wet areas.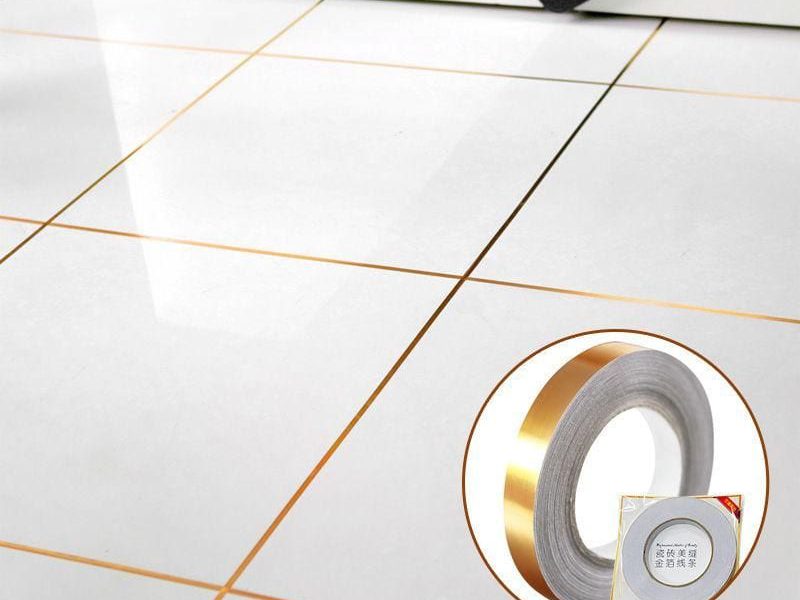 Interior Trend Alert:
You can also now buy glitter grout in a range of colours. Talk about making your bathroom shine!!
Ask any landlord for permission to revamp an ugly bathroom or messy tiled splash back… and most of them will jump at the chance! Painting tiles can seem a little off-putting if you haven't done it before. But rest assured, once you take the plunge and paint your old beige tiles into trendy greys or aqua blues, the result will look like a brand new bathroom!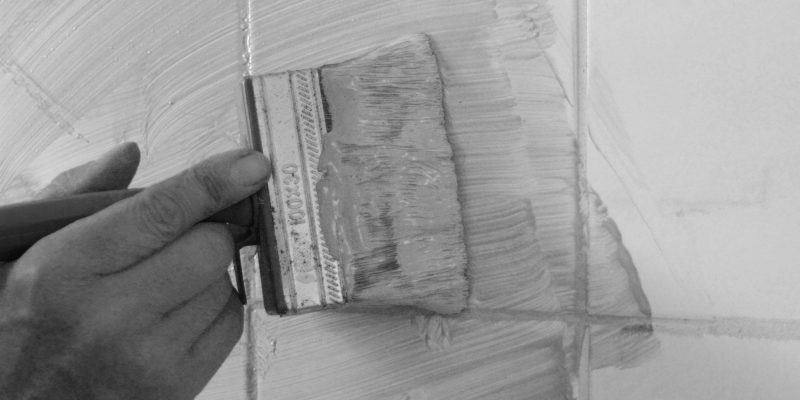 Painting tiles is the easiest way to update the look of dated bathroom tiles that are still in good condition. A few coats of bright white can instantly modernise a bathroom style that was all the rage a few decades ago. Again, you can use grout pens to add a bit of colour or just stick with white for a classic and clean bathroom scheme.
Decorating a Rented Property
We're spending more time within our four walls than ever before so if you've been putting off decorating a rented home, it's time to make it personal! Whether you're an interior design enthusiast or just want somewhere that feels like yours, spending the time and money will be well worth it. You may not own the bricks and mortar around you but how you feel in your home has a huge impact on your comfort and general happiness! It may not be your forever home but most of the decorating ideas we've shared are either cheap and easy to achieve or you can take them with you when you leave.
Most landlords are also happy when tenants want to make tasteful changes as it shows a respect and interest in looking after the home as if it were your own. Just make sure you keep them up to date with anything you plan to do if you want to keep your deposit at the end of your tenancy.
Decor Ideas Direct to Your Inbox
Sign up to our newsletter to get the latest interior design inspiration and our 'How 2…' guides straight to your inbox! You'll receive our monthly newsletter and no spam, we promise!