To celebrate Adult Learners Week, the National Design Academy held a special Open Day on Saturday which went down a real treat with visitors and received a huge amount of positive feedback.
We were thrilled with how many people came along to find out more about our range of courses and how distance learning works. The atmosphere was buzzing and people were really keen to know more about what they would be studying, how the courses are delivered and what students have achieved since studying.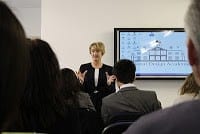 Our very own student Karen Lane, kindly took time out of her busy schedule to give a talk about her experience as a student at the NDA which many visitors found extremely helpful; one person said, "Over the whole day, I especially enjoyed the student talk and listening to her experiences".
Tutor Sara-Jane believes it's important for people to hear experiences direct from NDA students; "Karen's talk was a brilliant opportunity for people to hear about the student experience first hand, many of which stayed back to ask her more questions, she was the star of the show!"
After enjoying a tour of the luxurious RiverCrescent Apartments, visitors got a chance to have valuable one-to-one time with the tutor team, Academy Director and Director of Studies to ask as many questions as they liked and look through various examples of student work.
One visitor who travelled from Kent said, " Today was well worth the long journey and I thoroughly enjoyed it". Another visitor said, "The open day was really informative and I couldn't see how it could have been improved."
Tutor Natasha Wymer, is responsible for students of all levels and was impressed by peoples enthusiasm; " It was an intense day with lots of buzz and a great positive vibe. Everyone loved Karen's talk and the high standard of student work, they couldn't wait to enrol."
Over all the day was a huge success and introduced many people to an alternative route to further and higher education which is flexible and can lead to fantastic careers within interior design.
If you'd like to know more about the National Design Academy, our courses, how distance learning could be for you, book onto our next Open Day on 22nd June 2011 or visit our website www.nda.ac.uk.