Sex and the City 2 Set Designs: Influencing Interior Design Trends (Part 1 of 2)
We hope you enjoyed our last Set Design: Sex and the City Interior Design Trends (Part 1) blog post based on the 1st SATC movie?
This week we continue our Sex and the City Set Design: Interior Design Trend Series, drawing inspiration once again from the fabulously, style-driven sets by Set Designer Lydia Marks of Marks & Frantz from the Sex and the City 2 film. In Part 1, we show you how to recreate the Moroccan interior style, and where to buy the film's signature pieces for a lot less, so grab your Manolo Blahnik's and join us for our SATC 2 Set Design: Interiors Inspired 'Splurge or Save' blog post.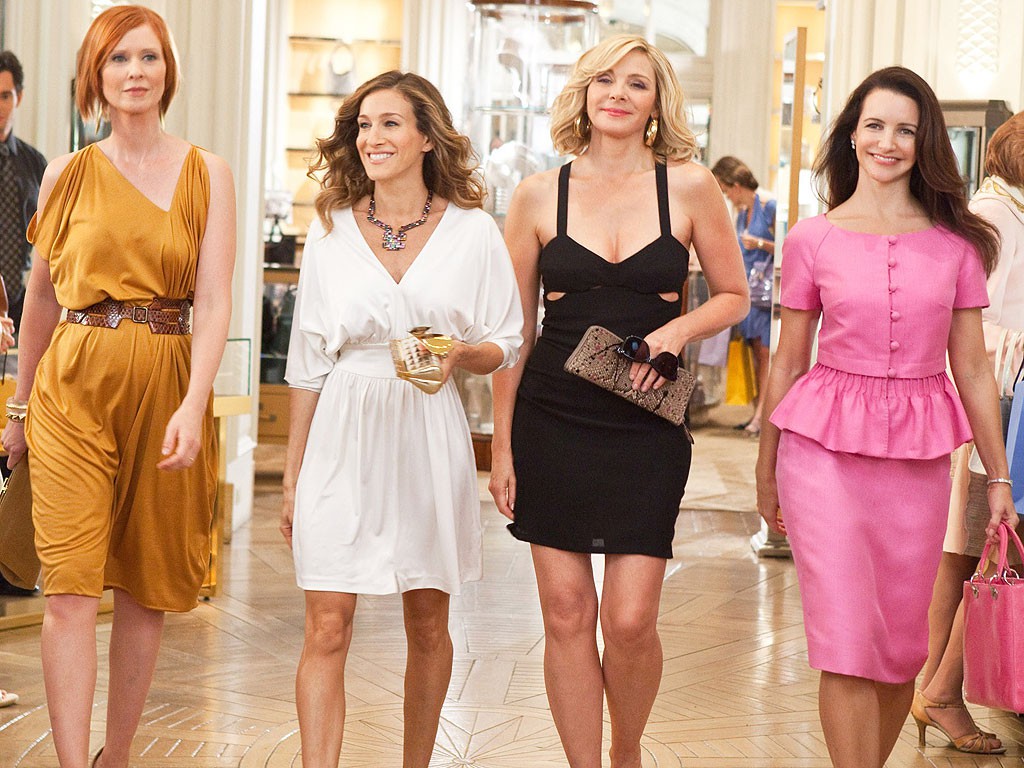 Inspired by the Middle-Eastern Moroccan mix of prints and patterns in pink and jewel tones and the scale and character of 1930's French Décor, the fabulous set designs for Sex and the City 2 are thanks to the incredibly talented interior design skills of Set Designer Lydia Marks of Marks & Frantz. In the second film, we found ourselves lusting over their amazing interior styling choices again, from exotic furniture, rugs and décor in Morocco to Carrie's even more amazing closet back in New York.
Once again, the characters get to experience a lifestyle that most of us could only dream about in the SATC sequel, with the fabulous four jet off on vacation to 'Abu Dhabi' this time around. From the extravagant hotel interiors and exotic styling on their travels to Carrie's chic, new apartment we pick our favourite splurge-worthy pieces from the set designs or tell you where to find them for less.
We join the Sex and the City ladies two years on from the last movie after we finally saw Carrie and Mr Big finally get married at City Hall, Charlotte gave birth to biological daughter, Rose. Miranda forgave Steve after he cheated on her, and Samantha has moved back to New York after breaking up with Smith Jerrod. We briefly get to see how the characters homes and styles have evolved accordingly in the two year gap before Samantha is offered an all-expenses-paid trip to Abu Dhabi by her client, so of course invites the rest of them to join her for a women-only retreat.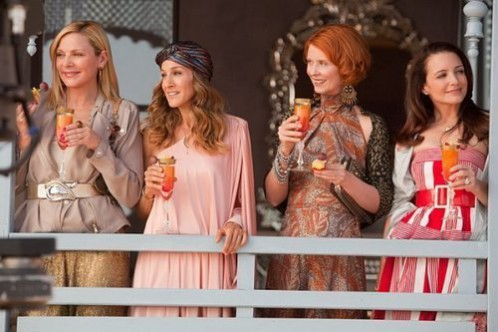 Middle-Eastern Inspired Interior Trends:
Although they jet off to Abu Dhabi in the film (each get their own private 1st class suite on their plane no less) their extravagant vacation scenes were actually filmed in Morocco. We see the glamorous SATC ladies arrive at Marrakech's unmistakable Menara International Airport, which deserves a mention due to it's eco- architectural design. Gracing the pages of many an architectural journal, it has beautiful, giant diamond-shaped windows and patterned concrete throughout that echoes traditional Arabic and Moroccan motifs and the ornate solar panels in the roof are also a beautiful mosaic pattern.
Once whisked away from the airport, each chauffeured in their own Mercedes-Benze Maybachs no less, the characters arrive for their stay in the glamorous, 6-star palace-like Amanjena Hotel in the exclusive Palmeraie district and one of the famed luxury Aman Resorts. The Morocco hotel was empty prior to shooting, Marks was responsible for the interior decoration for each scene filmed in the hotel. Whilst the cast themselves were actually rumoured to of stayed at the luxurious La Mamounia Hotel instead whilst filming.
Moroccan inspired Living & Dining Room ideas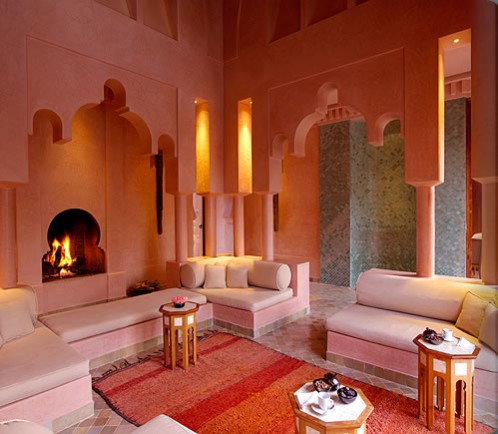 The Amanjena is an extravagant, grand hotel designed by the American architect Ed Tuttle. Complete with ornate, traditional Moroccan detail throughout, the hotel boasts x 32 luxury pavilions, private courtyards and Arab-style fountains. Lots of hidden-away, cosy seating areas are decorated in a sumptuous pink and orange colour theme, with large sofas and traditional Moroccan furniture that create a romantic feel throughout make us want to recreate each space and copy the fabulous colour theme too, that's reminiscent of Pantone Colour of the Year 2011, Pantone 18-2120 (Honeysuckle) teamed with Pantone colour of the Year 2012, Pantone 17-1463 (Tangerine Tango.)
Whilst in the hotel's restaurant below, muted oranges and pinks create a relaxed, romantic setting for diners. A petal- filled fountain surrounded by beautiful, gleaming tile-work, expensive, golden table cloths draped across each table and large, ornate, golden candles holders dotted throughout could easily be recreated for a Moroccan dining experience.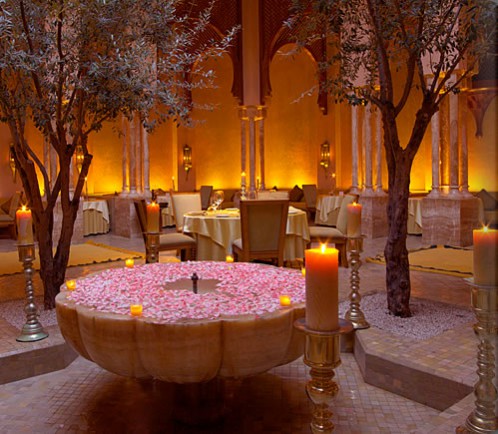 Following in the SATC ladies footsteps, who book into one of the hotel's four 2-storey maisons, complete with their own private pool, cosy fireplaces and even a personal butler service. You could recreate the muted pink tones, sumptuous fabrics and ornate detailed tables that provide an Arabian feel to a sitting room, like below. Re-create the relaxed yet glamorous look by mixing fabrics, colours and textures in your home by incorporating a beautiful, feature rug into your scheme, like Joss & Main's Arabian Cerise wool rug (below, £146.95) to provide a vibrant, statement pop of colour to your design.Or splurge on an authentic Hanbel woven rug from Morocco (£264.83- £622.70.)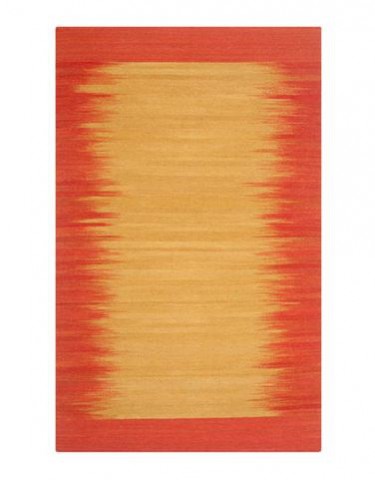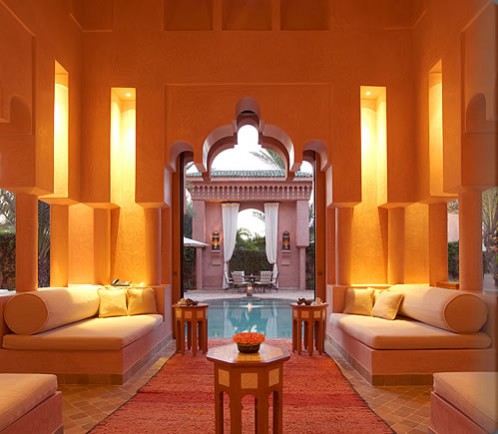 Or brighten up your room with a touch of fushia. Scatter cushions like H&M's pom pom cushion (below, £12.99) or the splurge-worthy Missoni Ormond cushion (seen below, £144.00, available at Amara) would both draw the eye, and would add elements of a Morocco interior to your design theme. Or you could extend the pink theme by pairing your pink toned cushions with a pastel coloured, modular sofa for a co-ordinated look.
We love the simple, streamlined sofa design by Jannis Ellenberger, splurge on The Rue petal apartment sofa is available from CB2 (seen below, £678.32). Or save on Ikea's Klippan Two-seat sofa, in Kimstad light pink (£175.00.) Or add interest with a Morocco inspired piece of furniture, Joss & Main's golden, ceramic Cannes Stool provides an exotic, authentic looking Moroccan accent to any interior (£ 114.95) or try searching Ebay for similar style Moroccan tables to recreate the look for less.
Moroccan inspired Bedroom ideas
The rest of the beautiful hotel follows the same exotic colour scheme, in an array of jewel tones, mixed with muted pinks, oranges and reds throughout. Like the beautiful bedroom below that combines a romantic palette of raspberry, fiery orange walls and deep reds with gold accents. You could easily inject a pop of Moroccan inspired colour to your bedroom, go subtle with Joss and Main's Marrakesh themed Eglo Pendant light, £29.95, or be bold by adding a statement piece of bedside furniture, like the beautiful Nadia beside table with mother-of-pearl inlays and a vine leaf design (seen below, also available at Joss and Main £362.95.)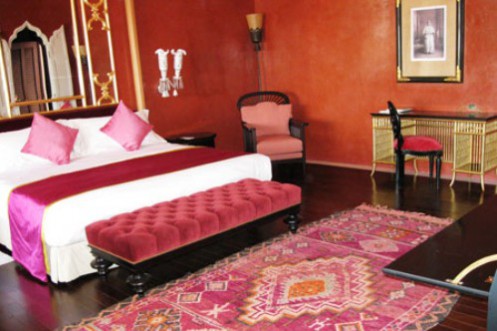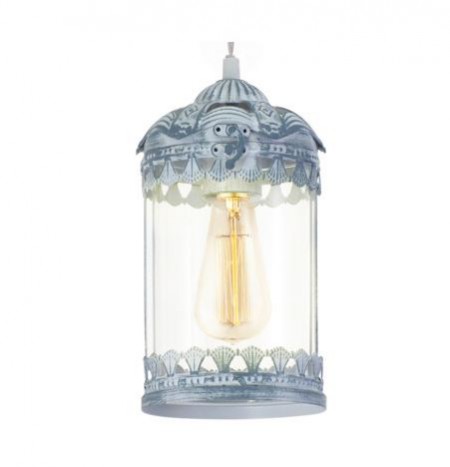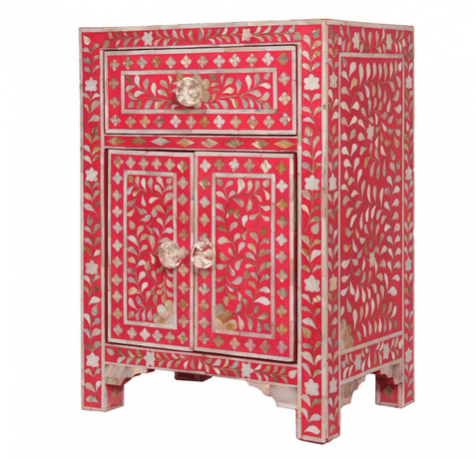 Or save, get crafty with stencils, paint and new crystal knobs instead to recreate the look for less like the talented Kaye from Curtainalia & Bel Cuscino. Lee Caroline, blog author of A World of Inspiration blogged about Kaye's Moroccan Inspired Cabinet – Chalk Paint and Stencil Makeover project here which talks you through the step-by-step process of how to upcycle a cabinet.
Or if you want to channel Morocco in a more subtle way, an accent colour for your furnishings and accessories may be just the thing, without going OTT. We love the bright cerise pink shade of the cushions and rug seen in the beautiful bedroom of the Amanjena hotel above, why not try adding a few bright scatter cushions, like the handmade square jacquard cushion by Finnish designer Nora Nillson below, to add a Moroccan twist to your décor (seen below, available at Att Pynta, £42.00.) Or save with a fantastic pink and gold Aztec print cushion cover design from Etsy seller Fig Tree Baby, £22.78 or try the high street for cheaper, Moroccan themed alternatives.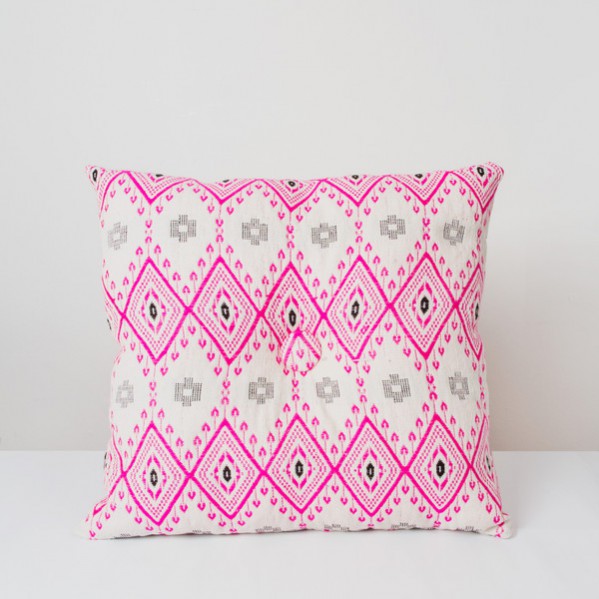 The hotel bedrooms boasts beautiful statement pieces of furniture throughout. We especially love the tufted bench and the unique, gold desk in the corner in the hotel's design scheme. You can still recreate the look and save with a little DIY creativity, by painting the underside of your existing table and its legs in gold to add a glamorous touch to an ordinary desk. Little Green Notebook has a fantastic 'how to' tutorial to show you turn an ordinary Ikea table into a stylish, expensive looking desk with just some Rustoleum metallic, gold spray paint! Or if you can afford to splurge, invest in a vintage, Art Deco style table like the round brass geometric coffee table with glass top from 1st dibs (£2001.74.)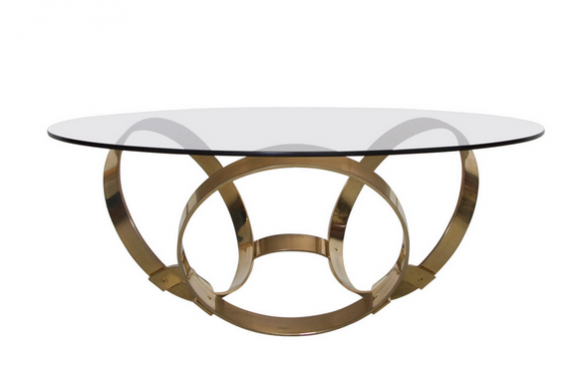 Moroccan inspired Garden ideas & exteriors
Taking a step back from the glamorous hotel interiors, the amazing desert scenes in the film were filmed in the Erg Chebbi dunes, close to the town of Merzouga in the Western Sahara. We see the characters having a glamorous desert picnic in a light, airy tent after their camel ride and three clothing changes later. If you want to recreate a Moroccan inspired look, but can't makeover your interior why not try creating an Arabian hide-away or an exotic pergola structure in your garden for those balmy, summer nights spent outdoors? Our Small Garden, Big Ideas blog post might give you some further garden design inspiration too.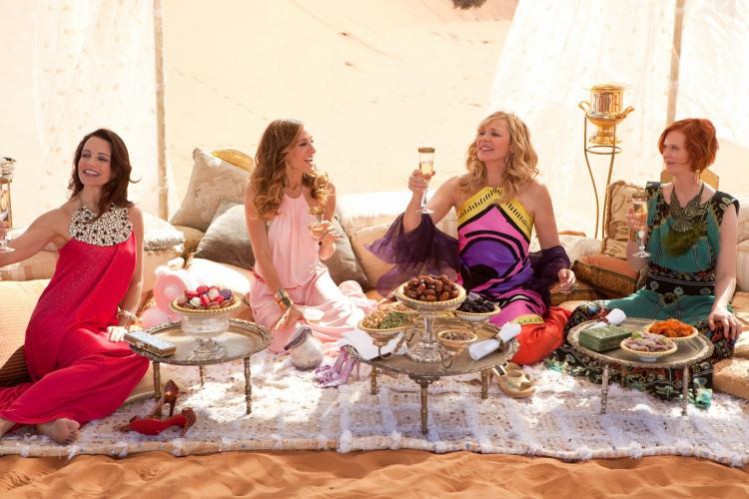 We love their collection of sumptuous, silk cushions, knitted throws and floor cushions & pouffes. To recreate the look why not add a selection of scatter cushions to your outdoor space in neutral, florals and pinks. Our favourite soft furnishings to splurge on are the GP & J Baker Flora Cushion & GP & J Baker Polperro Cushion (£87.00 and £80.00 both available at Amara.)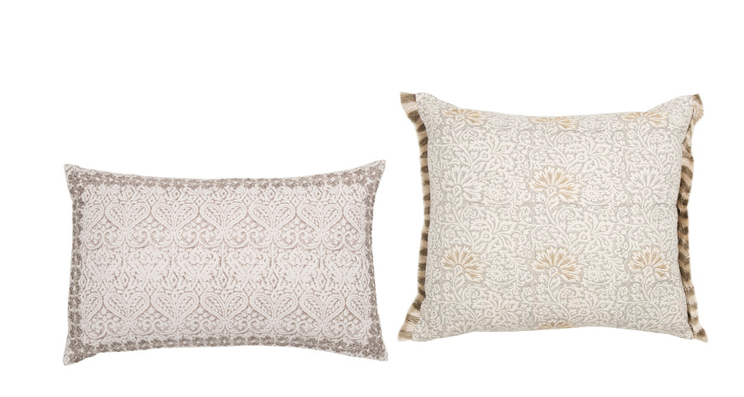 Or find a great selection of glamorous, silk look cushion covers to recreate the look for less at H&M and Dunelm. Our top picks, the Hotel Oyster Pintuck Collection Cushion (£4.99), the Natural Sandringham Collection Cushion (£6.99) or our favourite below, the Moroccan looking Balinese Cushion (£9.99.) Then add a selection of candle holders and gold lanterns for extra decoration and a sense of glamour, splurge on John Lewis' large Gold cut-out hurricane lantern (£35.00) or save with H&M's similar ornate gold lantern or their small, Arabian inspired tealight holders (lantern £6.99, tealight holders £2.99.)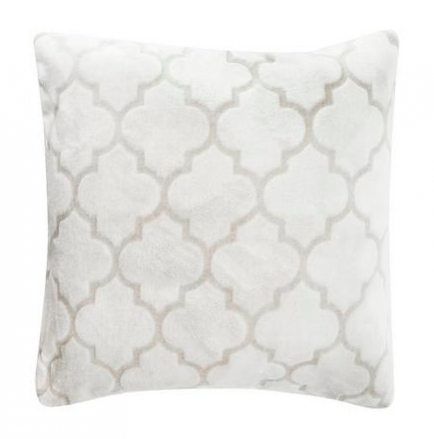 For seating the SATC women sit on larger cushions, but why not add a stylish pouffe like the Gold faux leather pouffe by Moroccan Bazaar (£99.00.) Or save with Joss and Main's Moroccan pouffe in beige (£35.95.) We also found a fantastic selection of unique seating and Moroccan style pouffes in our local Home Sense store recently, who stock great quality, unique pieces for less (we found various styles of pouffes available from £37.00 in selected stores.) It is definitely worth finding your nearest Home Sense store before investing in an expensive high street or vintage piece.
However, after perusing online we found our personal favourite, this Carrie-inspired purchase below. The lust-worthy, floral beauty is the Missoni Home Pallina Pouf, available at Amara, £650.00. It is a firm favourite, and definitely one instantly added to our wish list, if only we has Carrie's bank balance too!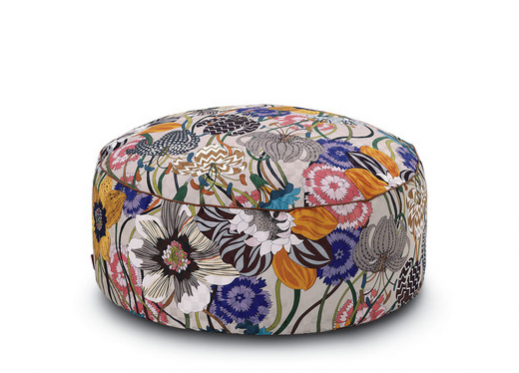 The SATC sit amongst a beautifully presented picnic, displayed in expensive gold-rimmed bowls filled with dates, macaroons and treats resting on top of glamorous, golden tables. If you want to inject some serious glamour into your garden soiree why not serve your drinks in LSA Savoy Gold Rim Champagne Flutes (£21.00 per glass available at House of Fraser) and your canapés on Fishpools Mirror tray with hammered antique gold (£139.00.) Or be thrifty, spray paint your garden tables and serving trays with metallic gold spray paint for instant glam or pick up a cheaper tray like H&M's Bronze metal tray for only £12.99.
And why stop there, save by checking out The House of Smiths, who have a great DIY tutorial for gold rimmed glasses. Or our personal favourite though is a Pinterest favourite, using edible, shimmering sugar around the rim of your cocktail glasses for a fun take on the SATC, decadent glamour, but it tastes delicious too!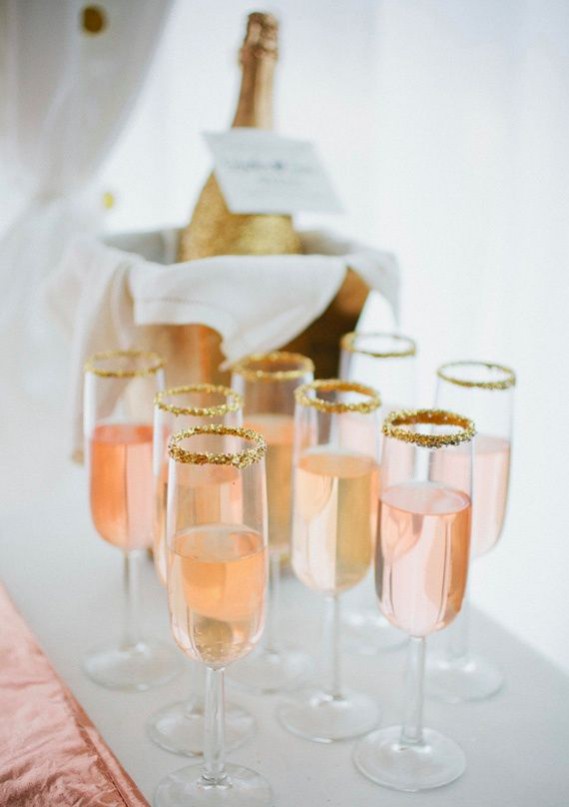 We also love the ornate, low down coffee tables seen in their picnic scene. We found a great investment piece below, splurge on the Ethan Allen Moroccan inspired Tracery Coffee Table (£879.65) to recreate their uber- stylish, Moroccan look. Or recreate the look for less, a selection of traditional, Moroccan tea tables, tea sets and trays are available here on Etsy or if you want to be authentic try searching Moroccan tea tables on Ebay to find a bargain. Or Joss & Main's beautiful, Art Deco, Cora Mirrored Tray Table (£61.95) was also a perfect find, for a modern take on the traditional Moroccan table, seen below.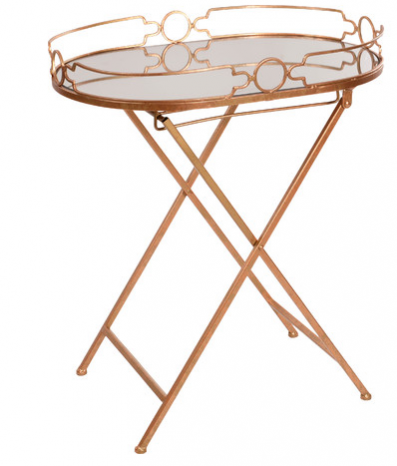 One of our favourite pieces in the scene though has to be the traditional, handmade, Moroccan wedding blanket that the Sex and the City ladies sit on during their picnic. The rugs are traditional Berber rugs, usually made with sheep´s wool and decorated with sequins, given as a gift of good luck and blessings to a bride to wrap around herself on the way to her new home. These Luxe Moroccan blankets are great for adding texture and a sense of glamour to your space, or could easily be incorporated into a light, interior scheme as well like in the beautiful, Moroccan themed bedroom below.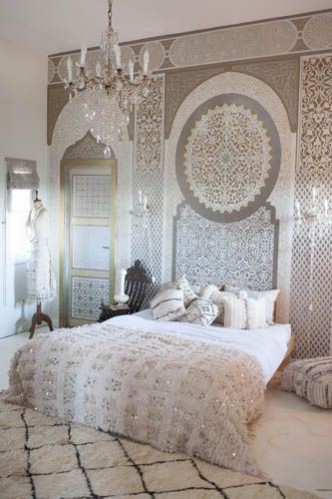 We found a stunning collection available to buy from Moroccan Tribal on Etsy (£155.09- £342.49) or a large selection of beautiful, handmade Handira cushions and throws from El Ramla Hamra (£55- £350.) Authentic Handira blankets and cushions tend to be quite pricey, but you are paying for the quality and hours of hand-stiching that goes into each, unique throw or cushion that makes it just that bit more justifiable to splurge on.
But if you want one but can't afford to splurge, we found a second-hand Handira blanket handmade berber throw for sale on Ebay (£34.99) or Moroccan Handira style pillow covers here on Etsy (£32.31.) We also found a great, Moroccan themed piece at H&M. Their golden, Jute rug (seen below £19.99) is perfect to incorporate a small touch of traditional Morocco style into your existing interior, without having to spend a lot to recreate the look.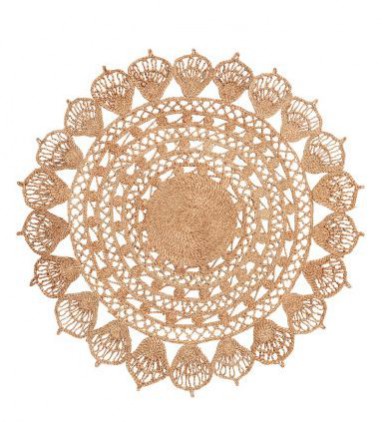 Moroccan market inspired finds
Another thing we fell in love with during the film was the hustle and bustle of the Souk, in the fabulous scenes of Carrie exploring the shop-lined streets of the Marrakech Medina, And of course, where we see Carrie meet up with her old-flame Aidan in Marrakesh's main square. The Djemma el Fnaa was used as the wonderful backdrop to where we see Aidan with a big, printed carpet under his arm.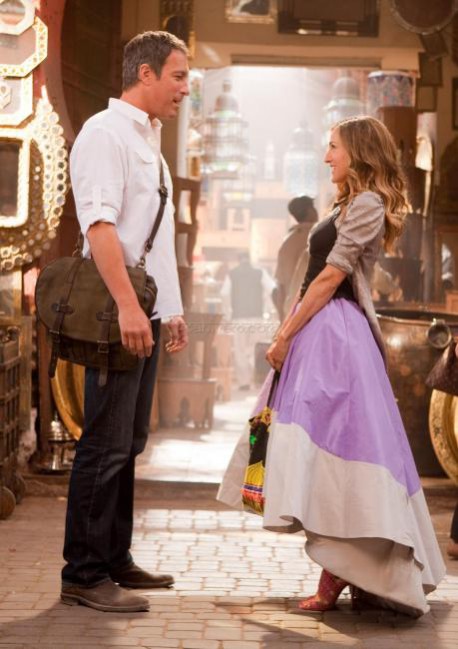 Traditional Moroccan carpets are very popular to tourists visiting Marrakesh, and are a favourite of ours too. You can instantly add a middle-eastern feel to your interior scheme just by adding a big, printed rug. Doris Leslie Blau offer a huge selection of authentic, vintage, Berber designs that Carrie would snap up, they range from £1921.50- £51,240.00, if you want to invest in an authentic piece.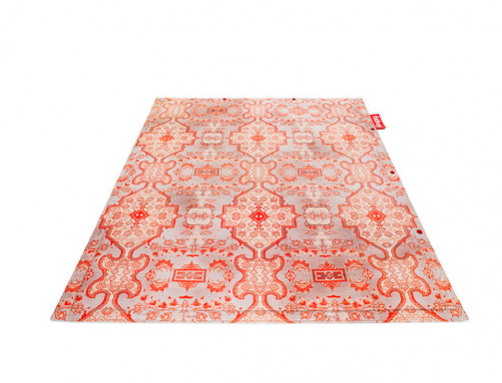 But if like us, you can only aspire to have Carrie and the SATC women's style and don't have the same amount of disposable income, then we have a few cheaper alternatives. Like the Amore cream rug available at the Rug Warehouse, a beautiful Moroccan inspired design for £99.00. Or go bright with the Fatboy Non-Flying Carpet from Amara seen above, £239.95. Or save on a more traditional looking, middle-eastern rug like the Otisse rug in Terracotta from Dunelm (£39.99.)
And its not just the Sex and the City set designs that would set you back either, the clothing budget for the SATC 2 film reportedly cost over $10 million alone! Like Carrie's enviable outfit for shopping in the Souk, above. This outfit alone would cost us a whopping £11,246.54 to buy! But don't worry, we will continue our splurge or save series next week, and you won't need Carrie's budget to recreate the Sex and the City interiors. We have found glamorous, similar looks from Carrie's Manhattan apartment for less, and we've found some more inspiring interior pieces based on the rest of the style-driven Sex and the City 2 set designs.
We hope you enjoyed Part 1 of our Sex and the City 2 Set Design Inspired blog series. Join us next week when we continue our Sex & the City Spend or Save series, we take a look at Carrie and Big's glamorous, French Décor inspired new apartment and we show you how to re-create the rest of the glamorous set designs for less.
Quotes, Images and Product References:
08/06/15]http://www.popsugar.com/home/photo-gallery/8412879/image/8412946/Im-absolutely-dying-just-looking-glamorous-little-tea-lounge[Accessed 10/06/15]http://www.examiner.com/article/park-avenue-glam-with-a-charlotte-york-interior[Accessed 20/06/15] 14/06/15]Handira blanket image available at: 20/06/15]http://www.cuphalffull-sf.blogspot.co.uk/2012/09/dorothy-draper-diy.html[Accessed 20/06/15] 20/06/15]http://goafrica.about.com/b/2010/05/28/sex-and-the-city-2-on-location-in-morocco.htm [Accessed 14.05.15] 20/06/15] 20/06/15]https://www.pinterest.com/Voyeur/carrie-bradshaw-style-muse/[Accessed 20/06/15] 20/06/15]http://www.sweetpeaandwillow.com/living-room/console-tables[Accessed 20/06/15]
17/06/15]
18/06/15]
Lotti Cushion 20/06/15]
Marcus.B (2010) Sex and the City 2′ Set Designer Lydia Marks Reveals Her Secrets to Decorating Carrie's Apartment. http://main.stylelist.com/2010/06/04/sex-and-the-city-2-set-designer-lydia-marks/[Accessed 20/06/15]
http://www.architecturaldigest.com/architecture/archive/robsjohn_article_012000[Accessed 17.05.2015]
17.05.2015]
http://onthesetofnewyork.com/sexandthecity2.html[Accessed 17.05.2015]
17.05.2015]
http://www.marksandfrantz.com/wp-content/uploads/25_SDSA_Set_Decor_Online.pdf[Accessed 17.05.2015]
http://www.houzz.co.uk/ideabooks/50034918?utm_source=Houzz&utm_campaign=u1432&utm_medium=email&utm_content=gallery11[Accessed 17.05.2015]
http://main.stylelist.com/2010/06/04/sex-and-the-city-2-set-designer-lydia-marks/[Accessed 17.05.2015]
17.05.2015]
http://www.elledecor.com/celebrity-style/g205/stylish-interiors-from-sex-the-city-2-64606/[Accessed 18.03.2015]
18.03.2015]
04.04.2015]
18.04.2015]
http://www.brittonloves.co.uk/[Accessed 20.04.2015]
12.04.2015]
http://seaseight.blogspot.de/2012/01/tv-interior-design-sex-and-city-movie-2.html[Accessed 18.03.2015]
http://helloloverofbeautifulthings.blogspot.co.uk/2010/05/hello-sex-and-city-2.html[Accessed 18.03.2015]
18.04.2015]
18.04.2015]
http://ronbosoldier.blogspot.co.uk/2010/05/sex-in-city-2-makes-fun-of-islam.html[Accessed 18.03.2015]
http://www.theepochtimes.com/n2/arts-entertainment/movie-review-sex-and-the-city-2-36350.htmltha's[Accessed 20.05.2015]
http://www.imdb.com/search/title?locations=Amanjena+Hotel,+Marrakech,+Morocco&ref_=ttloc_loc_1[Accessed 18.05.2015]
http://www.imdb.com/search/title?locations=Marrakech+Medina,+Marrakech,+Morocco&ref_=ttloc_loc_3 [Accessed 18.03.2015]
Houzz (2015) Marks & Franz Interior Design www.[Online] Available from:www.houzz.com [Accessed 24.03.2015]
Marks and Frantz (2015) [online] Available from: marksandfrantz.com. [Accessed 18.03.2015]
SetDecor Online (2010) Sex and the City 2 [Online] Available from: www.setdecorators.org. [Accessed 12.03.2015]
. [Accessed 06.03.2015]
. [Accessed 05.03.2015]
http://www.popsugar.com/home/photo-gallery/8412879/image/8412946/Im-absolutely-dying-just-looking-glamorous-little-tea-lounge. [Accessed 06.03.2015]
http://www.examiner.com/article/park-avenue-glam-with-a-charlotte-york-interior. [Accessed 02.03.2015]
. [Accessed 06.03.2015]
. [Accessed 06.03.2015]
http://goafrica.about.com/b/2010/05/28/sex-and-the-city-2-on-location-in-morocco.htm [Accessed 14.05.15]
. [Accessed 05.03.2015]
. [Accessed 06.03.2015]
https://www.pinterest.com/Voyeur/carrie-bradshaw-style-muse/. [Accessed 18.03.2015]
. [Accessed 06.03.2015]
http://www.sweetpeaandwillow.com/living-room/console-tables. [Accessed 19.03.2015]
http://www.luxurytravelbible.com/Sex-and-the-City-2-(Morocco). [Accessed 04.03.2015]
. [Accessed 20.03.2015]
Lotti Cushion . [Accessed 06.03.2015]
http://goafrica.about.com/od/moroccotopattractions/a/satc2morocco.htm. [Accessed 15.03.2015]
http://onthesetofnewyork.com/sexandthecity2.html. [Accessed 06.03.2015]
http://hookedonhouses.net/2011/02/28/carrie-and-bigs-apartment-in-sex-and-the-city-2/. [Accessed 19.03.2015]
http://www.marksandfrantz.com/wp-content/uploads/25_SDSA_Set_Decor_Online.pdf. [Accessed 06.03.2015]