We hear from our Director of Studies Anthony Rayworth who visited the Crestron showroom, Design Centre Chelsea Harbour as part of Focus; London Design Week for 'The Language of Light' seminar by Rebecca Weir – Light IQ.
This month, I was fortunate to attend an excellent seminar on lighting presented by Rebecca Weir and hosted by Crestron at their beautiful showroom in Chelsea Harbour, London. Rebecca is Founder and Creative Director of Light IQ; interior and garden design lighting specialists working almost exclusively with LED light sources.
The premise of the seminar was that LED lighting offers opportunities to develop forms and effects not previously available with other lighting types such as tungsten halogen or compact fluorescent which Rebecca believes has limited the creative possibilities of designers for too long. She is also evangelical about limiting ceiling-recessed downlights, suggesting that they are over used and have become a 'quick fix' way for some property developers to add a frisson of glamour without relating this to the architectural language of an interior, exterior or outdoor space.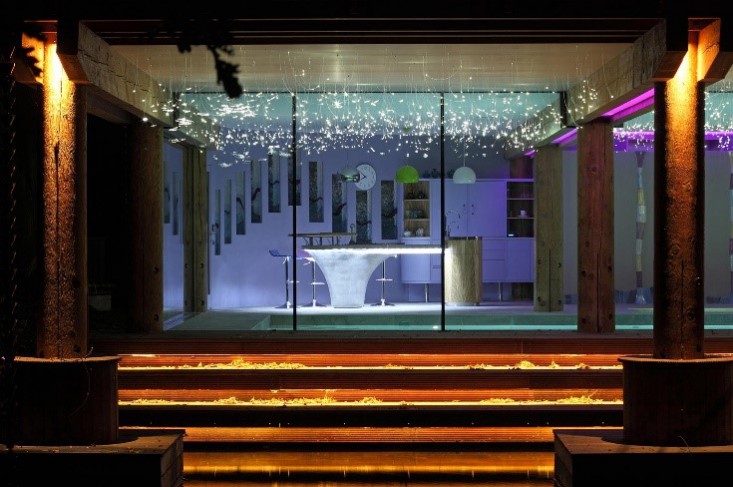 Rebecca designs lighting solutions that are sculptural in concept and intended to respond to the individual demands of a client's brief and the architecture within which the brief is to be implemented. She calls this 'lighting couture', exclusive fittings and solutions that are tailored to each environment and client. In this Cambridgeshire loft, for example, the barrel vaulted ceiling is a dramatic feature of the original warehouse and one which could easily have been given a coat of white paint and been studded with down-lights.
Instead, Rebecca covered the ceiling in dark, glossy subway tiles punctuated by wide arcs of LED ribbon, emphasising the impact of this exciting architectural feature and adding maximum impact to the kitchen/dining area. The ribbon is supplemented by directional, high intensity spotlights to add sparkle and definition to key areas within the space and a low, bespoke light fitting provides soft, flattering lighting directly above the dining table.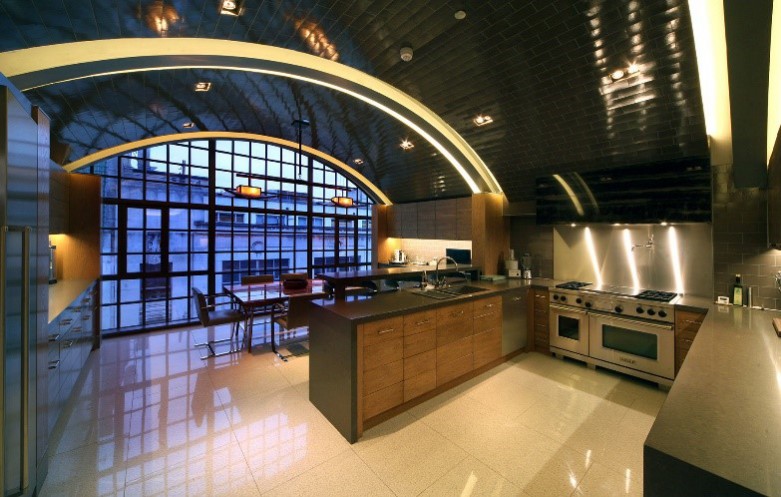 The wine cellar, adjacent to the kitchen is a masterclass in high drama with a backlit, onyx floor and a cast crystal pendant fitting over the tasting table. LED ribbon provided ambient ceiling light and individually lit bottle racks display the finest vintages in this perfectly executed jewel box of a room.
The sculptural possibilities of LED and fibre optic lighting are evidenced at '64 Knightsbridge', a business centre housed in the former Danish Club, London's oldest private member's club. Light IQ designed a scheme to illuminate the entire façade of this venerable building; picking out the architectural detail with immense precision and style.
The real head-turner though is in the reception area where Light IQ collaborated with artist Bruce Munro to produce fibre optic balls of light which change colour in sequence with the exterior columns, window reveals and façade.

I will leave the final summing up to Rebecca who introduced her highly informative and thought provoking seminar with these words:
"A great lighting scheme should be a truly immersive experience; our emotions reduced to the pulse of our senses. In Buddhist philosophy Ayatana, or 'sense-base' includes the mind as the sixth sense. This additional sense provides a psychological orientation, it views the mind as the principal gateway to a different spectrum of phenomena. This way of viewing the human sense system indicates the importance of internal sources of sensation, such as an emotional response that complements our experience of the external world.
By creating an intelligent approach to lighting design, by studying our physical and emotional responses to spaces, colour, texture and light we are able to respond thoughtfully to our client's needs. This will be the future of design. Where the fields of neuroscience and cognitive psychology overlap to reveal a perfect science – that of designing the lighting for enlightened home."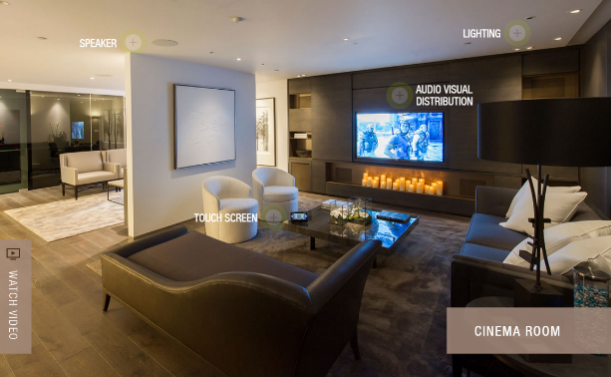 The venue for the seminar was the beautifully designed Cinema Room within the Crestron showroom in Chelsea Harbour. An appropriate venue as Crestron are design-led manufacturers of lighting and whole-house control systems. Visit their website for an interactive tour of the room and to discover the exciting possibilities of 21st century lighting control. Many thanks to the team for providing such a venue and for their delightful hospitality during this year's London Design Festival 2015.
Until next time, Anthony.