New Design Britain Awards January 2013
by Anthony Rayworth
Judging the New Design Britain Awards is always a stimulating and challenging activity. The passion, skill and enthusiasm of the entrants have to be weighed against commercial costing and production realities. Selecting the winners, therefore, is never an easy task and this year, the process took almost three hours. All the entrants conducted themselves very well and explained their work in a professional and concise manner. Discussion amongst the four of us who were judging the work was extensive and intense but always friendly and professional. We were all looking for different qualities within the entries.
The work was evaluated against the following criteria:
Innovation
Functionality
External context of design
Aesthetics
Commercial viability
There was a particular requirement this year as we were asked to judge in two categories; Furniture and Accessories. My fellow judges were:
Rob Scarlett, Scarlett Design
Scarlett Design was established in early 2010 by British designer Rob Scarlett, who began his career when he was named the 2003 Young Designer of the Year, for an innovative piece of cabinetry which was  "beautiful, functional and showed strong commercial promise".
Subsequently, Rob has played a key role in the design teams of some of the best known brands and businesses in the UK furniture industry, including Willis and Gambier, Nathan Furniture and Mark Webster. He has also enjoyed success with ranges launched through important UK retailers such as Mark & Spencer's, Furniture Village and John Lewis.
Martin Rapko, Willis & Gambier
Willis and Gambier's core values are to produce beautifully designed furniture using appropriate woods and a mixture of solid and veneered finishes to offer the customer long lasting furniture at affordable prices.
Martin is part of a highly experienced team of designers and technicians who use their expertise, imagination and passion to create traditional and contemporary designs which provide both style and practicality in any setting. With over 135 collections created over the last three years, Willis and Gambier have become a global company with a well established reputation for excellent quality and service and are one of the main suppliers of premium furniture in the UK.
Hutchinson Furniture, Design & Space Planning
Mark and Vanessa Hutchinson studied furniture and interior design at the London College of Furniture and are members of the Chartered Society of Designers. Mark began his career as a cabinet maker and has worked with a number of well known furniture makers. Vanessa spent several years working with naval architects. Designing yacht interiors gave her valuable skills in dealing with a wide range of materials and very unusual spaces.
It was also a pleasure to meet the judges from the Surfaces and Fabrics category including:
Dids Macdonald, CEO of ACID
Dids Macdonald, who has over 25 years experience within the design industry initially owning an interior design company and latterly as a designer-maker. She launched ACID (Anti Copying in Design) because her products were consistently copied. ACID began informally in 1996 as a round table action group and has developed into a not for profit trade organisation representing over 1000+ design-led companies within the creative industries. Macdonald lectures widely on IP issues concentrating on micro firms and SMEs both nationally and internationally. ACID is an excellent organisation and it is highly recommended that designers make use of their services.
www.acid.uk.com
Barbara Chandler
Barbara Chandler, a journalist best known for her design writing.  She is also an accomplished photographer who has been exhibiting and selling her work for nearly 25 years. Her framed prints currently sell in the Conran Shop worldwide.  She has been making her unique handmade photo-cards since the early 90s.
Jonny Westbrooke
Jonny Westbrooke, CEO and Clerk of the Worshipful Company of Furniture Makers
The Furniture Makers, the City of London livery company which endorses the Awards, is the British furnishing industry's central organisation, charity and patron, which fosters and supports the craft and the industry, the education of students, and the industry's needs.
Jonny served as an Army Officer with the King's Own Royal Border Regiment for 20 years, seeing operational service in Northern Ireland, Bosnia, Kosovo and Iraq. After completing an MBA he left the Army and worked for The ExtraCare Charitable Trust, setting up their flagship retirement village in Milton Keynes. In 2007 he moved to FIRA International as Chief Operating Officer, where he oversaw the provision of services to the furniture industry and all support to the Furniture Industry Research Association (FIRA). During this period membership of the Association grew significantly. Within the Furniture Makers he became a Freeman in 2009, a Liveryman in 2010, an Assistant in 2011 and Clerk in May 2012.
The Finalists
Furniture
Daniel Schofield New Design Britain 2013 Winner (Furniture)
Daniel's passion for design focuses on the creative exploration of materials, industrial processes and user interaction, working closely with factories, workshops and manufacturers to produce contemporary furniture, lighting and accessories.
By giving each of his products an individual story of their own, Daniel hopes to create timeless pieces that have an extended lifespan, reducing their impact on the environment.
Born in the UK, Daniel trained as a graphic designer, then a carpenter before studying Furniture and Product design at Sheffield Hallam University, during which time he worked in New York for leading Manhattan based interior design practice and specifier, DDC.
Graduating in 2011, Daniel soon set up the Sheffield based studio, specialising in adding extra value and narrative to mass produced and limited edition products.
Daniel Schofield Studio has already received national and international acclaim and exhibited at a variety of shows across the country.
'Shifty' Desk – Competition Winner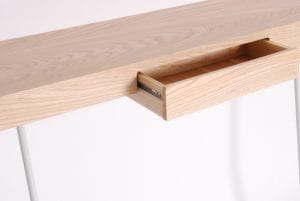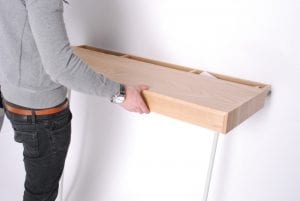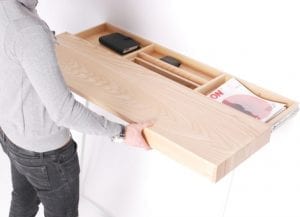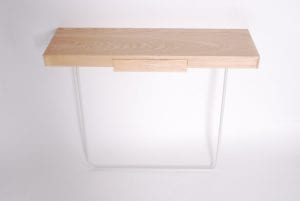 Dan says of his work:
"The Shifty desk / hallway stand is designed as part of the secrecy range of furniture I produced. Unsuspecting people presume that the storage compartment is the draw on the front. What they don't know is that by pulling the FSC Ash work surface, the whole top slides open revealing the hidden storage area, perfect for personal papers and electronic equipment. By doubling its size and having the work area come towards the user, the desk also lends itself perfectly to small space living".
Cristiana Ionescu New Design Britain 2013 Winner (Accessories)
Cristiana believes that besides functionality, sustainability and global design issues, other important aspects of design are aesthetics, humour and sentimental value.
www.cristianaionescu.com
Cristiana's winning entry 'The Three Bears' is a set of stools for children who also like to scramble all over them. Made of felt over a steel frame, The Three Bears are a witty and fresh take on the classic Charles and Ray Eames 'Elephant' illustrated below.
A very resounding 'Well Done' to both finalists!
Standard of work
The overall standard of work was excellent with at least two of the prototypes displayed being market ready. Innovation and design thinking was clearly in evidence as was the understanding of commercial considerations and awareness of the wider context in which their products were to be located. Craftsmanship and functionality underpinned theoretical and commercial frameworks with all work being made to a standard which not only allowed the concept to be clearly presented but demonstrated understanding of client requirements and aesthetics, whether these were commercial or residential.
Finally, once again, a very heartfelt 'thank you' to Tony Hollyer, Awards Co-Coordinator, UBM; Tony works tirelessly to ensure that the judging experience is enjoyable, professionally conducted and clearly articulated.
About Anthony Rayworth
Presently Director of Studies at the National Design Academy in Nottingham; Anthony holds a Master of Design Degree from the Royal College of Art, London and has over 25 years experience in interior design and decorative arts management.
He is a Freeman of the City of London, Liveryman of the Worshipful Company of Furniture Makers (sitting on the National Student Training Committee) an Affiliate Member of the British Institute of Interior Design (sitting on the National & International Membership Committee) a Member of the European Academy of Design and an Accredited Lecturer for the National Association of Decorative and Fine Arts Societies.
He has taught and been an external advisor at numerous art colleges, design practices and universities internationally, as well as running a design gallery and participating in many interior design exhibitions throughout Europe. Anthony is also presently studying part-time for a PhD, "The phenomenology of interiors-related objects within a gallery environment", in partnership with Staffordshire University.
Keep looking at this blog for details of how current students can enter New Design Britain Awards 2014!