We share our coverage of this year's Class of 2015 Graduation Ceremony, held on Friday July 10th, 2015.
This year's graduation ceremony, held on Friday July 10th in the beautiful grounds of Trentham Gardens was the perfect day. With a record number of students in attendance complimented by the warm, sunny weather, it made the graduation the highlight of the year for all the tutors and staff here at the National Design Academy.
Once robes and hats had been collected, each student filed into the NDA marquee and were handed a graduation yearbook in recognition of their hard work and as a memento of the day. The day began with both the NDA tutor team and their students getting the chance to meet in person and to celebrate each student's achievements.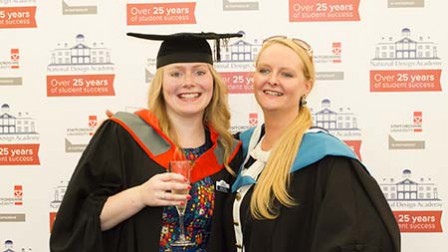 This was followed by a free flowing champagne reception and a chance to take photos with family, friends and the tutor team.
'It has been a fantastic course, loads of help along the way, it's something I never thought I'd do. NDA has made it possible.' – Michele Thomas, FdA Interior Design.
'It was fantastic. It was good doing the distance learning and I continued working whilst I studied, but I have since got a job in the design sector.' – Philip Williams, FdA Retail Design.
'Totally exhilarating and challenging, and exciting at the same time. I wanted to do this because I thought it was quite creative and to see if there was a creative side of my life I could actually tap into.' – Jasbir Gihir, FdA Interior Design.
'It was better for me being an older, more mature student as an online course. I have started my own interior design practice, so it worked well for me.'– Tracy Smith, FdA Interior Design.
All photos taken on the day are available to download and share from the NDA website or visit our National Design Academy Facebook page.
Once our tutors and graduands had chance to network with one another, it was time for our Academy Director, Pauline Riley, to officially welcome everyone and to congratulate them on their big day.
Then our Director of Studies Anthony Rayworth followed on from Pauline's speech to present this year's Student of the Year Award to Cheryl-Brierley Duff,
"My presentation skills are a lot more professional and I've gained a lot more skills going onto the BA Hons level. My husband has a kitchen company, so now we have expanded that into an interiors company, so we will be designing indoor and outside now with the skills I've developed. – Cheryl Brierley-Duff, BA (Hons) Interior Design for Outdoor Living.
Our Official Class of 2015 Group Photo was then taken outside in the glorious sunshine.
Michael Gunn, Vice Chancellor of Staffordshire University popped in to congratulate the NDA staff and students before heading to the main hall.
Our graduands and tutors were then whisked away to be seated for the official graduation ceremony in the main hall. You can watch the Official NDA Class of 2015 Graduation Ceremony video here.
After the ceremony we interviewed some of our graduates on camera, to talk about their special day and to share their experiences of studying with the NDA.
"I finished the FDA, I'm now going to have the summer off to spend some time with my family, no studying! Then come back completely refreshed and go on and do the BA for the final year." – Maria Jones, FdA Interior Design.
"The skills I've learnt; a general understanding of today's materials, tools and ways of presentation, ways of dealing with clients in an appropriate manner, courtesy and consideration in the field and within your presentations. I'm actually going to enrol for the masters straight away and keep studying until I've reached the level that I want to reach." – Sean Cassar, BA (Hons) Interior Design.
Congratulations NDA Class of 2015!