Buying art isn't as easy as it sounds, but can be an essential skill for an interior designer. Director of Studies at the NDA, Anthony Rayworth, provides a useful guide to buying art as an interior designer.
Art through the ages
For centuries, millennia even, art has been the defining element within an interior. The Egyptians used it as a way of recording and worship. The Greeks expanded this to become a way of expressing philosophical ideals whilst the Romans sculpted Gods, Emperors and warriors.
It is impossible to imagine any major historical interior without art. Indeed, a great many of them are now art galleries – think of the Uffizi gallery in Florence, originally (in 1581) a suite of magistrates offices, now one of the most famous galleries in the world. Similarly, the Louvre in Paris was originally a fortress, becoming a Royal palace in the sixteenth century and an art gallery in 1793 after the French Monarchy moved to Versailles (yet another former home that is now a treasure trove).
Art – the companion of interior designers
This is not the place for an overview of the history of art, suffice to say that art has been a constant companion of architects, patrons, interior designers, hoteliers, lawyers, innkeepers and anyone who enjoys looking at something that means something to them. Art is not about budget, although great art involves stupendously deep pockets. Art is to do with surrounding oneself (or clients) with objects of beauty, challenge, contemplation, inspiration and confrontation, whatever the budget. Only now, the 21st century, are we (interior designers) in the fortunate position to not only collect but also to create something wonderful for ourselves and our clients.
A guide to buying art:
To begin at the beginning; a client will often say "I'll buy the art, you do the interior" . Wherever possible try to steer them away from this approach. Buying art for and sometimes with, a client, is best approached like any other aspect of an interior design project – with a detailed and thorough brief. Without this, the client may arrive with a life size Andy Warhol 'Elvis' to hang in the dining room in between a full size reproduction of Monet's 'Waterlilies' and a Jenny Holzer projection proclaiming 'My Skin'. A recipe for indigestion … but that's just my opinion. Which brings me to another point, try to guide or influence the brief if at all possible, or at least initiate discussion if you feel that your client is going 'off-piste' in the art department. If the budget is serious, it pays to employ a consultant who knows exactly who to buy, why to buy it and when to say no. A good consultant can save your client thousands of pounds and save you a lot of embarrassment.
Finding art – where to start?
A very good place to begin finding art is the incredible pool of talent graduating each year from art schools around the world. Wherever you are, try to see at least two or three of these shows, The Royal College of Art in London is always particularly interesting but don't neglect the others. It is a good idea to go to private views of exhibitions whenever possible, this way you get to see the work, meet and network with other artists and collectors and you also, over time, become known to the gallery staff and owners. Art galleries have a formidable (and largely misunderstood) reputation for disdain but normally, they are comprised of very accommodating and knowledgeable individuals who are working with things they love. It is always good to walk into a gallery with a client and be greeted by name.
From show homes to public spaces
For those designers who work with show home developers, hotels, and other contexts where multiple quantities of prints, sculptures, mobiles and other artworks are required, there are specialist agencies who exist solely to supply this specific market. Works can be bought on-line or, for larger projects such as a hotel, a meeting is recommended where such details as quantities, ambience required, budget, delivery, installation, opening dates etc can be explored and agreed. One of the best of these is Artfinder where you can browse by category, style, medium or artist. Another good choice is Indigo Art who supply artwork for restaurants, pubs and other areas of the hospitality industry.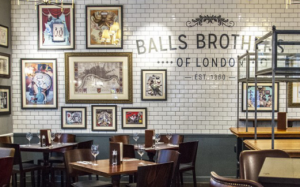 Siting art within your interior
Finally, a word about hanging or siting art within an interior. Unless you actually want your home to look like a gallery, it is usually a good idea to anchor a painting with a piece of furniture or to integrate sculpture in terms of location, lighting and positioning. Lighting is crucial, absolutely crucial to the success or failure of an installation. I strongly recommend that you work with experts, not just to bring out the best in a piece in terms of drama or colour balance but also safety. It is also extremely cost effective. If you know you want a piece of a particular size to balance a room but you or your clients have not yet found the ideal, consider either hanging a beautiful but empty frame of the desired size and shape in the allotted space or to mount a small photograph within a large frame. You are then able to light and visually balance the interior until a piece is found. Happy Hunting!