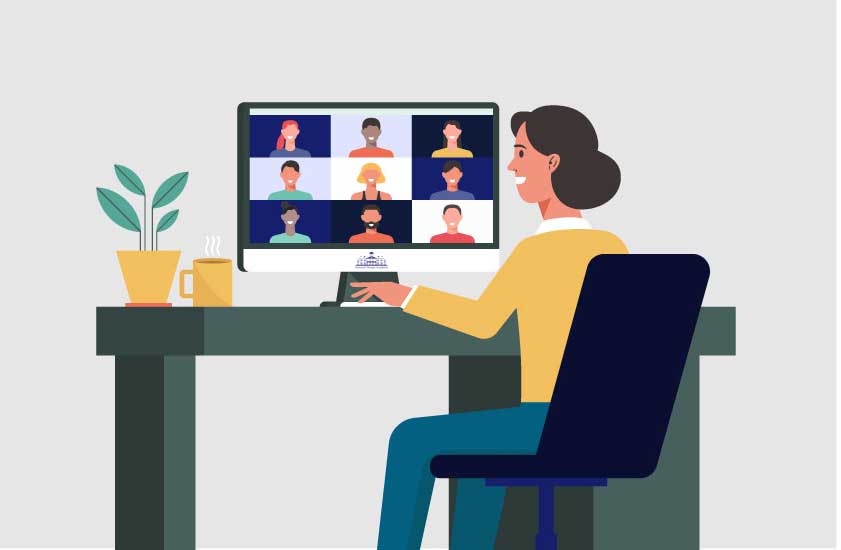 Going back to school is never easy and if you are looking to retrain and qualify as an interior designer, it can be difficult to know which interior design course to study. Do you choose something at a local college or University where you can attend classes while your kids are at school, or do you choose an online course where all of the work is done at a time to suit you? Well, there's a new kid on the block and it's shaking up the way classes are delivered across the world – Zoom!
We've never been slow on the uptake of technology here at the NDA. We were one of the first institutions to offer a fully virtual classroom for interior design students. Zoom is no exception. Last week, we launched the world's very first accredited Interior Design Course to be delivered via Zoom! So, if you're looking for the fastest and most fun way to qualify as an Interior Designer, look no further!
Qualify as an Interior Designer in 12 Weeks – from the Comfort of Your Own Home!
You may have seen us claim this before. That's because our in-studio interior design course can help you to qualify as a professional Interior Designer in as little as 12 weeks. But that does mean having to attend our studio in either Nottingham or Dubai. Not achievable for everyone. Our new Zoom course gives you all the benefits of our fast-track course, you just don't need to leave your house! So, if you have kids at school, work part-time, have other commitments or are simply struggling to wear people-appropriate clothing every day since lockdown, this course is ideal!
Our Professional Interior Design Fast-Track Zoom Diploma is the perfect blend of both worlds. The 'classroom' element gives you the face-to-face tutor lessons, you get to meet new people and qualify faster than our 100% online interior design qualification, yet you don't have to attend a physical location to study.
Many of you may not have heard of Zoom before Covid-19 locked down most classrooms and workplaces and stopped us seeing our families and friends. Of the few companies to thrive during lockdown, Zoom's success has perhaps been the most meteoric. Suddenly everyone's having a Zoom meeting, quiz night or catching up with distant and not-so distant relatives using the platform.
We identified quite early on that Zoom classes would be a popular and progressive alternative to physical lessons when we had students who had attended our studios for the first part of their interior design course. We didn't want their learning to suffer so we arranged to host the second part of the 'in-studio' course online.
Zoom is an online live video, audio and chat platform which allows people to connect from anywhere in the world. Zoom's easy to use platform makes it easy for even technophobes to navigate which is why we decided to use it for our online studio course.  You can see the other people in class, share your screen and even record your screen which makes revisiting lessons easy.
After completing the second part of their diploma via Zoom, students were so happy with the platform we decided we'd offer everyone the chance to study interior design in the same way.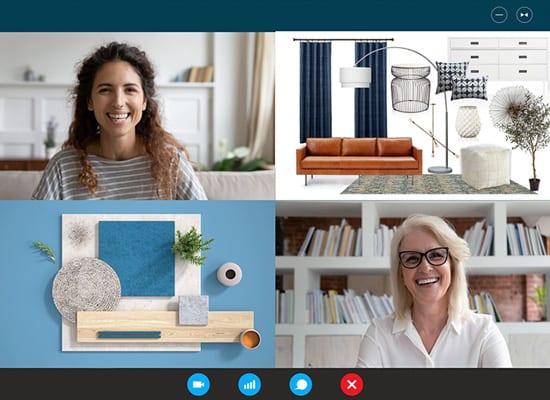 What are the Benefits of Studying Interior Design via Zoom?
When we say that the Online Fast-Track Diploma is the perfect blend of both worlds, this is why –
You get the same level of support and face-to-face contact with tutors as you do with the studio course.
You can still learn from anywhere in the world, the same as our online study option.
You can fit in the bulk of the coursework around your family or other commitments.
You still get access to our online resources via the Virtual Learning Studio.
You'll still meet like-minded people who are passionate about interior design – just like being in one of our studios.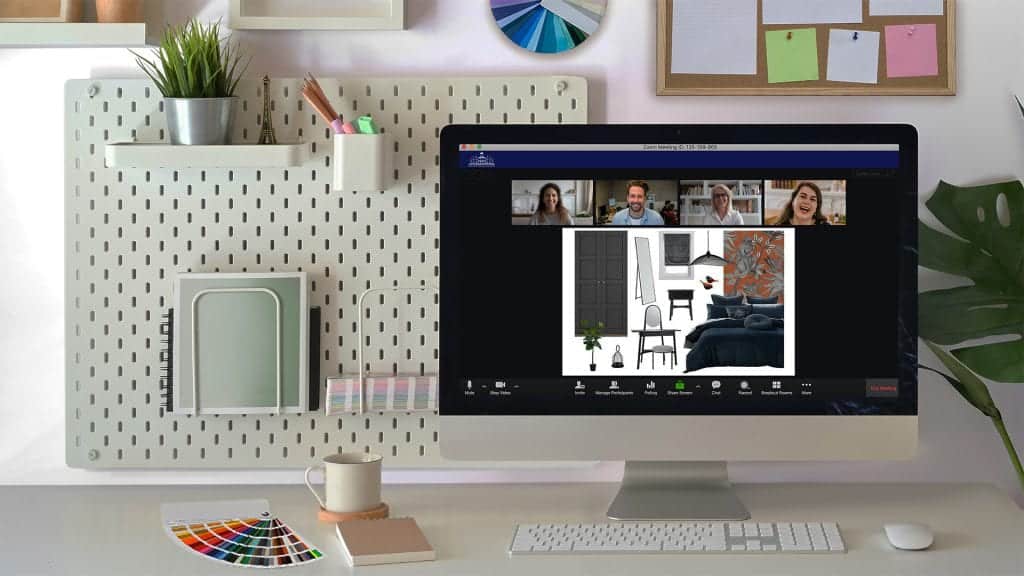 How Does the Online Fast-Track Interior Design Course Work?
In addition to all of the benefits of our traditional online or in-studio interior design courses, the Zoom course has the following benefits: –
You'll experience a more structured learning experience – you will be provided with access to course content at the beginning of each week, with a 2.5 hour live lecture to cover the key points of each module. You'll be able to ask you tutor questions and virtually meet other students at the beginning of their own journey to qualify as an interior designer.
You'll then spend 2 to 3 days working through the module a your own pace. This means you can choose to study in the day time, or evening – whichever suits your schedule.
A second 2.5 hour live lecture is held towards the middle of the week. This is the time for discussions and questions with your tutor. You can review your progress and discuss any problems you may be having, as well as bounce ideas off your classmates.
The Online Fast-Track Interior Design Diploma Zoom classes last for 10 weeks, with an additional 2 weeks at the end to tie up any loose ends. Theoretically, depending on the spare time you have available, it's possible to qualify as an interior designer in the 10 weeks but the additional 2 weeks can act as a buffer.
So, if you want to qualify as an interior designer, meet new people, have fun and wear your pyjamas while you study, sign up for our Online Fast-Track Interior Design Diploma today!  
Sign Up or Find Out More About Our Zoom Course!
Qualify as an Interior Designer in as little as 10 weeks with the Online Fast-Track Professional Diploma in Interior Design