As an interior designer, your portfolio is the most influential thing when it comes to getting a job or getting clients on board. This is your first impression, your best foot forward, your statement of what kind of designer you are, where your strengths lie. Without a good online interior design portfolio, you'll find it almost impossible to get ahead in this highly competitive industry.

In Part 1 of our Portfolio for Interior Design 'How 2', we covered the basics of creating a portfolio to wow at your next interview or client meeting. But more often than not, these days you'll be asked to submit evidence of your work digitally. Even if you prefer hand renders over SketchUp, creating an online portfolio is a necessity. We asked NDA tutor Amy to put together her list of top tools for creating the best online interior design portfolio.
In the first part of this blog series we looked at some of the creative ways in which you could present your work using a portfolio. Some of the key considerations identified in Part One were:
Context – Remember to impress, presenting your portfolio in a visually attractive way.
Be Authentic – Make sure the portfolio represents your style as a designer.
Refinement & Variety – Choose your best work, whilst demonstrating the diversity of your skills.
Update – There is no point sending a 6-month-old portfolio out if you have produced some beautiful work since, so keep your portfolio up to date.
The same applies to an online interior design portfolio and the good news is, there are tons of resources out there to help your make your work stand out online.
An online portfolio is essentially a visual CV which can be presented as a PDF, flipbook presentation or a simple website in portfolio format, where style counts for more than written content. Depending on your level of skill, you can create a simple yet effective portfolio or a more complex website to showcase your work and personal style. You'll need digital images of your work so make sure you have these before you start as it will help you to decide on the 'theme' and layout. You can use an online image size reducer which turns your CAD renders or digital photographs into smaller files which are more suitable for hosting on a website as you need to consider how quickly the image load for viewers. Try TinyJPG here.
If you're going to create a website style portfolio, consider your 'theme' carefully. Themes are also known as templates. These are the pre-built layouts that website builders use to make your life easier. There are thousands of them out there; the most basic ones are free but can still give good results.
As an interior designer, your work will already be visually appealing so don't choose a web theme that is too complicated. You also need to think about how it will look with your content. You won't get the same results as the demo template if you choose an arty monochrome theme and then showcase a load of colourful renders. Sometimes the simplest layouts create the best presentations so try not to over complicate things.
There are plenty of platforms available which allow you to create online portfolios, but if this is a new concept to you it can be a bit of a minefield. So, to help make your decision we've reviewed some of the best online portfolio tools available, all of which offer a professional finish whilst being relatively easy to use.
Best Free Online Portfolio Tool: Wix.com
Wix offers up to 500 templates, all of which are mobile friendly. This means that your portfolio can be viewed on a mobile or tablet and still look as impressive as it does on a laptop or desktop computer.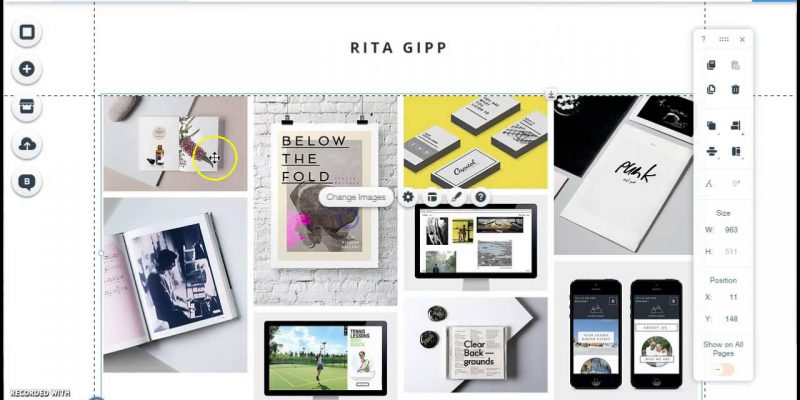 Wix has a free account where the basic features would be enough to produce a simple yet successful online portfolio. You can also pay a premium price which will allow you to access further templates and features. Wix also offer professional help with a website builder, but again at an extra cost. There're tons of resources and advice out there on forums and You Tube to help you use Wix without paying for premium features. Take a look at some of the great portfolio templates on Wix here.
Wix is very easy to use for anyone who's never tried a web-builder before. It's a drag and drop platform and very intuitive so the best bet if you're looking for something quick, cheap and easy.
Most Stylish Digital Portfolio Tool: Squarespace.com
Squarespace is a very contemporary platform which offers a great range of fresh and up-to-date templates for an online portfolio. These templates are organised into sector specific designs, and when starting out this makes it incredibly easy to find something which is suitable for you, and your design style.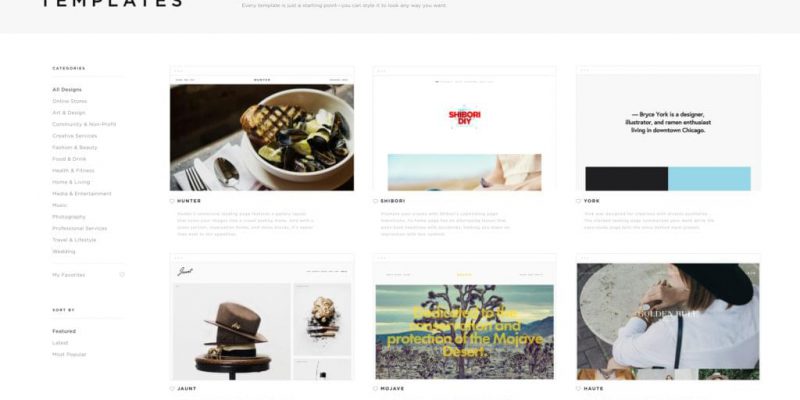 Squarespace is a paid for platform, however there are a range of plans starting from £10 a month and for this you will also get a free custom domain name, making it easier for people to search for you and giving your business a more professional appearance. Having your own domain name i.e www.NDAinteriordesign.com will help you to create an online presence that you can link to from your social media accounts and have printed on business cards so that you can network your services with confidence.
The user interface is very easy to get to grips with and they have a specific section for interior design web templates. Their help guides are also wonderful so if you have a little more time to create an online portfolio you will be sure to create something to show off your work in its best light using Squarespace.
Most Flexible Online Portfolio Site: WordPress.com
Another website builder and one of the most popular platforms in the world, WordPress is free for a very basic blog account. However the paid-for subscription is one of the cheaper options we've reviewed, with a personal plan starting at just £3 per month, billed a year in advance. Although originally targeted towards blogs, this platform now has a huge range of free portfolio templates which makes it extremely good value for money.
The development opportunities for WordPress are massive. Almost 40% of all website are built using it. That does mean that you can run into technical difficulties if you don't have any experience of building a website. Not that you have to create it from scratch. There are some very easy templates which can be used to create an effective interior design portfolio.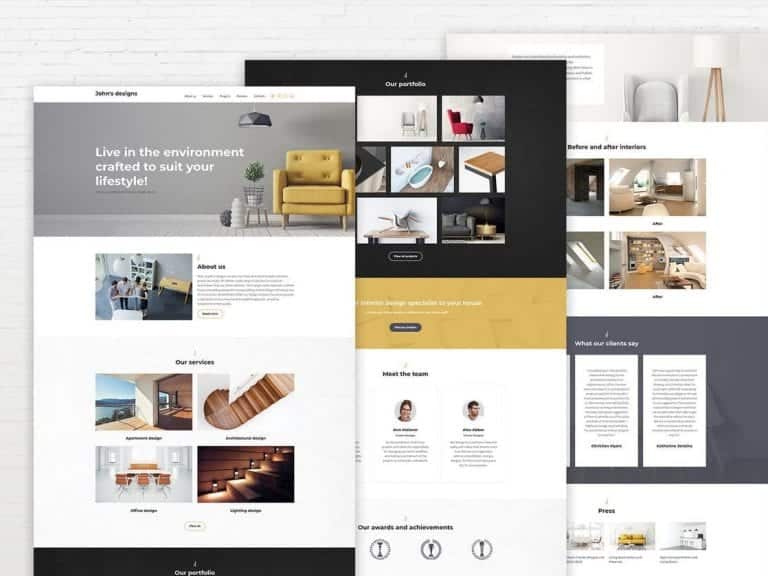 Unless you pick a very basic template, or you have a friend or family member who's used it before, this platform is not the best for beginners. So, if this is a completely new concept to you, it may be best to choose one of the other platforms recommended.
Best Online Portfolio Publisher: issuu.com
Issuu is a digital publishing platform and boasts 1 biliion plus visits a month across user sites, with the platform being used by global brands such as Patagonia and Guess. You might call this site a 'high-end' portfolio builder, as plans can cost more than £200 a month, making this the most expensive of the examples discussed here. But, there is a free mode – the Basic package. This allows the sharing of stories and unlimited uploads so this may be plenty for someone looking for a 'flipbook' style online portfolio.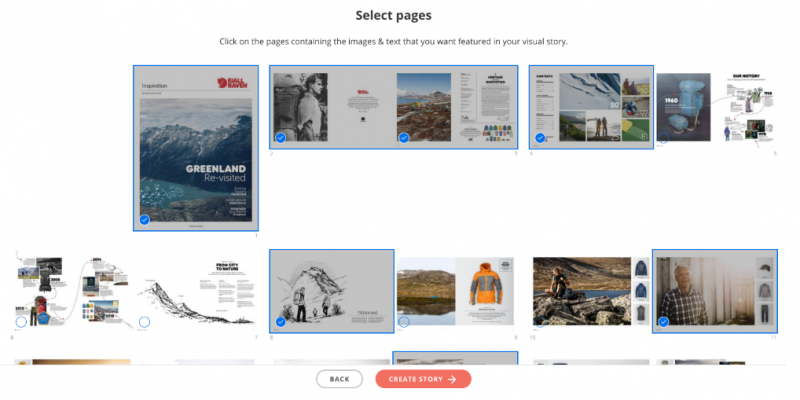 Issuu will require some graphic design skills as you'll need to upload your content directly into the Publications platform. It may sound like more work than creating your portfolio using an online web builder but it will actually give you more freedom when it comes to the final look and feel. It's also easy to share and embed your portfolio once you've published it. You can share using a link, embed into a website and order printed copies. You can also create a visual story of your portfolio for Instagram and Facebook – by far the most flexible of the platforms we reviewed.
Best Option for People With Adobe Creative Cloud
If you already pay for Adobe Creative Cloud, you get the added bonus of Adobe Portfolio. It does exactly what it says on the tin and better than that, allows you to port over all of your assets from other creative cloud packages at the click of a button via Adobe Lightroom. Adobe Portfolio is another web builder but designed specifically for portfolios. The themes are some of the best out there and rather than trying to shoehorn your work into a standard template, these have all been designed with designers in mind.
You can create a gallery of work or a more simple welcome page, or both. All templates have been optimised to be responsive on mobile too. So if you're already using Adobe CC, their online Portfolio option is hard to beat.
Creating an online portfolio is the first step for any designer, not just interior designer, when you're looking to find work. Even if you've been working in the industry for a while it can be easy to forget the importance of showcasing your own work. Using these online portfolio tools it's quick and easy to keep your portfolio up to date too so no excuses!
Looking to refresh your Interior Design skills?
Did you know that we offer four different degree courses in interior design and a Masters?