In years to come, people will ask "What did you do in the Lockdown of 2020"? Many of you will struggle to remember how you passed the time. Yet some will see it as the year they achieved. The year they actually had the time to focus on themselves, their career goals and their future. Emily Harnasz in one such person who used lockdown to her benefit. Having had a passion for home styling since she was a child, life circumstances and lockdown gave Emily the chance to follow the dream. Having been made redundant she decided to use the time to study the NDA's online Professional Interior Design Diploma.
Following her recent successful completion of the course, we caught up with Emily to talk about her dream projects, how she found the course and her plans for the future.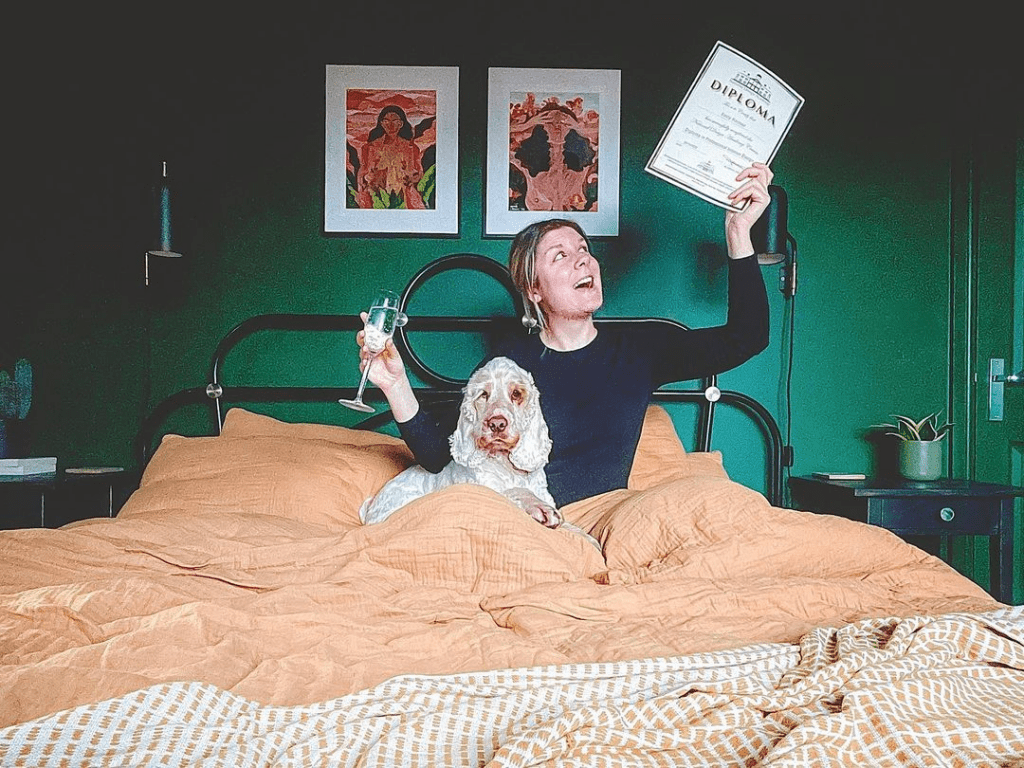 Welcome to the House of Harnasz – home to Emily, Tom and Rupert the Cocker Spaniel. When Emily was made redundant in February 2020, she decided to use her free time to follow her dream of starting her own interior design consultancy. When lockdown looked imminent, Emily decided to study the NDA's online Professional Interior Design Diploma, leaving her free to study from the comfort of her own home.
We caught up with Emily to talk about her passion, projects and plans for the future now that she's completed her Interior Design Diploma.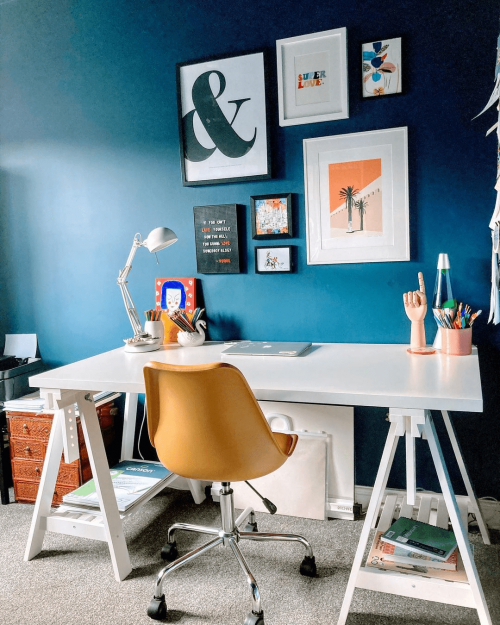 What made you want to become an interior designer?
Ever since I can remember I've had an interest in interior design. As I kid I would spend hours redesigning and reshuffling my bedroom much to my mum's delight! And I always loved visiting my nana who was a seamstress and would often be making curtains, sofa covers and soft furnishings. In more recent years my love for interior design grew when my mother-in-law started the NDA diploma back in 2012. She was also undergoing a big renovation project at the time and I loved seeing all her creative ideas coming to life. She would often tell me I had an eye for interiors myself but at the time I was training to teach drama, so left it to the back of my mind. A few career changes later and I decided that 2020 was the year to finally follow my heart and build on my passion for interior design.
If you could describe your style in 3 words?
Who is your biggest inspiration?
I'm not sure I have one main source of inspiration; I love to scroll through Instagram and Pinterest to find new and interesting ideas as well as design magazines to keep abreast of what's happening in terms of current treads. I do love Kelly Wearstler and her experimental mix of textures and architectural shapes and I love Sophie Robinson for her bold use of colour and patterns.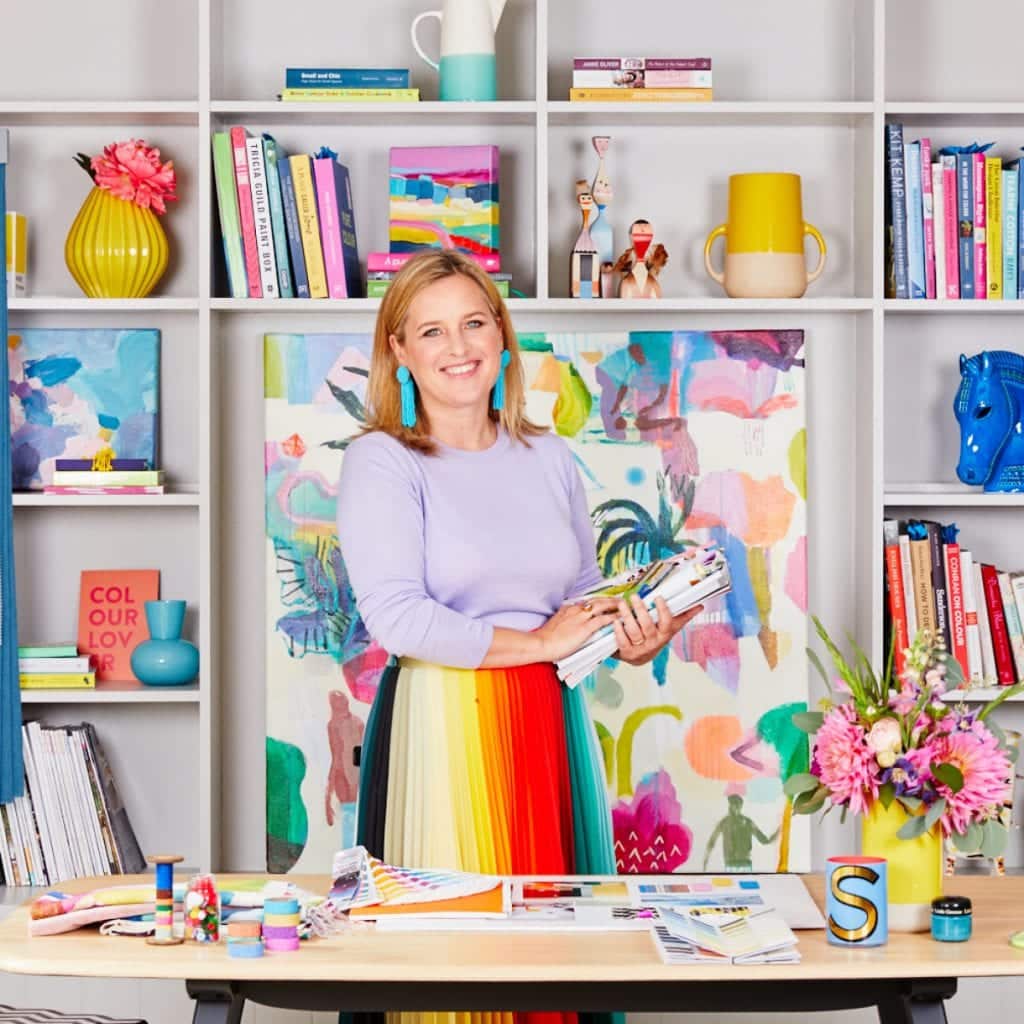 What was your favourite unit of the Interior Design Diploma course?
My favourite module was definitely unit 3 – Colour. I loved having an opportunity to gain a better understanding of the basics, as well as exploring my own creativity with colour. It inspired me so much I ended up doing extended research into colour theory and psychology.
Can you give us a quick summary of how you found the online Interior Design course?
I absolutely loved the course. I found the content to be very engaging and the resources to be clear and detailed. The Virtual Learning Studio was super easy to navigate. I loved that I was able to work at my own pace, which in my case meant I ended up finishing the course in just 6 months!
Who was your tutor and how did you find communicating with the virtually?
My tutor Ruth Skrytek was such a great help and would always give well balanced feedback as well as always responding quickly to any concerns. The virtual element was not a barrier as the VLS email system meant I could always contact Ruth and I knew I would receive a helpful reply quickly. 
7. You've just finished your diploma, what are you doing next?
I'm currently working on creating my own online interior design service, with a focus on colour consultancy. I'm hoping to launch in the new year so I'm excited for that.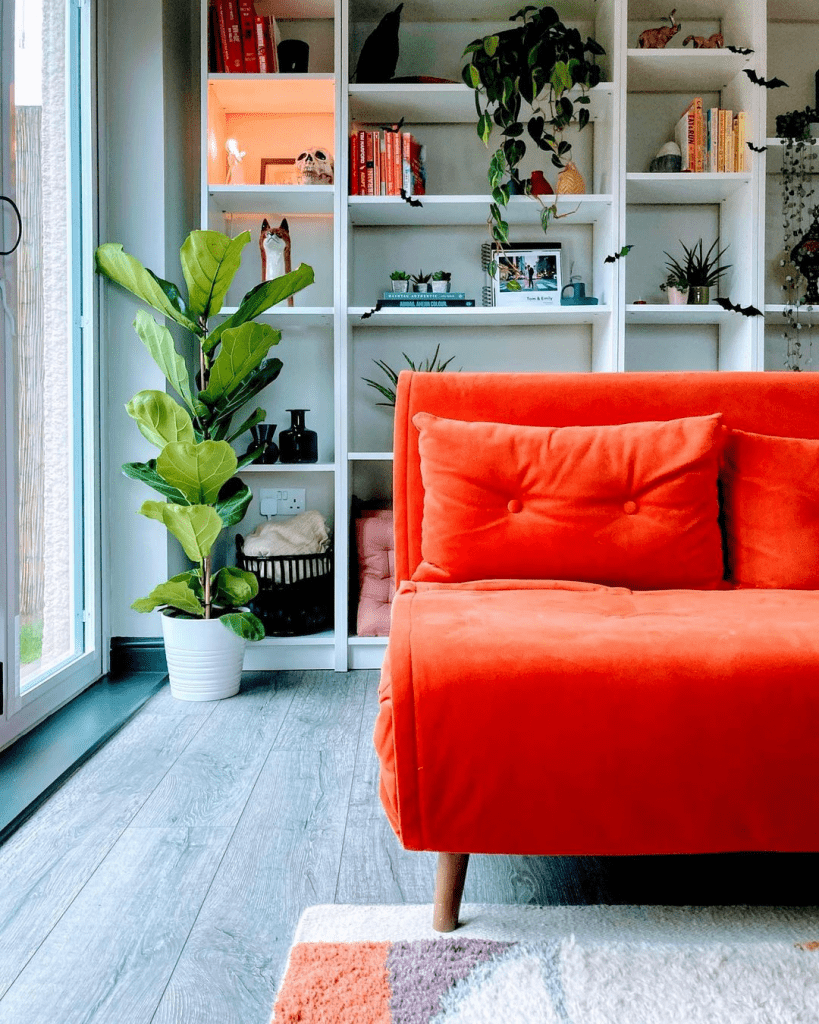 Who would be your dream interior design client or what would be your dream project?
Selling Sunset on Netflix was a true guilty pleasure of mine during the summer (what else was there to do during lockdown!) and I just loved glimpsing multimillion dollar mansions in the California hills, one day I'd love unleash my creativity on a large modern property with amazing architecture and stunning views to take in as inspiration.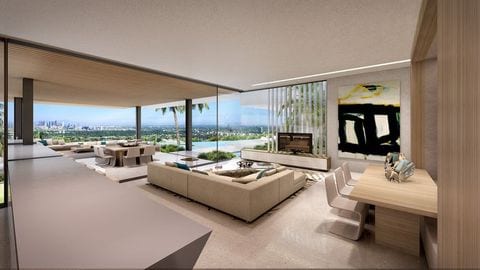 Can you tell us about the 3 projects you're most proud of?
Unit 2 – Moroccan Inspired Presentation Board
We were asked to create a presentation board based upon the brief of an example client. I chose to focus on the client's love for Morocco and their interest in natural elements. I loved this project as it was the first time I had created a mood board to a specific brief and I absolutely loved the creative element to this project.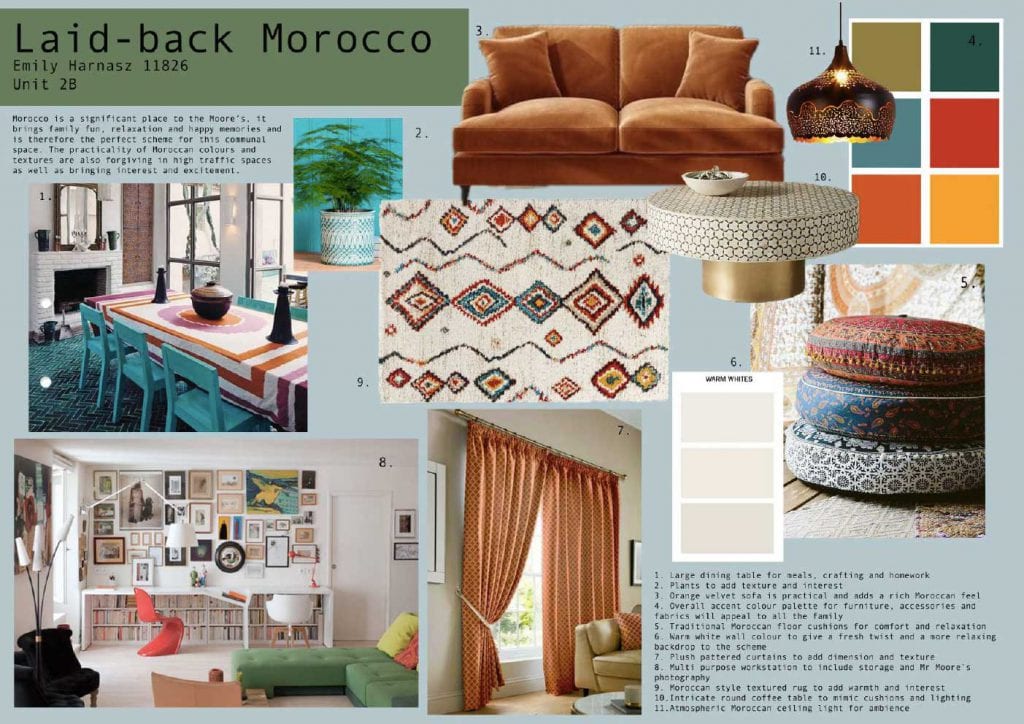 Unit 3 – 1960's Colour Trends
Unit three allowed me to take some time delving into the fascinating world of colour, especially its influence throughout the decades. I've always had an interest in mid-century design and I use this as an opportunity to explore the bold and brave colour choices of the era.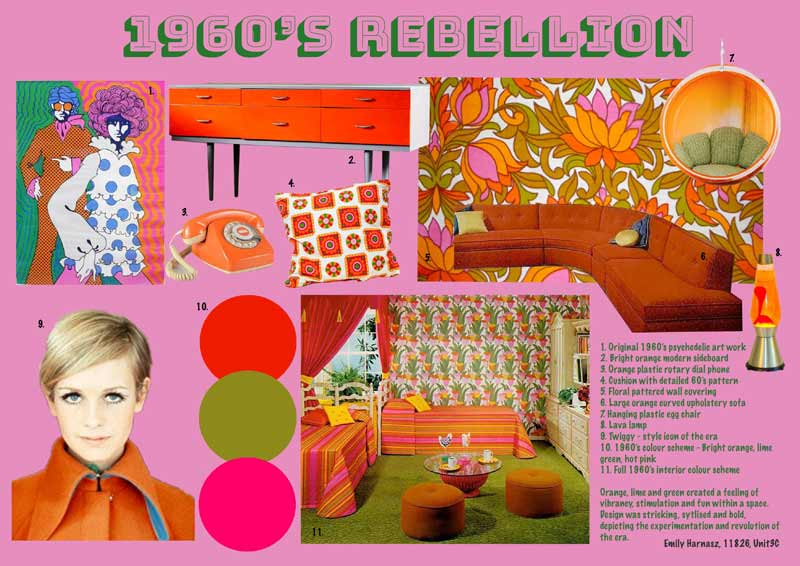 Unit 8 – Products and Accessories
This was the unit where I really felt things began to click into place. I felt more confident creating cohesive presentation boards and being able to articulate a clear design to brief. I also loved the practical element of finding the right products for a specific scheme.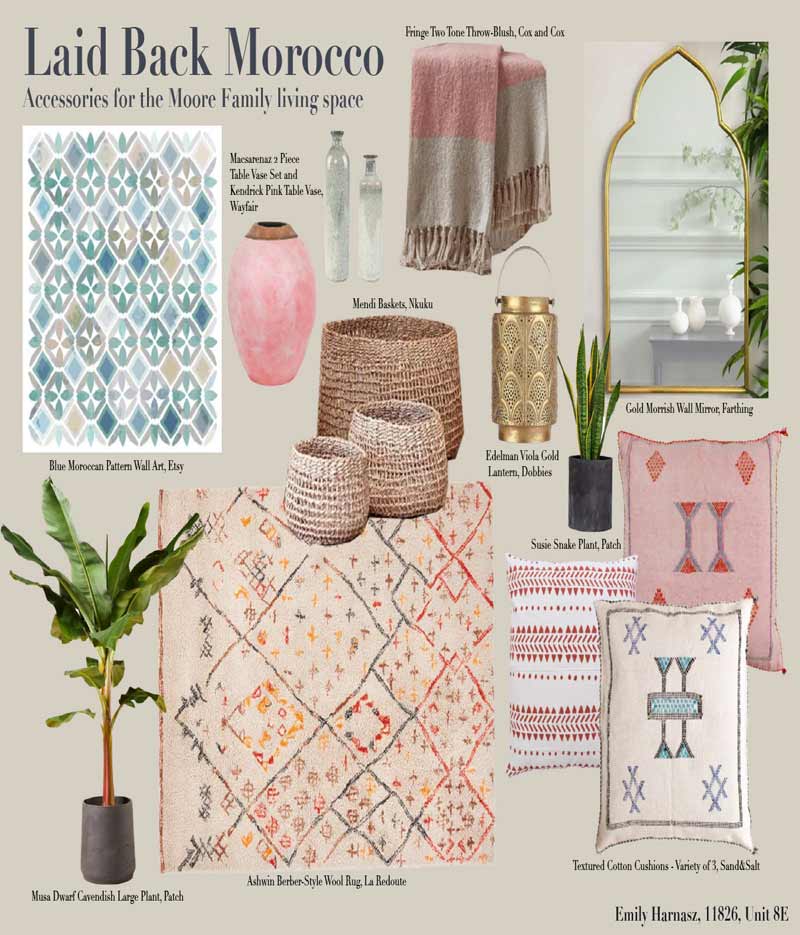 After completing your Professional Interior Design Diploma what are you doing next?
I'm currently working on creating my own online interior design service, with a focus on colour consultancy. I'm hoping to launch in the new year so I'm excited for that.
If you could give someone considering studying interior design any tips what would they be?
I would say if you are thinking about starting, just do it! If it is a passion then you will find the time to fit studying around your life, after all you only live once!
In a practical sense, I would recommend investing in a drawing board, it will make the hand drawn projects so much easier. I also found connecting with other students was a huge help, I followed students on Instagram and it was great to share ideas and ask questions. There is also a student support Facebook page which is great too!
You can follow Emily on Instagram for some unique home styling ideas and see how her confidence with bold colours has influenced her own home interiors.  You can also keep up to date with her progress as she launches her own professional interior design service.
Has Emily's work inspired you to study Interior Design?
Why not take a look at our courses? From Diplomas to Degrees, we offer a learning level to suit everyone.