Hi, I'm Sophie and I'm studying on the NDA's BA (Hons) Interior Design degree. I'm one of many students who started by studying the Online Interior Design Diploma with the National Design Academy and used their progression scholarship to continue my learning. This week, I've been taking over the NDA's social media channels to share my passion for biophilic design. This guest blog looks at the principles of this sustainable and uplifting interior design trend when related to the workplace. 
I hope you enjoy it! 🌿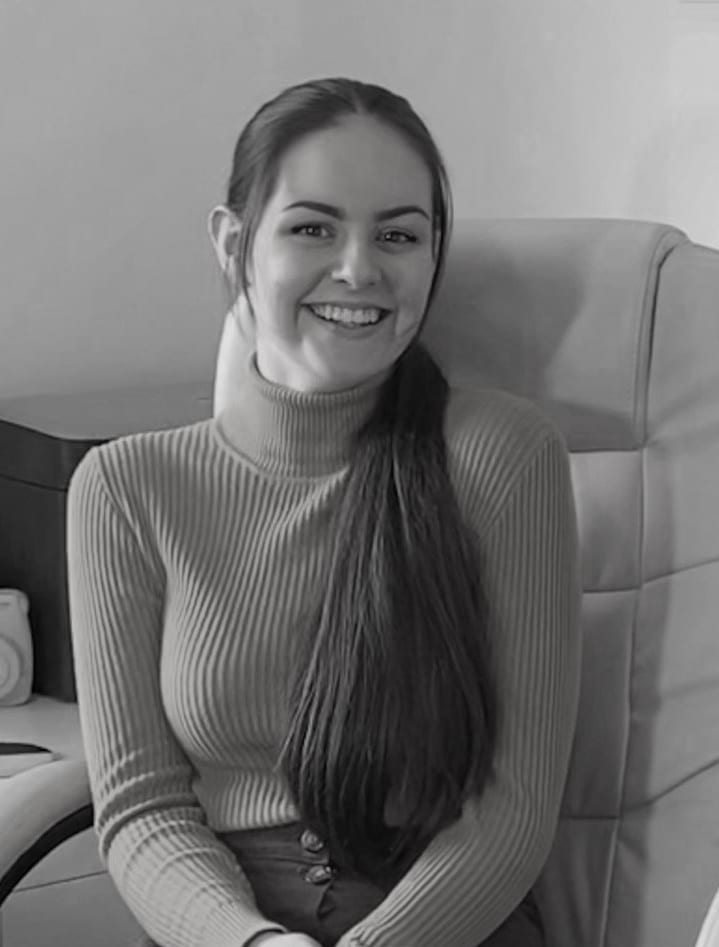 Boost Your Productivity with Biophilic Design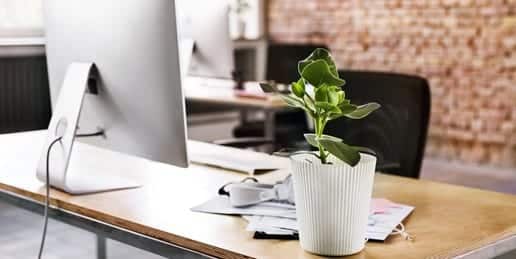 This past year has thrown up many challenges for everyone, one of which is the disruption to our work lives and offices. Whether you have found yourself working from home, maybe in a makeshift office under the stairs, hot-desking at the kitchen table or you are back in your commercial workspace but it's looking empty and clinical, (and smelling clinical too probably!) it's fair to say that our workplaces aren't the most inspiring or creative spaces to be right now. This is why using interior design techniques in our workplace is more important than ever before. In this blog, as well as on my social media student takeover, I'm looking at how we can use biophilic design to improve our offices and hopefully make this strange and scary time in life a little more calming and productive.
Plants Boost Your Mood.....FACT!
The term "biophilic design" was introduced by Eric Fromm and popularised by Edward O. Wilson in the 1980s in his book Biophilia which theorises that humanity has a biological desire to be at one with nature. This design style is all about connecting to our natural environment, using the outdoors as the main influence in the space.
The introduction of plants to a workspace has been proven in numerous studies to have immense physical and mental benefits for the occupants. The ongoing pandemic is making going to work a more stressful and concerning situation than normal, therefore it is essential to protect the mental health of staff as much as possible, for their sakes but also to allow businesses to continue as productively as they can. A Washington State University study found that participants' blood pressure was lower when plants were present in the room, and many other studies have proven plants ability to reduce stress; something we could all do with less of at the moment and is surely a major aim for all employees. Plant based design is also proven to increase productivity, creativity, improve concentration and generally lift people's mood, resulting in a high-performance working environment.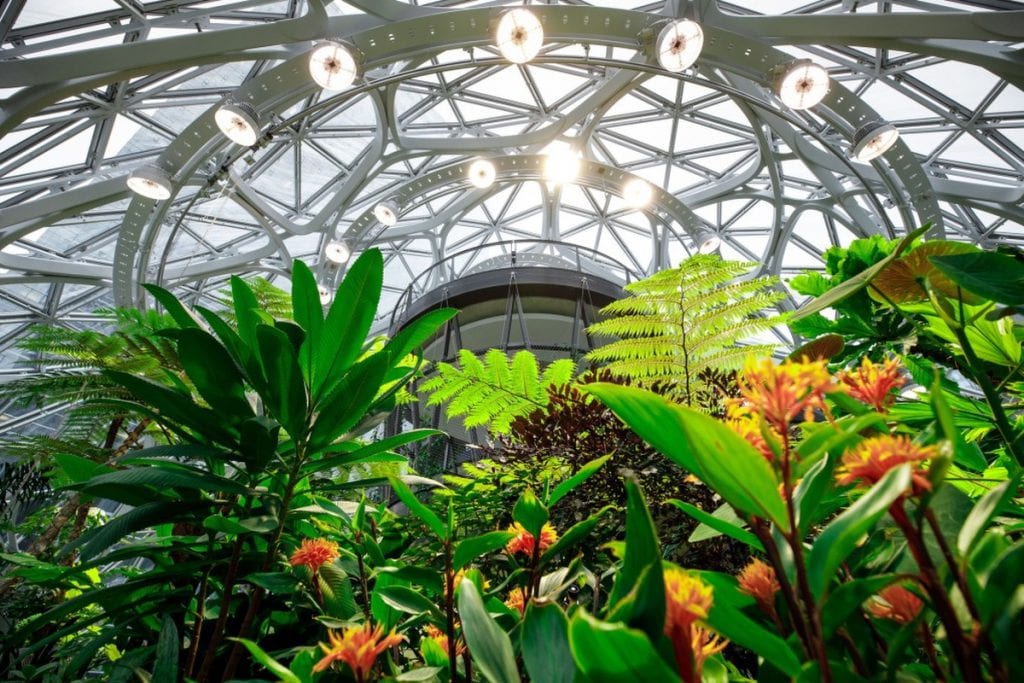 Ventilation and air quality plays a large part in biophilic design, but at the moment we need to use a range of cleaning supplies that leave damaging chemicals and toxins in the air. However, plants can be used to help improve this situation, as not only do they produce oxygen and reduce carbon dioxide in a building by up to 25%, they also remove toxins from the air.
So, now we know the benefits of biophilic design, how can we use it?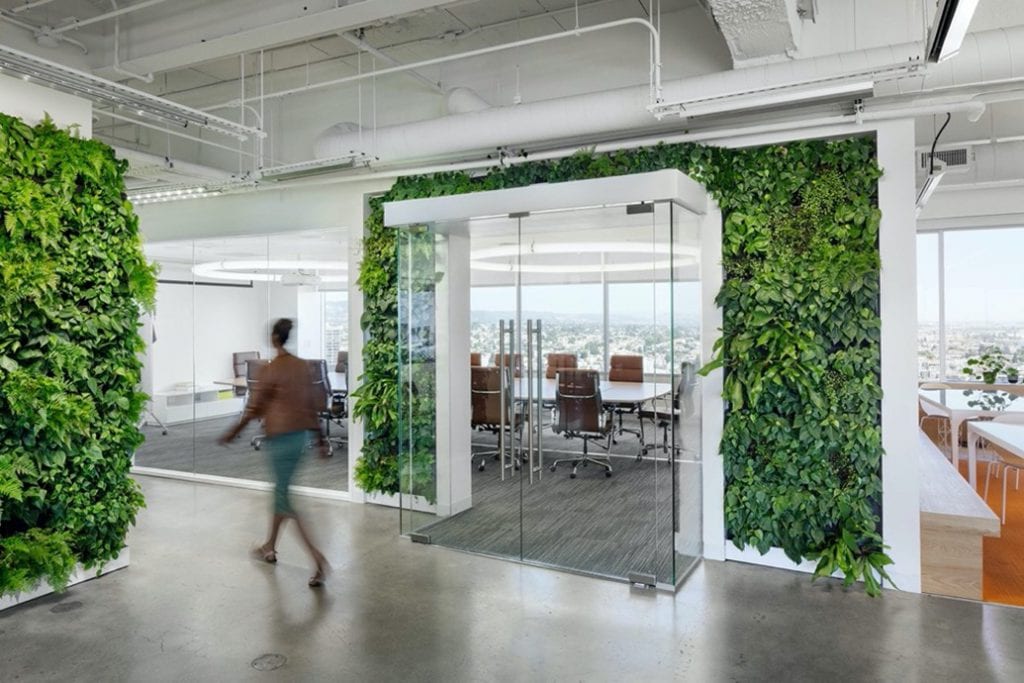 The most obvious way to connect a space to nature is to bring the outdoors in by introducing plants. Solar Mosaic's office, designed by FORGE,  has utilised vertical living walls, allowing them to introduce a large number of plants without taking up floor space. It also injects colour without subjective artwork or paint. In this case the biophilic design also showcases the brands image and ethos as a company in the renewable energy sector.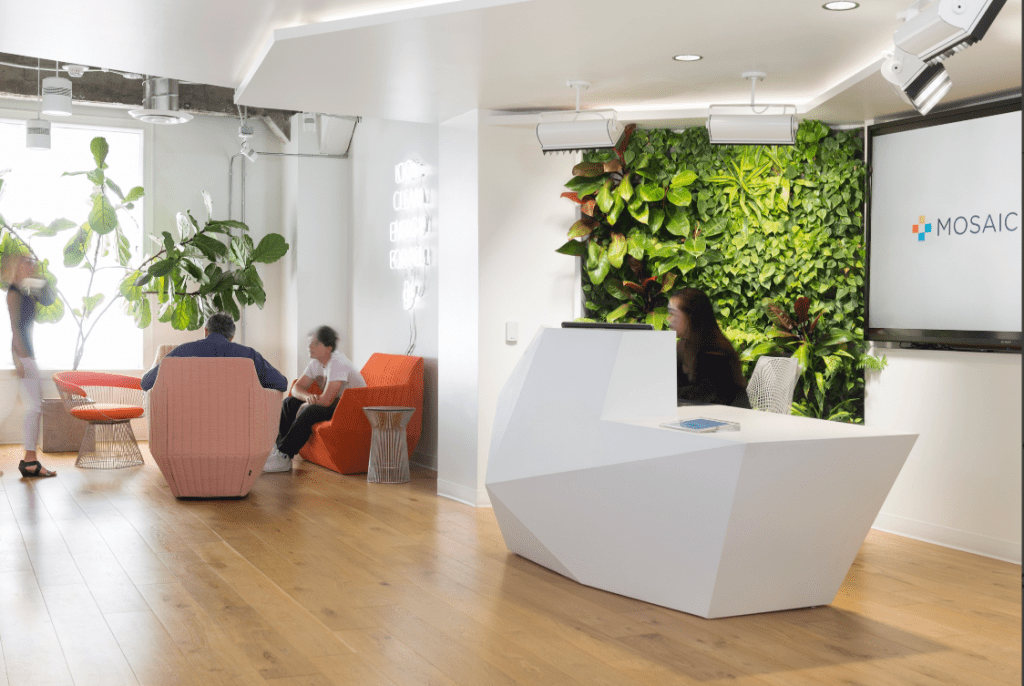 Despite limitations lifting in many countries by the summer, social distancing may be here for a while longer. The idea of using living walls to divide a space can also be applied to the ongoing issue in workplace by either replacing or hiding plastic screens.  Spaces are going to have to be reimagined and rearranged to protect people as much as possible; plant pots or wall dividers with plants in them can be used to separate a space, without making it feel aggressive or serving as a constant reminder of the stresses we face. They can do their job as social distancing dividers, whilst looking and feeling like a design feature. Most people will want them to stay even after the pandemic is a distant memory!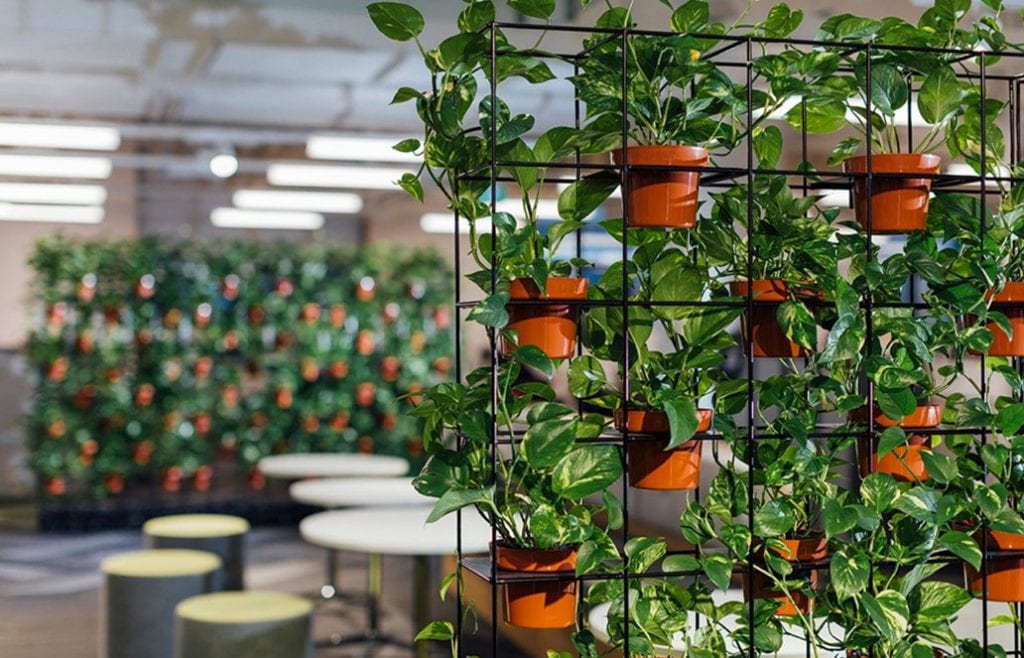 If you are concerned about keeping real plants in the office, you can also use colours and textures that occur commonly in nature to create that fresh and productive space. Vibrant and rich shades of green are a great choice. These colours are known to put people at ease because of their links to calming natural environments. Green hues don't cause eye fatigue so are perfect for offices where people spend long hours looking at computer screens, especially with all the time we are spending on video calls these days.
My final tip for incorporating biophilic design in your workplace is to actually use the outdoors. Introduce as much natural light as you can, this improves mood and productivity. Also, if you have any outdoor space, such as a balcony or even just a little land around your building, don't leave it as a boring empty space. To minimise the Covid risk, many staff are avoiding lounge spaces available inside their offices, either eating at their desks, outdoors or in their cars. Some seating and plants could turn an unused outdoor space into a lunch break area (at least when the weather allows) or an outdoor workspace. Facebook's Menlo Park HQ has a park on the roof, creating an outdoor office area.  A well designed outdoor space can also be good when you are indoors, providing an inspiring view to look out on, especially as many businesses are keeping windows and doors open to improve ventilation.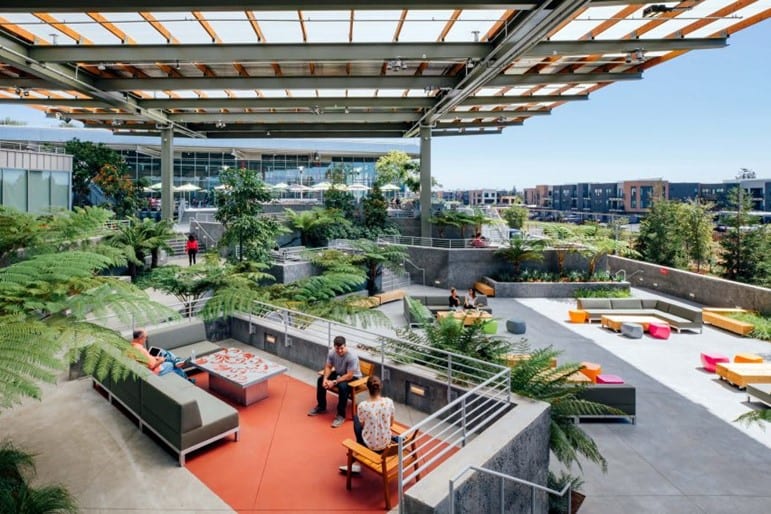 Let Your Passion for Interiors Grow with the NDA
Our online interior design courses are perfect for beginners and more experienced designers. From an entry level short course and professional diploma, through to 4 specialist degrees and an MA in Interior Design, we are the leading experts in interior design education.