Designing a kitchen is one of the most daunting projects you
can undertake when renovating your home. But with prior planning and a little
bit of help from our interior design experts, your dream kitchen project can be
stress free! As part of our DESIGN 101 series, here's our handy guide to
designing a kitchen. You can download a PDF at the end of the blog to help you
start your project.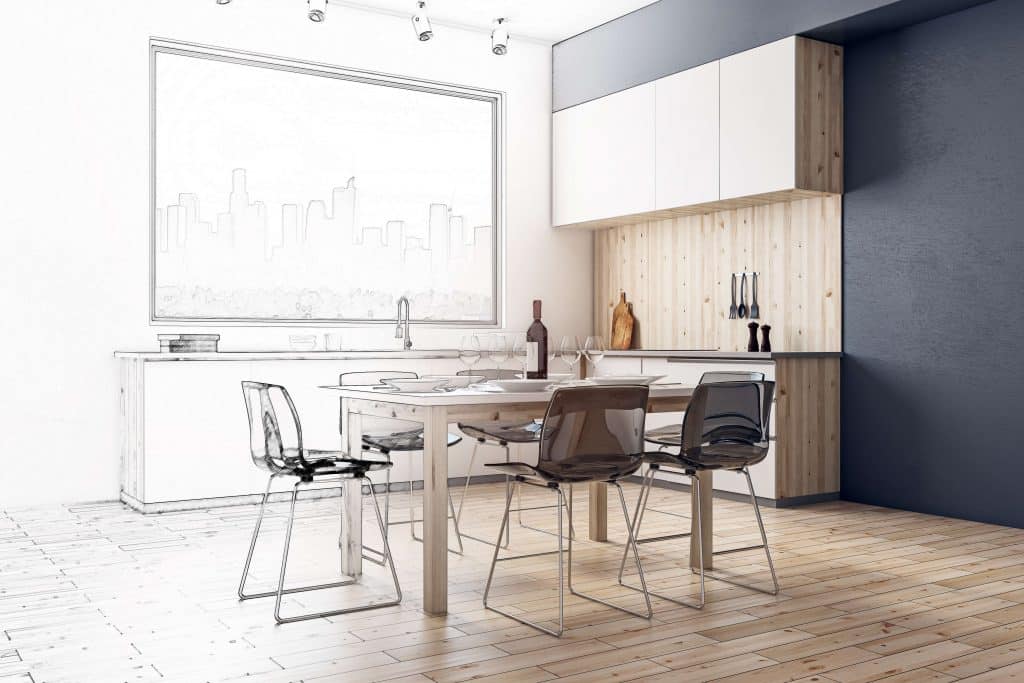 Designing a Kitchen: The Planning Stages
As tempting as it may be to get the paint charts out and start shopping for cabinets and appliances, the success of your new kitchen design lies in the planning. If you want your new kitchen to be functional and fabulous you need to have a game plan. Chances are, you already have a scheme or style in mind. Keep this on the back burner as we'll get to this later.
The planning of your new kitchen can also be a fun process. This is where you'll find out how much space you have to play with, make choices that will shape how you actually use the space and create a wish list of appliances and features.­­

Measuring your space is one of the most important steps when you start designing a kitchen. Unless you're using a full-service company for everything you will need to accurately measure your space as this will dictate how many units you can fit it, how many appliances and what style and how much flooring you'll need. It can also tell you how much paint you need to order. Follow these simple steps or download our full guide to planning a kitchen below:
Draw an outline of your kitchen on paper. Squared paper can help if you want to draw to scale or just to keep your lines straight.
Enlist help if possible. You'll always get more accurate measurements with two people.
Start measuring each wall, marking the position of your fixed features like doorways, windows, pipes that you need to work around.
Note: Unless you're in the US, most kitchen cabinets and appliances are measured in mm and cm, not inches.
Most kitchen companies offer a full measure and fit service but you'll still want to do some measuring yourself so you can have an idea of the style and layout you want before they come for a consultation.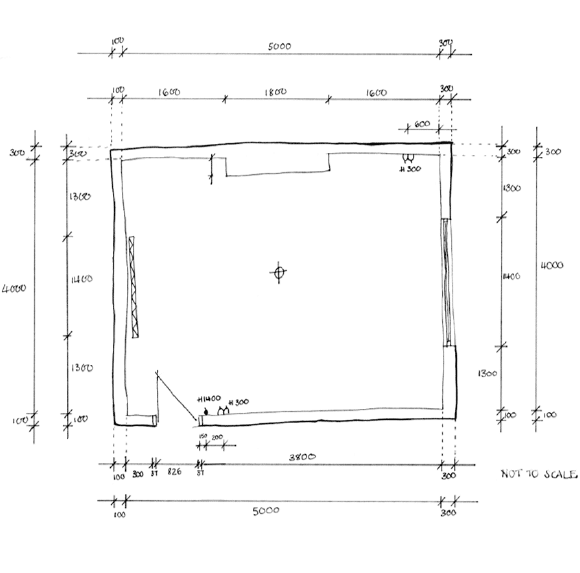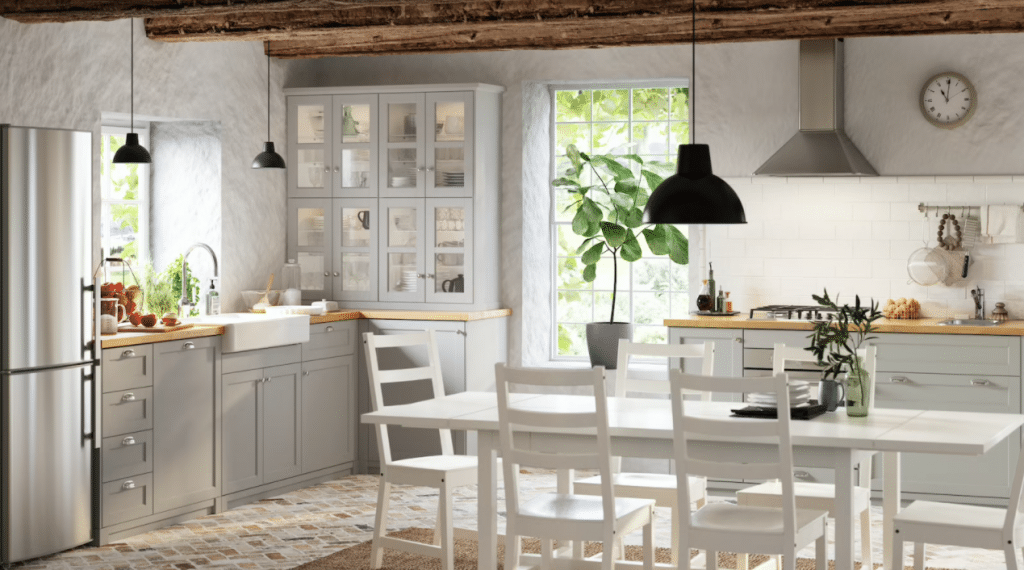 Now you have a better idea of the bare space you can start designing your dream kitchen! This is where you get to create a wish list. Before you do, you need to consider the following things –
How do you use the space? Not just you, your family. Do you love to cook from scratch or bake and need long lengths of worktop and a large fridge-freezer? Do your kids do homework in the kitchen? Is your dining area also in the kitchen?
How much natural light do you have? This will determine your lighting requirements.
How many small appliances do you have? This will dictate your storage requirements and power sockets.
Are your ceilings a standard height? This will tell you whether wall cupboards are a practical option. If so, how strong are your walls?
To create your wish list, start with three columns – budget, mid-range, luxury. This can also translate as: essentials, the dream and then compromises. Essentials should be things like flooring, worktops or even 'full height fridge' if you have a large family or use a lot of fresh produce. Or Belfast sink if you already have one or if it's an absolute must. The dream may be granite worktops or bespoke cabinetry. Then you get to the compromises as you carry out the next step….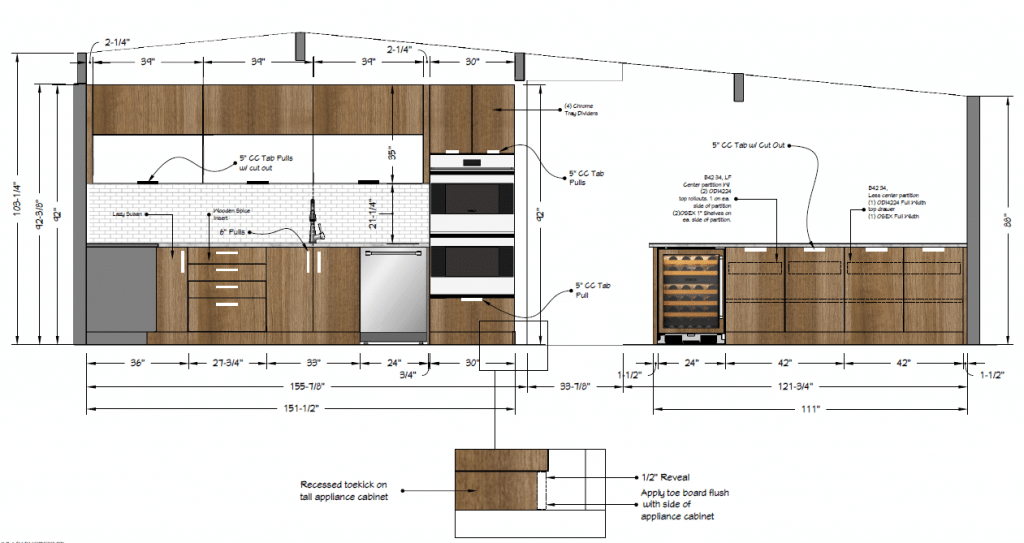 Your Kitchen Design Budget
Budgeting is essential when designing a kitchen. Unless you have an unlimited budget, in which case you'd be employing someone to project manage, you run the risk of running out of money if you don't cost the project up front, with clear priorities set from your essentials list. With the cost of materials increasing dramatically in recent months things may cost more than you think.
How much does the average kitchen cost? According to Checkatrade, in the UK, the average budget kitchen costs £5250, mid-range £10,550 and a luxury kitchen £28,400. You can find out more about costing your kitchen in our PDF guide below. But for now, let's get to the fun stuff.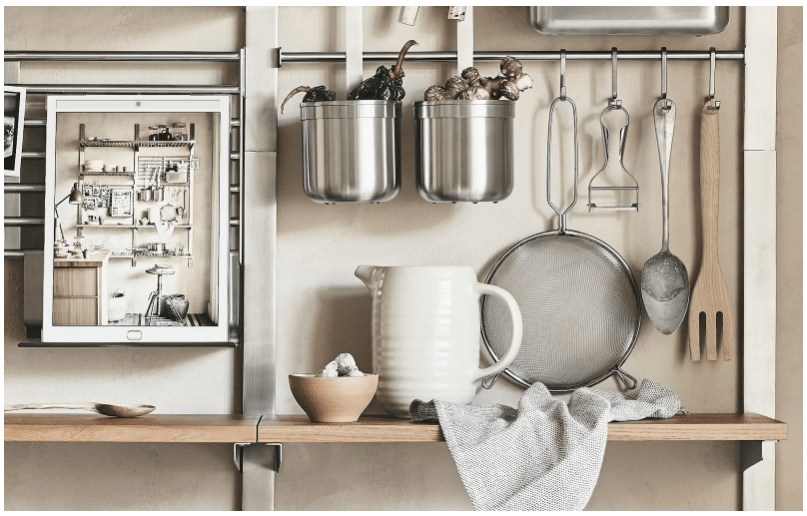 You probably already have lots of ideas of how you want your kitchen to look but getting a scrapbook or Pinterest board together helps massively with this process. Pinterest is one of the best things to happen to interior design. Rather than having to buy lots of expensive magazines, you can source information and ideas and create a digital scrap book. You can have different boards for different projects or even set up sections in each board for different elements of your kitchen design such as flooring, lighting, cabinets. Many of the largest kitchen suppliers have their own Pinterest boards of their products too.
Ideally, you'll then want to create a moodboard or concept board for your final kitchen design. Bringing all of your ideas together in one place will make sure that everything works together harmoniously. This is the stage when you'll make your final decision on the colour scheme, kitchen style and flooring. This will help you to stay on track when it comes to buying all of your cabinets, fittings and accessories.
Find out the best apps to use for creating your moodboard here or head over to our SkillsLab for our tutorial using Photoshop.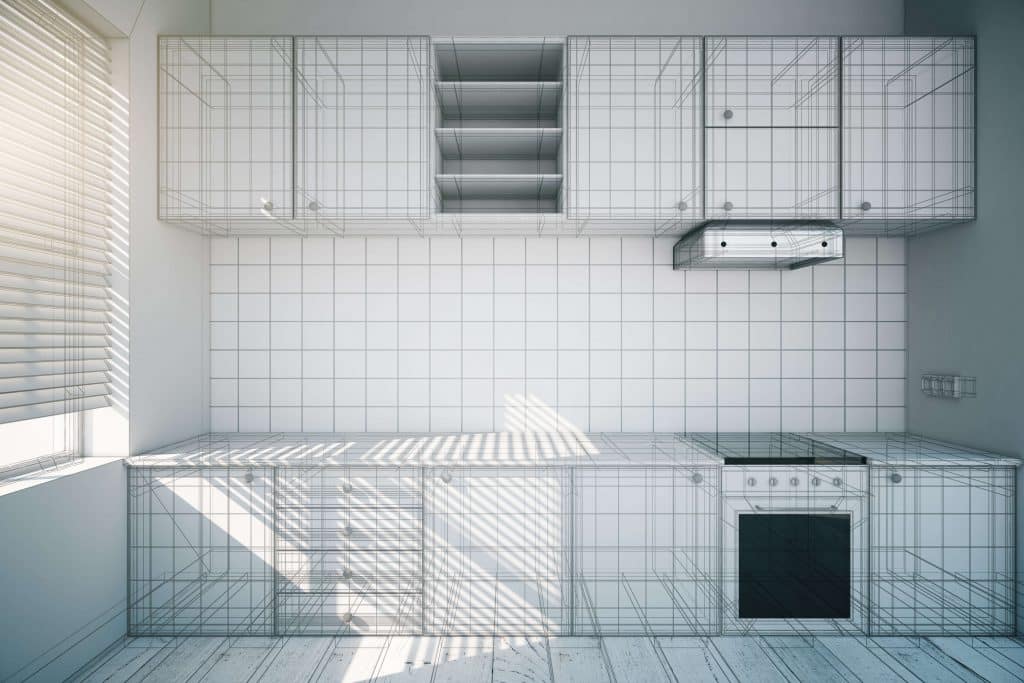 Things to Remember When Designing a Kitchen
Let there be light….
Don't underestimate the importance of lighting when you're designing a kitchen. Often kitchens are at the rear of the house and can be quite dark so unless you have roof lanterns or skylights, you'll want to fit more than just ceiling lights. Consider under counter and under shelf wall lighting, you can even light the inside of your cupboards.
Stow away…
There are some very clever storage solutions on the market these days. From pull out cupboard inserts, false walls at the back of worktops and freestanding larders designed to fit all of your dry foods in one place, look at some of the options before you order your cabinetry. Your worktops will thank you for it!
On display…
The other option is to display your kitchenware with style. Whether you have an eclectic mix of cookware and ceramics or a perfectly curated collection, open shelves can be a great way to add a feature to your kitchen and save valuable cupboard space.
Go bespoke…
When you're designing a kitchen don't discount bespoke options as too expensive before you even get a quote. Many kitchen spaces are awkward with lots of pipes and electrical wires, especially in older properties. Shop bought kitchen cabinets come in set sizes and this can sometimes mean you end up with wasted space. Bespoke kitchens can be a life saver as the craftspeople can design a solution specifically for your problem area. You don't have to go fully bespoke. You can always commission just one piece to match the rest of your shop-bought kitchen or a statement piece like this beautiful larder by Charlie Kingham Cabinet Makers.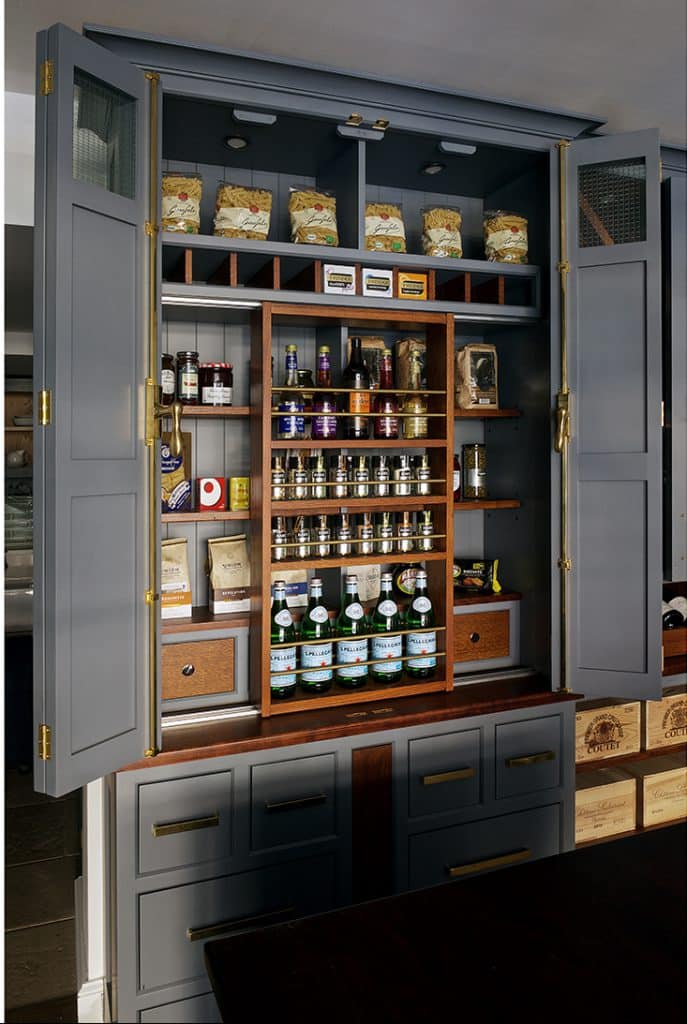 Have a Passion for Interior Design?
Want to specialise in kitchen design? Our online interior design courses can help you turn your passion into a career.