Getting the most out the space you have is the key to success in any interior design project. Even before the pandemic, multifunctional living spaces were everywhere – offices in dining rooms, tiny homes where one open space could house a whole family. Multifunctional spaces are nothing new, but Covid helped us to create spaces which everyone could live and work in and gave us new ideas for transforming how we live.
So, whether you've moved to hybrid working, have a family and limited space or simply want to do more with what you've got, here are our favourite ideas for multifunctional living spaces.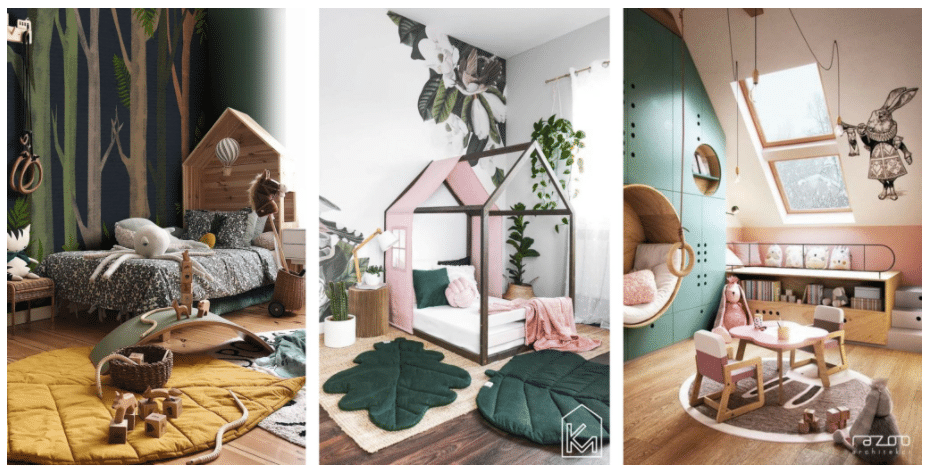 Possibly the ultimate multifunctional living space is a kid's bedroom. They have to have a space to sleep, a place to do homework and a place to play. It's like a studio apartment without the dangerous cooking equipment! Children's rooms are a lot of fun to design, and this is where you can let your own inner child come out to play. Rainbow walls, funky furniture, flurry accessories; all the things you wanted as a child but were never allowed. You can experiment with colour, homemade soft furnishings, and bespoke furniture solutions.
A child's bedroom should be a creative space where they feel safe, confident and inspired. It's possibly one of the most fun projects to create a concept board for and a great way to get your kids involved in the design process. Who doesn't love a bit of cut and stick?
Designing a kid's bedroom also needs a practical head. If your children share a room, you need to make sure each has a space which is uniquely theirs. You'll also want to future proof the style as kids are notoriously fickle and what they love today, they may well hate tomorrow. There are some amazing furniture solutions over on Pinterest, many of which you could have a go at making yourself.
Here are three places to head to for inspiration when you're designing a kid's bedroom
Pinterest – Our Multifunctional Living Spaces Board has lots of ideas to help you create a dream bedroom for little ones. There are also some great ideas which can be used in other small spaces.
Kids Interiors – A whole website dedicated to styling spaces for tiny humans
Real Homes – this great blog deals with the practicalities of designing a kid's bedroom
Tiny Homes for Full Sized Humans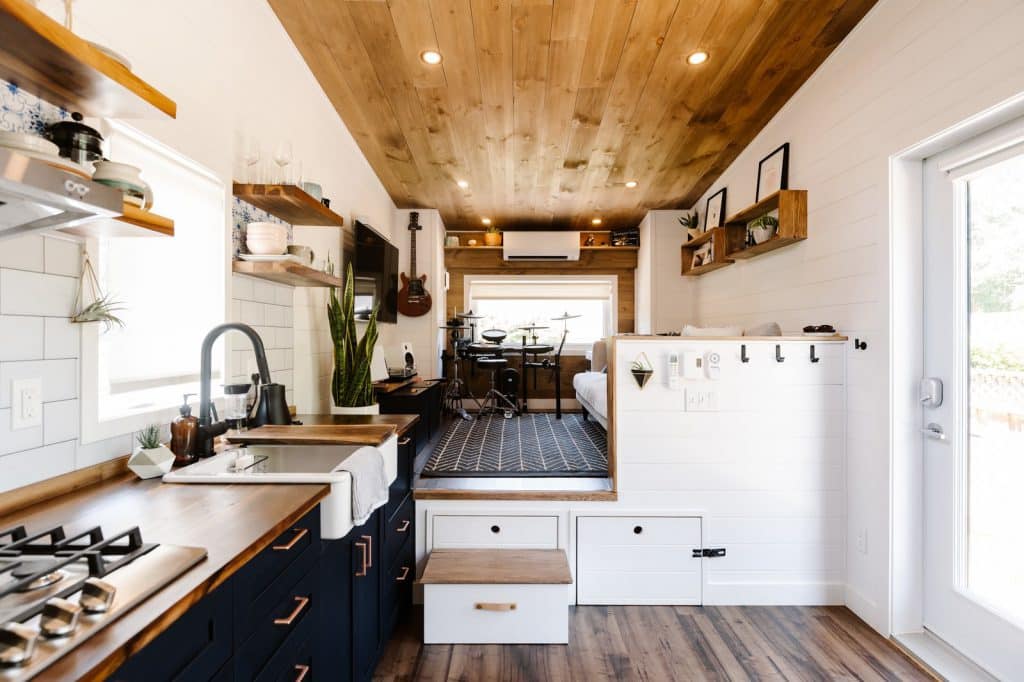 The Tiny House Movement has come along leaps and bounds since Covid. Already a popular way of living, tiny homes are even more in demand than ever as people look to become more sustainable and self-sufficient, shedding unneeded space in favour of spending time doing the important things rather than chores and maintenance. It's the ultimate studio apartment – one living space, cleverly divided into zones for cooking, eating and sleeping.
Airbnb has also contributed to the number of tiny homes being developed. We've seen everything from an old aeroplane, Romany caravan and hundreds of glamping pods, all of which you could easily live in if you gave up a few non-essentials.
As much as clutter would be a thing of the past, a tiny home doesn't have to be minimalist. It's more about utilising space in new and clever ways. Beds are often built to form a mezzanine, with the staircase being formed out of lots of boxes, stacked to allow for extra storage. Every inch of space is used – roll out drawers under cabinets, shelving in eaves, hidden foldaway surfaces. Walls and floors are kept neutral with small patterns and pops of colour from hanging plants and accessories. Doors slide – a clever trick to free up floor space.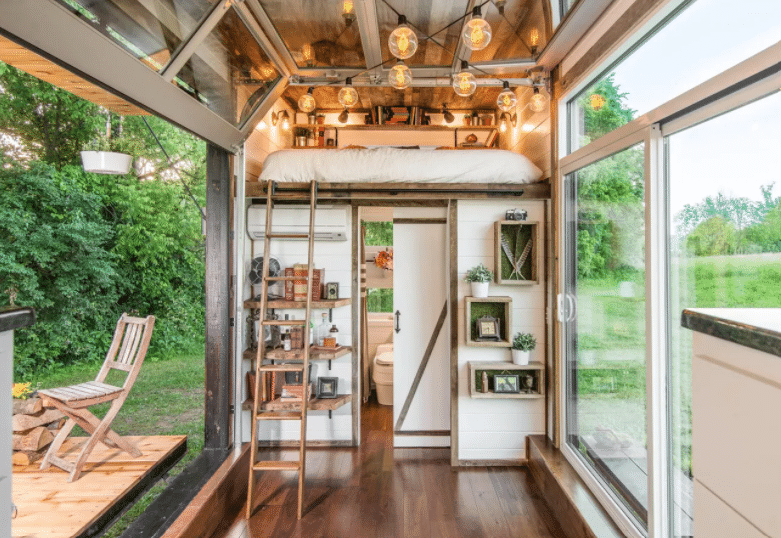 If you desperately need to create more useable space in your home, look to the Tiny House Movement for inspiration. Here are our top 3 sources to help you benefit from lessons learned the hard way!
Tiny House Nation is a Netflix series focusing on families choosing to downsize and there have been some amazing projects.
Tiny House – A tiny house concept's Instagram account showcasing the best interpretations of their own A-frame houses with other jaw-dropping interiors from other tiny house converts.  
The Tiny Home Storage Ideas Pinterest Board – see how tiny house people hide their clutter and get some great storage ideas from our Pinterest board.
The Multifunctional Office Space
Pre-pandemic, life was different. You had a home office if you had the space, otherwise it was probably a laptop on the kitchen or dining room table. But now the lines have blurred between living and working and many of us need help to define how we utilise our living spaces and create a work/life divide. So whether you're hybrid working, fully work-from-home or just sick of the sight of piles of paperwork and gadgetry on your surfaces, here are some of our favourite home office ideas from the internet.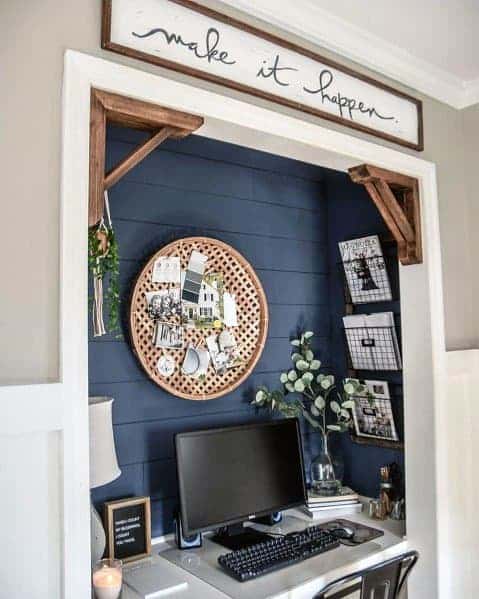 The Closet Office
Creating a hideaway office space in a wardrobe is a genius way of having all of your work clutter in one small space where you can literally close the door on work at the end of the day. Even an alcove can work if you don't have any spare wardrobe space but make sure you install a sliding or folding door or even a curtain to minimise the floor space needed as well as help you shut off from work at the end of the day.  
You can even use a standalone wardrobe or pantry or if you'd prefer to go retro, you can find lots of vintage bureaus on eBay and other second-hand sites.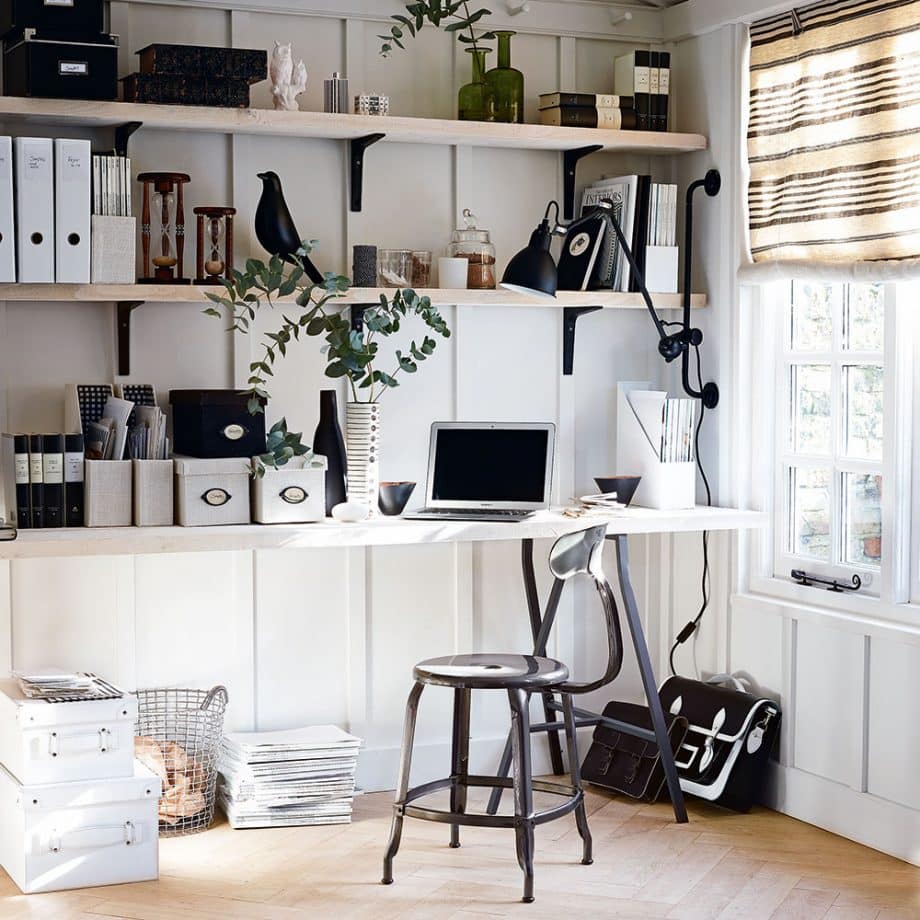 The Shelfie
Creating a home office on shelving can be a great way to turn your workspace into a feature rather than an eyesore. Using shelving will save you masses of space and give you somewhere to store paperwork and have some of your favourite things around you as you work.
For this multifunctional living idea, you'll need to approach it as if you were creating a normal shelfie. Use storage and magazine boxes to keep clutter tucked away. Stick to a theme or colour scheme like this great monochrome example. Incorporate colour and texture with plants.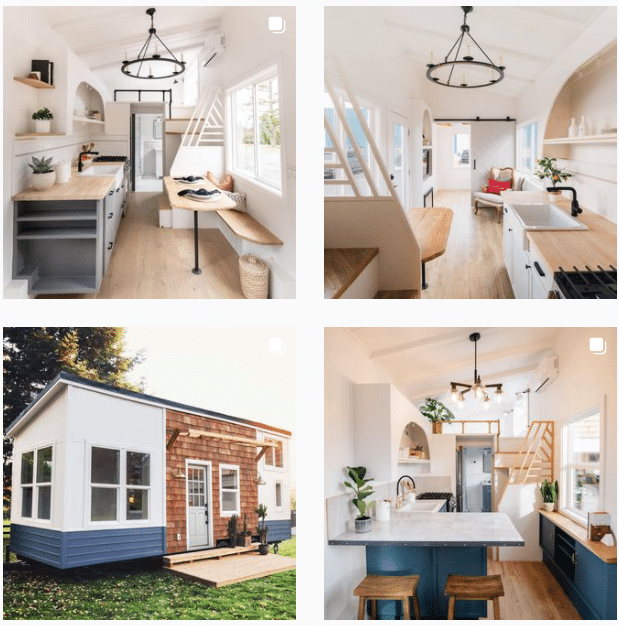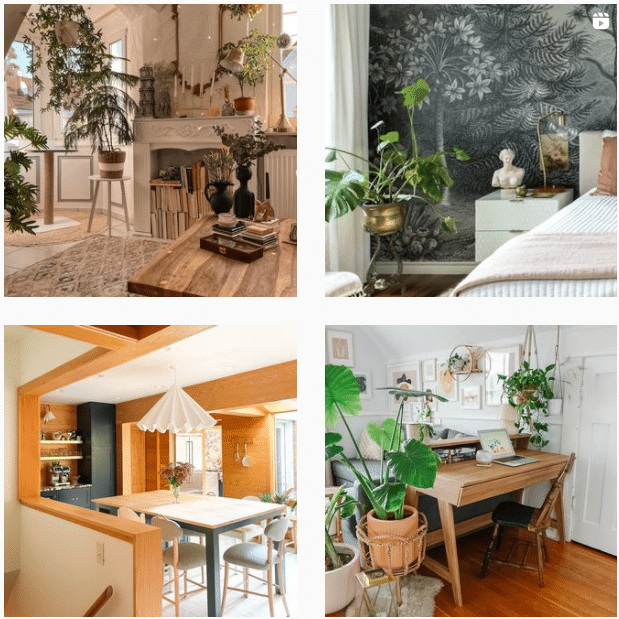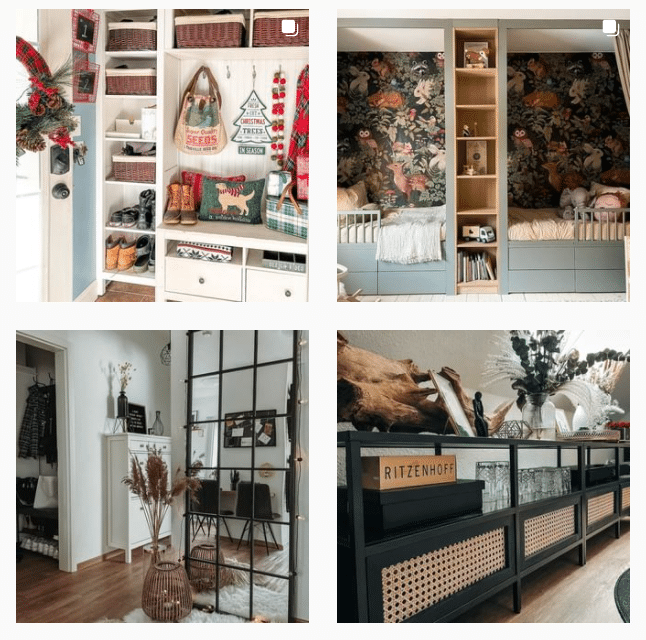 Multifunctional Living Influencers
Apartment Therapy has long been a go-to site for city dwellers who need to maximise their living space potential. It's always been a great feed to follow for urban interior design and you'll find some great styling advice for multifunctional living.
The Handcrafted Movement is a great Instagram account filled with lifestyle images which will inspire you to shrink your space with confidence. They showcase the best tiny house projects from a craftsmanship perspective and offer some great ideas about how to create multifunctional spaces which have character and instappeal.
IKEA is of course the go-to store for anyone looking for multifunctional furniture and interior accessories and there are some great hacks out there to take their functional pieces and make them even more useful. There are too many good accounts to choose from so just search #ikeahack on Instagram.
Looking for More Tiny Living Inspiration?
Head over to our Pinterest feed for a collection of boards for modern living. From trends to student work, our feed features the best in interior design from around the 'net.