Have you ever asked yourself that question? The walls in your home can be blank canvases with limitless possibilities of what you can do with the space. There are many ways to create your own bespoke work of art even if you are not creatively inclined. Wall art is also a great way of adding a focal point and personality to a space.
A piece of art can provide insight to our personalities and reveal a lot about the owners of a space, similar to browsing through someone's music playlist or book collection. What's great is that it does not have to be expensive, all you need is your imagination. Whether you do it yourself or use a bespoke service to enable you to put your own stamp on your home, you really can create an original work of art. Here are some options you can consider to add something special to your walls.
Below are some wall art ideas, inspiration and examples to get you started!
Wall Decals
Wall decals are a great affordable way of adding interest to a wall. These can also be customised to your own design. They come in various finishes which extends to mirrored and chalkboard. Most wall decals are also wipe-able, are easy to apply and can also be easily removed.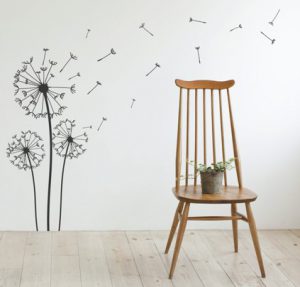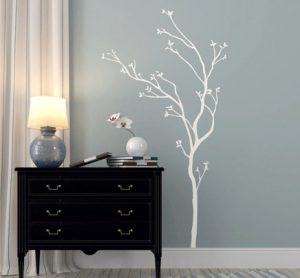 Top left and right: These wall decals are purposely placed off centre — the simple forms are all that's needed to provide balance with the furniture and the room.
Mirrors
Mirrors can be grouped together to make a striking composition and combine different shapes and different sizes. Choosing the same finish on the frame for each mirror can make the composition more cohesive. Even better, this is a great way of allowing more light into your interior and providing the illusion of more space.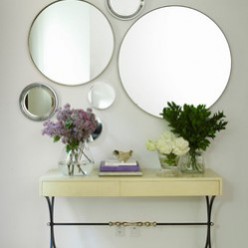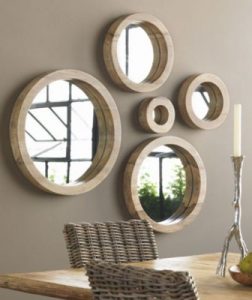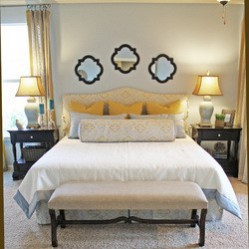 Left and middle: Circular mirrors of different sizes are grouped together to form a tight composition. Right: Instead of a painting 3 mirrors of an unusual shape are placed above the bed to form a statement. All of these mirrors are typically grouped in odd numbers.
Typography
The imagination is limitless with this option! It can be your favourite saying, poem or song that you can be immortalise in print. Whether placed in a frame or directly on the wall this can certainly create a statement piece, no pun intended.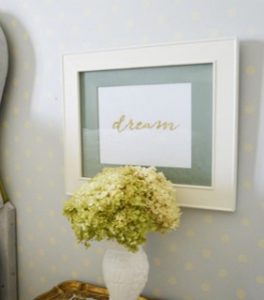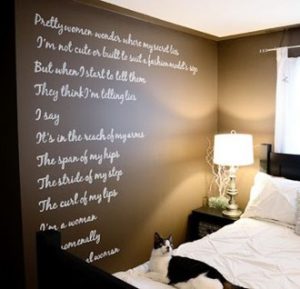 Far left : Personalised custom made canvas print which uses typography to show things relating to the owner. Middle: A simple word hand written and framed. Right: A favourite poem, phenomenal woman, stands out in white against the dark walls of this bedroom clearly reflecting the owners personality.
Items that are unique to you
For a truly personal statement, consider items that you have collected over time. This can be photographs, items from a hobby or to brag about your extensive geographical travels. Whatever you decide the possibilities are endless in creating a dynamic and personal piece of art. You never know where you may find inspiration, you may even surprise yourself at your own ingenuity when it comes to deciding what to put on your walls.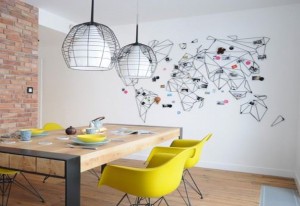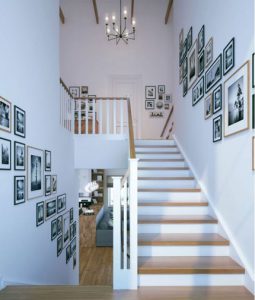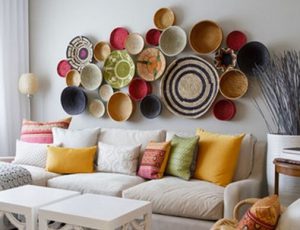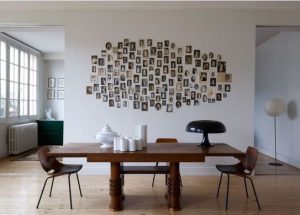 Top left: Wire is used to create a map of the world which also holds photographs on the locations visited. Top right: Framed photographs of different sizes are placed along the stairs in well defined groups creating a journey of interests in this design by Geometrium.
Bottom left: A collection of woven baskets are grouped together to create an eye catching focal point while also pulling together the colours found in the cushions. Bottom right: Another example of how photographs can be used together to create a statement piece — 19th century studio portraits are arranged in a cloud like formation. The sepia tones of the photographs are also mirrored the dark wooden brown tones of the furniture.
Image references
Dandelion wall sticker [online image] Available from http://cdn.shopify.com.[Accessed 12.02.2016]
Oriental-Tree-Wall-Sticker [online image] Available from: [Accessed 12.02.2016]
Circular 4 [online image] Available from: http://blog.mariapiacasa.com [Accessed 12.02.2016]
Design with mirrors [online image] Available from http://en.paperblog.com [Accessed 12.02.2016]
Traditional bedroom [online image] Available from [Accessed 12.02.2016]
Memories canvas print [online image] available from http://www.rockmywedding.co.uk [Accessed 12.02.2016]
Glitter Art [online image] Available from: http://www.brit.co/diy-typography-art/ [Accessed 12.02.2016]
Poem [online image] Available from http://www.bystephanielynn.com [Accessed 12.02.2016]
Apartment for a couple of travellers [online image] Available from http://www.digsdigs.com [Accessed 12.02.2016]
Home in Lipetski [online image] Available from: 12.02.2016]
Creative wall decoration [online image] Available from http://ultramodernfurniture.co [ Accessed 12.02.2016]
Cloud collage [online image] Available from http://www.remodelista.com/posts/regis-larroque-designed-loft-on-passage-charles-dallery-paris [Accessed 12.02.2016]