Theme of the Month: Bringing The Outdoors Indoors, Vertical Gardens & Sustainable Design
The zeitgeist responsible for acknowledging that buildings have to be ecologically robust, energy efficient and sustainable has recently taken a significant leap forward. It is becoming recognised that it is insufficient for buildings to be sustainable within their own footprint with solar energy, green materials etc. The next generation of buildings are intended to clean the air of the city in which they are located.
The use of vertical gardens, integrated landscapes and densely planted terraces within buildings in order to purify the air within its immediate context is reaching a tipping point. There is an increasing number of architectural practices who are presenting solutions to the reclamation of breathable air within major cities. This is leading to the development of a new and very exciting aesthetic which brings together and realigns the thinking of architects, interior designers and landscape designers.
Bosco Verticale (Vertical Forest) comprises of two residential towers (80 m and 112 m) located in the centre of Milan and designed by Stefano Boeri Architects. The vertical gardens have been planted with over 900 trees in different sizes, 5,000 shrubs and 11,000 floral plants. The apartments are now complete and the landscaping is being finalised in preparation for EXPO 2015.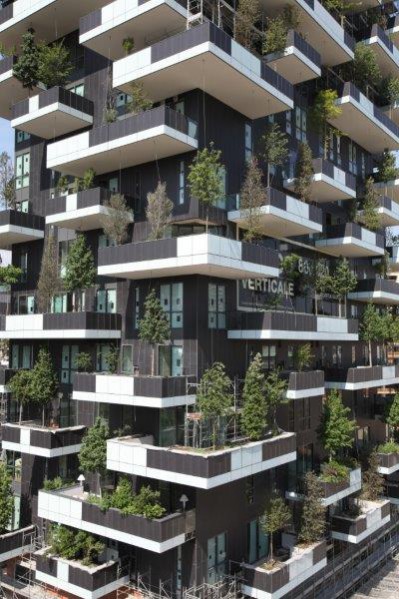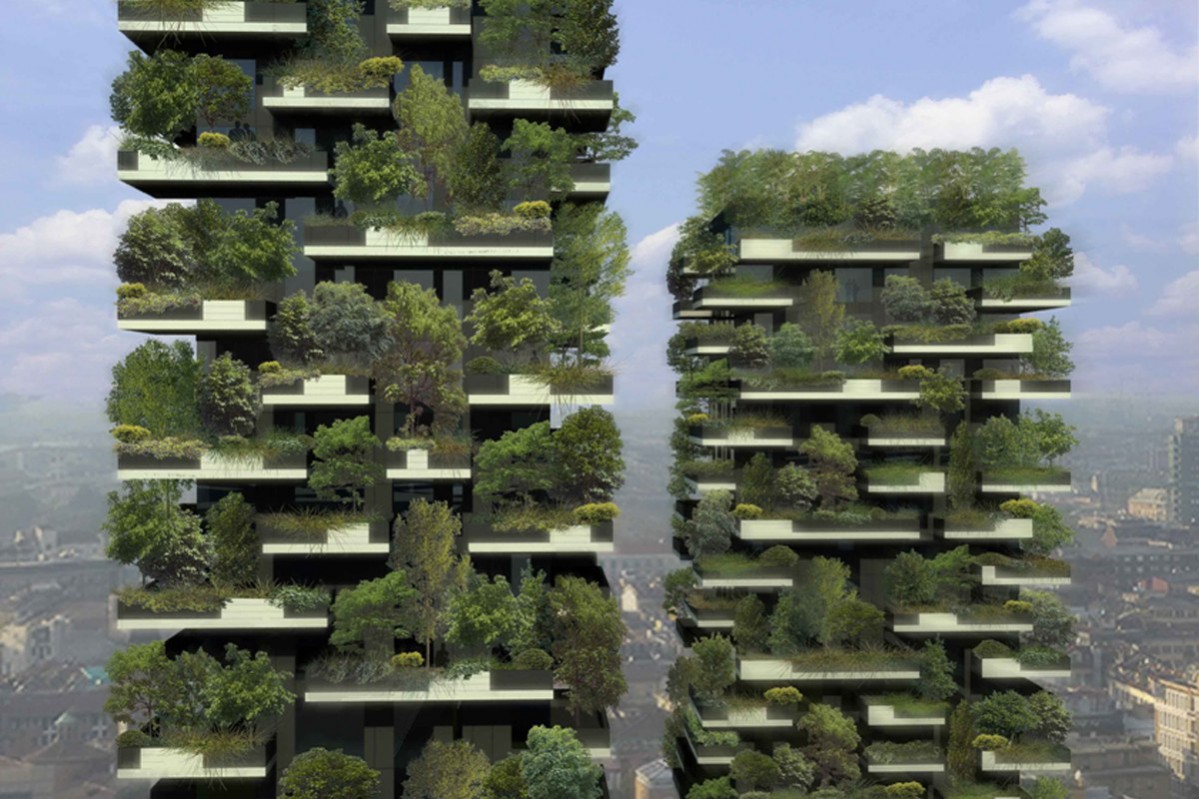 Images: Bosco Verticale, 'Vertical Forest,' Milan by Stefano Boeri Architects. Available from:www.stefanoboeriarchitetti.net/en/portfolios/bosco-verticale. Accessed: 29/05/15.
In close proximity to the Old City of Beijing, the Huangdu Art Centre by MAD architects vertical gardens are designed with densely planted, broad terraces to filter the pollution from this busy thoroughfare. MAD proposes to create a building composed of many small Hutong-scale pieces that culminate in a large overall volume. This will be achieved by stacking different courtyard layers on top of one another, creating an ethereal, semi-solid piece of urban fabric, a vague geometric shape, which maintains the spatial relationships and hollow core of the courtyards.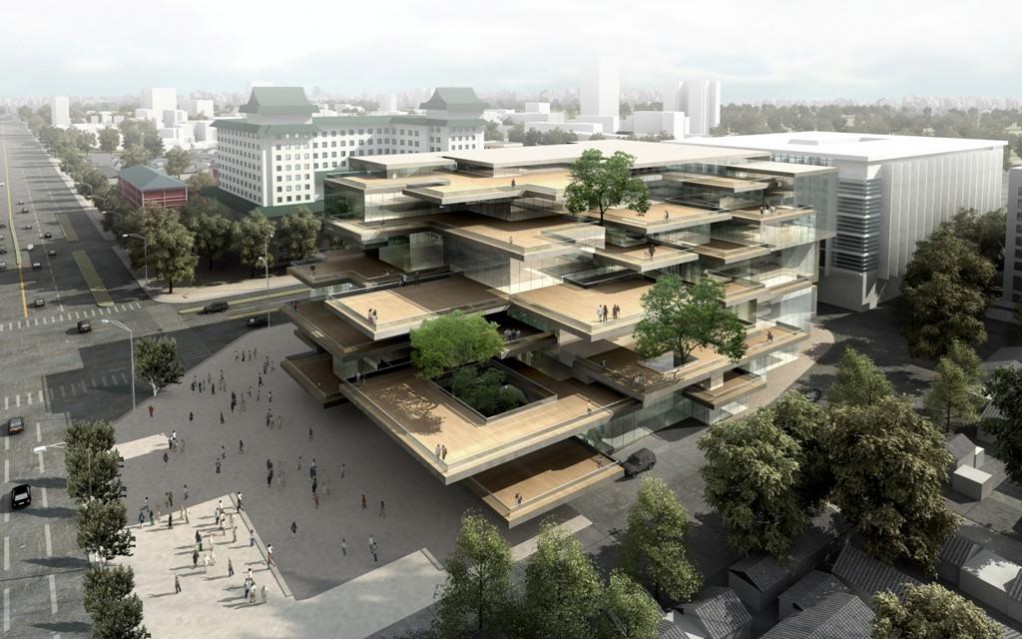 Located near heart of old Beijing, close to historic monuments such as the Forbidden City and opposite the National Art Museum, the site presents a dual condition: small scale Hutongs remain at the Western edge, yet the Eastern edge is bounded by a modern axis of major roads, shopping malls and hotels.
The proposal extends the city's fabric from small to large, stepping up between two scales providing a means to reconcile two sides of Beijing. The building is an urban instrument, representing Beijing's new aspirations to be a forward looking city that also respects its past.
Images: Huangdu Art Centre, Beijing. Available from www.i-mad.com. Accessed 29.05.15.
This 'Urban Field' housing project in Vietnam is designed by HP Architects and is intended to respond to its immediate context by including terraces of rice fields into its structure, mirroring the landscape within which the building sits. It is envisaged that the concept will be expanded to provide 'Urban Farms' within the cities of Vietnam.
The concept proposal for Vietnam's Pavilion at Expo 2015 in Milan focuses on mixing settlement and settled agriculture to create the future space – titled 'the Pavilion of dream terraces' it includes both settlement and settled agriculture and is created from steel structure frames, which have a large amount of modules the longest one being 7.5m are connected by simple joins or by overlapping to create vertical gardens.
Image: Urban Field Available from: www.hpa.vn Accessed: 29/05/15.
Emilio Ambasz was one of the first architects to include the landscape within his architecture. His buildings are often partly underground or under a cover of greenery with deeply symbolic protrusions appearing above ground. This careful placing of highly charged elements imbue his sites with a sense of antiquity reminiscent of ancient sites such as Stonehenge in Wiltshire, England.
Below, Step Garden at ACROS Fukuoka is a 14-story, ziggurat-like garden in Fukuoka, Japan by Emilio Ambasz & Associates, 1995. At 60 meters high with 14 floors above ground and four below, it is one of the largest buildings in the world whose surfaces are covered in greenery.
Due to its shape on the park-facing side, it is referred to as a 'step garden', with 13 levels with widths between 120 to 98 meters and a depth of six meters – it is nearly a 100,000-square-meter park in the city centre, across 15 stepped terraces. There are 76 varieties of 37,000 short trees that are planted on the structure that range in height from 1.7 to 1.9 meters. They capture the rainwater run-off to support the lives of beneficial insects and birds within the vertical garden structure.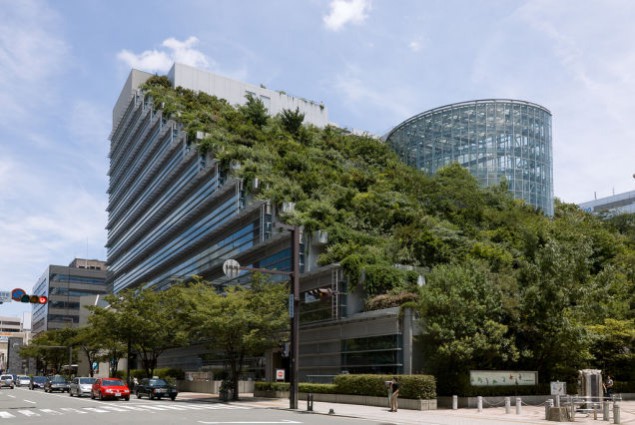 Emilio Ambasz & Associates were able to find a compromise between the developer's desire for a profitable site and the public's demand for green space, the plan for Fukuoka fulfils both needs in one structure by creating an innovative agro-urban model that maintained the green space of the existing park, while providing the city with a multi-use, symbolically decisive building.
With it's terraced exterior it utilises more than one million square feet of space, and its interior boasts several features such as a museum, theatre, conference rooms and underground levels of parking and retail space. When Emilio Ambasz & Associates set out to design the building, they didn't plan to build a green wall on a structure, "they are all simply green-roofs, planted horizontally with cascading vegetation covering the vertical surfaces."Emilio says.
"The firm's commissions, executed for corporations, institutions and private developers, are characterised by a rigorous attention to the client's aspirations and needs in conjunction with a sensitive response to the site and local practices. In all its projects, the firm seeks to reconcile the building with nature. This innovative approach to programmatic and emotional challenges, coupled with a strict adherence to schedule and budgetary constraints, has resulted in unique designs that have won its clients national and international awards and acclaim."
The design concept for the Eni headquarters in Rome know as the Palace of Vertical Gardens (above) is another example of Emilio Ambasz & Associates work, that incorporates a wall greenery growing up the side of the building. Specialising in 'green,' sustainable designs, they sought to showcase a way of turning a twenty-story building into a vertical garden.
Images: Two projects by Emilio Ambasz. Available from:
http://ambasz.com
. Accessed:29/05/15.
Singapore in particular is embracing the concept of the city as landscape. WOHA Architects designed the PARKROYAL Pickering hotel as an extension of Hong Lim Park, a new green space located next to the site in the centre of the city's business district. Its is architecturally striking, integrated and sustainable with office and commercial environments located on of Singapore's most visible boulevards, Pickering Street.
It is intended that the building will become self-sustainable with collected rainwater used for irrigation and waterfalls, the plants cover not only the façade but also form an important element within the interior. Whilst the contours of the building break down the 'wall of buildings' effect to maximises views and improve the natural lighting in the buildings interior, whilst the plant-covered balconies and terraces around the exterior create 15,000 square metres of vertical garden greenery, giving each guest a garden view from their room.
Complemented by the contoured surfaces that make up the building's podium, the building is modelled on topography landscapes and natural mountain rock formations. The building has been designed as an environmentally-concious hotel and office structure within a vertical garden. The project is a good example of how parks or countryside can be incorporated in high-rise developments and created within city centres.
With 15,000m2 of sky-gardens, reflecting pools, planter terraces, green walls and waterfalls were designed to house a variety of palm trees, shade trees, flowering plants, leafy shrubs and overhanging creepers that create a tropical setting for their guests and for birds and insects to encourage bio-diversity in the city.
The landscapes are designed to be self-sustaining and are minimally reliant on precious resources. The rainwater collected from the upper floors irrigate planters on the lower levels by by non-potable recycled NEWater, as well as roof solar cells that will power lamps and soft-scape lighting throughout the hotel.
Images: The Parkroyal on Pickering. Available from:
www.woha.net
. Accessed 29/05/15.
And finally, this beautifully simple and completely sustainable farmhouse sits very comfortably within its landscape at Formantera, Spain. It illustrates that integrating the indoors and outdoors need not be confined to greenery-supporting climates. The architectural practice responsible, Paola Lenti Architects are well known for simple and supremely elegant solutions to sustainable and context based problems.
This house sits on a rock overlooking the sea, exposed to natural elements. The first task for the architects working on the project was to recover and restore the existing structure. The property needed to be sustainable but liveable, so a series of patios were created to add areas of privacy and also that acted as a shelter from the wind.
Each space has a number of uses, depending on the position of the sun, like the sun terrace that wraps around the outside. The country house is made of two main buildings and other elements linked by fenced paths, whilst the simple living area expands into the roof by a staircase, offering a 360° sight of the surrounding landscape seen below. The cottage is a wonderful example of how architectural projects are now starting to factor in considerations such as sustainability and eco-concious designs.
Images: House at Formentera. Available from http://www.paolalenti.it/. Accessed: 29/05/15.
Do visit their website to view their other excellent projects. Until next time, Anthony.
References:

http://www.pierluigimolteni.it/en/casa-lp/
http://www.paolalenti.it/
http://emilioambaszandassociates.com/
http://www.greenroofs.com/blog/2011/08/12/gpw-acros-fukuoka-prefectural-international-hall/

http://ambasz.com
http://www.hpa.vn
http://www.i-mad.com