The coloured glass trend has been around a while now, since rich jewel tones popped onto the scene pre-Covid. But now this trend is reaching new heights and infiltrating lighting schemes everywhere. Here are some of our favourite coloured glass lighting ideas plus some tips of how not to work this interior design trend.
It wasn't that long ago when lighting options were limited to old-fashioned fabric and tassels, industrial spotlights and OTT fake chandelier styles. But now, lights and lampshades are cool, and the choice of lighting styles is huge. Lighting comes in all shapes and sizes – from the subtle to the extravagant, and it also now comes in a large array of colours.
Finding beauty in light shone through coloured glass is not a new thing, obviously. Coloured or stained glass has been around since Egyptian times, and we only need to look at the stained glass windows in churches, cathedrals and heritage properties to remind ourselves of the origins of this trend. Glass will take on any hue and the depth and range of colours now available is staggering.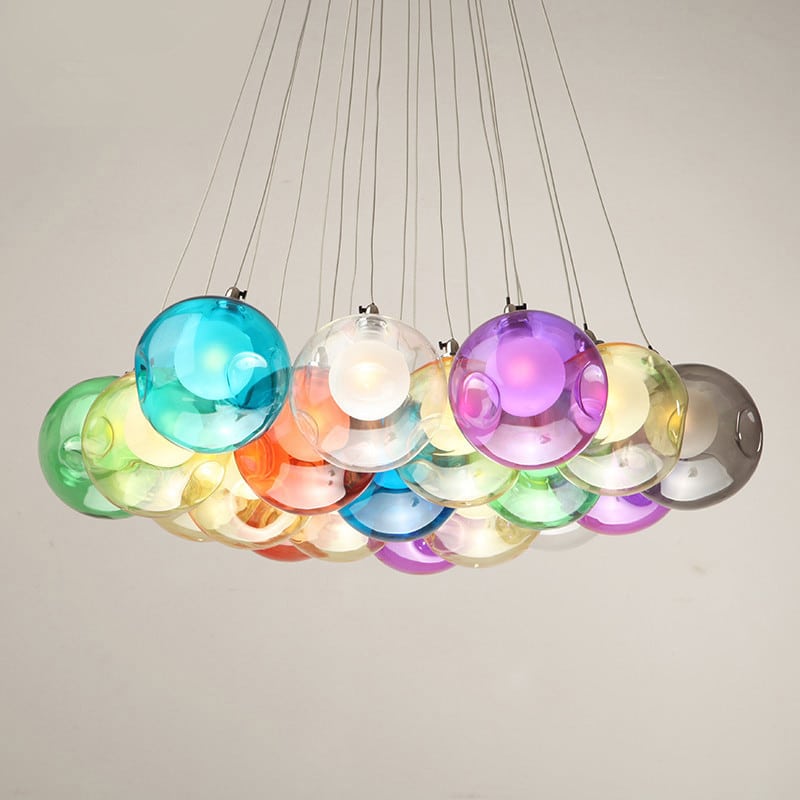 TIP 1: Just because glass shades look so appealing, you shouldn't forget your colour theory! If you're looking to create a cluster of pendant lights, don't go all out and choose all the colours you like. Choose a monochromatic or harmonious colour scheme, otherwise you risk your home looking like the inside of a circus tent.
TIP2: Even if you're a maximalist, consider how light will affect your choice of coloured glass as the colours will obviously look darker depending on how much natural light you have and how dark your room scheme is.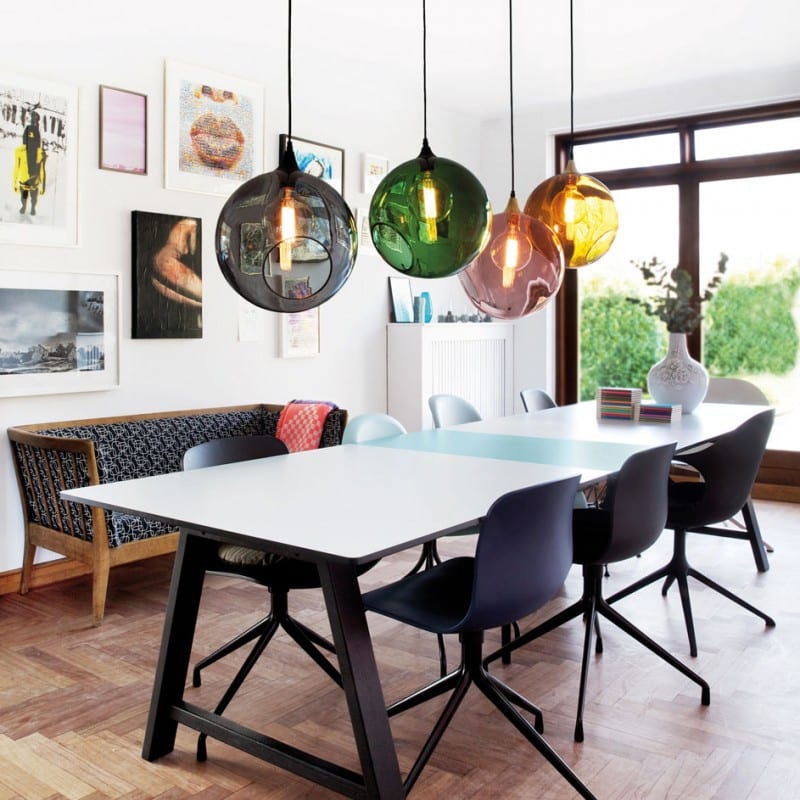 The trend for clusters of pendant lights has been around a while now. Think craft ale houses and lights hung from wooden planks in jam jars and you'll see this trend's roots.Thankfully, cluster pendant lights have now been finessed. It's no longer a rustic DIY project, it's about colour and form and elegance.
One of our favourite suppliers of cluster pendant lighting is British firm Curiousa & Curiousa, run by designer Esther Patterson. Esther's pendant lights can be seen in The Empire Theatre, Liverpool, Harvey Nichols and Jamie Oliver's main restaurant. Her hand-blown bespoke creations are available in semi-opaque and transparent colours, with 21 different shades to choose from. It's the combinations of colours and shapes that make Esther's designs so striking. Even when the same colour is used but the shape of each light is different, her cluster designs make a stunning focal point in any room.
Head over to the Curiousa & Curiousa website for more cluster light inspiration.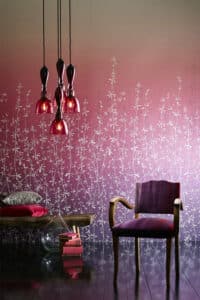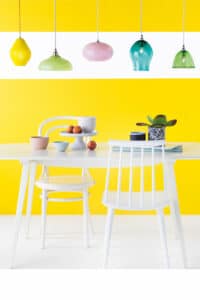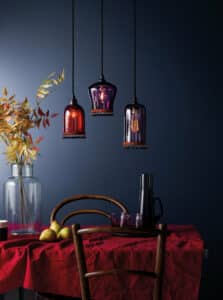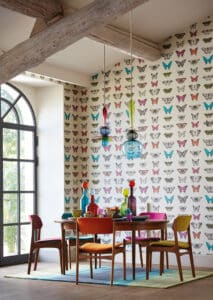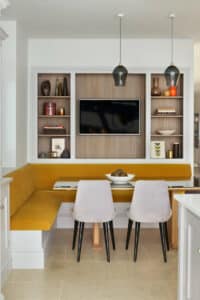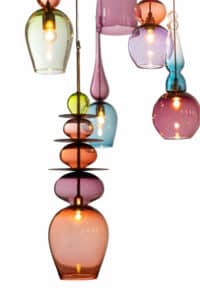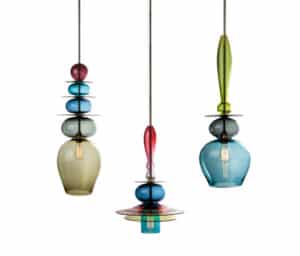 Glass ceiling lights and pendants used to be prohibitively expensive and were more a grand feature to be found in a hotel, rather than a home décor accessory. Nowadays they are much more accessible with glass being mass-produced along with everything else. But if you want to make sustainable choices try and choose a local craftsperson or company. There are hundreds of talented artists and businesses specialising in handblown glass.
Although the current trend is for clusters of coloured shades, choosing quality over quantity to ensure that you have something unique and sustainable. You'll also be helping to support the artisan interiors community.
Buying vintage or second-hand light fittings is another great sustainable choice. The glass lighting trend fits perfectly with any heritage scheme or in a period property where you want a unique twist. Glass shades also look great with a more retro mid-century scheme. From wall sconces to pendant lights, eBay, Etsy and Facebook marketplace are full of second-hand treasures.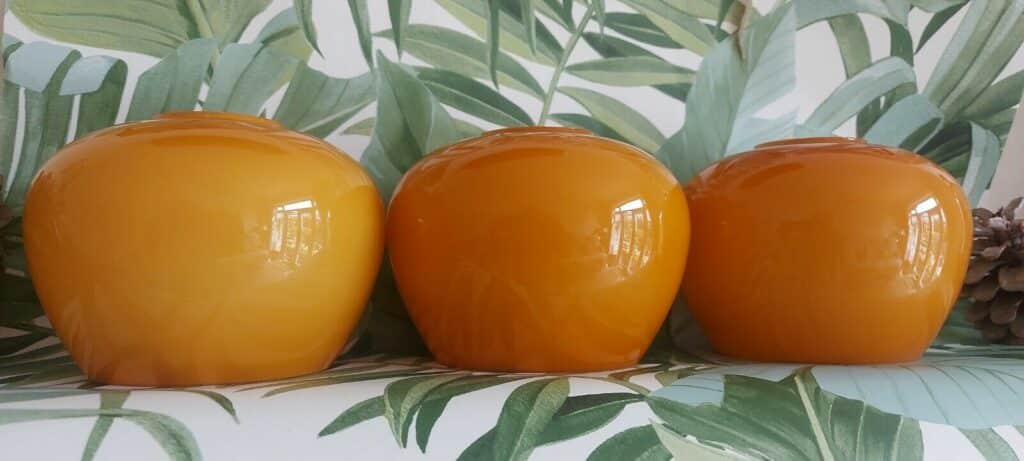 Coloured glass lighting comes in all shapes and sizes. From single shades and sconces to fabulous fittings more like an art installation, this interior design trend can be worked in multiple ways. But beware – following an interior design trend is a flawed plan. Trends change and if you're a trend follower you'll have to continually change your home décor. Coloured glass lighting is hot right now but what about in 3-5 years? Will you still love it? Light fittings and shades, especially hand-blown glass, aren't cheap and if you're investing in this in interior design trend, you'll want to make sure your choice lasts the test of time.

Get the Latest Interior Design Trends Direct to Your Inbox
Sign up to our newsletter to get the latest trends, course dates and SkillsLab videos each and every month.