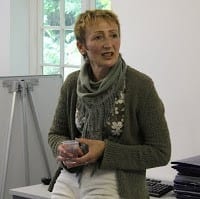 Former NDA student and Interior Designer Karen Lane has some handy tips for students who want to make the most out of their studies and have the best start to their Interior Design career.
1. Think like a designer, not a student. This will boost your confidence and you will see yourself as the designer you want to become. It's all about the right mind set.
2. Make sure you get yourself a business name and business cards printed. This allows you to be entitled things such as reduced rates from suppliers, free entry to trade shows and free samples.
3.Attend as many shows as possible. This will give you a huge insight into the latest and future trend forecast, new technology, suppliers and information.
4. Make the most of any opportunity given to you. For example, instead of seeing supplier representatives as a nuisance, encourage them to visit. A lot of the time you will be given lots of free samples for what is half an hour of your time. But remember, act like a designer and not a student as many suppliers don't give samples to students.
5. Imagine your tutor is your client. Submit your work as if it was a live project or brief, it's great practise and concentrate on how you present your work. This is vital when dealing with a real client,  it could be the make or break factor when securing a job.
6. Encourage feedback, don't take it personal and ask what you specifically need to do change to improve your work. If you don't ask this could affect your marks which we don't want.
7. Become an opportunist, I carry a camera and a notebook in my bag everywhere I go, just in case I see something interesting or significant. This is a great way of building your project research into your day to day activities.
8. Finally, make sure you log onto the VLS and use it to it's full potential – that's what it's there for.