This month's Christmas inspired Theme of the Month by NDA Director of Studies Anthony Rayworth explores the theme of candlelight within interiors. He discusses its origins and explores how candlelight has evolved to become an affordable luxury in today's society.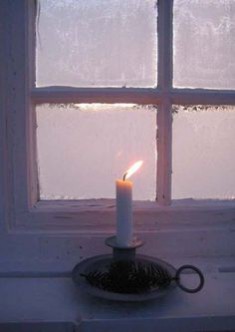 Candleight: Decorative Inspirations
At this time of year, with the run up to Christmas – lighting your home with candles is the absolute best way to simultaneously uplift ones spirits and fill the home with the most wonderful fragrances. From small table settings, to whole interior displays, adding lighting within the home can can instantly change an atmosphere – to create a relaxed, peaceful space to unwind or add a festive touch to a home.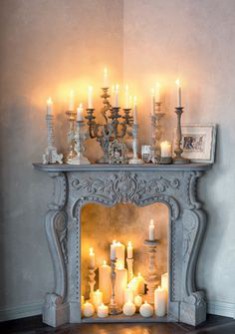 There are many choices of lighting schemes for the home – from grand & glamorous candelabra displays, layered with tealights and striking shaped decorative options, to rustic inspired décor interspersed with natural elements and flora seen below.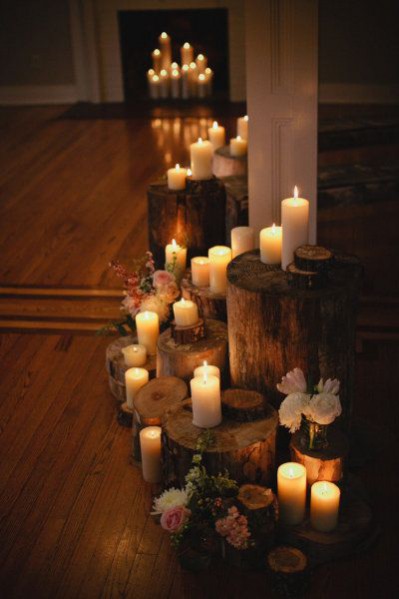 Or my personal favourite: Mix simple, pillar candles in a range of heights, with festive greenery and add luxury, scented candles in wine glasses for an extra touch of elegance.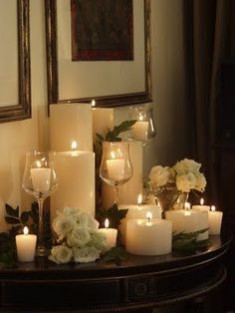 The History of Candlelight
Candlelight is an affordable indulgence that can transform a home in today's society, the candle is now seen as a decorative item whilst its original use was as a primary lighting source, dating back to its earliest documented use in China, 200BC.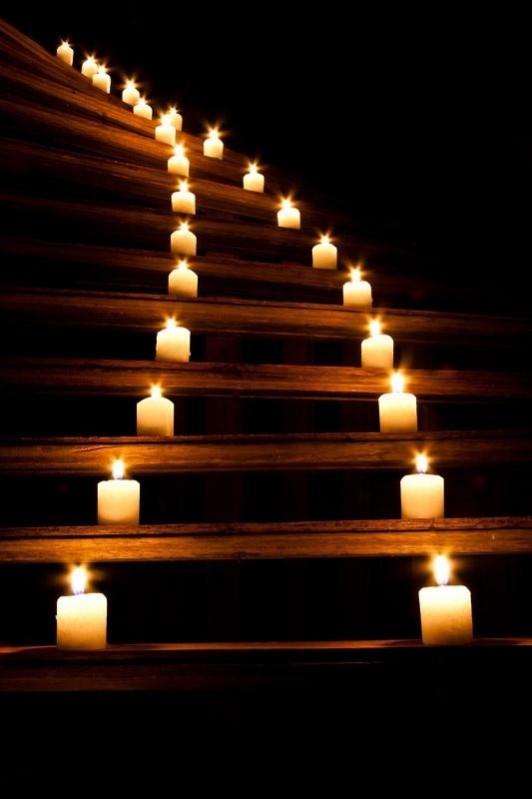 Candlelight has come along way since its early origins, and by the 13th century candle making had become a guild craft in England and France. Chandlers would go house to house using kitchen fats to create tallow candles or made and sold their own candles from small shops.
These candles in their primitive form had a terrible odour when they burnt. So the introduction of using Beeswax as an alternative was a welcome innovation that burned cleanly, without smoky flame and emitted a fresh smell. But Beeswax candles were expensive in comparison, meaning few people could afford them, so they were mainly used for church ceremonies at the time in medieval Europe.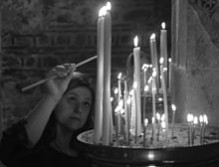 In the 18th century, spermaceti, oil produced by the sperm whale, was used to produce a superior candle, and later colza oil and rapeseed oil were used as much cheaper substitutes. And although significant advances in candle making continued into the mid-19th century and had become an industrialized mass market, the industry rapidly declined upon the introduction of more superior methods of lighting; including kerosene and lamps and the invention of the incandescent light bulb in 1879.
It was from this point onward that candles were sold as more of a decorative item.
Modern Day Candlelight
Today's candle making industry has become extremely sophisticated in comparison with the ability to choose your wax content (soy, palm, paraffin or a blend of all plus some other lesser known ingredients.) The perfect flame shape, size and burn quality is the holy grail of candle making, whilst the aesthetic is also a key component of our modern designs.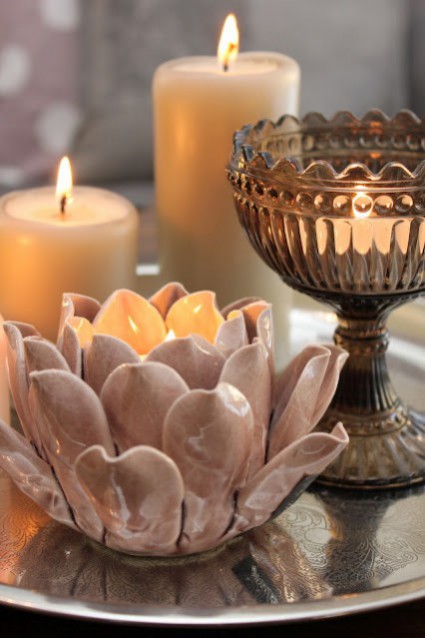 Then there are the containers:
Tin, glass, crystal, terracotta, porcelain, fine bone china, iron, steel, bronze, copper, stone and concrete are some of the materials that support your candle, often created by internationally recognised artists, architects and industrial designers that are still working to revolutionize candle design.
This ingenious, cast-iron design creation below is by Norwegian designer Lars Beller Fjetland, designed to automatically put out the flame just before the wick burns out.
Or the marble sphere candle holders designed by Mexican Design Studio Peca, that can be split
to create two, usable objects, designed to be practical yet provides beautiful, sculptural, aesthetic forms.
Whilst Stockholm designer David Taylor combines discarded slag found on the site of a former iron foundry, brushed aluminium, polished brass and waste material to create a series of striking candle holders, that combine a contemporary aesthetic whilst addressing the global issues of sustainability and current trend for re-purposing waste materials within design.
A Subtle Scent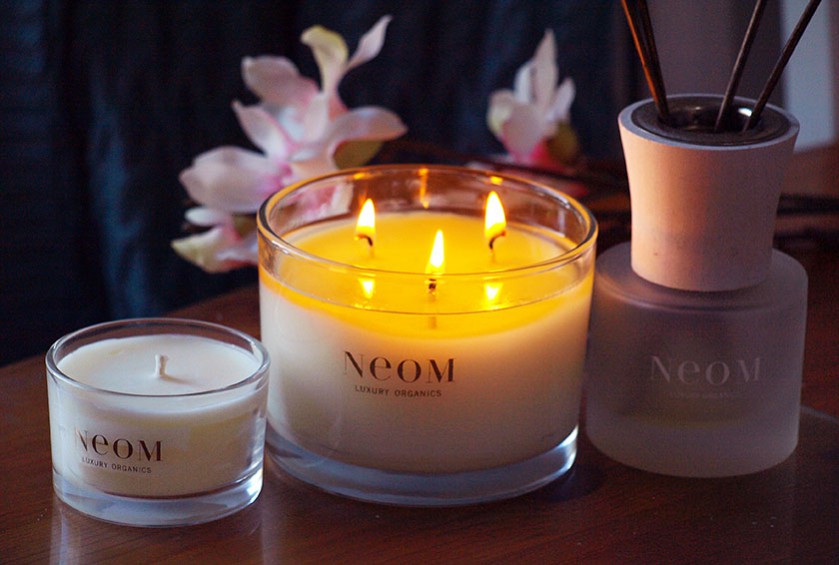 As well as their function, their scent is also an important factor. Perfume is vital at this time of year; the ubiquitous, unscented tealight is invaluable and indispensable but it is always great to have at least one truly exceptionally fragranced candle burning this Christmas. I use them all the time whether I am on my own or with friends. Favourites include; Tom Dixon, Ralph Lauren, Byredo Parfums and Neom.
I hope you have enjoyed this month's Theme of the Month and found it enlightening! Until next time, Anthony.
References:
Images:
Candlelight within an interior. (2015) [online] Available from: www.huldals.blogspot.com [Accessed 24.11.2015]
Decorating with Candles (2015) [online] Available from: www. indulgy.com [Accessed 25.11.2015]
Candle display for Christmas (2015) [online] Available from:www.tidbitsandtwine.com [Accessed 27.11.2015]
Decorative Candle display (2015) [online] Available from: www.stylemepretty.com [Accessed 25.11.2015]
How to decorate with Candles (2015) [online] Available from: www.diyncrafts.com [Accessed 25.11.2015]
The Black Pearly Blog (2014) [online] Available from:http://www.theblackpearlblog.com/2013/10/neom-real-luxury-home-candle.html [Accessed 25.11.2015]
Websites:
Dezeen (2015) [online] Available from: 26.11.2015]
Books:
History of candles. (2012) [online] Available from: http://www. nationalcandleassociation.co.uk/ [Accessed 26.11.2015]
Whitrow, G. J. (1989). Time in History: Views of Time from Prehistory to the Present Day. Oxford University Press. pp. 90–91. ISBN 0-19-285211-6. [Accessed 26.11.2015]