As we all know, sustainable living is a huge topic nowadays and everyone is exploring new ways to save energy and replace old, costly products. Lighting is one major area which consumes masses of energy and as the main source of light in our homes and buildings, it's a priority to try and develop more environmentally friendly versions.
Interior designers know the importance of understand how lighting works and how to achieve the perfect atmosphere in a room design, this could include using a variety of light sources and temperatures from dimmers to coloured wall displays that will enhance certain moods depending on the project.
Being a forward thinking institution, we (National Design Academy), visited Philips head office yesterday to gain a deeper insight into these newer and more energy efficient lighting solutions with the aim to create a lighting studio at the Academy. This will give all our interior design students a better understanding of lighting technology, government legislation and of course, the most eco-friendly way to create a lighting scheme for a client.
As the largest lighting company in the world, Philips have invested in thicker phosphor coating inside at it's LED bulbs to create a warmer light which at present, most energy bulbs lack and have a cold, blue glow. This coating can also be adjusted to create a more orange or blue effect depending on the project.
It was amazing to see the different demonstrations especially that showed how the different colours of lights change the colour of a carpet, flooring or paint. With the flick of a switch five lights came on above my head, each scaled from orange to blue light shining over the same material and each made the colour look considerably different.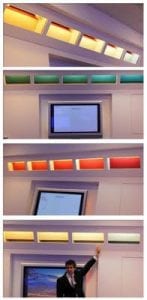 We then moved onto the super cool squared wall and mini-bar panel that can display animation, colour and text with a variety of effects controlled from a computer – disco meets Eco sounds fitting!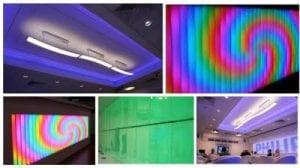 The most interesting part of the presentation was the huge psychological effect various temperatures of light have our subconscious mood. Retailers like TESCO use this to their advantage by using cooler lights over the till areas to speed up the purchase process and other colours to direct customers to specific parts of the store.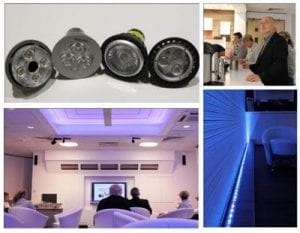 This is key when designing the mood and function of a room or scheme, for example, warm lighting in the break room of an office is calming and relaxes staff, but this wouldn't be suitable in the actual office work area where cooler light would be used to stimulate and awaken staff. The same applies to a bedroom, a blue light wouldn't create a sleep friendly atmosphere compared to warm dimmers.
Overall, the day was a great success with the Philips team giving us a real insight into energy efficient lighting and the vast usage possibilities. Keep checking the blog for updates on the lighting studio project!