Who are the true influencers in design? In this week's podcast there was some debate as to what really constitutes influence. From pop icons like Rihanna to architectural greats such as Zaha Hadid, the tutors discussed the difference between influencing and pushing the boundaries of what's possible in design.
Scroll for the accompanying blog to see Stephen, SJ and Amy's definitions of an influencer and join the conversation over on our Instagram feed.
Listen to the Podcast Now!
What does it mean to be an influencer in the world of design? Who today is influencing what we put in our homes or what we might wear?  Searching the internet, you might be surprised to learn that Rihanna comes up as the third most influential designer. Thank you, Amy, for that little know fact! This got us talking about the wider role of the influencer. Who is actually having influence on contemporary culture and who is pushing the boundaries of design? This conversation demonstrates how lines have blurred within design, and who and what is now seen as important.
Putting aside Rihanna's contributions to the fashion world, what does it really mean to be recognised as an influential designer? There are many honourable mentions, including Zaha Hadid, Eileen Gray, Nancy Lancaster, Frank Lloyd Wright, and Philippe Stark.  All having had a clear impact on design throughout the twentieth century.  However, how many of these are household names?  Do you need to be on TV to be an influential designer or is it more about who you influence rather than how many?
Ai Weiwei is one of Amy's favourite designers, a thought-provoking choice.  Perhaps not a conventional designer, but certainly a significant influence on design.  Dissident artist Ai Weiwei is famous for conceptual artworks that challenge authority and explore the links between the contemporary world and traditional Chinese culture.
His photographs, sculptures, films, performances, and installations may have earned him ire from the Chinese government, however, his work has crossed over into areas of public interest that has inspired other artists and designers, taking his work into the mainstream, while at the same time offering political discourse.  As well as this, the manner in which his work is viewed has equally had an effect on exhibition designer and the perception of how his designs are understood.
"In "Fairytale", an installation exhibited in 2007 at Documenta XII, the artist used 1001 chairs to create an installation and he invited 1001 Chinese citizens to live in Kassel (GERMANY), the city where the international exhibition is held, in that same period. 
In this way, Ai's fable was precisely to create a micro world and a social network through his art, in which ordinary people could change their lives for a moment, both from a social point of view and from a political point of view."
Another artist who has blurred those boundaries is Jeff Koons, someone who's creations have transcended the gallery and found their way into people's homes, inspiring a number of collections.  An example of this is the wonderfully eccentric dog lamp, inspiration taken from Koon's balloon dogs.
SJ's Choice: Philippe Starck
Turning to another influential designer, Philippe Starck was one of SJ's choices as someone who has impacted on her design outlook.  Often known as the 'Enfant Terrible' of design, he has had such a effect across all areas of design, including interior design, architecture, household objects, furniture, boats and other vehicles. 
While for some he might not be a name they recognise, chances are, at some point they will have used or interacted with something has designed, or something he has influenced.  One of the most famous pieces of design is the Fruit Juicer, 'Juicy Salif for Alessi.
Stephen's Choice: Daniel Libeskind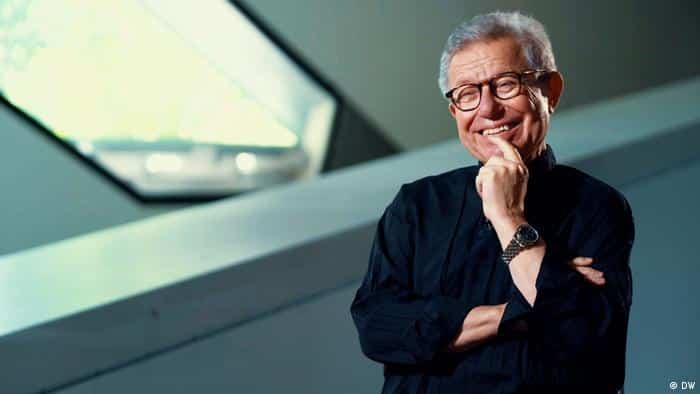 From one enigmatic designer to another, Daniel Libeskind is personally my favourite designer.  An architect who never knows where the limits are when designing something.  Much like a contemporary of his, the late Zaha Hadid, Libeskind is a deconstructivist visionary.  Someone with an approach that extends beyond that of design.  Perhaps this is because Libeskind is a thinker, much like Stark and Ai Weiwei; someone who wants to challenge convention and to make people think about what they are presented with.
This is the most genuine influence of a designer – someone who makes you consider what it is you are looking at.  Designers who change the thought process, whose influence may reach you without direct acknowledgment. Now that's a true influencer.
Of course, there are those designers who everyone has heard of, such as Nate Berkus and Kelly Hoppen.  Designers with mass appeal who are looked up to, for both design inspiration and because of popularity. There will always be a place for these more popular designers.  The more famous designers may well influence other peoples design choices, but I would never define them as influential, in the sense that they have a lasting legacy to provide.
The great thing about design is that there is room for both. Room for designers who have influence and those who are genuinely influential.  Which one we would all like to be? Well that will always be for other people to decide. 
Top Left: Nate Berkus 
Top Right: Nate Berkus' Apartment in New York
Bottom Right: Kelly Hoppen
Bottom Left: Kelly Hoppen's Home
Who Inspires You?
Let us know your favourite influencers over on Instgram.