Introducing our recent student of the month Siân Baynes who is studying for a Diploma in Garden Design here at the National Design Academy.
About Siân
Siân is a keen gardener in Buckinghamshire. She has recently re-modelled her own garden and now planning some hard landscaping within the current scheme!
She also works with a partner managing several other gardens locally. And, if all this activity is was not enough time in the garden she is also a member of the local allotment society, which brings with it a generous sized plot on which she cultivates flowers and vegetables.
Before the horticultural bug took hold, Siân taught plastering and construction skills at Amersham and Wycombe College.
Siân is married with two daughters. Her husband sometimes lends a hand in the garden and on the allotment; daughters Megan and Bronnie prefer to enjoy the fruits of Siân's labours!
Components of Garden Design
Siân received this special award for her dedication and commitment and her recent work on Unit 4 of the course, 'components of garden design'. Here is a sample of Siân's series of watercolours produced for this unit of study: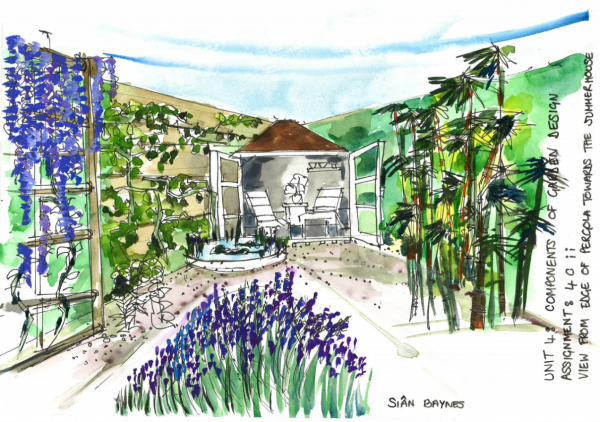 A Word from Siân's Tutor, Anthony Rayworth
Siân has a very busy life and yet has consistently demonstrated commitment and determination – as well as enjoyment – throughout her studies.

The series of watercolours submitted as part of her Assignment 4 perspective sketch Task have considerable charm. They also evidence a keen eye as well as the ability to create ambience within a garden using very few, well-selected elements, placed with thought and care.

Congratulations on being Student of the Month Siân; well done.
If you are interested in studying the Diploma in Garden Design or any of our other design courses, then please visit our course page to find out more information. Or alternately, email us at: enquiries@nda.ac.uk or call us on +44(0)1159 123 412.