This week we continue our NDA Student Guest Blog Series with a Q&A with BA Hons Interior Design degree graduate, Jan Maguire.
We catch up with recently graduated National Design Academy graduate Jan to discuss how her interest in interior design has been incorporated into her full-time role as a Planning Services Manager for the (UHMBT) NHS Foundation Trust.
INTRODUCING BA HONS INTERIOR DESIGN DEGREE GRADUATE, JAN MAGUIRE:
Whilst studying on the BA Hons Interior Design degree, Jan balanced a full-time job as a Planning Services Manager, at the University Hospitals of Morecambe Bay NHS Foundation Trust (UHMBT.)
Working in the role at the trust for over 10 years her role has involved aspects of interior design, working on a range of projects that include; the 2Go Café and Main Outpatients Department at Westmorland General Hospital, Coniston Suite, Breast Screening Unit and Oncology Day Unit at Furness General Hospital and Emergency Department at Royal Lancaster Infirmary.
Her role with the trust also influenced her decisions whilst on the course, Jan's dissertation looked at how care environments can have a significant impact on dementia patients and how different interior design principles can create calming and supportive environments.
Let's catch up with Jan to learn more about how she uses her interior design skills within her Planning Services Manager role.
Hi Jan, What made you choose to study on the BA Hons Interior Design degree course with the National Design Academy?
I have a very demanding job working for an Acute Hospitals Trust so needed something that I could study in my own time and the NDA courses seemed ideal.
You balanced your full-time role alongside studying interior design online, how have you been applying what you've learnt on your course to your role?
Sometimes working in the NHS, there is rarely the time to stop and think. The BA Hons Interior Design degree course with the NDA has given me the opportunity to study areas of healthcare in which I am particularly interested, such as the care of people with dementia. I find it interesting how an environment can have a positive or negative impact on everyone, including those with dementia. Something as simple as painting and furnishing a room in a particular colour can help a dementia patient to recognise that is their room and help with their independence.
Also, through designing restaurants, hotels and apartments as part of my degree course, I have realised that the design principles for these projects are fundamentally the same as healthcare. Providing all NHS guidance is adhered to, a healthcare environment has just as much right to be innovative, modern and exciting as any other project. The skill is working with the nursing staff, patients, visitors, Infection Prevention, Health & Safety, Fire Officer, Health Building Notes and Health Technical Memoranda to fulfil the design brief.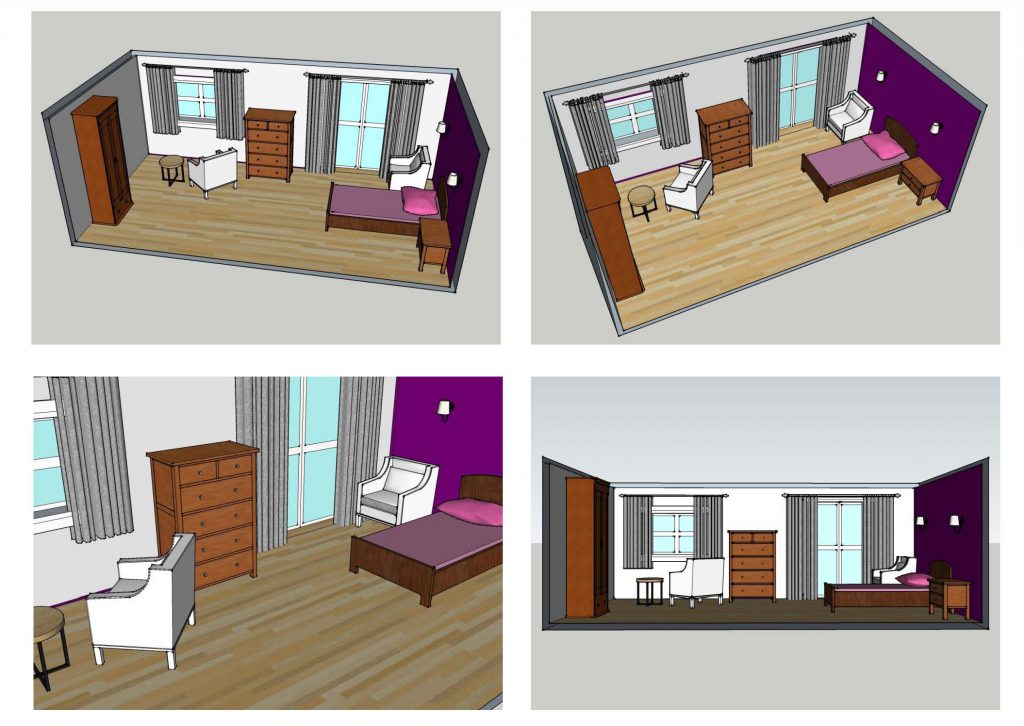 Did your job influence the choices you made on the BA Hons Interior Design degree?
Absolutely! I am very passionate about healthcare and strongly believe that well designed healthcare environments can have a hugely positive effect on the well-being of patients, visitors and staff and has been proven to reduce length of stay for in-patients. I chose to look at dementia environments for my dissertation and in my final Independent Study Project I was inspired by Maggie's Cancer Centres and the Hogewey dementia village in Holland and consisted of converting an existing building into a residential centre for people with dementia and their families.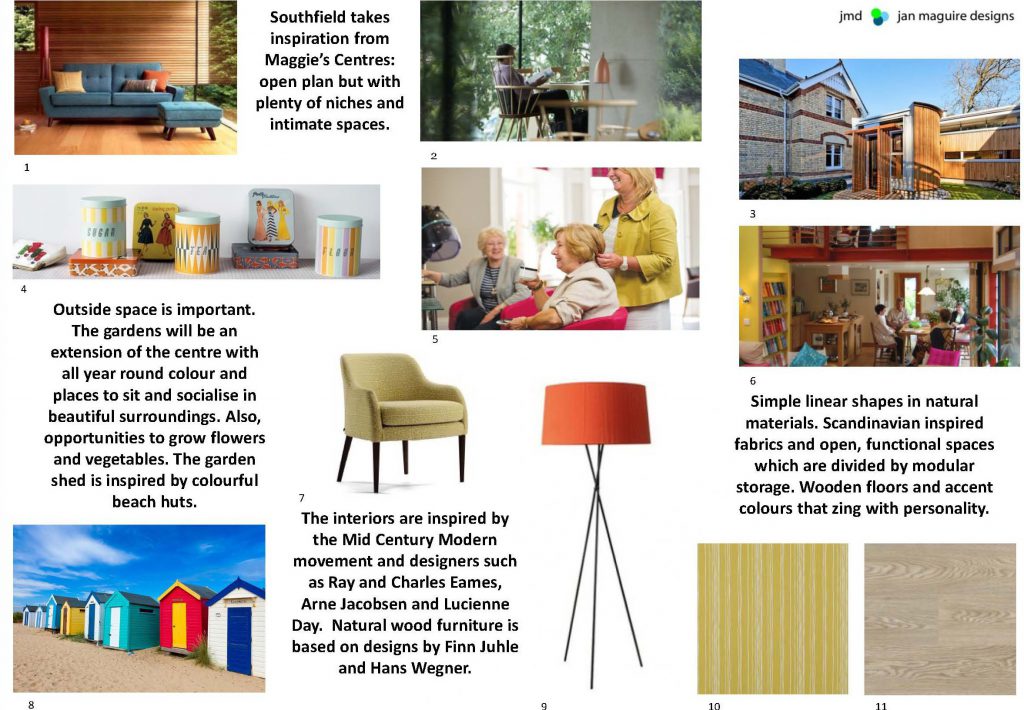 Tell us more about the projects you've been involved in whilst working with the Trust.
Dayrooms:
The existing Dayrooms were underused by the patients and their families and the ward staff wanted to encourage them to be used to improve patient interaction and mobility. I introduced colour with the furniture upholstery and wall decoration, pattern in the curtain fabric, texture with the wood effect vinyl flooring and colour and interest in the artwork depicting local views. The ceilings were replaced and the lighting improved to help the visually impaired. Whilst flat screen TV's were wall mounted for safety and streamlining.
Main Outpatients Department:
The staff requested that the orientation of the old reception counter was changed to create space for Self Check-in booths and a new open and welcoming Enquiries Desk. I introduced modern vinyl flooring, new chairs of varying heights and style and bistro style chairs and tables for the café area. I also replaced the existing heavy curtains with solar window film in bright colours and now the department feels fresh, welcoming and friendly.
Relative's Room & Viewing Room Emergency Department:
The Viewing Room was not welcoming and the Relative's Room was used for storage. Colourful, built in storage, wood effect flooring, comfortable chairs, artwork and soft lighting transformed these rooms into calm and peaceful areas for relatives to wait and spend time when dealing with the death of a loved one.
Main Entrance & Café:
A new Enquiries Desk, waiting area and Information Point for patients and visitors have helped to create a professional and friendly first impression. New lighting, new ceilings, new vinyl flooring and completely new décor and furniture have made the entrance feel brighter and modern and the new café selling Costa coffee is extremely popular with everyone.
Your dissertation focused on 'how care environments can have a significant impact on dementia patients and how different interior design principles can create calming and supportive environments,' what made you choose this particular topic?
I had already done some work with the Trust Matron for Dementia Dianne Smith on some of our hospital wards and attended a workshop with The Kings Fund "Enhancing the Healing Environment Programme." This really inspired me to start thinking about designing surroundings that would improve the environment for everyone including people with dementia. I am a great believer in dementia "transparent" interiors, creating a non-institutional feel and enhancing the environment for everyone. In each project I work on, I aim to include a variety of colour, different textures, natural looking finishes, good lighting, artwork and improved signage.
What upcoming projects are you going to be involved with?
I am currently working on the design of a new Birthing Pool Room, End of Life Room and have recently upgraded our Ward Dayrooms across the Trust. Most of my time at the moment is taken up with the re-modelling and re-design of the Women's and Children's in one of our hospitals.
It is great to see how you have utilised your interior design degree in your current role and industry. Many people are passionate about interior design, but don't want to go down the traditional route once they have finished studying i.e starting their own interior design practice. What advice would you give to encourage these people to incorporate their passion for interior design into a professional role?
This is a very good point, not everyone wants to set up their own business. I am lucky because I can bring my skills to my existing role and have the satisfaction of seeing a project through to completion. If you work in an office, see if you can be involved in a decoration project or re-design project. Introduce some colour, de-clutter, bring in some green plants and artwork.
Or if you work in retail, get involved in the store layout and customer displays. This can often lead your career in interesting directions. I showed an interest in interior design in my own job and with the support of my manager started to get involved in different projects, which has led to this!
Join us next time as we continue our guest blogger series. Don't forget, you can submit your questions and topics you want our student blog series to include by either posting your comments below or posting your questions on our Facebook page wall or tweet your questions on Twitter using the hashtag #NDABLOGGER.
Or if you are interested in studying on the BA (Hons) Interior Design degree course or any of our other interior design courses, then please visit our course page to find out more information. Or alternately email us at: enquiries@nda.ac.uk or call us on +44(0)1159 123 412 to discuss our range of courses.