The appeal  of distance learning is the flexibility and control you have over your study, you can juggle your life around the course and there's no need to give up your job which is brilliant. However, for some people who've plunged back into education it's easy to find yourself struggling to complete an assignment and feeling the pressure as the deadline sets in. But there is a solution….
A helping hand
Many have the view that distance learning is all about "going it alone", and worried about the level of support they may receive when faced with a problem. In fact,  this view couldn't be further from the truth, The National Design Academy  offer students a wealth of support in lots of different ways which rivals that of many universities. Students who find it hard to balance study with work, family or other commitments,  just need that extra helping hand to push them through and our workshops do exactly that.
Reap the benefits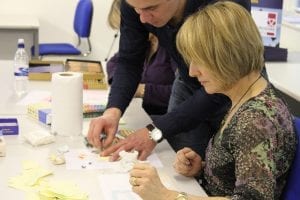 Rendering workshop at the N
There are huge benefits when attending any one of our workshops and in doing so it could springboard you to quicker success. It allows you to have one-to-one time with a tutor to go through various techniques, feedback and advice. This is crucial in order to build skills, confidence and marks.  You can also can also enjoy demonstrations, presentations and take advantage of the many resources available at the Academy.
We can offer a solution for almost any problem and being involved in a workshop enables students to actually see and have a better understanding of things. It doesn't matter what the issue is, for example, if you're finding it hard to get your head around measurements , rendering or just essay writing, we can get you back on track in no time.
Improve your success rate!
Most workshops are ideally tailored for our students however,  The National Design Academy  encourage the "self-taught" design enthusiast to attend any workshop and  improve their creative talents, even if they just want to redecorate a particular room. We have over 25 workshops which cover all aspects of interior design  such as, exhibition design, cushion and headboard making, Photoshop, free hand drawing and much more.
​
James Pilling: Practice manager of NDA Private Clients
NDA tutor and former freelance Interior Designer, Sarah-Jane Lockett, feels workshops provide a vital foundation for a future career, " our workshops  give students the essential skills for future development in the interior design industry as well as building communication and interaction skills."
Admitting you need help is good and acting upon this will definitely increase your chances of success in the Interior Design industry.
If you want to find out more about The National Design Academy's workshop programme you can visit our website www.nda.ac.uk or call 0115 91234 12