SEX AND THE CITY 2 SET DESIGNS: INFLUENCING INTERIOR DESIGN TRENDS (PART 2 OF 2)
In our last Sex and the City 2 Set Designs Part 1, we showed you where to buy our pick of Sex and the City inspired interior pieces to recreate the exotic, Moroccan interiors. This week we continue our SATC Interiors Inspired 'Splurge or Save' blog series, back in New York. We share our favourite interior pieces, focused on each characters personal, interior style created by Set Designer Lydia Marks of Marks & Frantz Interior Design & Decoration.
Carrie & Big's Apartment: French Décor & Parisian Interior Trends
Back in New York the interior style is a million miles away from the middle-eastern, eclectic mix of patterns and colour we saw in Morocco. We get to see Carrie and Big's chic apartment that is sleek, stylish and oh so grown up. No longer just a representation of Carrie's style, their apartment represents their tastes as a couple. "We wanted to create a space that was elegant but also felt like their home"says Production Designer Jeremy Conway. "It would be grown-up and it would reflect their relationship now… particularly if Carrie had been working on it for two years" he continues. In the two years that have passed Carrie and Big have left their penthouse apartment and moved 12 flights down, "Carrie is trying to make a new apartment for the two of them, not just for her," Jeremy Conway continues.
Everything we see in their apartment is new and has been chosen to reflect them both with a definite masculine and more grown-up feel. For Carrie's apartment, layers and texture play an important role as well as the scale and character of 1930's French Décor. "We tried to retain the scale and character of the period, we chose very high quality, solid, linear and often vintage furniture" notes Marks. "We rented a lot of pieces, including the chair at Carrie's drop-down desk, sconce's for the bathroom, and the dining room table" says Marks. "His collection has beautiful finishes, the scale of the pieces was perfect for our sets, and the choices are amazing" she continues. A lot of her set design choices were sourced from Alan Moss studios in Manhattan, like their 1940's vintage, ebony dining table seen below, by Dominique available from Alan Moss,at 1stDibs. Price on request.
Carrie & Big's Dining Room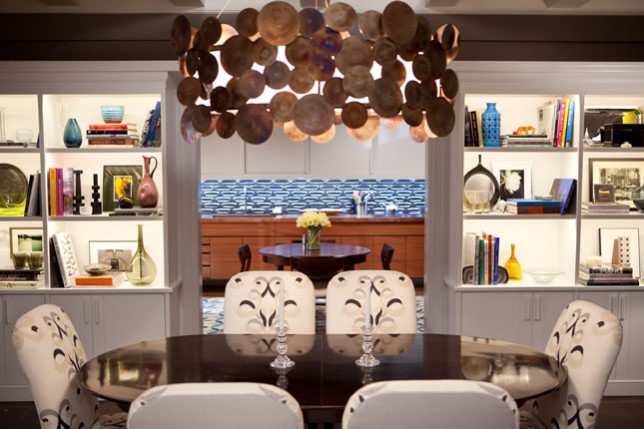 To recreate their stylish dining area you could try 1stdibs for a great range of authentic, vintage pieces, or visit an antique dealer to find an original French dining table. There are some great high street finds too, invest in Laura Ashley's solid, birch Garrat Chestnut Oval Dining Table for less than an original would cost you (£700.00.) We also found an amazing replica dark wood extending oval dining table by Furniture Choice UK, which is a bargain Ebay find seen below, £299.99.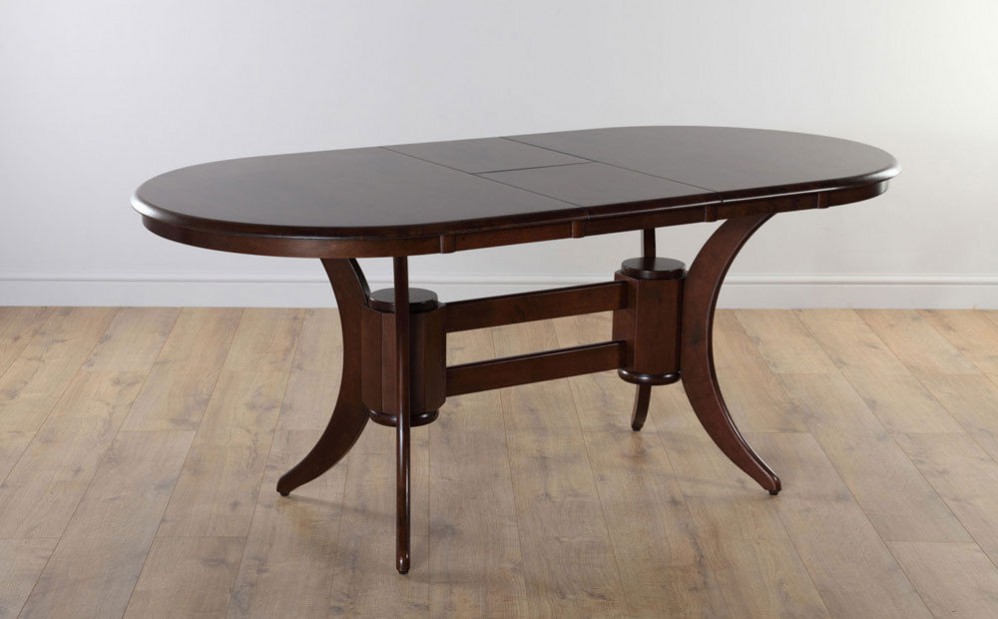 Lighting is a key feature throughout Carrie and Big's apartment. We often see an ornate, ceiling lamp or pair of symmetrical, statement lamps in each room. Above the dining table, an oxidized-metal chandelier by Property can be seen, price unknown. We found a similar splurge-worthy pieces, like the Ulysses chandelier by Arteriors available at DFO, £799.67. Or save with the Bramham Pendant light by Lights on, Lights off, £48.00, or the Eila cutwork metal shade by John Lewis is a cheaper alternative, £45.99. Our favourite though is Made.com's geometric Freddie ceiling shade seen below, £45.00.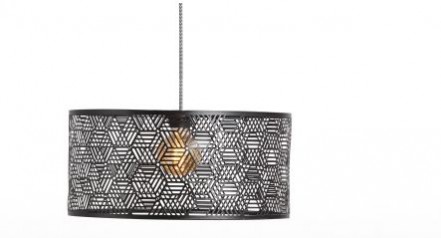 Another of our favourite pieces are Carrie's feminine, custom-made chairs upholstered in "Belgravia" fabric by Lee Jofa. The design elements represent both Big and Carrie Production Designer Jeremy Conway states, describing how "combining masculine elements, such as linear, mid-century furnishings and dark woods, with whimsical rugs and cheerful fabrics "reflects Carrie's décor choices paired with Big's masculine furniture. The beautiful upholstery fabric in this colourway is now discontinued but the Belgravia fabric is still available in various colourways online elsewhere. Houzz shared a similar embroided scroll chain fabric, £29.56 per yard that could be a great alternative if you want to recreate a Carrie inspired dining area.
Carrie & Big's Kitchen
From their dining room, the beautiful, gleaming kitchen backsplash can be seen behind Carrie and Big. Created with custom-made, three-dimensional tiles with a carbon glaze and a silvery sheen, it is a bold and modern statement that really draws the eye. Carrie isn't much of a cook, so we know the kitchen has been designed with Big in mind, however we adore how their mix of Big's Scandi-mid-century modern furniture, sleek, custom sideboards and bold tiles are teamed with feminine touches of Carrie. Like her choice of decorative rugs, floral arrangements and romantic touches seen throughout their apartment.
If you want to recreate the Scandinavian-chic look, the made to order, oval, dimensional tiles in Opal Blue are available at Heath Tile, price on request. Or if can't afford to splurge like Carrie but love the modern look, keep the tiling simple with bright, blue Metro tiles. Or what about PVC kitchen wallpaper? Not only is it temporary, it is a cost effective option that is easy to apply too. Kitchen Walls are a Netherlands based company that sell a fantastic range of water and heat resistant designs, from £88.58 a roll. Each roll comes with a special glue to apply to the walls instead of paper, so you can easily hang, remove and reuse again. Winner!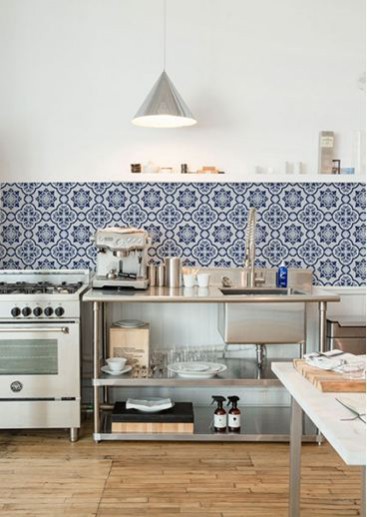 For a wall like Carrie & Big the Dutch, Delfts blue tile design is perfect to recreate their eye-catching, blue tile wall. Or to add a pop of colour be brave with our favourite, a bold mustard & white pattern by designer, Kirath Ghundoo instead. See their full collection of PVC wallpapers designs here.
If re-tiling your walls isn't an option, invest in a beautiful rug instead. A lot of their rugs, like the Adalia Wool Rug feature a similar geometric, tiled design to line your kitchen floor with. A range of rugs are available at Joss & Main. Or tile your floor instead, mixing Scandi style with a Moroccan, mosaic twist. Harvey Maria do a great Neisha Crosland Parquet tile design in a bright turquoise shade, £47.89 per square metre.
Or splurge on Carrie's kitchen favourite, the Starflower Blue rug by Edward Barber & Jay Osgerby for The Rug Company, £835 per m2. The Rug Company, whose pieces have been used across both film's interiors are luxurious and ooze style, which fits perfectly with Carrie's style. "Their carpets are designed by fashion designers, what could be more appropriate that that?" states Marks, describing the way each room reflects Carrie's character and tastes perfectly. "Carrie's into rugs so you see her taste in those, and Big's in the furniture, which is very retro mid-century, his growing up-era." Production Designer Jeremy Conway continues, referencing the bold mix of influences and different era's merged together to create a unique interior style.
We love Carrie & Big's rosewood table and chairs. If you can't afford to invest in an authentic, vintage mid-century modern furniture set like their Ercol-style table and chairs, Joss & Main's 5-Piece Crosby Dining Set, £210.95 is a very similar style dining set. Or to complement your mix of vintage accessories, try adding a 1960's pendant lamp to hang above. The Lighting Company's Rowan glass and gold pendant light is a modern take on Carrie's vintage drop pendant light, £183.90. Try Ebay for a cheaper, vintage, industrial-looking, milk glass, flared pendant light, or Etsy seller LampGoods also do a great selection like this vintage, milk-glass pendant shade, £58.99.
Or if you want to splurge, Joss & Main's copper Baroni Pendant is a great, modern alternative which can be seen below, limited availability £97.95. Joss & Main have a large selection of other lighting available here, but be quick as their flash sales mean products sell out pretty fast.
Carrie & Big's Living Room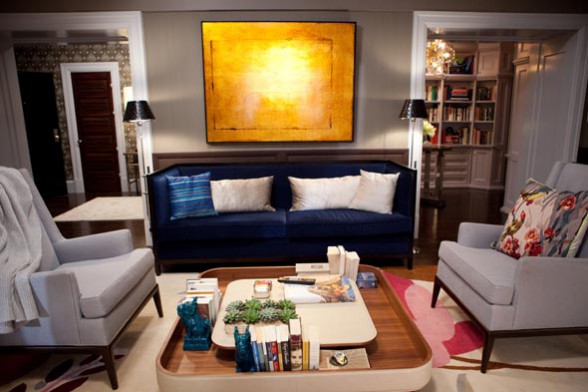 In Carrie & Big's grown-up living room a beautiful Montauk sofa in a Donghia relief, blue, silk velvet fabric sits between two 1940's, T.H. Robsjohn-Gibbings armchairs. For the sofa, the Jane 3 seater soft blue velvet model from Modern is a similar find for £748.00. Whilst Made.com's Jonah 2-seater sofa in cobalt-blue velvet is a cheaper alternative for £599.00.
Colour palette plays a key role for set designer Lydia Marks. When dressing the sets throughout Mark's worked hard to compliment each character's costumes. "A lot of the furniture upholstery and curtain fabrication needed to happen before the costumes were finished being selected. We chose the blue Donghia fabric for Carrie's sofa partially because we thought it would look amazing with the dress she wears in the final scene of the film." says Marks.
Marks was also responsible for sourcing Carrie's chairs from Bergdorf Goodman, £8567.89 for the pair. "I was at Bergdorf's looking for a table runner for Charlotte's long, formal dining table. I turned and there were these two exquisite blue armchairs. They became the centrepiece of Big and Carrie's living room, and I ended up basing a lot of the other furniture on these chairs" says Marks. "The furniture had to work with the beautifully designed architecture to achieve success as a whole. Most contemporary furniture felt too massive for the space, that was a compelling reason for using so much vintage furniture on the set." She continues, referring to the beautiful pieces picked to dress each of the fabulous sets.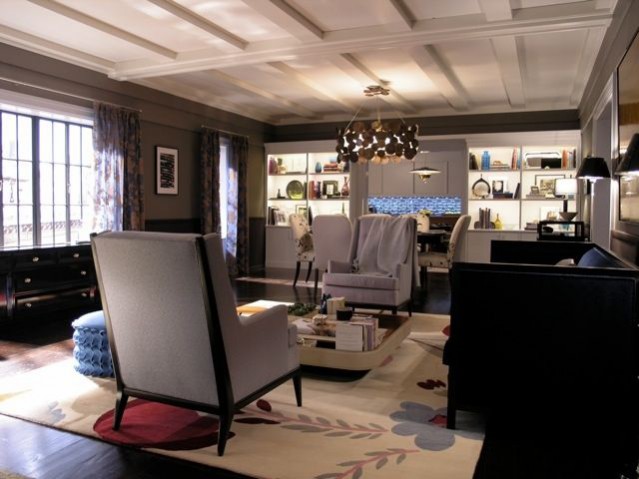 From the angle above, we see that their living room is a mix of strong lines and furniture with hard edges to represent Big. Whilst "Carrie comes through in the layering of the furniture and the personal object, books, textiles and collections" Marks states. He references the beautiful back-lit cupboards used to display Carrie's books and unique items, as well as their Ninfea coffee table seen above, price on request. We found a great alternative at Overstock, the Berkley modern coffee table has pull-out drawers to recreate your own book stand. It's also great for displaying your collection of personal objects like Carrie's, for only £112.99.
We also spied her fantastic vintage, Foo Dog statues she uses as bookends to prop up her huge selection of books. We found a great replica pair on Etsy, (£31.46) whilst Laura Ashley's pair of ceramic dog ornament are a fantastic find for £50.00. Or splurge on an authentic pair like the Foo Dogs listed here on Ebay.
Carrie's style has definitely evolved since moving in with Big. It seems more glamorous and expensive, but it can easily be recreated. To create a similar sense of glamour in your living room, splurge on the Brodie Wing Chair by the Original Chair Company, £1160.00. Or invest in a statement chair like the Laura Ashley Addison Upholstered Occasional Chair in Tinsley Duck Egg fabric. It will give a contemporary, elegant look to any room, from £735.00 dependant on fabric choice.
Budget-friendly Made.com also offer a mid-century modern looking Carrie copy for less. The Scott armchair in a calico beige is a similar 'Carrie' inspired chair that can be seen below, for £429.00.
And it's not just about the furniture. Her beautiful choice of soft furnishings add a feminine touch to each room, reflecting Carrie's girly nature and creativity. Her beautiful, statement Marni Candy Flower rug available to buy at The Rug Company, £735 per m2 reflects her girly style perfectly. We found similar rugs here, £154.99 and here for £49.95.
Whilst her Birdie Blossom Cushion by Paul Smith by The Rug Company, £395.00 is also a definite Carrie touch. Splurge on a similar design like Heal's Birds floral cushion by Kristjana S Williams, £125.00. Whilst Lee Jofa's Hydrangea Bird cushion can be seen below, £140.15 available from Houzz. Not on the High Street is also worth visiting for cheaper alternatives, The Forest & Co's Birds of Paradise velveteen cushion at £49.00 is a similar design that we love. Or Laura Ashley's Summer Palace duck egg cushion is a beautiful floral and bird pairing that can be seen below, £48.00.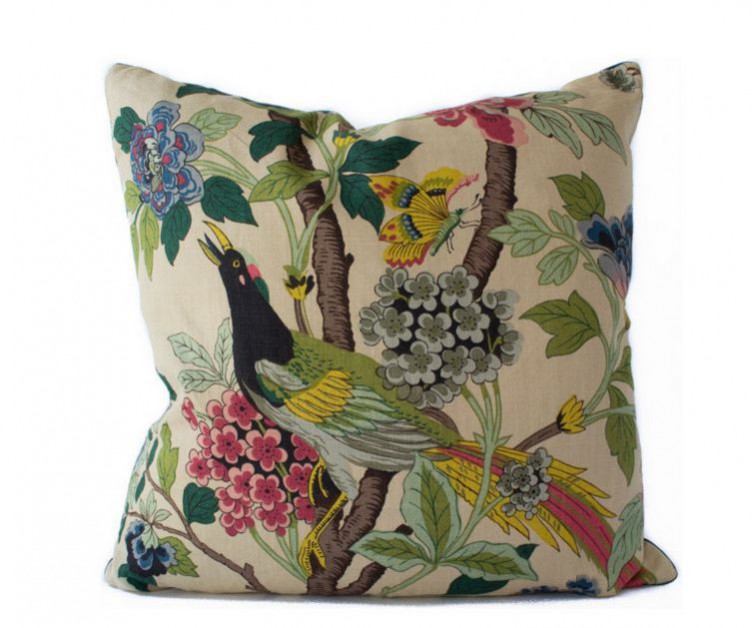 In the rest of their gorgeous living room the beautiful, custom-made, blue, Lola ottoman by Anne Kyyro Quinn can be seen, price on request. "We needed to have Carrie sit on an ottoman for an important scene, and I was not sure what padded and upholstered pillow would be up to the task. Anne Kyro Quinn's original piece, made in our choice of colour and size, was the perfect solution. I chose blue because it worked well with the deeper browns in the room, it was a pop of brightness. In addition, it was close in colour to Carrie's blue walls in her old apartment, which was like bringing a little piece of the old Carrie into this new environment" says Marks.
But if custom-made is out the question Overstock's Ella blue tufted round velvet ottoman is a great alternative. A beautiful, blue shade and budget-friendly, the stunning ottoman is only £147.51. Or our favourite is the ornate, Tracy Porter Annistion upholstered cocktail ottoman that is a definite Carrie piece that can be seen below, £328.93.
In the rest of the living room, the walls are kept neutral and are covered in glamorous, textured wallpaper and cashmere. The sophisticated, neutral palette of earthy browns and blues contrast against the greens, walnut and teak of the statement furniture throughout to represent Carrie's character. We found an incredible range of textured wallpapers to splurge on online, our favourite is the Maya Romanoff's Crepe Suzette pleated fabric wallcovering. Both of the shades dark truffle or champagne could be used to recreate Big & Carrie's living room walls, price on request. Or visit Altfield London for a larger range of textured wallcoverings.
To get their stylish look for less, we recommend the rich, chocolatey Tussah silk pleat wallpaper by Zoffany that is a very similar shade available from Fashion Wallpaper, £54.95 a roll. Or opt for painted walls instead, paint with a Parisian, French grey like Found Fossil, a deep, cool neutral shade by Dulux to unite your hallway and living room walls like Carrie & Big's.
From the living room their beautiful earthy, dark colour scheme continues into the grand foyer. Whilst Carrie's bright furniture, statement rugs and accessories ensure each room feels airy and bright, providing pops of colours to the neutral background throughout each room. Her abstract, gold painting on the living room wall adds warmth and a focal point on the walls, recreate the look with a bold, gold contemporary canvas by Jimarieart on Etsy, £31.72. Or visit an art dealer for a splurge-worthy, one-off if you want to add a statement, feature piece to a muted, dark colour wall.
Carrie's feminine touches continue to add playful texture and pattern to the interior. The beautiful, floral curtains that frame each window were made from two layers of Osborne and Little sheers to bring depth, pattern and a sense of sophisticated drama to the design. We love the swirling, velvet patterning of Osborne and Little's Samba – shade MLF2154-01. Layer over contrasting blue linens to recreate Carrie's style, price on request.
To create the look for less, layer up floral sheer curtains over faux-silk curtains for a dramatic look. Try Ebay's selection of sheer panels or try JCPenney who stock a great range online. Layer a pair of ivory, Laura Ashley Rothbury sheer panels available at JCPenney, £61.22 over blue, silk curtain panels for added glamour.
In their secondary seating area at the back of the living room, their mid-century modern, cane-back club chairs provide another area for Carrie and Big to relax in. Look for similar style finds on Ebay, search for vintage pair of cane back club chairs, or buy a leather tub chair, £64.99. Or this antique Bergere chair is currently listed for auction on Ebay. Even though their apartment is ultra glamorous, the space is practical with zones for different activities in every room.
Zoned with luxury, designer rugs like the Stupa Silver rug by Suzanne Sharp, £1,135 per m2, each area is decorated differently with lots of layering and detail. The space also features another Carrie print, a large overhead lamp like Made.com's similar black, large bow lamp for £99.00. As well as a dark wood, vintage, round table to compliment their choice in chairs, a fresh, floral arrangement and a dark fireplace fill the space.
Carrie & Big's Hallway & Library
Setting the tone for their whole apartment, the grand foyer is decorated in warm tones of neutral and paired with shades of blue. The colour scheme continue into the library, bedroom and living room with texture and pattern also playing a key role. Carrie's fabulous eclectic accessories take centre stage however, displayed on top of a traditional, dark wood console table. We love the dark wood, Denton console table with brushed copper top from Swoon editions, £249 if you're after a unique looking console. Or copy Carrie's classic look for less with World Stores Classic Chinese Black Console Table that can be seen below, £295.99.
We love her fabulous hat box, sea glass vase and the elegant pair of vintage, striped lamps on display. Splurge on a pair of similar vintage, Murano lamps by Barbini available at 1stDibs, or trawl Ebay for vintage, mid-century regency table lamps, like styles similar to this vintage brass stiffel pair.
Our other favourite Carrie pieces are her quirky, chic pieces like the butterfly terrarium or the unique, hallway mirror seen below. Splurge on Trend First's glass butterfly dome, £1,150. Or we found a range of Butterfly domes on Ebay. Various styles available from £14.11- £221.30. For a mirror similar to Carrie's, World Stores offer a larger, gold, metal shaped mirror for £134.99.
The quirky wallpaper used throughout the hallway represents Carrie's style. A beautiful, chocolate, bird print known as "Oiseau" by Katie Ridder is £70.56 a roll. The repeated print leads you through into the connecting hallway/ library area. We found similar bird-themed finds like the Dovedale wallpaper by Fabrics & Papers, £70.60 a roll. Songbird Effects by G P & J Baker for £89.00 a roll. Or Laura Ashley's Summer Palace dove grey floral wallpaper is £40.00 a roll. B&Q's Aviary Birds wallpaper is the best bargain though at just £9.00 a roll, for a modern, bird-themed print.
The dazzling chandelier that hangs in the library is a blown-glass and gold chandelier is by Lindsey Adelman Studio. To buy, it would set you back a whopping £9875.15. "I needed a fabulous light fixture for the library. Lindsey Adelman custom-made the hanging fixture, with gorgeous hand-blown glass globes, laced with 14-carat gold foil and gold murrine, all connected into a cluster with brushed brass stems. It's a luxe lamp" says Marks stating her show-stopper lighting choice.
We found great alternatives however if Carrie's is a little over budget. Try creating a show-stopping cluster of hand-blown glass, Acid Drops Pendants, £375-£450. Available from award winning, UK lighting designer Esther Patterson, the founder of Curiousa & Curiousa. Her beautiful, bespoke, hand-blown designs are free-blown without moulds allowing for any shape, size or colour to be achieved. Curiousa&Curiousa also offer a bespoke design service for custom-made orders or large scale projects, previously designing bespoke creations for the likes of Harvey Nichols, the Royal Albert Hall, Jamie Oliver and TK Maxx.
Or splurge on a custom-made XL Bubble Chandelier by Jean Pelle, £2501.34. Apartment Therapy have a 'How to create a DIY Bubble Chandelier' tutorial on their blog to create the look for less, or try Light in the Box's modern, glass bubble chandelier available at Amazon for a cheaper alternative, £108.12.
Carrie & Big's Bedroom
In their bedroom, French décor styling provides a glamorous, grand feel to the spacious room that features a striking blend of texture and patterns. The bed is a statement feature designed with both Big and Carrie in mind, "we knew they had to have an important conversation integral to the story line in this bed, so Jeremy designed the bed to envelop them." States Marks referencing the side returns and exaggerated-height, custom headboard covered in Velvet Gate Tuxedo fabric by Kravet, which re-enforces the feeling of enclosure.
The statement design of the Frances tufted bed frame by Joss and Main, £240.95 is a strikingly similar find (limited availability) or the Bergerac double bed, £749.00. With a tufted, exaggerated headboard and sides that could be covered in a similar fabric to recreate the look, try upholstering in the Black and White Moroccan Trellis Pattern Fabric, £8.25 per yard available from Zazzle.
Complete the look by splurging on bedding from Anichini like Carrie in caramel's, pinks and creams. Or save with a mix of neutrals, creams and taupe bedding from H&M, various prices. Or this cream, velvet textured throw from Fabulous Home Furnishings is only £24.99.
Behind the grand bed a statement, neutral Rococo striped wallpaper by Cole & Son covers the walls, £61.28. Our favourite statement picks for less are Laura Ashley's Josette White/Dove Grey Damask Wallpaper, £34.00 a roll. Or try the Tetbury Sable patterned wallpaper, £44.00 a roll also from Laura Ashley. We also noticed a pair of beautiful bedside lamps sitting on top of a pair of matching dark wood bedside tables either side of the bed. Joss & Main's cream lamps below, or the Imogen crystal table lamps are also a perfect pair of similar styled lamps, 182.95.
Other features in the room include a seating area designed specifically for Carrie in mind, seen above. "So much of the apartment was designed for Big, so we wanted to create an area in the bedroom that is just for Carrie to think, read and reflect" says Marks. Carrie's girly, reading area features a black ribbon chair, furry cushion, glass table and a vintage reading lamp. We are also obsessed with the statement Peony rug by Helen Amy Murray available from The Rug Company seen below, £835 p/m2. It is a beautiful, feminine design that compliments the room perfectly.
You could splurge on vintage pieces at 1stDibs or save by recreating the look with high street finds. Our favourites finds for less are the Gillmore Space Walter Circular Glass Top Side Table from CFS, £116.10. A very similar cream, 3d rose effect rug for a fraction of the cost on Ebay, £114.19. Or copy Carrie with a statement black chair to sit and unwind in, like the Josef armchair in charcoal available at Swoon editions, £379.00.
Another Carrie touch in their bedroom is another beautiful, statement rug that lines the dark wood floor, the Harem rug by Tamsin De Roemer, £835 per m2 from the Rug Company. The large, floral design can be seen poking out from under their bed is a large, luxurious, floral print. We found a similar design for a lot less though, like the infinitie poppy rug available at the Rug Retailer. It comes in a range of colours & sizes, from £45.45- £140.97.
In the film, a heated argument regarding an old black and white TV takes place between Big & Carrie, which is beautifully hidden away in a Thomas O'Brien Hallings Secretary by Hickory Chair. The beautiful dresser can be seen above, with a rented, vintage Alan Moss chair, but unfortunately the dresser is no longer available. Used earlier in the film as a writing desk, the secretary doubles up as a handy TV stand later on, which is a chic, multi-purpose storage idea you could copy. We found a great selection of second-hand writing desks and bureau's on Ebay and here that could be used double as TV stand/writing desks. Team with a vintage, parlour chair like Carrie's vintage find.
Other features to mention are the beautiful window treatments consisting of a mix of textures layers, pleated silk blackout curtains and ornate passementerie detailing. They add a sense of dramatic glamour to the bedroom windows. We found similar ready-made curtain on Ebay, £18.00. Or splurge on a pair of Laura Ashley made to measure curtain in duck egg Dupion Silk, price on request.
To add your own eye-catching touches to your windows try Zoffany. Or Houles a small, French, family-run company specialise in exquisite trims and upholstery details, like Carrie's exquisite tassel trim. Or save by visiting online retailer Warehouse Fabrics Inc, who have an amazing selection of fabrics, trims and drapery fabrics for a lot less.
Carrie's Closet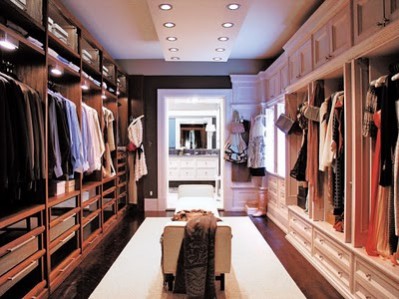 The Piece de resistance once again in their apartment is Carrie & Big's closet. Not as grand as the one Big had made for her in the last film, the his and hers closet is still a show stopper in its own right. A functional, more subdued design than features Big's dark wood detailed, streamlined, masculine side on the left. Whilst Carrie's right-hand side of the walk-in closet is white and illuminated, stocked with a designer wardrobe by Net-a-porter."The wow factors are the woodwork and the hardware." says Marks, "it's more grown up and sophisticated" she continues.
We love the illuminated shoe shelving display towards the back of the closet, each back-lit shelf proudly displays Carrie's designer shoe collection in all it's glory. If you want to recreate the look for less, and give everyone you know major closet envy Lights Suppier stock fluorescent illuminated box shelf lighting from £45.00. Or splurge by using a bespoke lighting installation company to makeover your closet.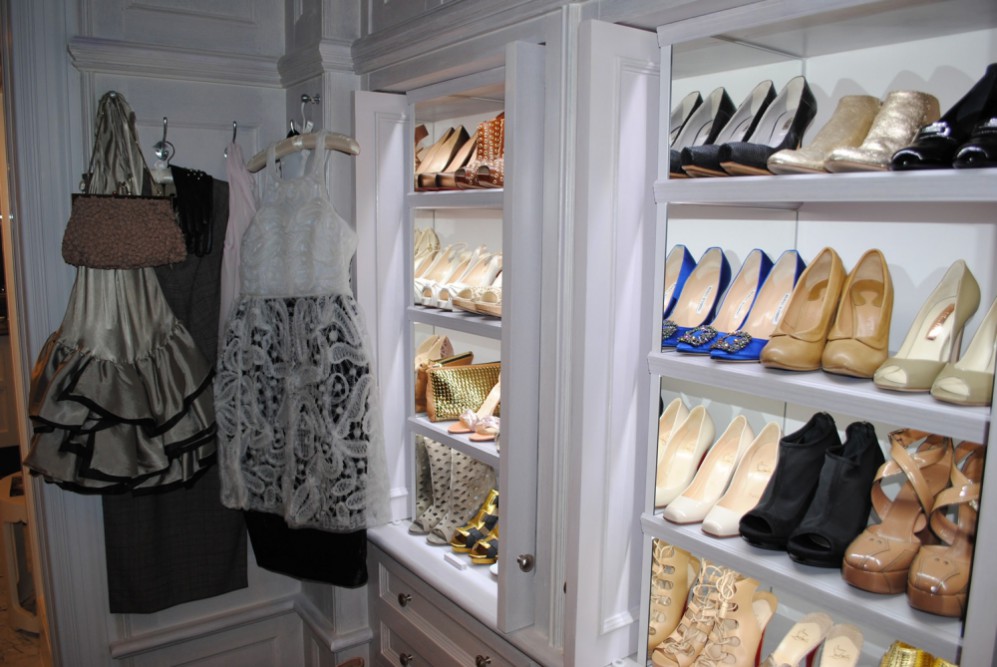 We also love the chic bench the middle of the closet, perfect for getting ready. Save with the Better Living Jemma Cream Renu Leather Large Bench, £80.79, or the Jonah upholstered bench designed by James Harrison for Made.com, £249. The French Bedroom Company's Fawn velvet bedroom bench is also a beautiful, similar style for £425.00. But our favourite is the Kidworth upholstered bench in Adele natural fabric below from Laura Ashley, from £900.00. It's a beautifully feminine style bench with flared arms and matching cushions, that would be a feature in any room.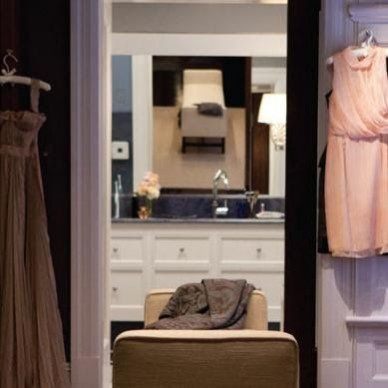 Carrie & Big's Bathroom
We don't get to see much of it in the film, but we adore the glimpse we get of their practical, stylish bathroom. The simple, elegant design features his and hers sinks, vintage Alan Moss sconce's and plenty of storage. It's perfect for all their bits and bobs. The sink storage unit is stylish and great for hiding things away in the drawers underneath the beautiful, grey, marbled topper.
The space, although small feels light and airy. Up-lit shelving is used to display Carrie's ornate perfume bottles and cosmetics and lights up the whole room. Adding artificial light to an enclosed bathroom space adds a feminine touch to the room and makes it feel brighter.
Charlotte's Kitchen
Whilst Carrie and Big's apartment is style-driven and glamorous, Charlotte's Park Avenue home is more traditional. Her beautiful, dream kitchen takes centre stage, predominantly white and minimalist, with colourful accents offset with stainless steel appliances. Production Designer Jeremy Conway chose a neutral scheme to reflect Charlotte's perfectionist nature, and as a neutral background to the mountain of girly cupcakes laid out across all the surface space.
We love the choices Set Decorator Lydia Marks made, choosing a bright, pom-pom tasselled pastel blind and bright, red knobs on her Wolf range. The white and grey diamond, ceramic tiles also add a subtle hint of pattern and colour to her simple, but typically 'Charlotte' interior scheme. Also creating a clean, polished look without appearing overly clinical.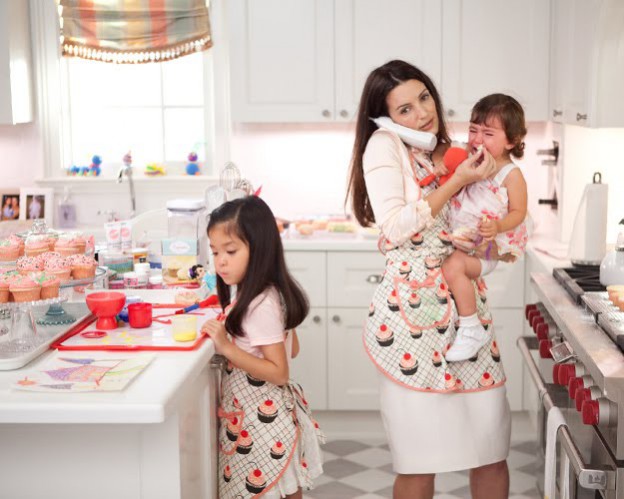 We also get a glimpse of her modern kitchen appliances, immaculately stocked pantry and of course their cute matching Jessica Steele Cupcake Aprons, from £23.00. We could see Thornback & Peel's Jelly & Cake apron, £25.00 as a bright addition in Charlotte's kitchen. Alongside a matching window blind in the same delightful raspberry jelly & cake ivory linen print, £95.00 p/m. As well as the matching jelly & cake tea towel, £12.95 & oven glove, £27.00 to complete the look.
Charlotte's Bathroom
The bathroom follows the same muted colour palette, with clean lines and minimal detailing. Again the neutral and mostly cream palette is typically Charlotte. The look is clean, with a perfectionist feel and a hint of femininity added by the dainty, floral wallpaper seen on the back wall. The beautiful Laura floral rose wallpaper is a ditzy rose print in a pastel pink shade seen below, only £4.00 a roll from B&Q. Or splurge on Laura Ashley's Abbeville pink/natural wallpaper, a mini floral design on a neutral background, £33.00 a roll.
Samantha's Office
In the film, we also get to see Samantha's modern, which shouts minimalism. White, metal and Lucite dominate, the whole space exudes glamour just like her character. With Time Square as a backdrop, the space features minimal detailing consisting of a Vitra desk, white accessories and orange accents. "The oversize billboards, the advertisements, the energy of it is everything that she's about." says Production Designer Jeremy Conway.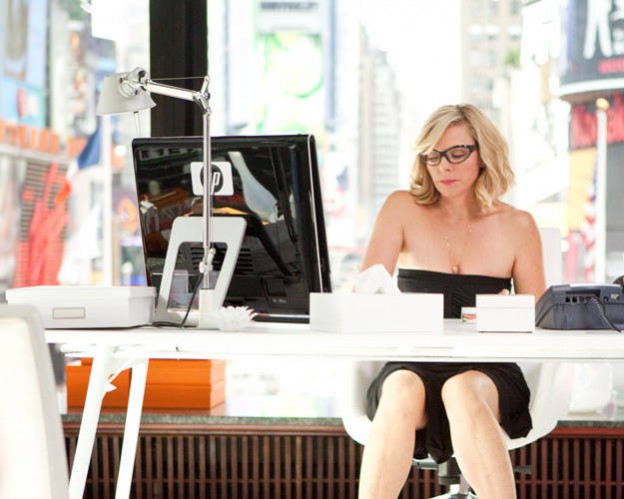 To recreate her office space, splurge like Samantha on the Joyn single bench table designed by Ronan & Erwan Bouroullec for Vitra, £1,528.23. Or save with Ikea's Klimpen trestle table, £110.00. Or the Linnmon table seen below, £23.00. Team with the Lillhojden chair, £55.00 and bright orange storage boxes, £11.99 at Viking to recreate her sophisticated, polished look for less.
Miranda's Apartment
Although not much has changed since the last film in Miranda's more traditional home, we love the period, pre-war architectural features of her down to earth home. The blue, carved mill work arch above her stove is an eye-catching feature in a particular scene. Recreate the look by visiting White River for a range of mouldings, corbels and kitchen applications to transform your kitchen. The rest of her home reflects Miranda's character, colours chosen by Marks' were earthy tones, moss greens and reds to reflect Miranda's traditional, laid-back interior style.
And so, we come to the end of our Set Design Inspired Interior Trends Series. What these films do collectively is to provide a rich visual reference for ideas that can be applied to any interior design scheme. Wes Anderson's use of colour and props has already generated design schemes that reference his films. He designed the bar for Fondazione Prada's art space which opened in May this year.
Whilst the Great Gatsby's set design has inspired a resurging interest in all things Art Deco. And Sex and the City 2 created a demand for the bespoke and all the elements that were available to buy directly from suppliers. There are a lot of other movies with amazing set design, all that is needed is the pause button to get a good screen shot of the inspiration for your next interior design scheme.
If you have enjoyed reading our set design splurge or save series and want to further your knowledge in interior design, we have a range of courses available from diploma to MA level. Visit our course page for an overview of our interior design courses. Alternatively you can contact us directly by phone on +44(0)1159 123 412 or via email: enquiries@nda.ac.uk.
References:BlogsBritton Loves (2012) [Online] Available from: http://www.brittonloves.co.uk/ [Accessed 06.03.2015]
The Salon (2012) [Online] Available from: http://www.salon.com/2010/05/26/sex_and_the_city_cultural_tone_deafness/ [Accessed 06.08.2015]
SeaSight (2012) [Online] Available from: http://seaseight.blogspot.de/2012/01/tv-interior-design-sex-and-city-movie-2.html [Accessed 12.07.2015]
(2012) [Online] Available from: Maggie Designs [Accessed 12.07.2015]
Websites
HGTV (2015) [Online] Available from http://blog.hgtv.com/design/2010/05/25/sex-and-the-city-2-carrie-and-bigs-apartment/#sthash.kKLz95pb.dpuf.[Accessed 14.07.2015]
Houzz (2015) Marks & Franz Interior Design [Online] Available from:www.houzz.com [Accessed 06.03.2015]
Marks and Frantz (2015) [online] Available from: marksandfrantz.com. [Accessed 06.03.2015]
Set Decor Online (2010) Sex and the City 2 [Online] Available from: www.setdecorators.org.
The Rug Company (2015) [online] Available from:www.therugcompany.com [Accessed 06.03.2015]
Coolture Hunter (2015) [online] Available from: http://www.coolturehunter.it/posti-da-vedere/le-mete-del-cinema-sex-and-the-city-2/[Accessed 06.03.2015]
Marks and Frantz (2015) [online] Available from: http://www.marksandfrantz.com/wp-content/uploads/25_SDSA_Set_Decor_Online.pdf [Accessed 06.07.2015]
Main Stylist (2012) [online] Available from: http://main.stylelist.com/2010/06/04/sex-and-the-city-2-set-designer-lydia-marks/[Accessed 06.07.2015]
Images:
Sex and the City TV show and film franchise images (2012) [online] Available from: www.HBO.com [Accessed 06.03.2015]
Sex and the City 2 set design photos (2015) [online] Available from: marksandfrantz.com. [Accessed 06.05.2015]
Quotes and References:
Minh Le.A (2008) Movie is influencing fans' own decorating styles. http://www.sfgate.com/homeandgarden/article/SEX-AND-THE-CITY-AND-THE-WALK-IN-CLOSET-3209753.php. [Accessed 27.05.15]
Apartment Therapy (2008) 27.05.15]
Popsugar, Casa Interview: Sex and the City's Jeremy Conway (2008) http://www.popsugar.com/home/Casa-Interview-Sex-City-Jeremy-Conway-1675967. [Accessed 14.06.15]
Popsugar (2012)[online] Available from: http://www.popsugar.com/home/Get-Look-Carrie-Redecorated-Digs-1682311 [Accessed 06.05.2015]
Popsugar (2012) [online] Available from: http://www.popsugar.com/home/photo-gallery/8412879/image/8412946/Im-absolutely-dying-just-looking-glamorous-little-tea-lounge [Accessed 06.05.2015]
Examiner (2012) [online] Available from: http://www.examiner.com/article/park-avenue-glam-with-a-charlotte-york-interior[Accessed 16.07.2015]
Habitually Chic (2015) [online] Available from: 16.07.2015]
Hooked on Houses (2015) [online] Available from: http://hookedonhouses.net/2011/02/28/carrie-and-bigs-apartment-in-sex-and-the-city-2/ [Accessed 16.07.2015]
Marcus.B (2010) Sex and the City 2′ Set Designer Lydia Marks Reveals Her Secrets to Decorating Carrie's Apartment. ) [online] Available from: http://main.stylelist.com/2010/06/04/sex-and-the-city-2-set-designer-lydia-marks/ [Accessed 20/06/15]
Main Stylist.com) [online] Available from: http://main.stylelist.com/2010/06/04/sex-and-the-city-2-set-designer-lydia-marks/[Accessed 20/06/15]
Houzz (2015) Marks & Franz Interior Design www.[Online] Available from:www.houzz.com [Accessed 06.03.2015]
Marks and Frantz (2015) [online] Available from: marksandfrantz.com. [Accessed 06.03.2015]
SetDecor Online (2010) Sex and the City 2 [Online] Available from: www.setdecorators.org. [Accessed 06.03.2015]
Marks and Frantz (2015) [online] Available from: marksandfrantz.com. [Accessed 06.03.2015]
SetDecor Online (2010) Sex and the City 2 [Online] Available from: www.setdecorators.org. [Accessed 06.03.2015]
Total Wall Coverings (2015) [online] Available from: http://totalwallcovering.com/blog/sex-and-the-city-a-wallpaper-study/. [Accessed 18.05.2015]
Scandimania (2015) [online] Available from: http://scandimania.com.au/2010/06/satc-2-carrie-bigs-new-apt/ [Accessed 18.05.2015]