Set Design: Influencing Interior Design Trends Sex and the City 1 (Part 1 of 2)
We hope you enjoyed our last Set Design: Interior Design Trends Post ideas post which was influenced by Catherine Martin's set designs from the glamorous, 1920's styled cinematic adaptation of F. Scott Fitzgerald's 'The Great Gatsby.' This week the tabloid magazines were rife with rumours of Sarah Jessica Parker teasing there may be a third film, we continue our Set Design Interior Design Trend Series with a look back at the first Sex and the City film for some interior ideas based on the style-driven set design bySet Design Lydia Marks.
Since hitting the big screen not only did every woman lust after the enviable clothes and designer accessories, women all over the world demanded to know what custom shade of paint was on the walls, where the bed linen, rugs and lighting could be purchased and of course, "where do I buy Carrie's walk in closet?"
The desire to emulate their lives and homes is thanks to the stylish, lust-worthy interiors designed by Lydia Marks of Marks and Frantz for the Sex and the City films, who have created the huge demand for all things inspired by the films. Transitioning the TV show to the big screen was a large task for the set designers, "the biggest challenge in updating the characters' homes was maintaining enough continuity from their old places to their new ones, while adding a level of detail that would create an impact on the large screen," Frantz said.
From the fashion to the impeccably stylish interiors main characters Carrie Bradshaw (Sarah Jessica Parker), Charlotte York (Kristin Davis), Samantha Jones (Kim Cattrall) and Miranda Hobbes (Cynthia Nixon) have fuelled the need for aspirational living and bespoke, interior design dream schemes. Inspired by every aspects of the lives of the main characters, Sex and the City portrays four very different personalities that women can relate to. Often referring to themselves as a typical 'Carrie' or 'Charlotte,' the show begs the question "which personality are you most like?" We look back at the film's stylish set designs that reflect each character's style and personality perfectly, to bring you our set design inspired interior ideas.
Four years have passed when we catch up with the four friends in the first Sex and the City film. Carrie is now a successful book author and magazine journalist, back with Mr. Big (Chris Noth) who has just purchased a huge Fifth Avenue penthouse for the two of them. Carrie is tasked with packing up her apartment, whilst Charlotte is now a stay-at-home mum who lives with husband Harry and their adopted daughter Lily in a Park Avenue apartment. Corporate attorney Miranda and her husband Steve have moved into a Brooklyn brownstone with their son. Whilst the glamorous Samantha, has swapped New York for a gorgeous beach house with her actor boyfriend Smith Jerrod played by handsome Jason Lewis.
The 'Carrie'
Carrie Bradshaw is known for her fabulous fashion sense and enviable collection of clothes, many women have lusted after Carrie's style since the show's pilot. Her put together outfits, coveted designer pieces and her ability to mix colours and textures with chic, statement accessories is something that translates to her apartment's effortlessly stylish yet eclectic, scattered look.
Even her writing desk and laptop are iconic. They are now part of the Smithsonian Institution's permanent collection that symbolise Carrie observations and her internal monologues on modern relationships. The Emmy award–winning show won millions of loyal fans and not only set fashion trends, the show has influenced a surge in Manolo Blahnik shoe sales, spurred several interior trends and even championed the Cosmopolitan cocktail as the drink of choice and provoked cultural debates about sex, relationships, and gender roles.
However, it was Carrie Bradshaw's stylish apartment interiors in the Sex and the City films that made us fall head over heels in love. And despite Mr. Big buying a huge apartment for the two of them, it remains empty as for most of the film Carrie ends up back at her apartment. For the apartments, series and film production designer Jeremy Conway explains "there was a great deal of design and thought that went into each of the characters' apartments. We employed a particular colour theory for each of them that helped in identifying character and personality. The idea is to be able to look at a room and say, 'Now that's very Carrie.'"
But it was a daunting challenge recreating Carrie's '64 Perry Street' Manhattan apartment from scratch for Marks as most of the original sets were destroyed after the TV show ended, "Carrie's apartment in the first half of the movie was probably the most difficult set to decorate," Frantz recalls, "We wanted to keep the most iconic pieces of furniture the same – the coffee table, the blue chaise, her desk – while updating her set to reflect the passage of time." When design the original set production designer Jeremy Conway couldn't find the table he was envisioning for Carrie, so he built it himself. The low-to-the-ground coffee table instils a cosy feeling to her apartment, where friends can sit and chat or provides an area for her to sit and work on her writing.
Her iconic walk-in (or should we say walk-through) closet also makes a re-appearance in the film, and single handedly caused the spike in demand for walk-in closets and bespoke wardrobes after the film's release. Featuring the Margherita runner by Marni the Rug company that anchors the room, adding a feminine, 'Carrie' touch (£735 per m2.) To create the look for less Joss and Main's Fillie rug is a pretty, floral alternative (£21.49.)
When talking about how they updated Carrie's apartment to reflect the four year gap, production designer Jeremy Conway says "Carrie had really grown up, but she wasn't living that life in her apartment yet. The challenge in the redecorating was designing an apartment that seemed like it could be a little more organized, lived in, and put together."Her chair (from furniture designer boyfriend Aidan) and coffee table are well-known pieces in Carrie's now iconic apartment.
If you want to recreate the look the Whit McLeod Morris chair is similar (price on request.) Or for Carrie's solid, circular coffee table RSH Studio offer a made to order service (price on request.) Or the Wentworth dark wood dining table from Furniture Choice UK is a cheaper alternative (£349.00.) Or for a vintage look incorporate a midcentury credenza (pick up a vintage one via Ebay) with sliding doors like Carrie to store your clutter and prop up framed artwork prints on top for the same look.
For the second half of the film, the apartment gets a stylish makeover from the subdued, natural tones, and flea-market chic,"When we redecorated Carrie's apartment for the second half of the movie the challenge became: How does a more grown-up Carrie create an environment that reflects her personality and her place? This set was the most fun in the film for me to work on. While the architecture in her apartment was the same, everything else was completely re-done. The paint colour, the moldings, the entire kitchen, all her furniture, her artwork, even her famous closet." Marks said.
Carrie's stylish apartment makeover was recreated by millions of women who wanted to emulate her style after seeing it successfully done. According to Marks, some of the most asked about items include: Carrie's mirrored vanity drawers that was a vintage piece from Alan Moss in New York, seen below. Similar vintage ones can be purchased from 1stdibs. But the most requested item has been the shade of bright blue that transformed the apartment walls, which was a custom-mixed paint colour designed specifically for the film. But luckily, a similar shade can be bought 'Benjamin Moore's "Electric Blue" No. 2061-40.'
Another favourite was the statement 'LOVE TOO' wool and silk needlepoint tapestry wall hanging seen in Carrie's foyer, created by Fashion Designer Paul Smith and available at the Rug Company (£2,295.) Marks suggests "with accessories, often editing things out makes more of a statement than displaying a collection of things," referencing the stylish, clean statement design pieces in Carrie's new apartment such as the sleek, Alan Moss mirrored vanity drawers, statement rugs and her pieces of art which all contrast with Carrie's lived in, homely yet stylish apartment look pre-makeover.
When giving advice on how to transform a room, Frantz suggests "Colour is an easy and inexpensive way to change the feel of a space. Look at the difference going from a pale blue to the intense electric blue made in Carrie's apartment. Another way to change the colour and feel of a room, without doing anything permanent, is with fabric. All this can be done without investing a tremendous amount of money or time. Re-cover a chair, make a beautiful new bed with a mixture of patterns and colours, make new curtains, make new throw pillows." Frantz states referencing the beautiful mix of colours, prints and textures she used to makeover Carrie's apartment.
"Since Carrie is so involved in fashion, I thought it would be very believable that she would have new fabrics around her, so the curtains, upholstery and bed linens are all new for the film" she states, seen specifically after Carrie redecorates. She surrounds herself with lovely swatches of pattern, bright fabrics and new statement pieces like the sofa covered in fabric from The Silk Trading Company or our similar pick, 'Hot House Flowers' by Celerie Kemble for Schumacher. Whilst the mirrored coffee table above is from ABC Carpet and Home and the black side tables were rented,"I rented a great pair of mid-century modern side tables from Area I.D. for the movie, when recreating the set for the second movie the tables had been sold, and the buyer refused to rent them to us again. Area I.D. organized a furniture maker to recreate them from photographs. They came out perfectly, black piano finish and all." Marks says.
Copy Carrie with a damask-patterned rug available from The Rug Company, or create a picture wall made up of different size prints and frames like her bedroom wall. Or why not try to incorporate your favourite quote or inspiring words into your scheme with a decal, or use fabric paint and a stencil. The writing on the storage shelves surrounding Carrie's flatscreen TV above, is actually quoted from writer Gertrude Stein who is one of Carrie's favourite writers.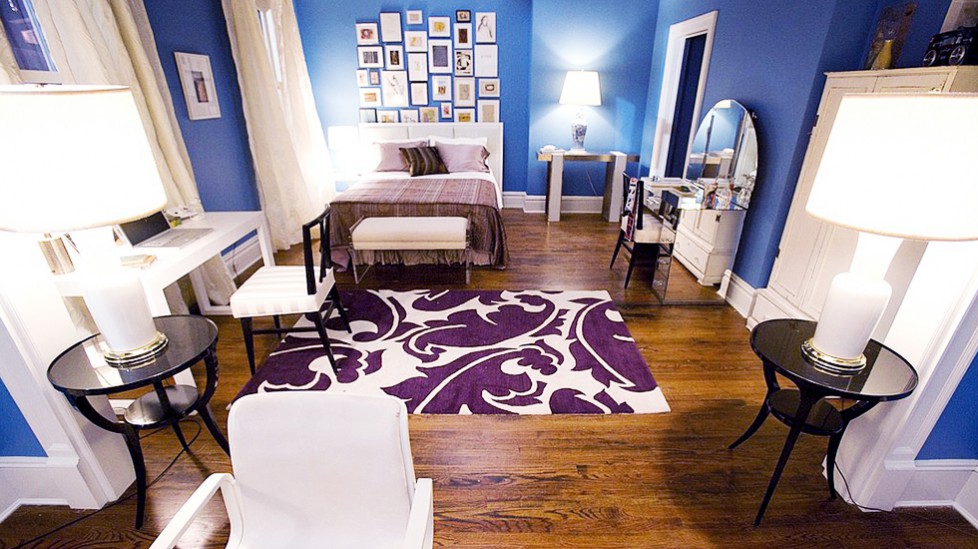 To recreate Carrie's apartment get creative, mix prints and fabrics with statement furniture pieces. Carrie's room includes ikat print cushions, a bold carpet from the Rug Company, linens by Anichini, her vintage lucite bench, a vintage Knoll chair that was whitewashed and reupholstered, custom side tables and a mix of bold pattern and colours. Contrast blue walls with white accent pieces like Carrie's billowing curtains, the pair of white, ceramic table lamps, her high-gloss Parsons-style desk (similar Ikea Besta Burs desk £200.00) and vintage Tommi Parzinger chairs from Alan Moss (available at 1st dibs).
The pieces are all feminine, airy, and stylish. They are also versatile and can easily be re-purposed in another setting. Additionally, a fabric panel that runs up the wall in Carrie's apartment hallway is a Marimekko piece, you could easily copy this look by incorporating a bright statement fabric draped on a wall to create a casual eating space like in the film.
The 'Charlotte'
Charlotte York-Goldenblatt is a perfectionist. Her immaculate style saw her apartment feature in House and Garden magazine in one Sex in the City episode. Her home is an example of her classic, refined elegance, every room is immaculate with a show home feel throughout. In the first Sex and the City film the friends gather at her house the night before Carrie's wedding.
In the time that has passed between the TV show and the film, Charlotte's room has been updated with new wallpaper, fresh Anichini bed linens, symmetrical dark, lacquered bed-side tables (similar found here), built in bookcases (similar Billy at Ikea), a new chest, mirror and a matching pair of Foo dog lamps (try Ebay for vintage ones or here for cheaper replica ones.)
Carrie spends a lot of time at Charlotte's house in the film, before she returns to her own apartment. We get to see her perfectly styled interiors which are more traditional than the other character's homes but are still chic, sophisticated and feminine just like Charlotte. Her house is styled to perfection with items displayed in perfect symmetry, not an accessory out of place. Charlotte's home reflects a soft, neutral palette with airy hints of colour. Mixing mid-century furniture with more modern pieces, she uses chocolate wooden furniture throughout which joins each room that is individually styled. Whilst fresh, spring coloured floral wallpapers are used throughout, along with neutral carpets, romantic touches and the creation of cosy, zoned areas for various activities.
To create a cosy seating area in your bedroom, we think this Joss and Main Hamilton Armchair (£168.95) is perfect in keeping with Charlotte's style. Below a collection of dark expensive wooden furniture is used to bring the room together, we especially like the tall boy set of drawers, find a similar bespoke chest of drawers at Luxecasa and her floral wallpaper (similar botanical wallpaper by total wallcovering £33 per roll or the Aubourn wallpaper by Osbourne and Little.)
In the scene below, Charlotte can be seen reading a magazine whilst relaxing on a fabulous statement chaise longue like our similar pick, the Classical Chaise Longue from Sweetpea & Willow (£962.00.) or splurge on the Louis-Philippe Chaise Longue (£1913.00 also from Sweetpea & Willow.) Or seen in the background why not add a beautiful statement mirror like the constellation mirror from Laura Ashley (£157.50.)
Below, Carrie can be seen in Charlotte's neutral and blue toned open plan living room complete with modern furniture, statement lamps and in the background a vintage Noguchi coffee table in satin black lacquer with pale green glass top." Lighting is one of the most important things to consider. Great lamps are sculpture and can change the feel of an entire room." Marks states.
We love the circular chrome based lamp base in Charlotte's living room below, our favourite similar pick is this Chrome statement base below available from Homes Direct 365 (£174.99.)
Charlotte's grown up, muted palette contrasts with the bedroom of her four-year-old adopted daughter Lily. In the film production designer Jeremy Conway put great thought into designing her bedroom, "Charlotte wants Lily to feel we're all the same all over the world," he states referencing her multi-cultural dolls and prop choice in her room.
Complete with a chandelier, mini polka dot wing chair and hot pink wallpaper with hand drawn Chinese lanterns on Lydia Marks explains "We wanted this collection to be an attempt for Charlotte to educate her daughter about all different ethnicities and being inclusive, we had a whole collection of dolls and on the Vitra shelves there was a huge mix of fabulous objects and stuffed animals from all different places, different ethnicity dolls, and little sculptural toys."
The 'Samantha'
Samantha Jones is glamorous and fun, swapping the city for Malibu she is seen living in a stylish, contemporary open-plan beach house with stylish glass balconies and ocean views. When the film was released the real-life property was up for sale for $17 million, complete with what looked like the stylish furniture used in the film. With its curved glass front and steel architecture, the interior is modern and glamorous which reflects the location and Samantha's glamorous personality.
Above, Samantha can be seen giving kissing her boyfriend Smith Jerrod goodbye resting on a modern, white button Knoll lounge collection sofa seen with a matching tub chair on the second floor. The house is clean, with a light and airy feel, featuring a neutral colour scheme and natural light from the beautiful, glass fronted exterior. The décor in Samantha's home is simple yet stylish, offset with elegant glass and chrome detail and white accent furniture that creates a clean, contemporary feel throughout.
Throughout the house zones are created with the use of statement rugs in neutral shades, for similar styles we pick the Jute textured rug (£39-195 from M&S) or team this plush, velvet underground rug (£100 from the Plantation Rug Company) with muted furnitures to get Samantha's modern look (below.)
In the film a risqué scene that involves Samantha and some Sushi, we get to see her contemporary kitchen. Complete with stainless steel appliances, and spacious central console, Caesar stone quartz counter tops & travertine floors the open-plan, modern space mixes light wood and chrome detail that transitions through the house.
The idyllic, nearly 6,000-square-foot, glass-front, tri-level property designed by Jay Vanos has arched windows and open floor plan that create the illusion of floating over the ocean. With five bedrooms, six bathrooms and five balconies looking over the ocean, the spacious house is the perfect setting for Samantha and her movie star boyfriend in the film. Below, is Samantha's grand, bespoke, king size bed that is seen in the film.
Speaking about decorating both Sex and the City films Marks states, "there was an amazing level of trust and appreciation between the director, production designer, actors and myself. While there was a great deal of autonomy in the creative endeavour, there were a few instances where the actors would ask us to look at something in particular that they felt was appropriate for their interior. They knew their characters so well that I was always interested in seeing what they had in mind."
In Samantha's beach house bedroom, it was the actress behind Samantha's character, Kim Cattrall who decided on using the D. Porthault turquoise Tigre bed linen on the set. "Kim Cattrall is a big fan of D. Porthault bed linens, when she first asked us to consider them for her bedroom, I was not sure if the brand made sense with her character. However, after looking through some of the patterns and printed sheets is what they are famous for I changed my mind. Tigre turquoise was a perfect fit for Samantha and got tons of attention from all the SATC fans!" Marks states.
Although the D. Porthault bedding is no longer available online we found similar ones from Wayfair.com (£39.00) and the Roxy bedding here by Overstock.com (£69.12) to help you re-create Samantha's style (model boyfriend not included.)
The 'Miranda'
Miranda Hobbs is both practical and comfortable when it comes to décor. Since we last saw her she has been given a makeover and a wardrobe upgrade, but her scattered, jumbled home tells the truth about her character. She works full-time, has a child and a husband and in some respects is the character most women can relate to as she isn't perfect. She's a workaholic, a pessimist who still tries and succeeds at having it all.
Her Brooklyn home is the most real house out of all the character's homes. Miranda's Brooklyn brownstone is a mix of modern, sophisticated accessories and statement furniture and rugs (similar Gabriel Rug £110.95 by Joss & Main) that contrast with her son Brady's toys and stuffed animals dotted around their home. It has a lived in, homely feel unlike the other character's homes. Like the out of place, paint hand-prints to the left of the fireplace that clearly tell a story or hold a memory for Miranda.
The exposed brownstone brickwork is also a key feature of the property, in the living room it provides the perfect backdrop to her gold edged mirror and the ornate fireplace surround (similar one here from plasterwarehouse.co.uk.) If like us, you aren't lucky enough to have exposed brickwork in your home Next do a great wallpaper alternative to give you that industrial, brownstone feel (buy here for £15.00 a roll.)
Miranda's personality and practical tastes are reflected in her reserved choice of colour, like the natural, beige sofas picked for comfort over style or the pair of sensible armchairs. We found a range of items below all from Joss & Main that would look perfectly at home in Miranda's living room, like this cosy looking Valentina armchair (£381.95.)
During the film, Miranda and Steve have their ups and down and we see her live on her own for a while. But throughout, we see her choice of décor is tasteful and includes a mix of upper west side accessories such as her vases and planters mixed with a scattering of personal items and statement furniture pieces.
In the Brookyln house, on her wooden cabinet (similar Jolene cabinet £270.95 also from Joss&Main) she displays a decorative lantern (similar Caro lantern set for £89.95) alongside her vases and above displays her framed print. Whilst Brady's large stuffed animals are scattered throughout in contrast, suggesting that unlike the other homes Miranda's is a functioning family home that reflects all of their personalities. When picking accessories for you home Marks suggests keeping it personal, "the space should reflect the person who lives there. It should be filled with things you love, both newly designed and family heirlooms. That will give it the warmth and style that make it special and your own."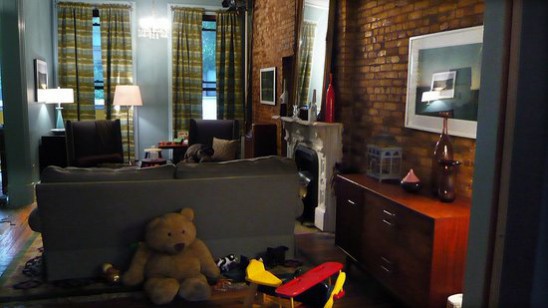 In the new flat we see Miranda's modern, yet practical style translate to her new apartment. We see Miranda sat in her living room eating Chinese food in one scene, her simple furniture choices and colour palette are mostly neutral, focused around comfort over style like before.
She sits on a brown sofa with pinched, button detail (Room&Board's André Sofa is a similar model £1242.94) with a few patterned scatter cushions in cranberries, pinks and orange to break up the neutrals. For a similar look we like the Daija cushion £50.95 from Joss&Main, or John Lewis do a crimson red scatter cushion for £17.50. Or invest in a thick throw for cuddling up on the sofa with like this chunky Aran knit throw by the Wool Company £59.00 (seen below.)
Why not try incorporating Miranda's modern, yet cosy style into your interior, "it's easy to duplicate Miranda's décor, if you keep your colour scheme cool and your accents simple and elegant" says Conway, "think conservative, with an eye to proportion rather than surface embellishment. No splashy colours or hip clutter. Keep it lean, mean and clean" he advises.
We hope we have inspired you to channel your inner Carrie, Charlotte, Samantha or Miranda to inject a bit of Sex and the City style into your home. Whether it's Carrie's eclectic style, Charlotte's traditional look, Samantha's stylish, modern interiors or Miranda's lived-in look, we hope our ideas and top interior picks from our Set Design: Influencing Interior Design Trends Sex and the City blog post inspired you all.
Join us next time for part 2 when we continue with the set design from the Sex and the City 2 film.We draw design inspiration from Carrie & Big's new apartment, the girl's trip to Abu Dhabi and the French décor styling from Lydia Marks of Marks & Frantz.
Images:
Sex and the City TV show and film franchise images courtesy of www.HBO.com
Quotes and References:
Gupta.A (2008) Smithsonian.com: http://www.smithsonianmag.com/arts-culture/american-history-museum-pieces-of-our-past-82843978/?no-ist. Accessed 28.05.15.
Smithsonian.com: http://americanhistory.si.edu/treasures/american-television-page-2. Accessed 28.05.15.
Minh Le.A (2008) Movie is influencing fans' own decorating styles. http://www.sfgate.com/homeandgarden/article/SEX-AND-THE-CITY-AND-THE-WALK-IN-CLOSET-3209753.php. Accessed 27.05.15.
Apartment Therapy (2008) http://www.apartmenttherapy.com/set-design-for-sex-and-the-cit-51816. Accessed 26.05.15.
Popsugar. Casa Interview: Sex and the City's Jeremy Conway (2008) http://www.popsugar.com/home/Casa-Interview-Sex-City-Jeremy-Conway-1675967. Accessed 28.05.15.
Popsugar. http://www.popsugar.com/home/Get-Look-Carrie-Redecorated-Digs-1682311. Accessed 28.05.15.
Popsugar. http://www.popsugar.com/home/Sex-City-Miranda-Brooklyn-Home-1688730. Accessed 28.05.15.
Popsugar. http://www.popsugar.com/home/Interview-Sex-City-2-Set-Decorator-Lydia-Marks-8563229. Accessed 28.05.15.
Popsugar. 26.05.15.
Popsugar. 26.05.15.
Popsugar. http://www.popsugar.com/home/Pictures-Sex-City-2-Movie-8050303#photo-8050303.Accessed 26.05.15.
Popsugar. http://www.popsugar.com/home/Pictures-Sex-City-2-Movie-8050303#photo-8050312.Accessed 26.05.15.
Popsugar. http://www.popsugar.com/home/Pictures-Sex-City-2-Movie-8050303#photo-8050304. Accessed 26.05.15.
Miranda's Home, Popsugar. http://www.popsugar.com/home/Sex-City-Miranda-Brooklyn-Home-1688730. Accessed 25.05.15.