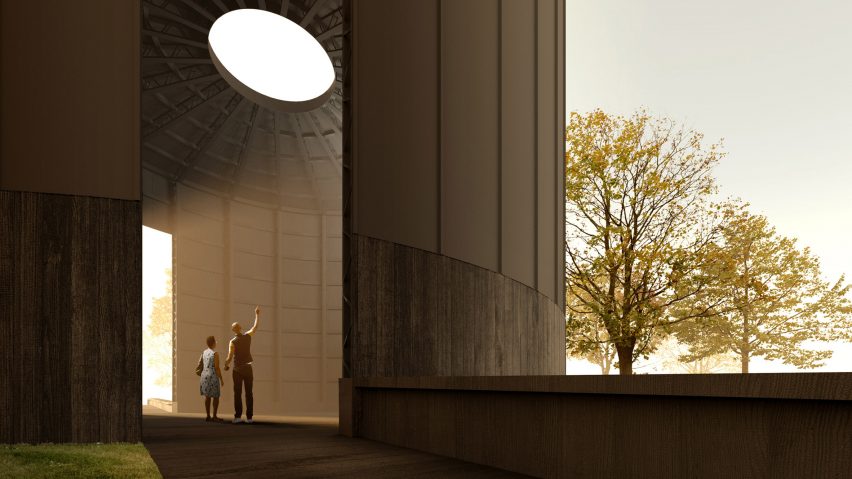 In this week's podcast, the tutors celebrated the Platinum Jubilee in their own personal way – by discussing beheadings, the Spice Girls and Pimms. In amongst the light-hearted banter, they also looked at their favourite royal residences and historic buildings with a royal connection, including Hampton Court Palace, Westminster Abbey and the Serpentine Pavilion. Read on for the blog….
Listen to this week's podcast now...
This week we are celebrating everything royal in honor of Queen Elizabeth II being on the throne for 70 years. The Queen's coronation took place on 2nd June 1952, in the Coronation chair at St. Georges Chapel, Westminster Abbey, which has seen over 700 years of royal history. In Queen Elizabeth II's reign, more has changed than under any other monarch. The royal family are now more accessible, more engaged with their public and the Union Jack is now a symbol of more than just the British Empire. It's become popular culture….
First things first, when is a flag a jack? After much deliberation this week, tackling the hard-hitting subjects, we can happily confirm that the British flag is formally known as the 'Union Jack' when mounted on a warship and the ship is not in harbour. Semantics aside, the Union Flag has become synonymous with British culture and design, which led us this week to think about some the most notable uses of the flag in recent history.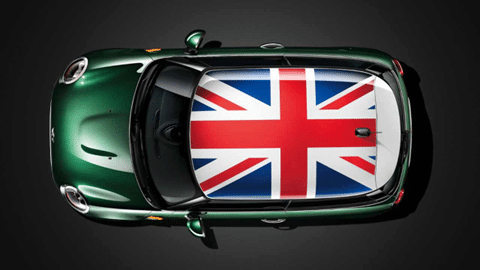 The Mini is a classic British car, first produced by BMC in 1959. It is an icon of British culture, and recognisable as the transport of choice in 1969's The Italian Job. This exterior roof wrap 'gives the car a unique, bold look from above' and makes an already iconic design, even more recognisable.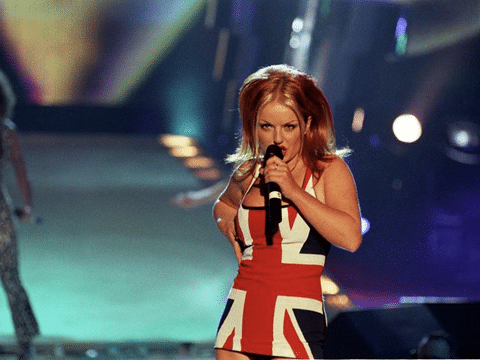 For a certain generation Geri Halliwell's 1997 Union Flag dress is the first thing that will come to mind when discussing uses of the design. Worn at the Brit Awards, Geri found herself in the fashion hall of fame with the likes of Monroe and Gaga (with that meat dress!).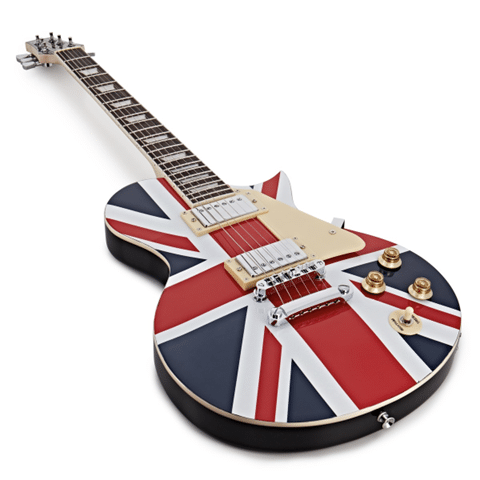 Sticking with the 90's theme, Noel Gallagher's guitar as seen on Top of the Pops in 1996, was just one part of the Brit Pop movement which would have an impact on music, fashion and art throughout the 90's, leaving it's mark on Brit Culture for years to come.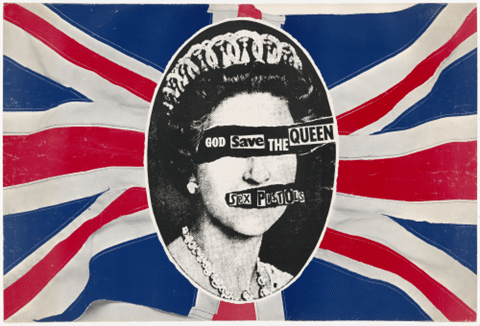 This is a by no means exhaustive list, but lastly we could not discuss the use of the flag in popular culture without discussing the Sex Pistol's 1977 single God Save the Queen, for which Jamie Reid designed the artwork, using décollage, a technique which uses cutting and tearing to remove pieces from an original image.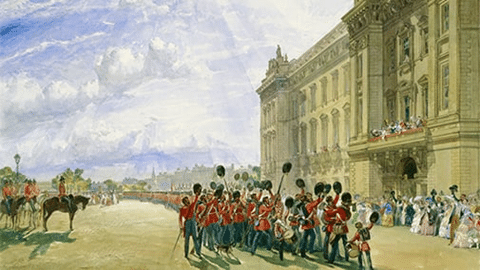 Anyone familiar with the British Royal family will easily recognise Buckingham Palace. There has been a Palace on the site since the early 17th Century, during the reign of James I. The façade as we recognise is today was designed by John Nash in 1820, and then continued by Edward Blore in 1928 when Nash had gone way over budget with the project. Possibly the most recognisable feature of the famous façade is Queen Victoria's balcony, where many a royal has made an appearance since VR first stepped out in front of her adoring public.
Here are a few more facts to quiz your friends and family with this Jubilee weekend..
In 1982, Michael Fagan broke into the Royal Residence, entering Queen Elizabeth II's very own bedroom.
With dimensions of 36.6 m long, 18m wide, and 13.5 m high, the ballroom earns the award for the largest room in the iconic palace.
Over the course of World War Two, Buckingham Palace survived 9 German Bombs attacks
There are a staggering 760 windows and 1,514 doors at Buckingham Palace.
A clockmaker works at the palace, maintaining over 350 clocks and watches. Ensuring that time passes smoothly, two horological conservators wind the clocks at the palace up every week.
Over 40,000 lightbulbs fill the entire palace. The ballroom bears the distinction of being the first room to have electricity, installed in 1883.
A series of secret tunnels run beneath Buckingham Palace. When the Queen Mother and King George VI descended into the tunnels, they apparently met a man from Newcastle living in the tunnels.
With a Post Office, pool, police station, cinema, health clinic, and so many more amenities, Buckingham presents itself as more of a town than a palace!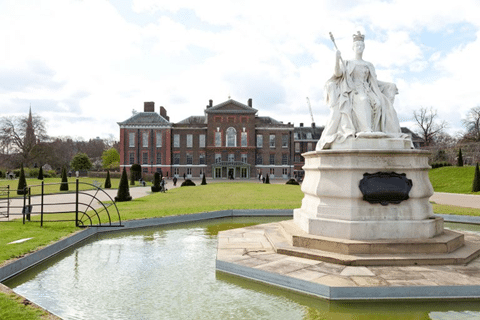 Home to Kensington Palace this is just one of 7 royal parks in London which ensure the City's residence have access to plenty of outdoor space, when land is such a commodity. Kensington Palace is the official residence of the Duke and Duchess of Cambridge (Will & Kate). Originally known as Nottingham House, King William and Queen Mary asked the esteemed Christophr Wren, the architect responsible for St. Pauls, to turn the property into a Palace in the late 17th Century. Notably Queen Victoria was born in the Palace and it was home to Diana Princess of Wales between 1981 and 1997.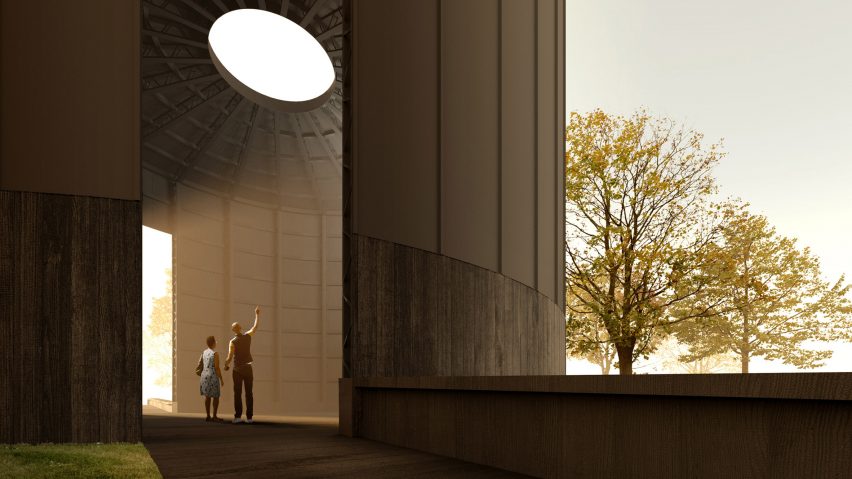 The gardens are also home to The Serpentine Galleries, who each year, from June to October will showcase a new pavilion. The 2022 pavilion has been designed by Theaster Gates. The Black Chapel "draws inspiration from the architectural typologies of chapels and the great kilns of Stoke-on-Trent."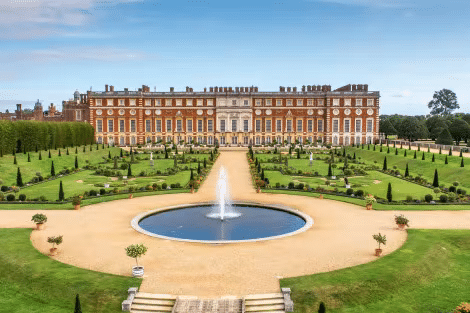 The Palace was home to all of Henry's six wives at some point, seeing plenty of tragedy with two being placed under house arrest before being sent to the tower and one dying 12 days after childbirth. With a property this size, so rich in history it is not a surprise that there are a number of reported ghost stories throughout. Catherine Howard, also known as The Screaming Queen, is still said to run through the long gallery begging the king for her life, which incidentally did not help her cause with her being beheaded on 13th February 1542 aged no more than 21.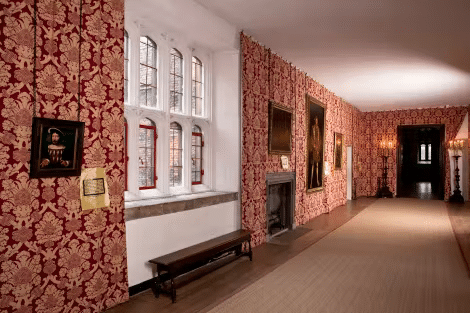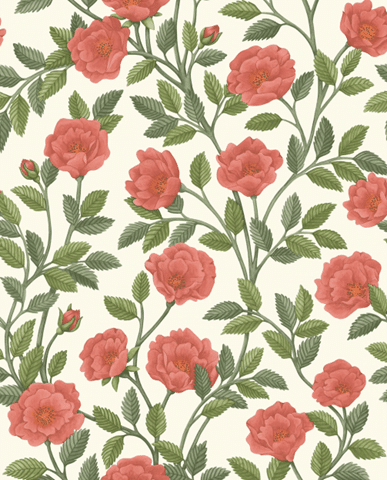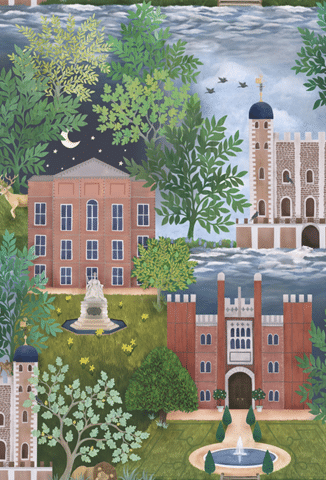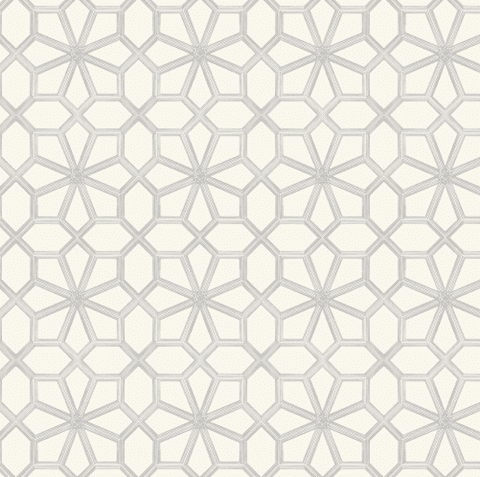 Queen Mary's Dolls' house
Finally, we cannot discuss this week's topic without mentioning Queen Mary's Dolls' House. The doll's house can be seen in Windsor Castle, and was built between 1921 and 1924 for Queen Mary, consort of George V. The project was led by architect Edwin Lutyens, but included contributions from over 1500 artists, craftsmen and manufacturers. It included original works in the library, a wine ceiling full of miniature bottles of the royals favourite tipples, running water and a working lift.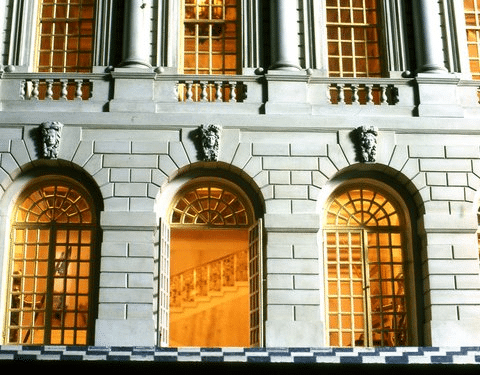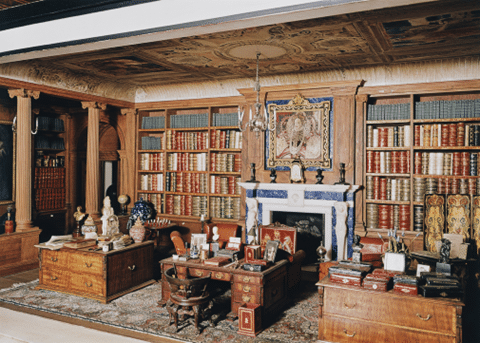 Whether you are celebrating the Jubilee or not, planning a street party, or closing the blinds until it's all over, we hope we have piqued your interest this week with tales of Brit Culture, Royal Palaces complete with hauntings and tiny interiors. If you need us between now and next Tuesday, you'll find us hanging up the bunting. Happy Jubilee Ma'am!