Romantic Restaurant Design:
It's nearly Valentine's Day folks so we thought we'd share with you some of the most romantic restaurants in cities around the UK. Of course, here at the National Design Academy we don't really care about the company or the food! The restaurant design is what makes our heart beat faster!
From contemporary schemes and hot-right-now biophilic design, to historic caves and listed chapels, we hope the interiors of these restaurants will get your pulses racing too!
The Aqua Shard in London is the first on our list because many of our blog readers won't come from the capital. When you visit London, if you only splurge on eating out in one swanky place, make it the Aqua Shard. It actually doesn't take much to make the restaurant design epic. Huge expanses of glass and some of the best views money can buy means all the Aqua Shard really need to do is add the perfect lighting for evenings and some great food. They accomplish this easily.
The interior was designed by Jestico + Whiles, an interior design and architect practice in London. Their main aim was to ensure that the interior enhanced the view, rather than competed with it. When you already have such a dominating feature, whether inside or outside a room, providing a complimentary interior design scheme can be a challenge.
This great article shares more about the interior design process and considering aspects such as reflections from lights when designing a restaurant with a view to die for.
The Ivy in Manchester's Spinningfields was said to be one of the largest restaurants in the UK when it opened in 2018. With capacity for around 550 covers, across four flours, the restaurant design process must have taken months.
The décor for the original Ivy restaurant in London was designed by Martin Brudnizki Design Studio and you can easily see where the 'diffusion line' takes inspiration from the Interior Design Master! With luxurious textiles, a gilt and glass bar and an enclosed roof terrace which blends bohemian patterns with hundreds of pot plants, the Manchester Ivy is a more creative space suited to the clientele of the elegantly urban Spinningfields.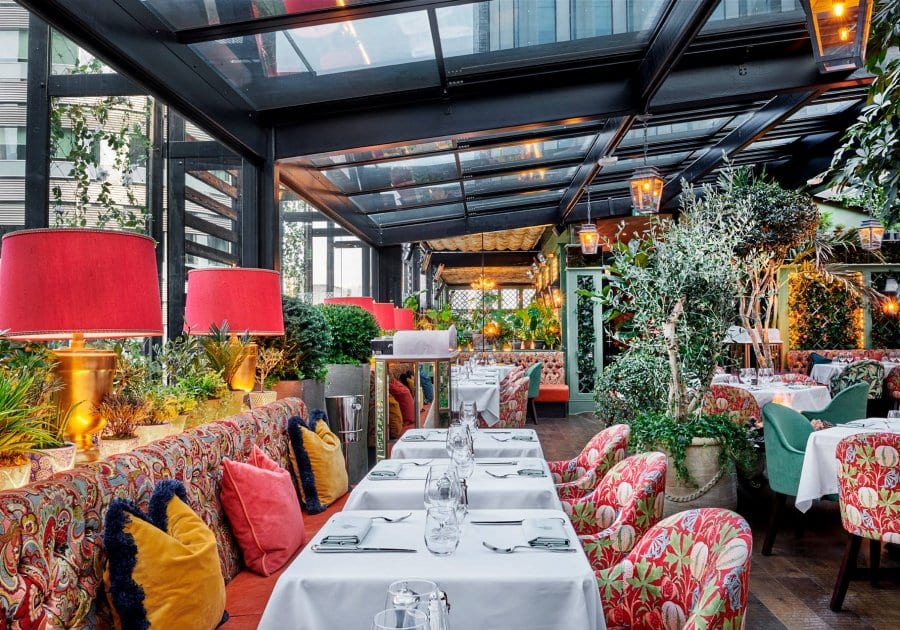 Designing a restaurant which lives up to the reputation of somewhere as successful and iconic as The Ivy is no mean feat for anyone involved in a spin-off project. You'll see from the stunning interior renders just how the passion for creative dining and modern biophilic concepts transferred to the space in reality.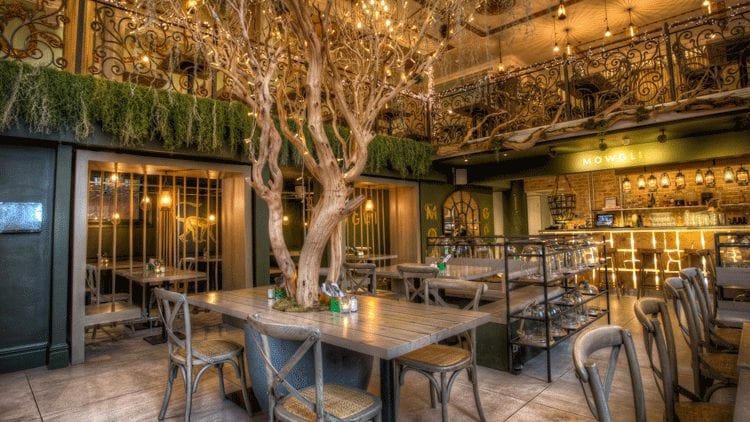 Mowgli is quickly becoming a household name and whilst we're taking noting away from the food, the restaurant design is why many people go to one of their 10 venues. Hailing from Ormsirk, Barrister turned Mowgli owner, Nisha Katona designed and built the interior of her first restaurant in Liverpool herself. This was a client who clearly knew what she wanted when she approached R2 Architecture to come up with an interior scheme which would work in her burgeoning restaurant
The branding and playful elements such as rope swings and fairy-light strewn trees reinforce the urban jungle theme for which Mowgli has become so popular. It's about as far away from traditional Indian restaurant décor as you can get! The food's not bad either!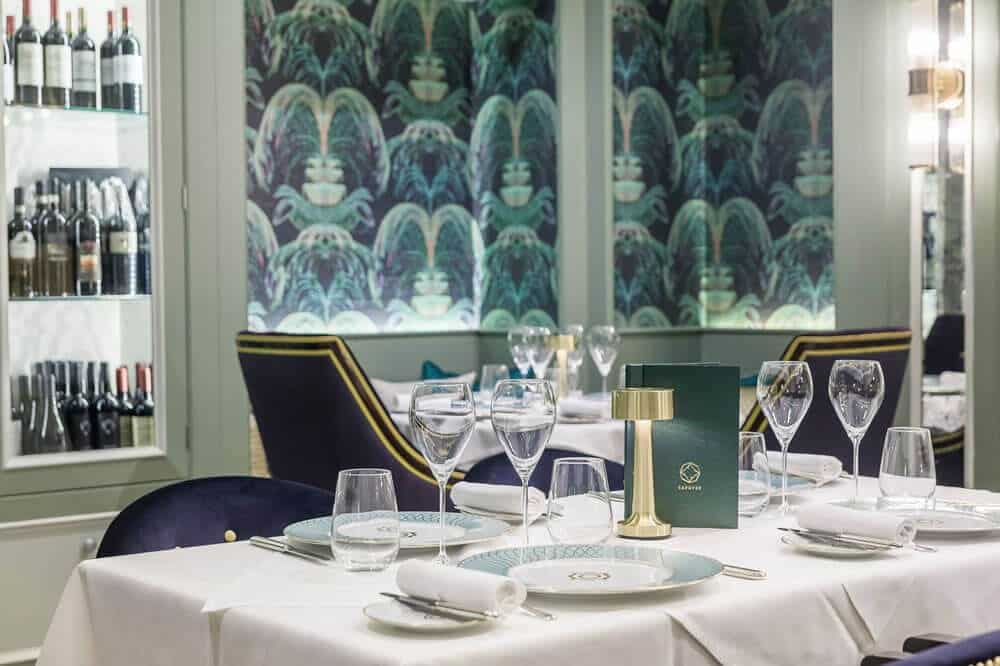 Saphyre is unique in our list as it is the only restaurant which is owned by an interior designer, so you'd expect the restaurant décor to be jaw-dropping. It doesn't disappoint! A former Presbyterian church, it was always going to be a challenge to create a warm and welcoming environment whilst maintaining respect for the existing architecture. The colour scheme was inspired by the plumage of exotic birds, so tones are bright yet natural with emerald greens, inky blues and rich yellows sitting in harmony with golden accessories and crisp white architraves and stained glass.
Kris Turnbull Studios are the creative force behind our favourite romantic restaurant in the city of Belfast. A full-service studio, offering architecture, interior design and curtain making services, Kris and his team have an eye for creating luxurious schemes for both commercial and residential clients internationally.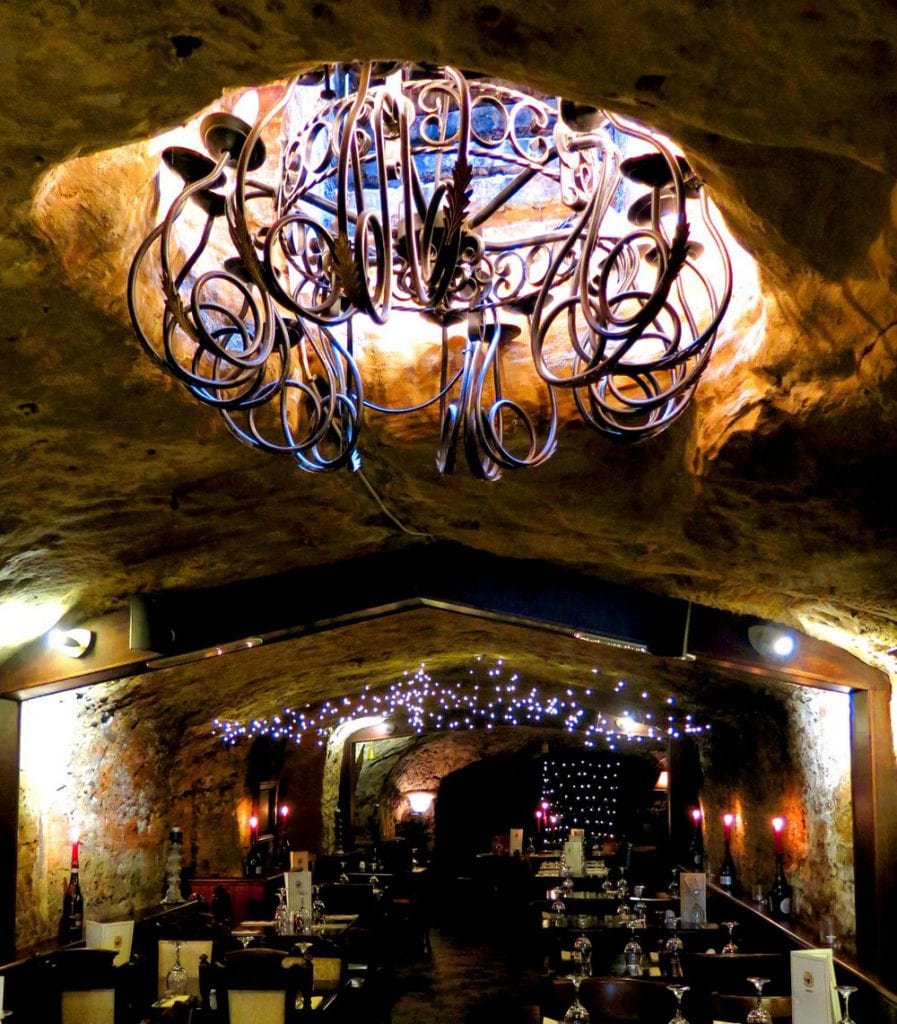 From the glamourous and luxurious to a cave; our most romantic restaurant in our home city of Nottingham takes some beating for ambiance and food! It's also the only restaurant on the list where the restaurant décor hasn't changed over 150 years! The Hand and Heart has been around since 1866 when it was originally a brewery and the sandstone caves were used as a cellar. Now, the caves form the main restaurant for this busy food-orientated pub.
The pub décor is eclectic and cosy and a perfect place to get warm and cosy on a cold February evening. Or a Sunday lunchtime for that matter! With comfortable sofas and cushions and feature walls picked out in Morris & Co 'Trellis' wallpaper this traditional pub manages to provide something really special. The Trellis design was created by William Morris for his own home in Bexleyheath in 1862 – around the same time the pub was first built as a brewery. A coincidence, or a nod to historical accuracy from owner Dawn Suchoruczka.
In the restaurant, things get very romantic – whether you like it or not! The cave is lit by tiny fair lights and candles, even in the middle of the day, in the middle of summer. A huge iron chandelier is fixed into the hole in the cave roof where beer which was brewed in the yard was then lowered into the then cellar.  
You may have been wondering why we chose 6 places to feature in our best romantic restaurants. Well, to be honest, we could have kept you reading all day! The UK is packed with stunning places to eat where the restaurant design often wows as much as the food. From themed Thai Street Food places to authentic African eateries, our thriving food-scene is an amazing place to find interior design inspiration.
We couldn't leave this blog without mentioning one of the Gaucho restaurants. Each is styled differently, and each is equally stunning but we particularly love Gaucho Birmingham. In 2017, the interior design studio Conceptualise, won the Restaurant Magazine R200 award for 'Most Effective Restaurant Design'. This commercial practice combine interior design with commercial consultation and a hefty dose of marketing expertise which is rather a rare offering and very desirable in the restaurant and retail world.
The interior of Gaucho Birmingham was inspired by the Ombu Tree, a huge tree famous in Argentina for an umbrella-like canopy and sculpted bark and roots. The sophisticated tones and shapes make for a relaxing and calming dining environment. The mirrored accessories, clever lighting and plush deep dining chairs add luxury and decadence for a romantic evening. One thing's for sure – you don't feel like you're eating in a chain restaurant!
Designing a restaurant has some unique challenges. You'll need to consider footfall – lots of messy, heavy humans who have very little respect for the furniture, fixtures and fittings and floor coverings. It's not their house after all. You also need to consider the safety of the messy, heavy humans (and tiny humans) who will be getting in the way of hot plates and breakables, so the flow of space is critical. Creating a restaurant design which considers all the practicalities as well as being beautiful and comfortable is a skill indeed! Oh, and it needs to stand the test of time style wise and be cost effective – restaurant owners are businesspeople after all. If you're thinking of specialising in restaurant design, you'll need to be on-trend, and on-budget!
All of our Interior Design courses are suitable for those looking to specialise in restaurant design. From our entry-level diploma, through to our BA in Interior Design or unique BA Retail Design, you'll learn about space planning for commercial spaces, working to a commercial brief and choosing the most appropriate materials for a hardworking environments.