Written by NDA tutor Sarah-Jane Wilkinson
"Double, double toil and trouble; fire burn, and cauldron bubble"

– William Shakespeare
Whether you love it or hate it, Halloween is just around the corner and with two weeks left to go to get into the spirit of things here are some easy alternatives to decorating pumpkins aside from the traditional hand carving which can be designed to coincide with your existing interiors.
You can create quirky ideas to fit your design style and individuality using only a few basic materials:
Painted Pumpkins
Skip the carving and pick up a brush!
Using acrylic paint and a fine tip paint pen for drawing the details, you can become as artistic and as detailed as you like.





Love the use of existing furniture to incorporate these pumpkins into a bookcase with a spooky painted tree.
Below are examples of simply using pins and string to design and decorate a pumpkin.
Creating patterns and designs to complement your existing interior schemes using strips of tape as seen below.
Apply strips of coloured tape for a simple way to dress up a 'no-carve' pumpkins in seconds!
Decoupage pumpkins are easy to achieve and personalise to your own tastes and design style.
Chalkboard Pumpkins
Using chalkboard paint spray and a white chalk marker you can design and display patterns, motifs and spooky text.
Patterned Pumpkins
Using a traditional doily as a template to create a silver spider web pattern. Pattern templates of any kind can be used to create your favourite patterns.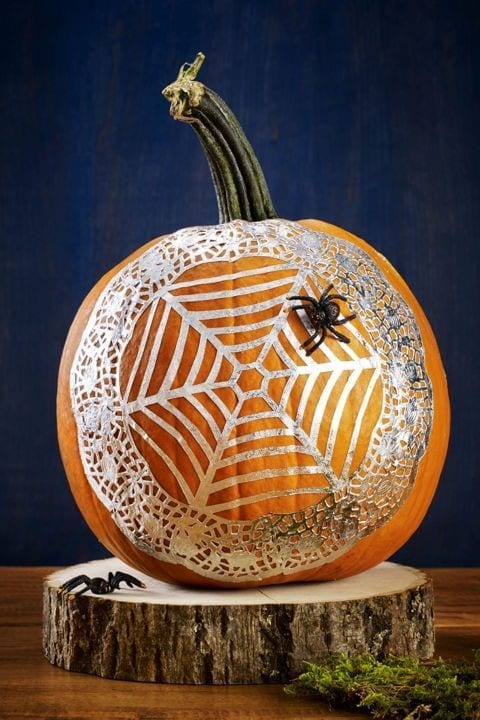 Sharpie Pumpkins
Black, white and silver sharpies can go a long way as well as making your pumpkins as intricate and festive as you like.
Colourful Pumpkins
If you want to inject some colour, consider using wax crayons and a hairdryer to create a rainbow effect as the wax melts.
So, here's to October eves ahead and as Tim Burton says "Every day is Halloween, isn't it? For some of us."
We'd love to see your Halloween Pumpkins! Post your pumpkin pictures with the hashtag #NDAPumpkin and we'll repost them! Get creative!