From the elegant and on-trend shades of Rose-Quartz and Serenity, the 'Pantone Colour of the Year' for 2017 has been announced.
Introducing a refreshing and revitalising shade, 'Greenery' has been selected to "provide us with the reassurance we yearn for amid a tumultuous social and political environment.  Satisfying our growing desire to rejuvenate and revitalise, 'Greenery' symbolises the reconnection we seek with nature, one another and a larger purpose" (Eiseman, 2016).
With the fashion industry being at the forefront in bringing about new trends which then transfer to many other areas of the design industry (most notably in interiors), it is no surprise to see that 'Greenery' (or Pantone 15-0343, to be precise) was already mentioned in the Pantone Institute's top 10 colours for the fashion industry in spring 2017, released back in September of this year.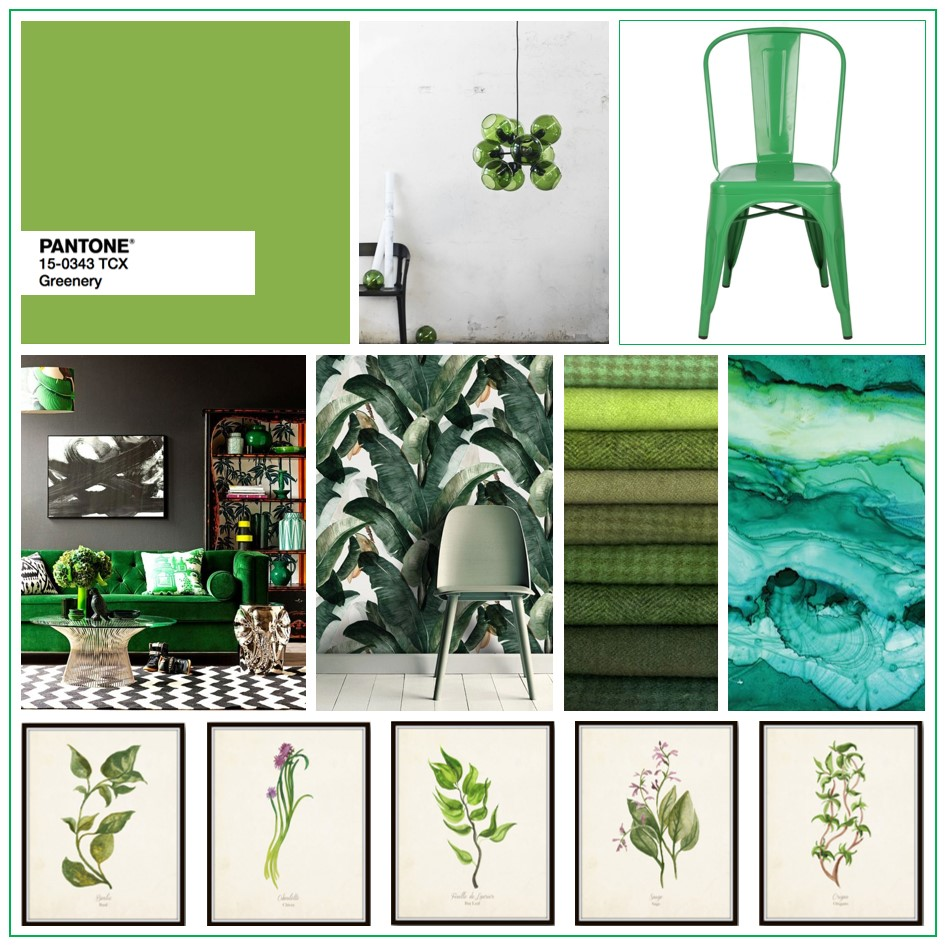 The colour selected by Pantone, year on year, is a colour which reflects the current cultural climate, which then goes on to have a huge influence upon all areas of the design industry (architecture, interiors, travel, surface pattern and textile design, for example), but perhaps this year's selection is more important in psychological terms.  With Leatrice Eiseman, Executive Director of the Pantone Colour Institute, highlighting the desire for rejuvenation in an unstable social and political environment, 'Greenery' is the perfect shade to reflect harmony, calmness, heath, vitality, being emotionally balanced, nurturing and practical – something we could all do with in such an intense social and political situation – and all positive psychological traits of the colour green.
Eiseman goes on to say that "Through its reassuring yet assertive vibrancy, 'Greenery' offers us self-assurance and boldness to live life on our own terms, during a time when we are redefining what makes us successful and happy."
So why not for 2017, let your New Year's resolution be to embrace calmness, vitality, and a nurturing environment in your interior?
References:
Belle Maison Art. 2016. Watercolour Herbs. [Online Image] Available from: https://www.bellemaisonart.com/collections/fruits-vegetables-herbs-canvas-art-prints/products/watercolor-herbs-print-set-no-5-12-herb-botanical-prints Accessed 14.12.16
Eiseman, L. 2016. Pantone Colour of the Year – Greenery. [Online] Available from: https://www.pantone.com/color-of-the-year-2017 Accessed: 14.12.16
Forbes. 2016. Pantone's Colour of the Year 2017. [Online Image]. Available from: http://www.forbes.com/sites/karenhua/2016/12/09/pantones-color-of-the-year-2017-greenery-symbolizes-a-fresh-start-fashion/#407f31b81cda Accessed: 14.12.16
John Lewis. 2016. Linear. [Online Image]. Available from: http://www.johnlewis.com/orla-kiely-linear-stem-cushion/p357256?colour=Apple Accessed: 14.12.16
Lovely Life. 2016. Glass lamp. [Online Image]. Available from: http://www.lovelylife.se/seventeendoors/page/2/ Accessed: 14.12.16
Made by Lemon. 2016. Botany. [Online Image]. Available from: http://www.madebylemon.co.za/wallpapercollections/ Accessed: 14.12.16
Matt Blatt. 2016. Tolix. [Online Image]. Available from: http://www.mattblatt.com.au/Replica-Dining-Chairs/Replica-Xavier-Pauchard-Tolix-Chair-Powder-Coated.aspx?p3996c1 Accessed: 14.12.16
My Domaine. 2016. Green sofa. [Online Image]. Available from: http://www.mydomaine.com/bright-furniture-sofas/slide2 Accessed: 14.12.16
Pantone. 2016. Greenery. [Online Image]. Available from: https://www.pantone.com/press-release-pantone-color-institute-releases-spring-2017-fashion-color-report Accessed: 14.12.16