The National Design Academy always take great pride in sharing the success of our students. We are very pleased to announce that National Design Academy student, Carolyn Hayles has won the commendation in this year's International Green Interior Awards 2015.
The Winner of her category was Balsa-lation, Nathan Kotlarewski and Swinburne University Of Technology (Australia / Papua New Guinea.) However Carolyn was highly commended, and received 2nd place for her project at last nights International Green Interior Awards. Congratulations Carolyn!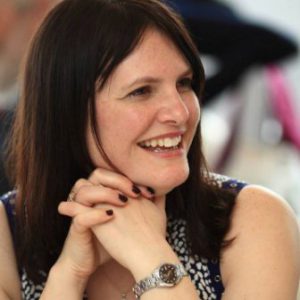 About the International Green Interior Awards
The 3rd Annual International Green Interior Awards are an inspirational platform that recognises the world's best green interior projects and products from industry professionals, manufacturers and students that promote sustainable building practice within their entries.
And with 9 prestigious categories this year; Office, Residential, Retail, Education, Hospitality, Healthcare, Aged Care, Product Education and Students, National Design Academy student Carolyn has successfully been shortlisted for the submission of her Welsh Victorian Townhouse Retrofit project within the student/graduate category.
About the Company, Australian Living
The awards were developed by Australian Living in 2011, aiming to inspire interior designers and architects to realise the beauty and benefits of integrating green interior products into projects and to encourage manufacturers and innovators to design and make interior products that are healthy for us and our environment.
Australian Living facilitate and promote sustainable building practice through integrated education, communication, their awards and a variety of platforms aiming to see green building practice deeply integrated into all buildings, inside and out.
About the Project
This is a best practice exemplar of a sustainable refurbishment project, the conservation and renovation of a late 19th century townhouse. The three storey property is situated in a conservation area of wide tree-lined streets and large houses in central Cardiff, the capital of Wales. By specifying environmentally sustainable and green materials it was possible to reduce the environmental impact of the project whilst limiting the building occupants' exposure to toxic harmful chemicals, creating both a healthy and sustainable living environment.
Structural changes were made, a new heating system installed, and internal wall insulation fitted where deemed necessary. Although these interventions are not relevant to this award, they reflect a holistic approach to sustainable decision making and energy efficiency.
Walls were re-plastered where necessary and new colour schemes introduce in each space, applying environmentally friendly eco paints and eco-friendly wood treatments including floor stains and furniture waxes throughout the property. Whilst all carpeting used is made in the UK, 3 ply 100% wool loop carpet, choosing neutral tones with a heavy domestic wear rating to suit the hall and stairs. This wool is of exceptional quality and comes from the Herdwick, Britain's hardiest breed of hill sheep.
The underlay is crumb rubber – This underlay is produced in the UK by recycling used car tyres into granulated rubber particles which are bonded together to create a firm underlay with a high rubber content, it offers outstanding durability in high traffic areas such as the hallway and main living spaces. Its density is also ideal for the rooms with heavy furniture as it's highly resistant to indentation marks and is the most environmentally-friendly underlay as it's the only type that is made from post-consumer waste, with over 80% of the product containing recycled content.
The Hallway/ Entrance Way
The original tile flooring in the hallway was restored, whilst the old moth-eaten carpets were taken up and original timber floorboards reconditioned throughout the house. It was considered important to reduce the amount of carpeting in the house for health reasons. Where carpeting was the preferred option, 100% wool carpets were reintroduced on the stairs and hall landings, with 100% wool area rugs in the playroom and library/media room for improved user comfort, with 100% recycled rubber underlay.

On the hallway and stairs walls a water-based, environmentally friendly paint from Little Greene 's was used (Absolute Matt Emulsion in Deep space blue.) Whilst on the window frames, internal doors and bannisters Osmo wood wax was used as it combines all the advantages of oils and waxes in one product and is perfect for a family home, as it is water and dirt resistant, wipe-proof and stain resistant and safe for humans, plants and animals.
In the drawingroom a French grey eggshell paint from Little Greene's was chosen, as it provides a long lasting finish that resists moisture, staining and general wear and tear.

The Kitchen/ Diner
The new family sized kitchen was constructed from FSC timber and all new appliances were energy efficient with A* ratings. The existing kitchenette was repurposed for the owners' home office née coach house and LED strip lights were used beneath the Kitchen cabinets.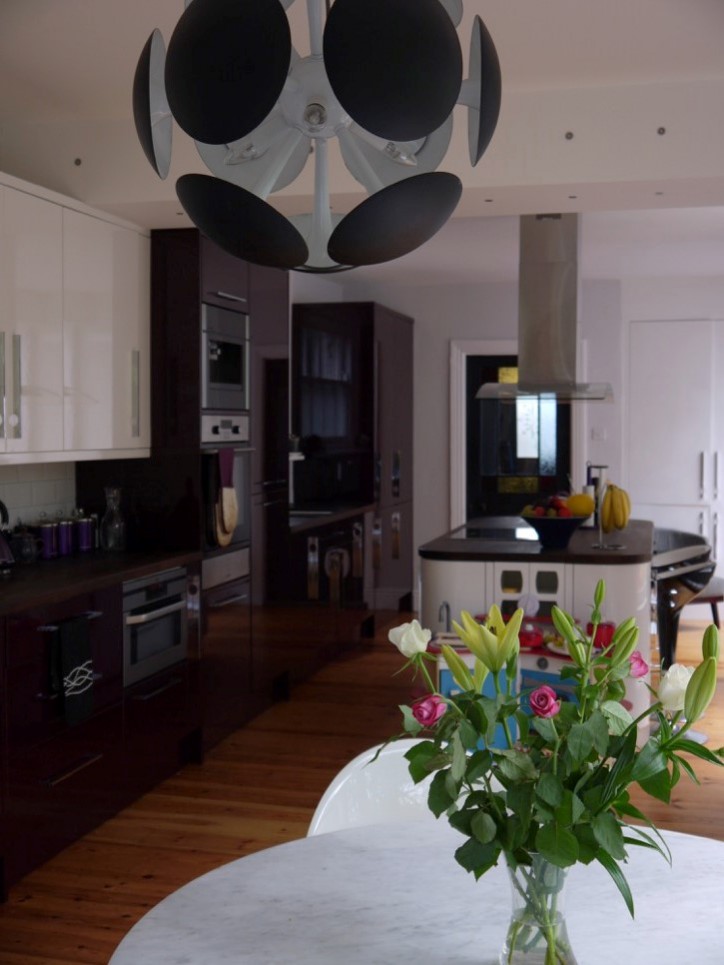 The windows were fitted with recessed energy efficient roller blinds throughout, and in the conservatory and kitchen, high performance duette® blinds were installed to provide both energy efficiency and control solar gains where there was a high glazing to wall ratio.
These blinds have a unique double walled honeycomb structure formed from 100% antistatic spun bonded polyester which traps air inside its two layers of fabric, providing insulation. The hexagonal structure of the fabric traps air passing through helping to maintain comfortable temperatures. They keep heat out in the summer (eliminating up to 99% of the sun's UV rays), and when its need it in winter, give better climate control (with as much as 46% more heat retained). Whilst the blinds are unobtrusive and fold away to nothing, as a result they will not negatively impact on the aesthetics of the interior, and provide far more superior insulating properties than the current blinds.


The Drawingroom
On the walls in the drawing room, nursery, guest room, library/media room Earthborn clay paints were used as they have a luxurious, ultra-matt finish for interior walls and ceilings. Their unique clay recipe results in a hard-wearing and highly breathable paint.
Whilst the striking white sideboard, coffee table and wall-mounted cupboards in the formal drawing room are designed by Ligne Rose. They are committed to eco-design and their products are made from sustainable sources, choosing to exclusively use 'bois d'origine PESC' European wood products: oak, walnut, ash and beech originating from sustainable ecologically managed forests certified by the French government.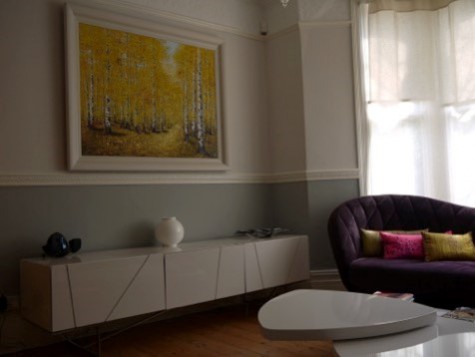 In the 1970's, when the ecological movement took off in France, the Roset Company was already practising an environmental philosophy of simple good sense. As the Roset Company developed, it made sure its activities generated less and less pollution.
"Adhering to the concept of eco-design the components of the products we design are increasingly separable. This is to ensure that as much of the product can be separated and recycled as possible.
This is achieved through the choice of materials used and the limitation of their number, a great deal of research into products (e.g. easily removable glues), and maximum product improvement in order to encourage economy of materials and energy plus ease of transportation and handling. For example, in the design of our cabinet furniture, thick panels are alveolar, with cardboard honeycombing."


The Dining Area
Large Victorian houses are energy-intensive, so the blinds used throughout were chosen for their energy efficient properties within budgetary constraints. Tuiss Essential Pearl NRG9 in white were installed throughout the house.
These are 100% Polyester blinds, with a thermally efficient pearlised backing for energy efficiency, keeping you cool in the summer and warm in the winter. The robust and lightweight design reflects heat back into the room and lowers heating bills due to its thermal fabric which is is washable and suitable for moist environments such as the kitchen or bathroom. Whilst blackout blinds were utilised in bedrooms.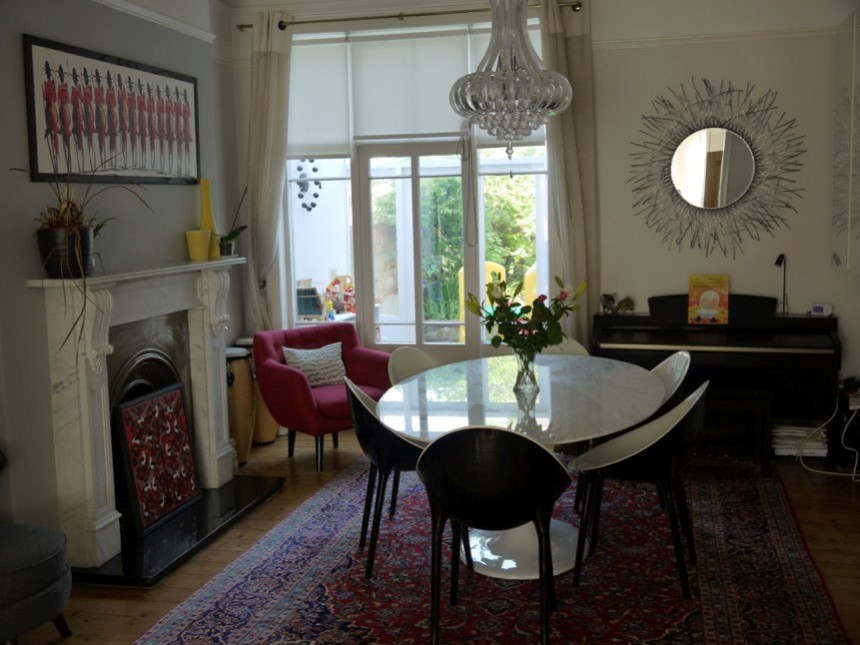 Whole life costing (life cycle analysis) was undertaken and as a result it was determined that the energy saving properties of the products chosen were of greater benefit to the environment than using natural materials for window treatments that would not yield the same energy saving advantages. In time, more window treatments will be added to further improve energy efficiency.
Throughout the property eco-friendly rugs were used, except the antique rug in the dining area of the drawing room and an antique silk carpet in the master bedroom were gifted by relatives. They also provided a foundation for the colour choices in these two spaces.
The Playroom
The playroom  is situated in the conservatory which leads on from the formal dining area in the drawing room. The kitchen has been knocked through so the rooms are now adjoined, and features a bold, 100% wool area rug to improve comfort and increase the use of the space.

The Library & Media Room
Where new furniture was purchased natural materials were chosen with 100% wool furnishings and 100% FSC timber was sourced. The purpose-built Made.com shelves were chosen as Made.com ensure all wood is responsibly sourced and never use illegally-felled wood or wood from endangered species of trees.




 The Guest Bedroom
During this project there was an emphasis on repurposing furnishings, demonstrating an awareness of embodied energy in existing products. As a result the owners' current furniture was reused throughout, tired furnishings were restored and decorated to tie in with new colour schemes e.g. chest of draws in guest bedroom and roll top bath in en-suite.
Earthborn Eggshell paint was used on woodwork and re-purposing furniture throughout the house as it is both oil and acrylic free to prevent yellowing and provide a long lasting finish on wood.


The bedside tables were also revitalised using marble in one instance and granite in another, to extend their lifespan.

The Guest En-suite
The two existing bathrooms were fitted with water saving devices, as was the new master en-suite where the wall panelling and units were constructed from FSC timber. Whilst planting was introduced throughout the house to improve indoor air quality through phytoremediation.


The Nursery
In the nursery and guest bedroom an Earthborn wood stain was used for its environmentally friendly properties. It is water based and has excellent covering power, leaving a beautiful satin finish stain to the wood whilst being free from any harmful emissions and VOCs and is healthier for the environment. It's also a high performance, long lasting product that is breathable, and resists flaking, blistering and doesn't yellow with time.


The Master Bedroom
In both the master bedroom & Kitchen ECOS Interior Matte Wall Paint wall used (Brilliant white in the bedroom and Platinum white in the kitchen) as it is non-toxic, non-allergenic and has zero VOC's. It was a great choice as it is organic and safe for the environment whilst being a durable and long lasting product.


In both the master bedroom and en-suite fireplaces, Fired Earth floor and wall tiles were used as they are very hard wearing and unlike printed tiles, they have a very long life expectancy. These were a good replacement for the existing tiles that had been badly damaged. The original tiles are still in situ however in the nursery as the tiles were in better condition there.
 
The Master En-suite
LED lighting was introduced in the kitchen, bathrooms and on the two hall landings, whilst energy efficient bulbs were fitted to all other lighting as LEDs are very energy efficient and long lasting. LED Lighting can produce the same output of traditional lighting with the tenth of the power, so recessed LED spotlights were used in ceiling of the bathroom, kitchen (cool white) and hallways (multi-coloured) and small recessed waterproof LEDs were used in the floor of the master en-suite.


 A quote from Carolyn…
"I am passionate about sustainable design and creating green and healthy interior environments, so am delighted to have received a commendation at the International Green Design Awards for my sustainable refurbishment  project.  These awards are a great platform for celebrating best practice in environmental design and I hope that more interior designers, architects and students will be encouraged to integrate green interior products into their designs as a result of the projects showcased in these awards."
Click here to view the photos from our Awards Night which was held on 5 November in Sydney. Or click here to read about the winning projects and products.