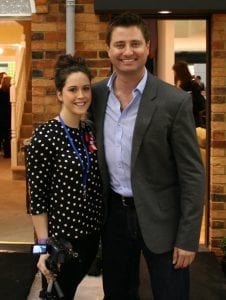 Television personality and Architect George Clarke is well known for his popular property shows like "Restoration Man" and the "Home Show". He's now busy preparing for the showing of his new series on channel 4, "Empty Homes" and recently set up a new business, George Clarke + Partners.
Despite having a diary full to the brim, Mr Clarke took time out of his busy schedule to speak to us about what he looks for in an interview, how to create the best foundation for a career in design and his top tips for re-vamping your home. Enjoy!
Working as successful Architect and being the face of hit property shows like "The Home Show" and "Restoration Man", you will have seen an abundance of homes in a sorry state. What is the most common mistake people are making when it comes to re-vamping their homes?
"Firstly, the most obvious issue is that people aren't getting the right professionals in to do the work. People need to hire credible and highly recommended tradesmen, especially a builder, not a friend-of-a-friend. It's important to hire a great Architect and have really good people on site. Also, making sure the design is right for the intended space is very important.
"I would say, particularly in regards to grand design schemes, invest in a great Project Manager. They are worth their weight in gold and having this person on site will save money in the long run!"
"Finally, people tend to make too many compromises and concentrate too much on things like pretty cushions. There's no point spending a lot of money on furniture and expensive things if the boiler is 10 years old. Making sure the fundamentals like plumbing, insulation and electrics are right should come first."
You're the ambassador for the very successful Grand Designs Live events, what is your mission statement? Do you have one?
"Well, if I had one it would be something like "Your home is the centre of your world and the most important thing". I love my home! Homes are not just a space, they're a beautiful and happy place to be, full of emotions and memories."
They say "education is the key to success", how important is it for aspiring design and architect students to gain credible qualifications and experience, especially as the industry is moving towards more professional and standardised practices?
I left school when I was 16 and went straight into working for an Architecture firm, training as an apprentice. I learned on the job about designing and building, as well as doing one day a week at college. Having that balance of academic and vocational study is important. This way you can also learn things which you wouldn't necessarily in a classroom. I learned how to properly communicate with people, whether it was through emails, drawing or a phone call. Education is everything.
It can be a huge fight to secure a job in the current economic climate, particularly in the design industry, what advice would you give to job seekers that will set them above the rest of the competition?
I hate looking through CV's, they say the same thing each time. I like to meet people and speak to them in person. I look for true passion and yearning to learn as well lots of enthusiasm for design and Architecture.
Can you share with us the three golden rules which you live and work by?
Well, the first would be "life is too short, live it to the full". The second one, which may seem a bit corny but it's so true is, "Home is where the heart is", because my home is everything to me. And finally, " work should also be play". My life and work are the same, I enjoy it so much and people should be able to work hard and play at the same time. I hear people talking about  how they hate their job, well change it I say, do something you love.
(Question from NDA student Cath Gittins) –  Do you think that home staging is a useful marketing tool and is it possible for home staging to become as popular here in the UK as it is in the USA?
Home staging is big thing in America and sometimes this method of showing a home off can feel false, like it's someone elses life. Maybe we're missing something, but us Brits are a bit more straight forward and get on with it.