As the nights get colder and darker it's common to want to layer up, and not just our clothes but our interiors too. Layering natural, earthy elements with soft, textured soft- furnishings is a key trend this season. Championing all things cosy, we caught up with the talented Julia Eldon, the founder of Suburban Salon to talk about her business and the beautiful, bespoke soft-furnishings and furniture collections in all their furry glory. We also get to tour her amazing house that Julia transformed herself, and she discusses her personal Boho Glam Maximalism style!
Chatting with Suburban Salon:
With the huge Autumn/Winter trend for minimalistic Scandi styling, think cosy, thick, knitted blankets, faux-fur cushions and throws teamed with natural, wooden elements, mid-century furniture and plenty of white, we were excited to talk to Julia, the founder of Suburban Salon whose luxurious collection of soft furnishings and furniture are the epitome of cosy, yet super glamorous interior style. Her beautiful faux fur pieces add instant texture, which teamed with minimal accessories or décor in accents of copper or warm, gold tones will warm any interior scheme this Christmas.
Hi Julia, When did you launch Suburban Salon?
I started working on developing Suburban Salon over a year ago although starting my own business was something I'd been dreaming of for a long time. My website only went live in May this year, but it took me 6 months previous to that to design, make and photograph the collections.
How have you found the first year of running your own business?
The last year has been a whirlwind, but probably the most fulfilling and enjoyable of my entire working career. I've learnt so many new skills, website development, photography and of course social media skills. Running a small business as a one-woman band means you have to do everything yourself, and there's no doubt it has been challenging at times. There are invariably tasks, which are necessary, but you're not very good at or skilled in; for me book-keeping comes to mind! Also, learning to switch off is important, which is tricky in the social media world that we live in, and I think it's very important to take time out (occasionally!)
Giving up your marketing role to focus on your passion for interiors, at what point did you go from making them just for yourself, friends, family to launching Suburban Salon as a business?
I used to work in marketing full time before having children and I worked part time whilst my eldest child (now 12) was young. But I found when I returned to work, I just didn't have the same enthusiasm, drive and ambition for that type of work as I had prior to having kids. I loved the creativity of my role, but the competitive and incredibly stressful nature of the environment I worked in was just not so appealing any more.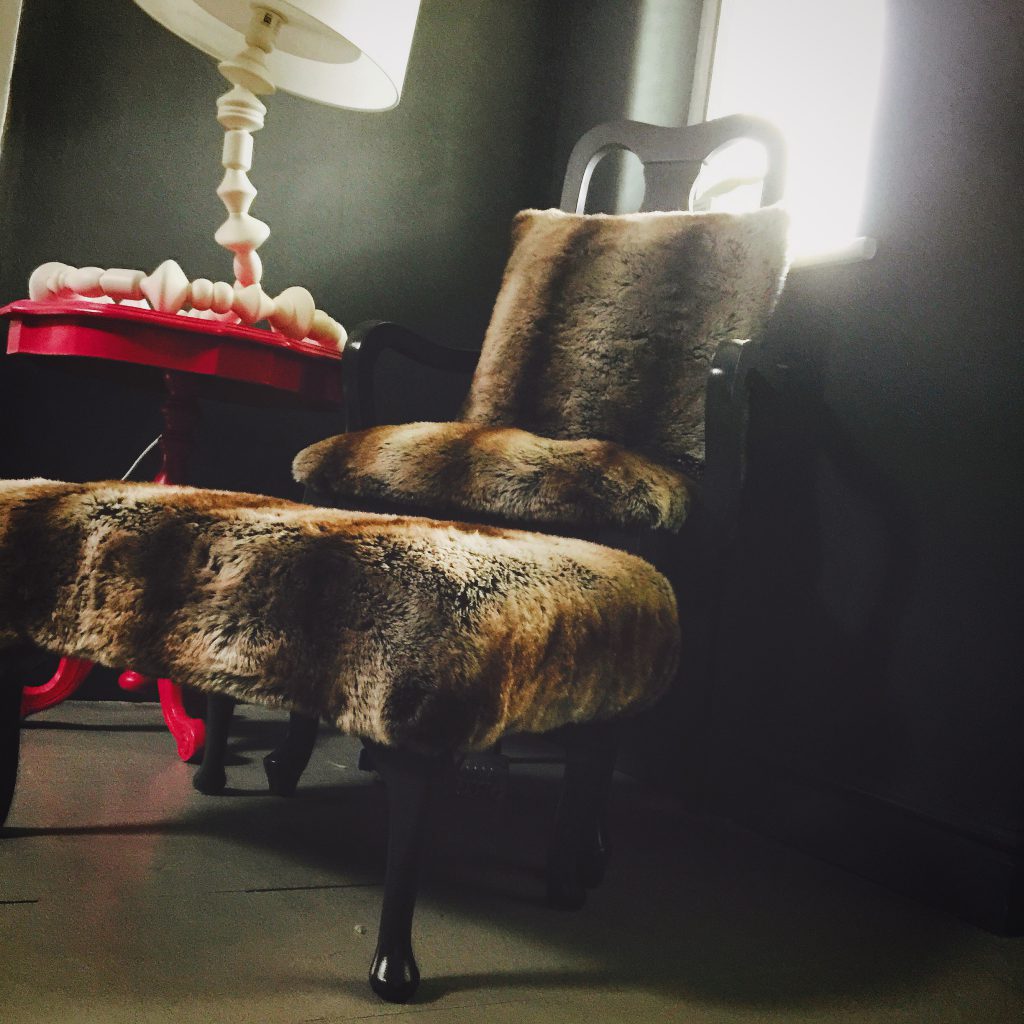 I started making the footstools following a few interior design projects. Texture and layering is the easiest way to make a room look lived in and for me is key to any great design scheme. I used to throw sheepskins over chairs, benches, footstools, tables – any piece of furniture really to create a very soft, snuggly and textured look. I had a vision of a footstool that was upholstered in soft fur, but found that it didn't exist. Added to that, from my own personal experience, I knew that my children adore anything tactile, in particular snuggly, cosy fabrics that they can stroke whilst watching their favourite TV programmes or reading.
The concept of attaching a snuggly fabric to a bench, stool and chair was borne in my head and I researched the idea and realized there was nothing like this in the marketplace. I developed the product and started to experiment, first by up-cycling vintage footstools and then after realizing that I couldn't create a consistent product this way, taking the plunge and making the entire footstool by myself.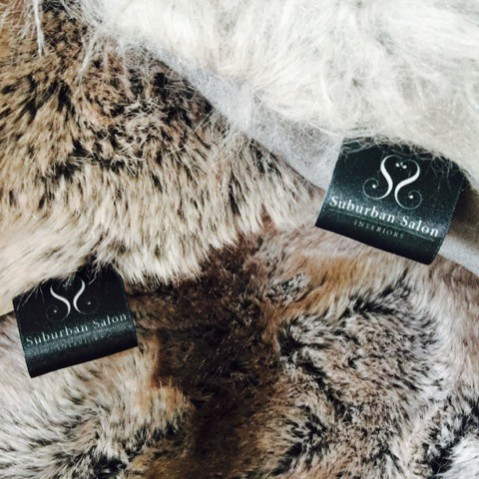 I made prototypes for my own home, I think at one stage I had about 8 in our house and the reaction I got from visitors was very encouraging. My friend's kids in particular used to fling themselves on them when they came over and plead with their parents to buy one – pester power works! I then started to get requests and orders and decided to turn my hobby into a business and Suburban Salon was created; I wanted to inject a dose of snuggly, stroke-able texture to a room with just one piece of furniture, but I also wanted them to look pretty cool too and I hope I've achieved that.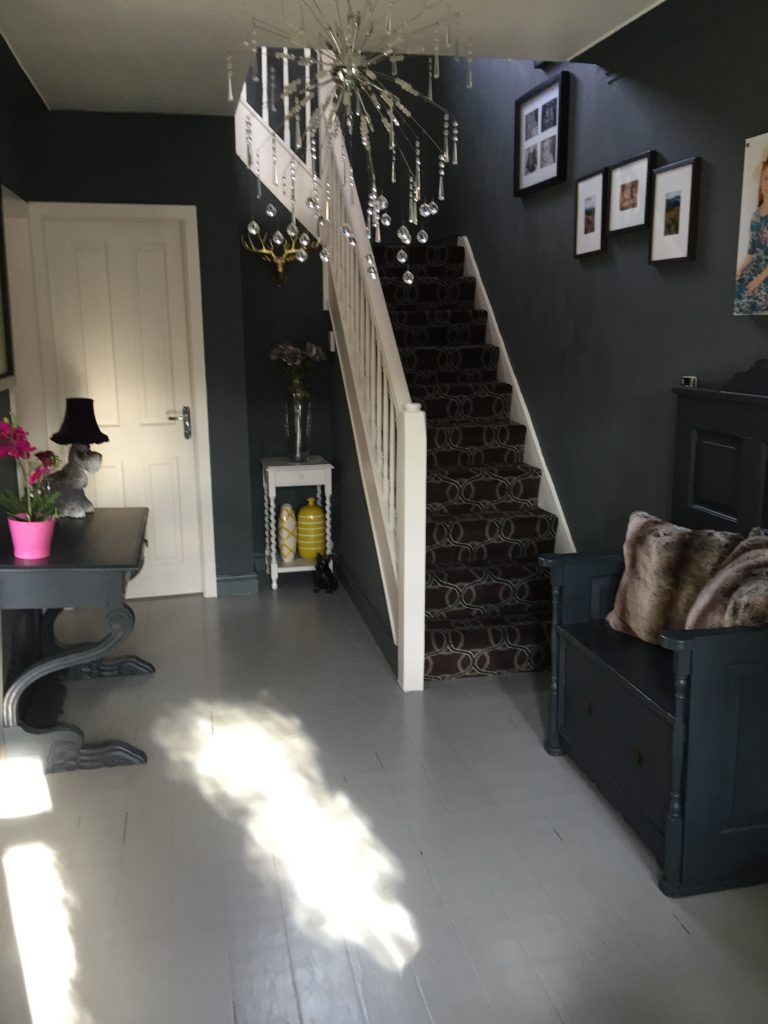 In your free time you developed a whole new set of skills including; interior-design, soft-furnishings, designing and making children's clothes, crafts and upholstery. How did you utilise your new found qualifications?
When I gave up my marketing career, one of the turning points was moving house. When the children were young, we moved from a too small but incredibly beautiful Victorian semi to a large, but sensible, 60's box which needed everything doing to it to make it a home. It took us a long time to renovate (the exterior still needs work to this day, but it's nice inside!) and it was during this process that I studied interior design and the house renovation gave me a huge practical opportunity to develop my own ideas and style.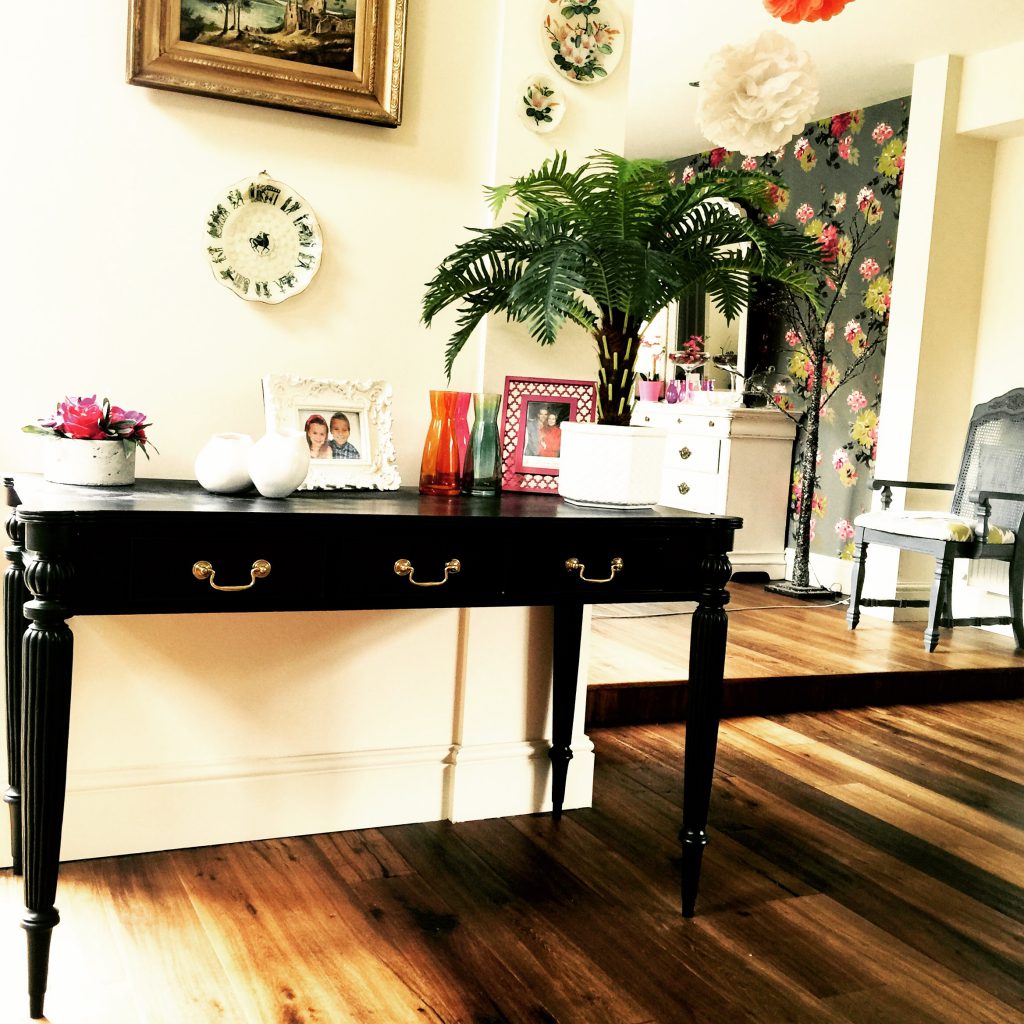 I learnt how to sew initially out of sheer necessity. Not working, we simply couldn't afford to pay John Lewis to make all the curtains and blinds that we needed as we would have previously done! It soon became a hobby that I fell in love with and I think looking back, because I was at home with the children it was a bit of 'me' time that allowed me to be creative and have a bit of time out from the kids!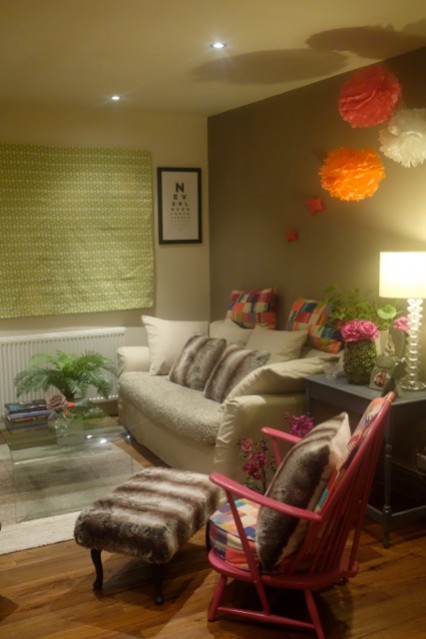 I leant to make soft furnishings properly on a Curtain Making & Soft Furnishings course, dragging my best friend along too! I started with a Beginners course, found I loved it and then continued through to an advanced level. By the time I left, I was obsessed with interlining curtains, blinds, etc and for about a year after I made them for friends and family too. I enjoyed it, but being a bit of a perfectionist, I found it was a labour of love. Soft furnishings are very time consuming to make and I found just selling to people I knew meant I was always giving them 'mates rates' and as a consequence, I was not even earning a minimum wage! Back to the drawing board…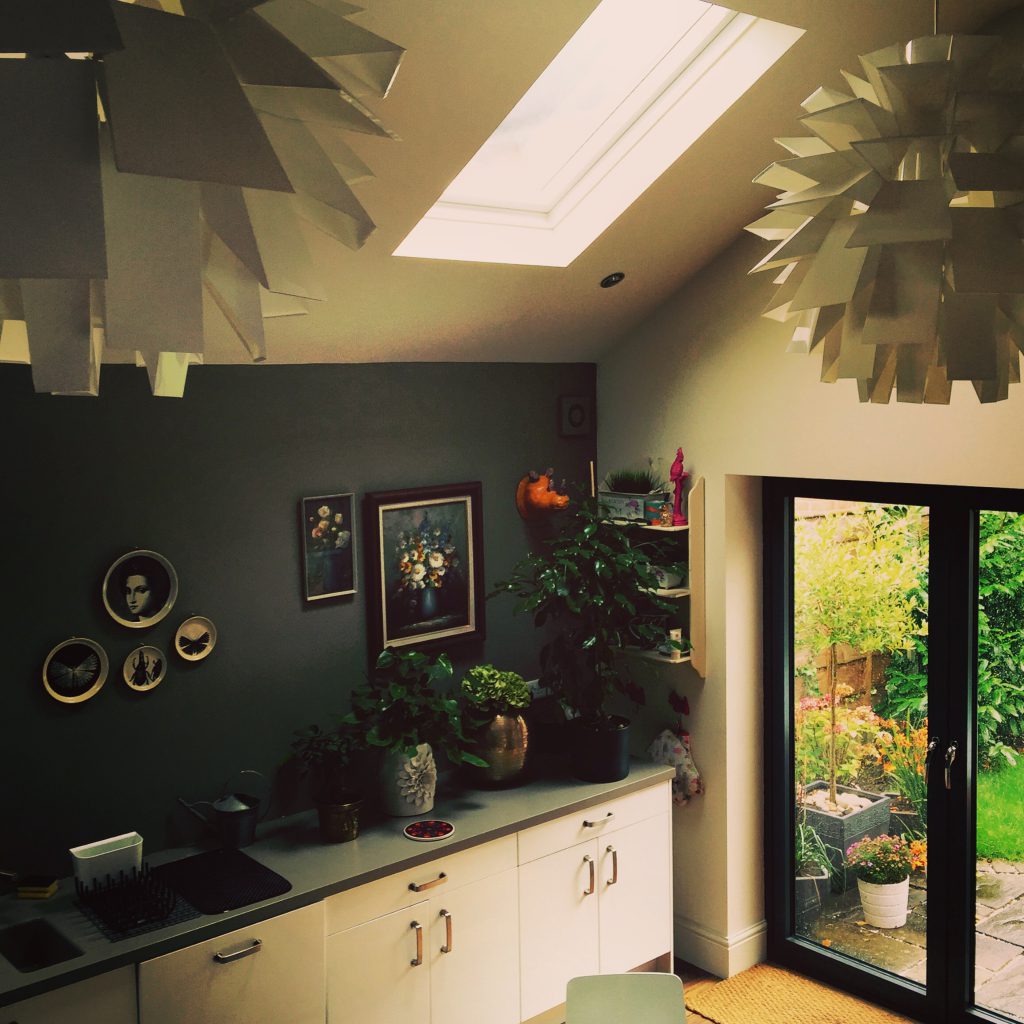 I love fashion and have always been pretty creative, having a little girl and being able to sew by then it was a natural progression to start to design dresses for her. I loved the idea of making a dress with matching accessories such as a headscarf, Alice band or little bag. I created a label called 'Ro Ro's Garden' (Ro Ro was and still is  my daughter's treasured rabbit) and I made the dresses out of very vibrant florals and I sold them along with bunting and other bits and pieces at craft fairs. Again, a bit like with the soft furnishings, I did very well at fairs, but never managed to make it work commercially. I was basically making made to measure dresses and selling them for £30, when they took 3 hours to make!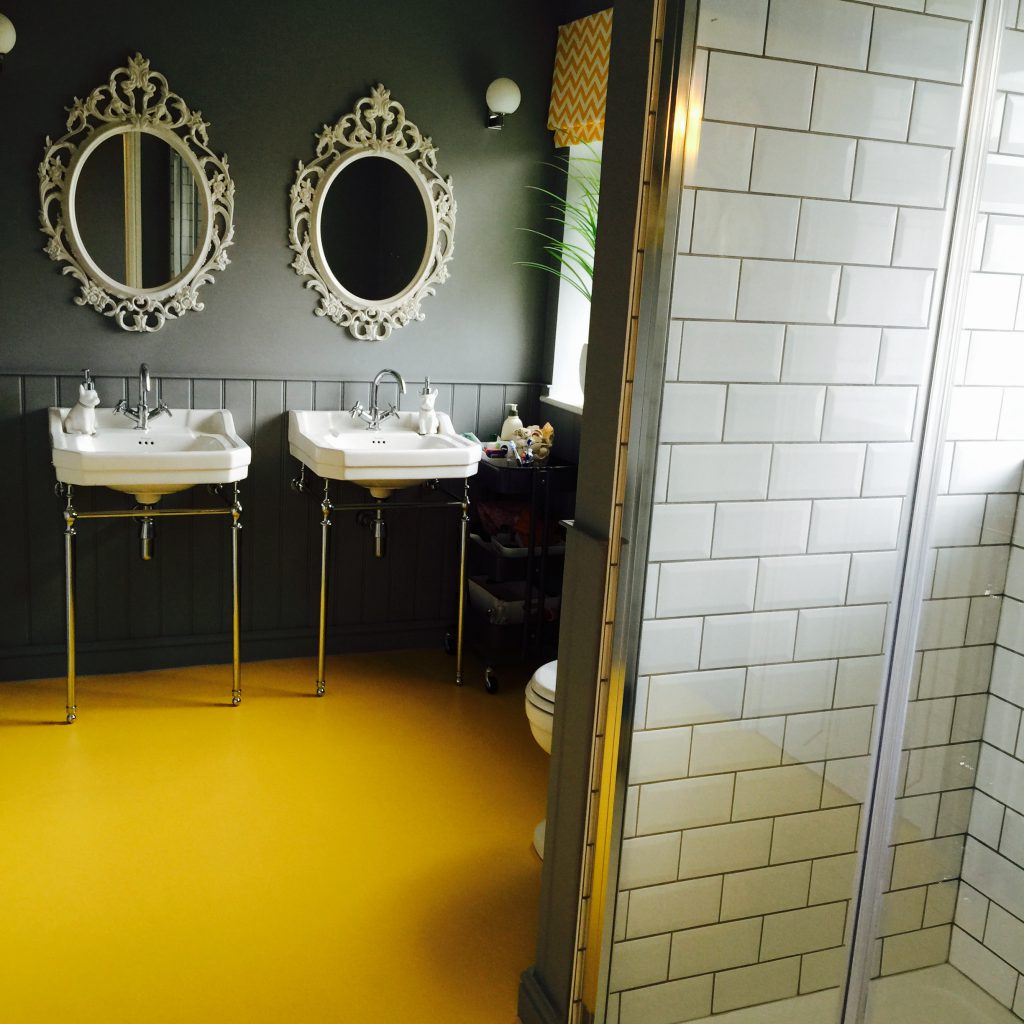 Interior design was something I just kept coming back to, because of childcare commitments I studied my part-time Diploma in Interior Design online, from home over 24 weeks. Studying online was very convenient for me as I could do it in my own time and around the children!
I used my new found skills and passion for interior design to decorate my own house and when our house was finished I got so much positive feedback. It was quite radical at the time of completion, 3 years ago. I have a yellow vinyl floor in my bathroom, my kitchen I tried hard to make it look like a loft space rather than a kitchen and in my children's room, I wallpapered the ceiling to add character to a characterless room, which has since prompted friends to ask me to help them with their own Interior projects (seen in the photos throughout, a mix of photos of Julia's house and others are from her friends home.)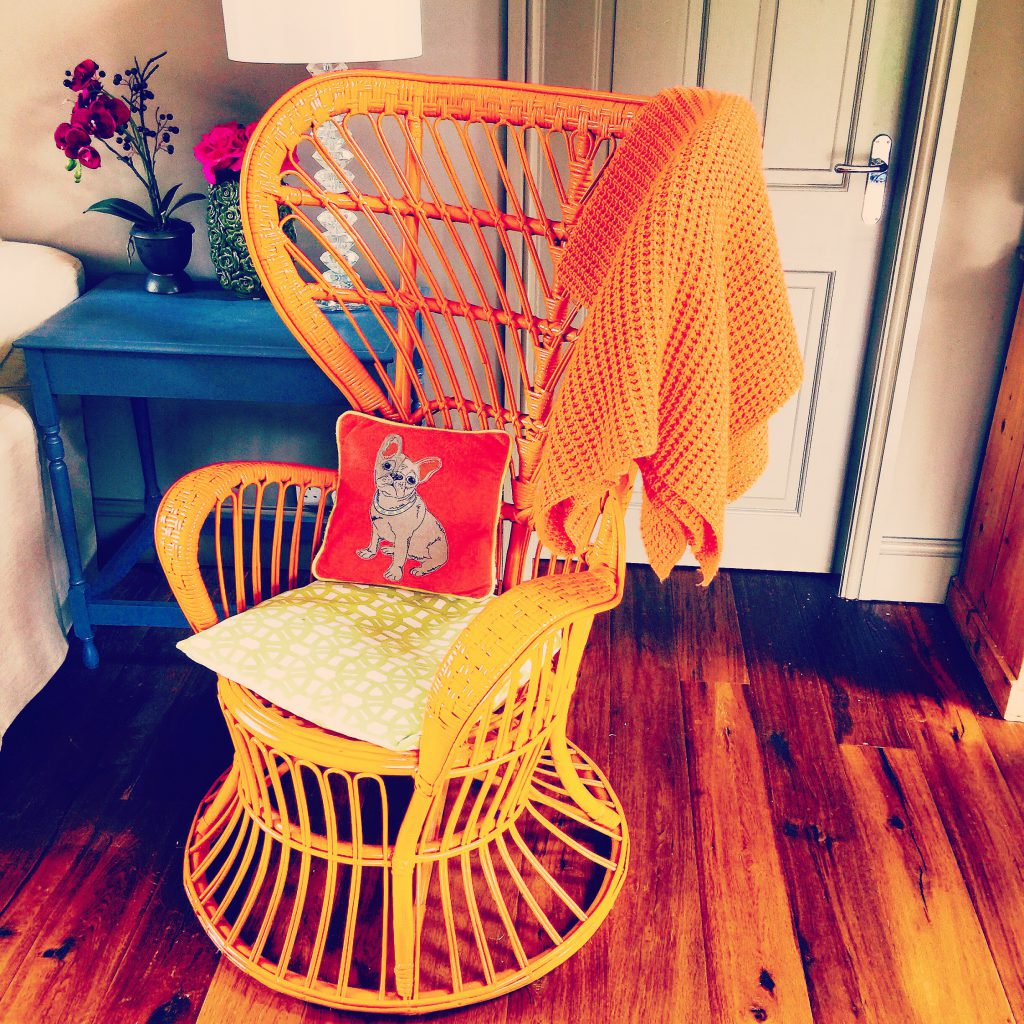 Although your new found skill set and passion for Curtain and Blind Making, Soft-furnishings and Interior Design started out as hobbies, had you already started to consider how your interior design qualifications could open up a career path for you in Interiors?
Soft furnishings and designing and making children's clothes were hobbies but as I was a non-working mum, I was always thinking about my future career and what could I do that I am passionate about and earn a living from. That was always my ultimate goal. Although I had always been very interested in interiors, looking back it was a natural progression, learning to sew, soft-furnishings, dress making and then my own house renovations, doing interior projects for other people and then developing my own range of furniture as I couldn't find what I wanted in the marketplace.
A lot of our students are interested in starting a career in interior design but don't know how to turn their hobby into a business, from experience what advice would you give about setting up your own interiors business?
The main thing I've learnt is to take praise from others and be confident, which is not always easy! See yourself as a designer, as others do. Practice on as many room schemes at home and family and friends' homes as possible and get honest feedback. Also take lots of before and after good quality pictures along the way to build a portfolio, photography is an art so learn as much as you can about light, etc. And although one of the key skills of Interior Design is to create a scheme that reflects the style of your client, I think it is also important to have a signature style of your own. I would call mine Boho Glam Maximalism!
Taking that big leap into business is very scary and not something that comes particularly easy to creative types. I was in a fortunate position with my business background, but it's vital to build a following on social media – Instagram and Twitter are key for me, but Facebook could be more important for targeting a local market as an Interior Designer and YouTube is very important for showcasing your work too. Blogging is also key, it's another huge opportunity to show your work and just as expected these days. It's also important to remember that success doesn't happen overnight, be patient and work hard!
Your beautiful collection of throws, furniture and accessories are all very tactile, what were your influences when designing the products?
My business is incredibly influenced by the classic Scandinavian style of using different types of textures to break up bare, sterile spaces and add warmth. I love how this style can combine smooth, rough, jagged, solid or transparent textures, more often opposing each other, to keep the design interesting. Having said that, unlike a lot of Scandi neutral only styles, I also adore Jonathan Adler's glamorous design aesthetic of incorporating pops of colour and pattern. On a personal level, I've been inspired by my love of snuggling up with my children reading and watching TV together and observing their love of soft, luxury, snuggly textiles.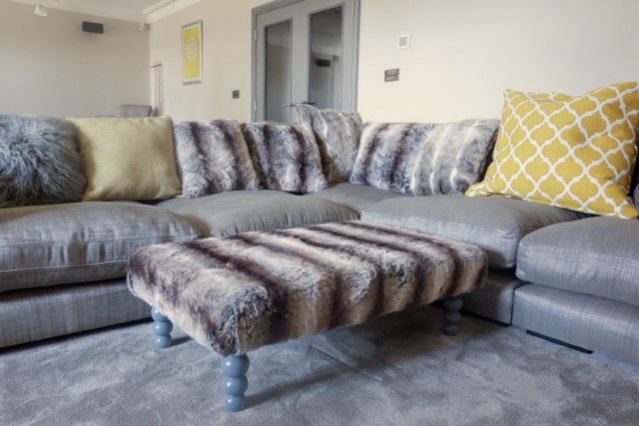 Do you make all your products yourself? Please tell us a bit more about the process and the bespoke nature of your products.
In terms of my faux fur footstools, I purchase all the component parts, the legs, the fur, the wood etc. and I craft the footstool and then upholster it with luscious faux fur! I have excellent, reliable suppliers which enables me to offer a bespoke service. Being a small business the bespoke element is very important and one of the key areas that sets Suburban Salon apart from competitors. I really believe that modern consumers desire the unique, the individual that will add a sense of luxury and distinction to their homes and I will endeavour to continue to do this even as the business grows.
Please tell us a bit more about your collections?
I wanted to curate a selection of inspirational, timeless pieces that are super glamorous but well designed and that you wouldn't find anywhere else. I use only the best materials, the most luxurious and soft faux fur, handmade hairpin legs and I use as many components that are made in the UK as possible. At the moment, I have four core collections three faux fur and one wool, but I am constantly developing them based on trends and customer requests. I will soon be introducing a new Plains collection incorporating 12 new faux fur colours and a new Sheepskin Collection.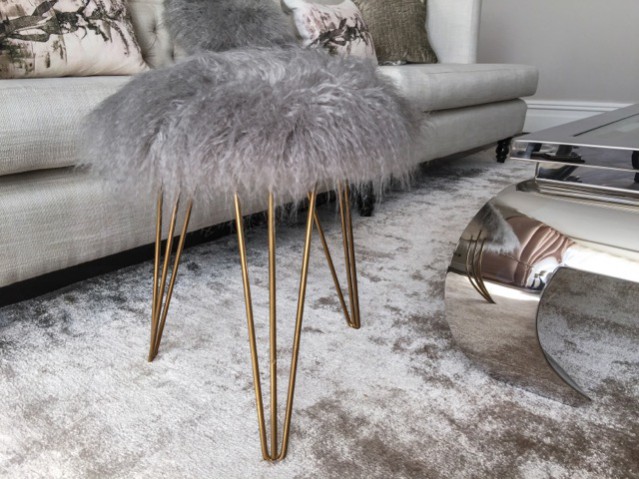 Your products are luxe, quirky, unique pieces but are affordable. Are there any luxury or high street brands that have influenced your own interiors style?
If there is a designer that has influenced me it has to be Abigail Ahern. I always adored her shop in Islington way before she became an International Super Designer! Her design aesthetic, inky, dark, glam but quirky, was one that I always loved and was most definitely influenced by. I bought my first Abigail Ahern dog lamp about 5 years ago and it did raise a few eyebrows in the Cheshire suburb where I live!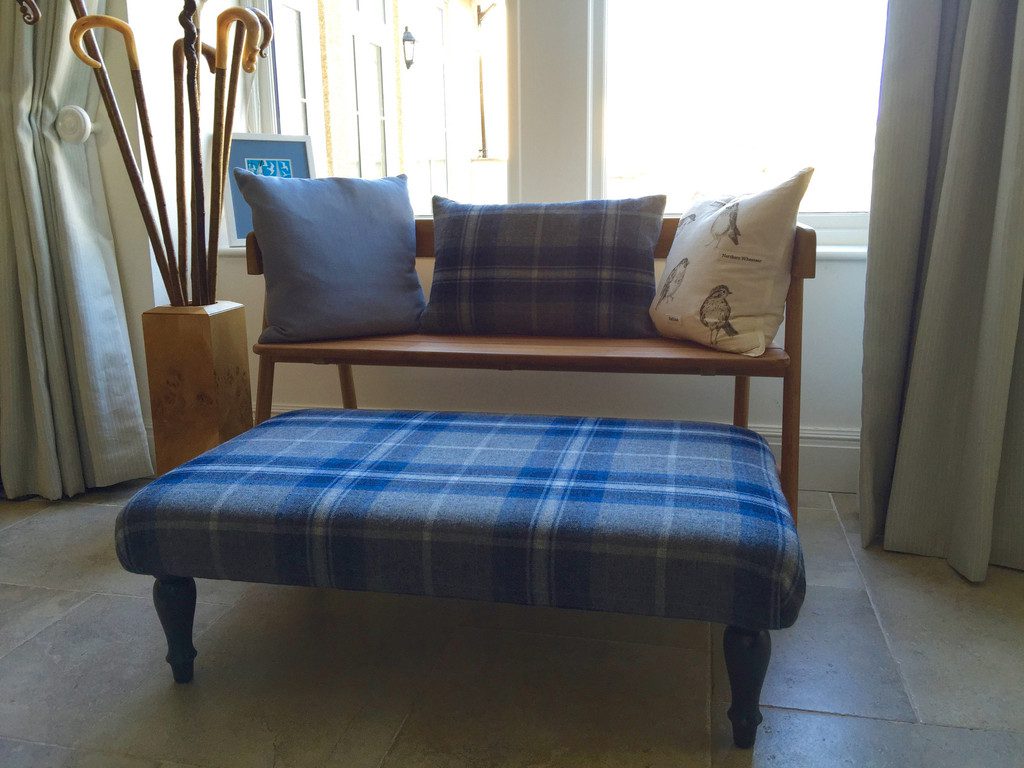 Who would you like to think would buy your products?
I like to think my products are affordable luxury items and aimed at consumers who are confident enough in their style decisions to want furniture that is a little different from what's out there in the mass market. I find my Rabbit Alaska collection is definitely a favourite for families. Children adore the faux fur as soon as they stroke it as it's the softest and the most versatile as the fur has grey, brown, cream and black hues so will go with most décor.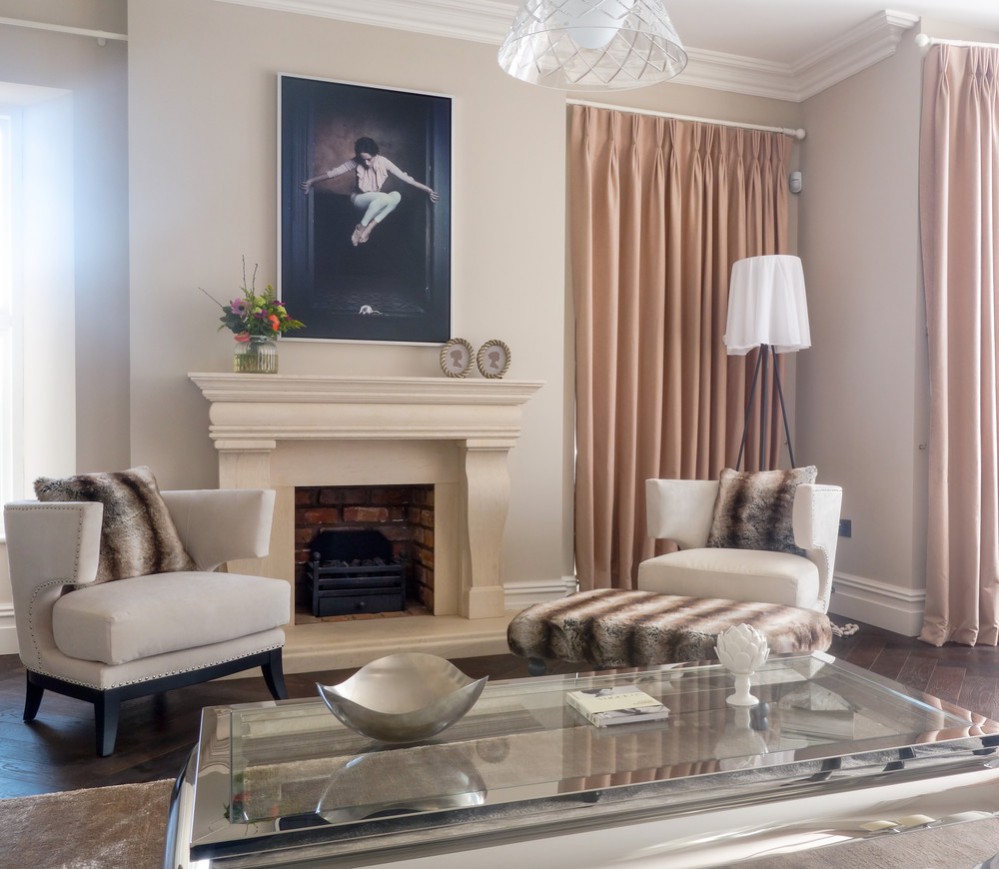 Whilst the longer haired Mongolian and Arctic Fox ranges tend to get more love from designers and people in the South East and the Arctic, being off White, is more for couples without kids for obvious reasons!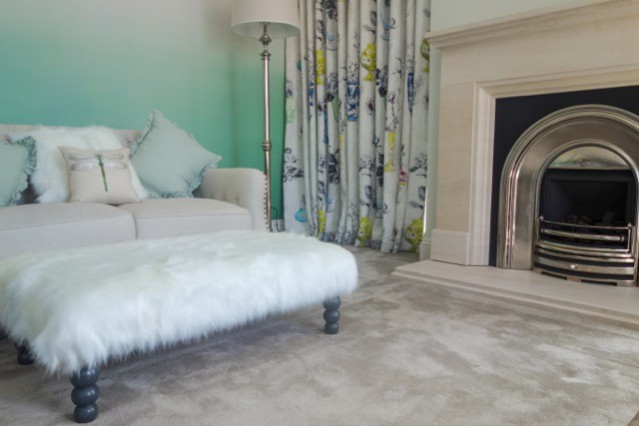 Out of your collections have you got a personal favourite?
Yes, the Rabbit Alaska as this has been my best seller and the one that gets the best reaction – and my children adore it!
What products can we expect to see from you in 2016? Are there any new collections you are working on?
Yes, exclusively revealed to your blog readers as these are not even on website yet!  I'm launching faux fur product extensions such as bean bags, floor cushions, a collection of star cushions in faux fur and faux leather just in time for Christmas, Black Sheepskin hairpin leg stools and I'm also looking to diversify into lamp shades as well. Here is a sneak peak NDA blog readers!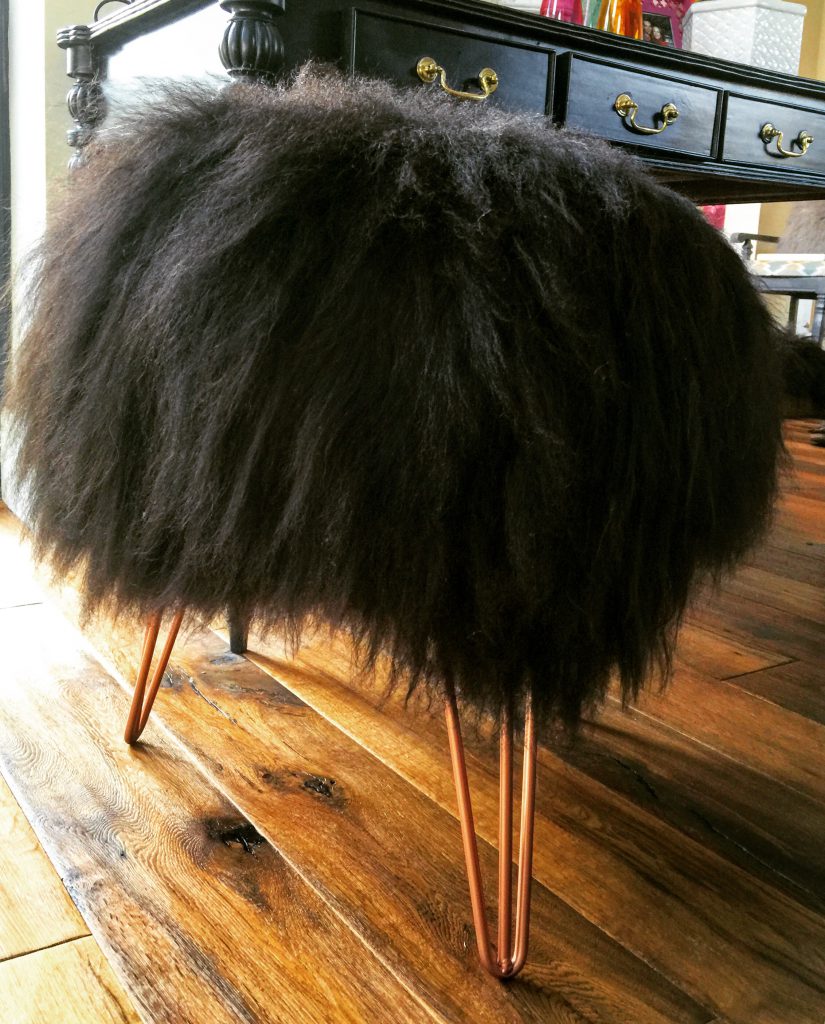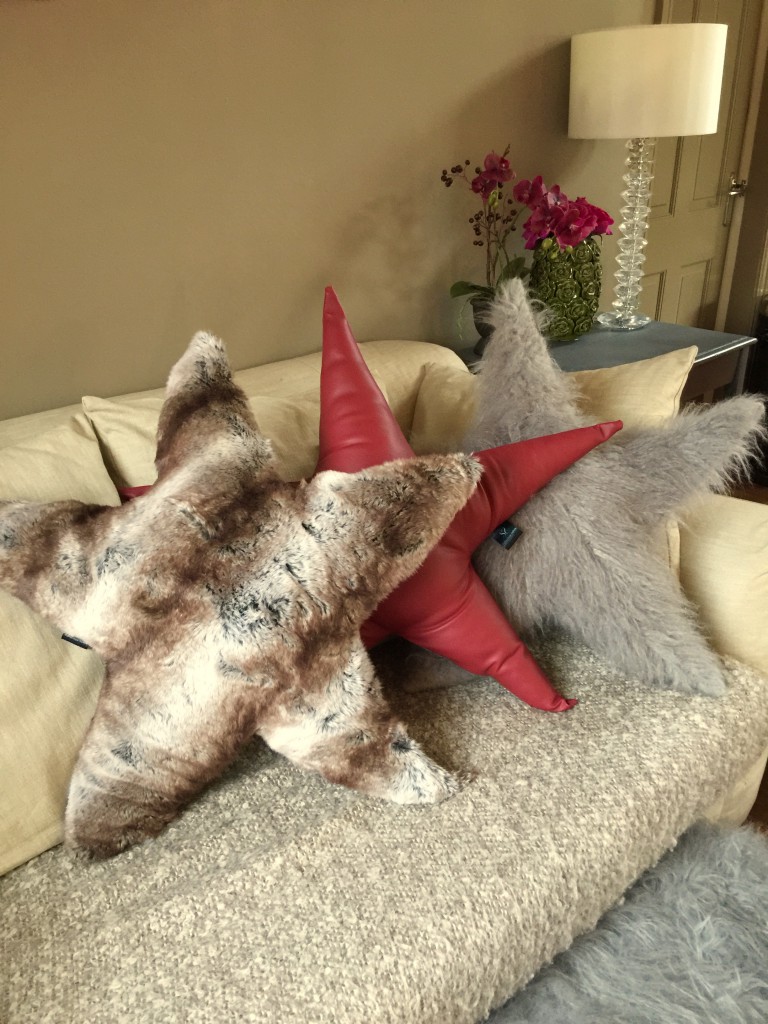 I am also launching a new luxe plains, faux fur collection in 12 new colours like the new Grey luxe faux fur stool with gold hair pin legs below or in a beautiful, Flame orange colourway.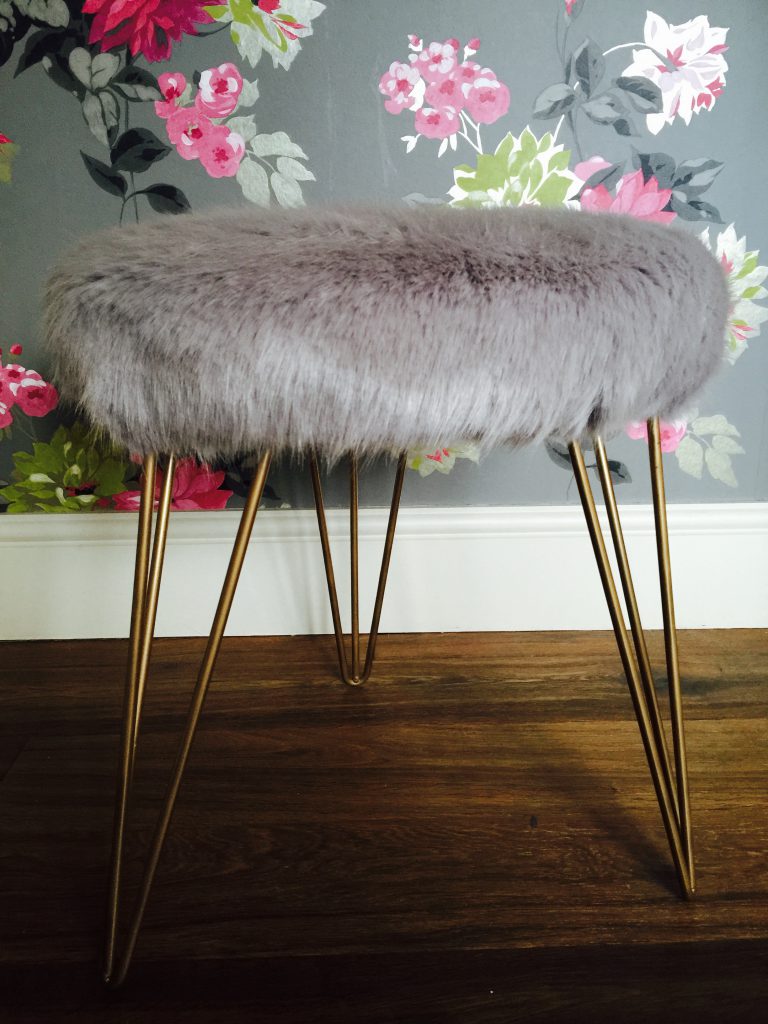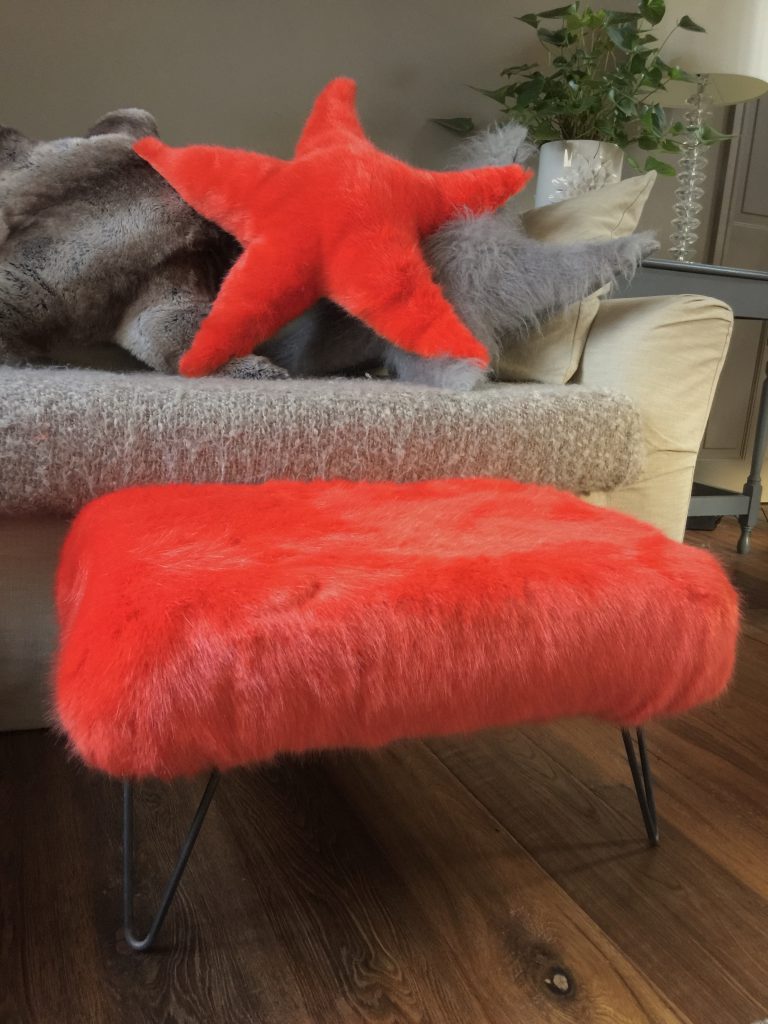 What advice would you give for incorporating your products into an interior?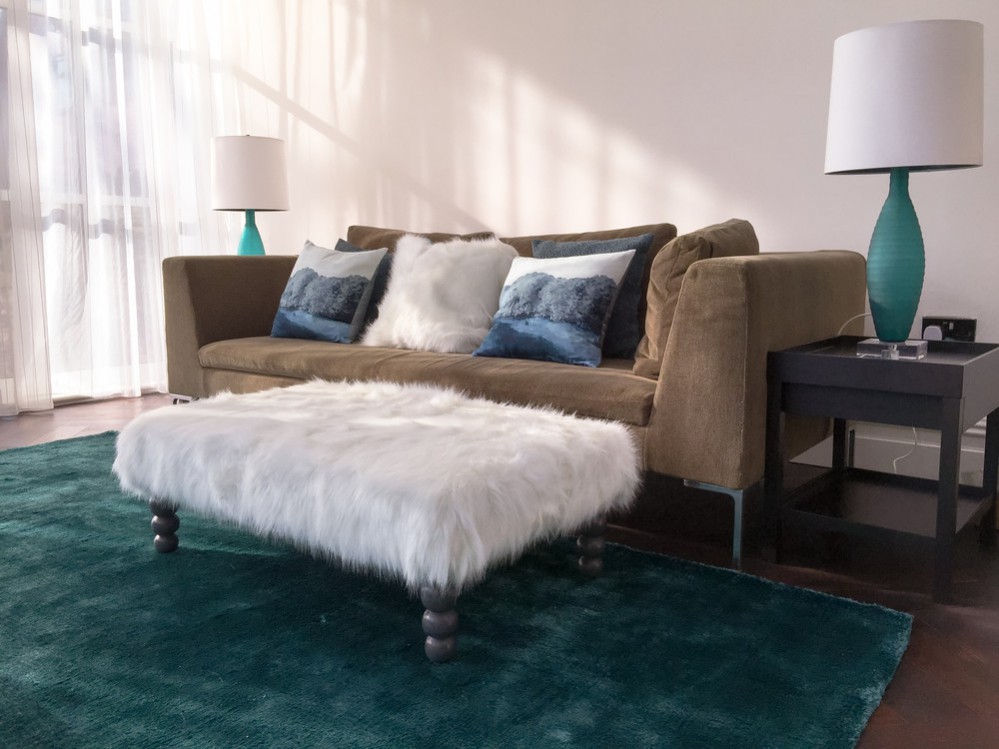 All my stools are multi-purpose, use to relax your feet, extra seating or put books and magazines on. Although I'm not keen on anything too 'matchy,' my products do look great when coordinated with other furry accessories such as throws and cushions, but mix them up with other cushions in different sizes, colours and fabrics. Faux fur furniture and accessories are wonderful for adding quirky, textured fun to a scheme, but also look incredibly warm, elegant and inviting and are a key interior trend this Autumn/Winter.
Are you attending any interior shows/ exhibiting at any events in 2016?
Oh yes, I can't wait! I will be attending Home, Top Drawer and Maison & Ojet and the Spring Fair at the NEC. I will also be exhibiting at one of the smaller events (tbc.) It's a tricky one to balance as the business is expanding organically at the moment which I'm happy with, as I have complete control so I'm reluctant to exhibit at one of the large fairs and receive huge orders that I will struggle to fulfil. I'm going to have to make that jump soon though and it will probably be Autumn 2016 that I do.
Thank you to the lovely Julia for chatting with us, make sure to check out her wonderful products on her website here and make sure to follow her on social media to find out when her new ranges are available.
If you are interested in developing new qualifications or thinking about starting a career in either Professional Curtain Making & Soft Furnishings or in Professional Interior Design, we offer a range of flexible, part-time diploma courses that are designed to be studied around work, family and personal commitments. To see the full range of courses we offer please visit our course overview page or for further details contact us on: +44(0)1159 123 412 or email us at: enquiries@nda.ac.uk.