Mad Men: Looking back on an era
It has been an emotional journey for fans of AMC's long-running, Emmy award winning, hit TV show Mad Men. But after 7 seasons the show aired its final episode in America on Monday, and aired last night in the UK. We take a look back at the award winning set design that has meticulously captured the interior design style of the 1960's period, and has created the 'Mad Men' effect that has fast become a key design trend.
The show, a drama about one of New York's most prestigious ad agencies at the beginning of the 1960's that focuses around one of the firm's most mysterious but extremely talented ad executives, Donald Draper. It was a success from the moment it's $3 million pilot episode aired, and is much loved for its whisky fuelled, hedonistic story lines that focus on the sordid lives of the stylish ad men. But the show is perhaps equally loved because of the wonderfully accurate interior set designs created by talented set decorator Claudette Didul-Mann, that act as a time capsule from the world of 1960's advertising in New York.
Didul-Mann had a tough job, attempting to accurately replicate all of the stylish period design that is portrayed in each Mad Men episode. Often referring to herself as a "stickler for detail" Didul-Mann relied on the expertise of the Archive Team of renowned furniture manufacturer Herman Miller to help bring design context to the set since she joined the show from season four. Known for her meticulous approach to set design, Didul-Mann's designs manage to bring the mid-century workplace to life on screen by her consistent use of authentic, accurate sourced vintage pieces to dress the sets.
Don Draper's now-iconic office (above) at Sterling Cooper Draper Pryce is an example of the timeless, multifunctional workspace design that was popular at the time. Don's office is now such a famous example of the 1960's modern office design the set has been recreated and appears as the star in show of the Mad Men exhibition at the Museum of the Moving Image. Didul-Mann used Herman Miller as reference throughout the show to ensure that not only the retro aesthetic of the period was captured, but it also helped the show's ability to successfully chronicle the key historic moments in American history. And more importantly, Mad Men's ability to visually reference the key historical design trends of the era that represent the cultural evolution which is at the heart of Mad Men.
Herman Miller were responsible for the new era of office design when the white collar creative industry began to flourish after World War II. In 1956, the company issued an advertisement for the "living room in your office," saying, "An office isn't just an office. It's a conference room, a living room, and a library too. The furniture, therefore, must be as flexible as the functions it performs."
To get the authentic look of the period, many of the items on set were often borrowed from the Herman Miller archives or rented from Omega Cinema Props , such as Don's peek-a-boo coffee table, the original abstract paintings on his office walls, or the mid-century moder, Knoll inspired sofa (above.) But with so many sets to dress, Didul-Mann often buys furniture for the sets, "if there is something that is reasonably priced or if something is more permanent- in at least four episodes, it is better for me to buy it. We do get things from prop houses though, particularly for more temporary sets." The most expensive prop were the pearlized, blue, ceramic lamps bought for $1000 for the pair by Didul-Mann herself, which were worth the price she states as "lighting is so essential to setting a mood, you shouldn't skimp."
The production team favoured vintage lampshades despite their fragility. "The slubbed silk on them is just beautiful, and the light through them is really unique," she says. And with short time scales, and with so many different sets to create Didul-Mann confesses to shopping online for props and furnishings, "we've been really lucky for the most part… I shop online and use 1stdibs quite a bit, for research and to buy things. For the fourth season I bought some desk lamps from dealer Amsterdam Modern, JF Chen has some great stuff too."
Her attention to detail, and need for authentic set design saw Didul-Mann meticulously study vintage issues of magazines such as Interior Design and House Beautiful and old Herman Miller ads to ensure every minute attention to every element was accurate on the show. "My father worked in advertising for over 40 years and there was Herman Miller and Knoll furniture everywhere you went." Didul-Mann says, referencing her authentic source material and personal collection used as key visual reference to create the authentic interiors on set like using this authentic Herman Miller Eames Conference table in the Mad Men office boardroom scenes.
She also used Knoll's minimalist furniture to dress the sets, because of the clean lines and contemporary feel which can be seen throughout the Sterling Cooper's offices and in Don and Megan's stylish Manhattan apartment in Season 5. She references two design books from the mid 60's book by Betty Pepis, inspiration for the glamorous sunken in living room, built in sofas and for its other mid-60's detail seen in the Draper's vibrant apartment.
Production designer Dan Bishop, " turned me onto a New York Times design book from 1965.. and in a local thrift store I actually found out the LA Times home section used to have a magazine, and I bought all that I could from 1964 to'67. There are some great ads." she states when referencing her design inspirations. The design also demonstrates the shift in time and the social changes in America at the time the season portrays, seen through a mix of bright, jewel tones and a muted, earthy palettes being used throughout their apartment.
Didul-Mann says she and production designer Dan Bishop are especially proud of the Manhattan apartment they created as the split-level, open-plan living room was initially envisioned by show creator Matthew Weiner, but it was up to the production team to make the space cool, liveable and able to accommodate shoot requirements. "We have to be able to move walls, and set up camera platforms, so we couldn't have actual furniture in certain places. The sofa, bench and wall unit are all built for the space and can be easily removed," she says. Knoll's Lounge series of geometric, classic chairs and sofas were used to dress the set, while the real thing will set you back £4,000 or more, you can find a similar ones on the high street or visit local antique furniture collectors or auctions to try find one for less.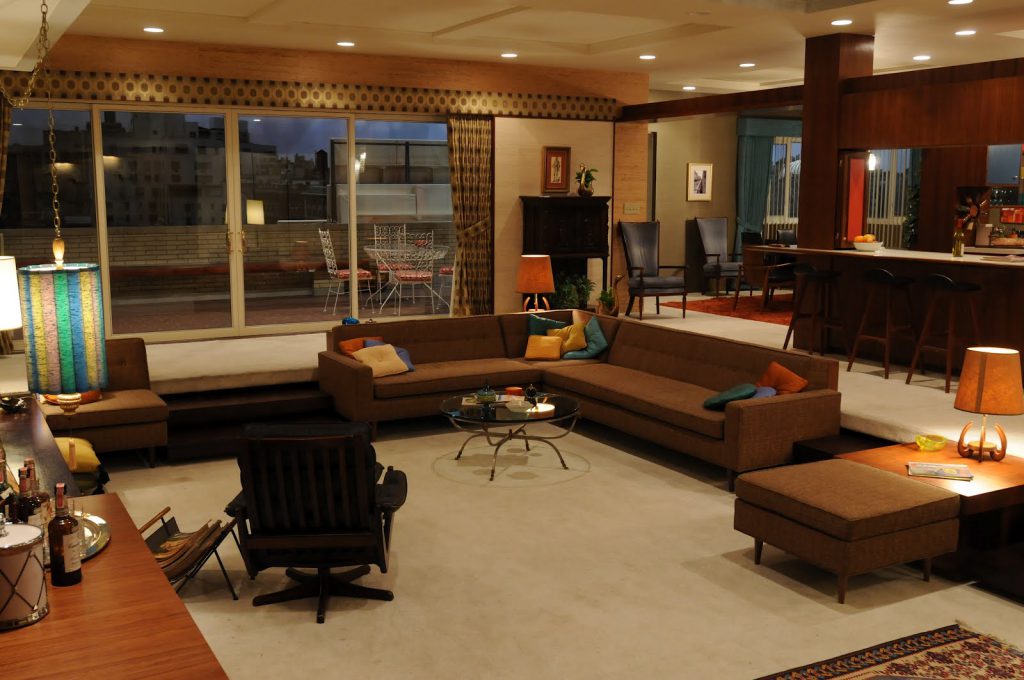 The period sets, bold costumes, and rich colours on the show are visually captivating, and although it takes place in 1960's New York, it still lends plenty of interior inspiration for today's homes or office spaces as people began to realise that modern did not have to be cold and monochromatic, it could be warm and liveable like those interiors seen in Mad Men. From the furnishings, colour and pattern choice to the décor seen in the show you can easily add a touch of 1960's glamour to your interior suggests Didul-Mann. "Colours change the times" she says, referencing how she began to dress the sets in burnt orange, avocados, golds, browns, and earth tones as the years approach the 1970's.
Throughout the show Didul-Mann made sure her furniture choices evolved and changed to chart the shift in story lines and timeline of the show since she started in season 4 when it was 1964, so She integrated Herman Miller's mid-century, modern, bright, aesthetic design pieces into the later seasons to visually capture the shift in design, colour and aesthetic tastes of the late 1960's and captures the shift in the gender politics as the show moves from the 60's into the early 70's (below: An example of the colour shift, Mad Men's bright, modern reception area in season 7.)
For the new West Coast office of Sterling Cooper & Partners, Didul-Mann used Danish and American modern furniture with more traditional lighting and curtains. Contemporary artwork on the walls were found on Etsy, and referenced the graphic design of the era. In the late '60s, clean minimalism gave way to a little more flash, with lucite, chrome, and glass materials taking centre stage in homes and offices.
The most influential designer behind this new era was Milo Baughman, who's fantastic streamlined, classic, statement pieces add a sense of glamour, without taking away from the rest of a room's clean and contemporary look. He maximized drama by using striking combinations of glass, sumptuous burled wood, chrome and contemporary textiles or glossy white lacquer. He once famously said, "I'm much more interested in the atmosphere of a space than in design as such."
For Ted Claoudagh's East Coast office the wallpaper and a hanging fabric panel inspired by Op Art, and according to Didul-Mann the furniture includes what may be an early Milo Baughman sofa and blue Milo Baughman chairs with casters whilst the coffee table is a Brazilian design by Percival Lafer.
"Looking at old House Beautiful magazines, 1967 had a lot of Lucite, blown up plaster pillows and chrome, so I introduced a Milo Baughman furniture and added a chair into Roger's new office later on in season 7." Didul-Mann says referencing Mad Men's seventh and final season set styling that pushes the show into a new chapter of Mid-Century design.
Notably in Mad Men chairs are used as a sign of power and chart the change in time period throughout the show, The iconic Herman Miller 'Eames Time-Life chair' used on set has also signifies change, from using black and off-white models to caramel models in the later seasons signal the change in trends and the time-period shift in the show. Below, Account man Pete Campbell is seen in an iconic Eames Time-Life chair used throughout the show.
When coming up with the various office designs on set, Didul-Mann referenced her visits to her father's mid-town Manhattan Advertising office and architectural books from the late 1950's as reference points, "a lot of them had Eames and Knoll furniture, it was mass produced and very commercial for the time" she states. Although Didul-Mann's time on the show only covers from 1964 leading up to the early 1970's , the changes in design are palpable and are accurate to the time periods portrayed.
Like Don Draper's now iconic office design that signifies the changes in design trend during the Mad Men period, his Eames Aluminum Group Management Chair below showcases the popular commercial office aesthetic of the 1960's and early 70's.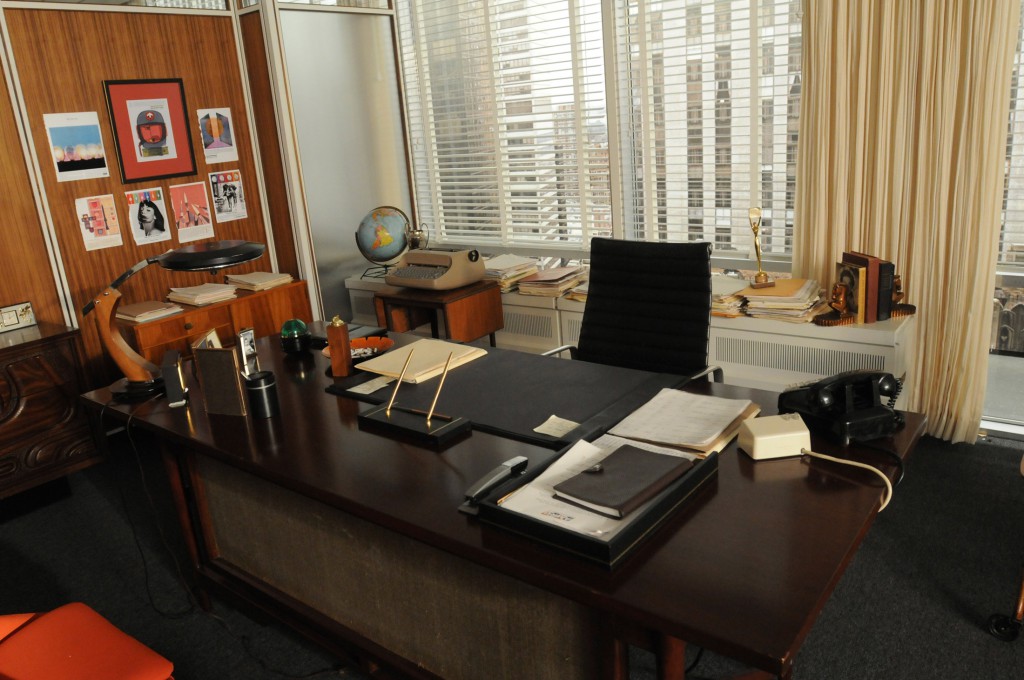 Many high street retailers such as Made.com and Room & Board have also incorporated mid-century, modern, 1960's inspired design pieces into their interior collections. You could try hunting down a vintage, original piece of furniture on Ebay or a specialist online retailer like Funky Junky. Or find a great replica, and more affordable version on the high street to recreate your own 1960's inspired design scheme.
For a subtle nod to the sixties, Didul-Mann suggests incorporating pattern into your design scheme by buying a roll of the colourful, geometrically patterned wallpaper by Alexander Girard or a similar print to when he was at Herman Miller. "If you can't put it up in your office, you could frame it and hang it like a picture," she suggests, or re-upholster a vintage chair in a bright, 60's fabric.
Didul-Mann also suggests to inject a pop of colour, or just a 1960's subtle accent you could pick up a lamp base Ikea and top it with a custom shade made out of vintage 1960's fabric, burlap or silk, from Etsy.com which is a good source for vintage fabrics, "the light is so amazing through the fabric," she explains, referencing a technique used on set to replicate bespoke 1960's style lighting affordably.
However it is not just the furniture that has made the award winning set design such a success, Didul-Mann's obsessive attention to period detail was amplified working alongside creator Matthew Weiner who was equally as concerned with the period authenticity. "Matthew loves clutter, it is one of his pet peeves to not have enough stuff in there. We put so much stuff in the office, books, paper, cups and pencils…and so on- it just disappears into the set!" Didul-Mann says discussing her working with Mad Men creator Matthew Weiner.
Together, they were meticulous in ensuring each piece on set, or costume choice played a key storytelling role in the show, "All the clutter you see reflects the characters… it's just as important for me to show a character's open desk drawer with a half roll of Life Savers, with the paper rolled back, as it is to find the perfect dining table." Weiner states.
When it came to painstakingly recreating the Mad Men era each piece on screen plays a key storytelling role in the show, even staplers and tape dispensers with sexy vintage curves in turquoise and olive green; fountain pens, picture frames, pencil sharpeners, and tin pencil holders were each individually sourced to make sure they fit in with the 1960's aesthetic and the characters in the show. "When the set is dressed you can breathe a bit… but sometimes there's that oh my god we found this piece" Didul-Mann says, "the hunt excites me." she continues.
(seen below a desk complete with authentic, vintage sourced stationary props.)
Above is an example of Don Draper's desk complete with an orange dinette chairs from Amsterdam Modern in L.A, a vintage ash trash to mash out his Lucky Strikes, picture frames and clock which were all sourced from antique shops and independent antique sellers. Larger items such as the chair, Don's vintage IBM Selectric typewriter, or the RCA stereo could also be used as stand alone inspiration in your Mad Men themed interior, displayed as a statement piece or display prop items on your desk or in a shelving unit to really draw the eye.
Famed for their liquid lunches, one essential piece on the Mad Men set was the drinks bar cart, complete with top-shelf liquor. Silver rimmed rocks glassware by Dorothy Thorpe were also used to dress Don's glass topped, Italian-made bar cart, that was specifically picked for its higher than usual design so that the 6'2″ Jon Hamm didn't have to bend down to use it. AMC donated Don's cart to the Smithsonian's Museum of American History in a ceremony on March 27 along with more than 50 other props from the set.
To buy your own drinks cart Didul-Mann suggests Vintage Etsy to find an authentic, vintage model, "Just put 'mid-century' or 'Mad Men' into the search box," she says. But before you invest in expensive, authentic pieces from the era, "take your time… it's ok to slowly build something, to live in the design before investing thousands that you may regret in a few years" Didul-Mann suggests.
So as the iconic Mad Men draws to a close, we wondered if we could expect a spin off, or prequel to happen? "I love that this is it. If people are left wanting more, then you did your job right." Matt Weiner says reflecting back on the masterpiece he successfully launched back in 2006, but sadly confirms there will be no Mad Men spin-off. We hope you have enjoyed our look back on the 'Mad Men' inspired interior design trend that has created a love of all things 1960's.
We bid a sad goodbye to one of of the most popular shows in TV history, and hope it has inspired you to add a 1960's sense of glamour to your interior in honour of the 'Mad Men' era.
Images:
Courtesy of Herman Miller. http://www.hermanmiller.co.uk/. Accessed 19.05.15.
Don Draper's office from seasons 4-6 of Mad Men recreated for "Matthew Weiner's Mad Men" at the Museum of the Moving Image in New York. Photographer: Thanassi Karageorgiou/Museum of the Moving Image via Bloomberg. Accessed 20/05/15.
Don Draper (played by Jon Hamm) stretches out on his mid-century modern sofa between a pair of blue glazed ceramic lamps—the most expensive props bought outright. Photographer: Jamie Trueblood/AMC via
Bloomberg.http://www.bloomberg.com/. Accessed 19.05.15.
Set Design Desk Props via . Accessed 20.05.15.
Don Draper's desk Mad Men Set Design Source: AMC via Bloomberg. Accessed 21.05.15.
Quotes and References:
http://www.1stdibs.com/introspective/spotlight_on_design/claudette_didul/. Accessed 19.05.15
http://www.fastcodesign.com/3029186/mad-mens-secret-weapon-herman-miller. Accessed 19.05.15
http://www.interiordesign.net/projects/detail/2343-welcome-to-1969-mad-mens-award-winning-set-design/. Accessed 20.05.15
http://www.huffingtonpost.com/2013/04/04/mad-men-decor-pinterest-accounts_n_3007032.html. Accessed 19.05.15
http://www.housetohome.co.uk/articles/which-mad-men-character-s-style-would-you-steal_532816.html. Accessed 20.05.15
. Accessed 20.05.15
https://flavorwire.com/297522/a-swinging-60s-design-guide-inspired-by-season-5-of-mad-men/view-all/ Accessed 20.05.15.
http://www.hermanmiller.com/why/irving-harper-the-mediums-beyond-the-message.html. Accessed 19.05.15
http://www.usatoday.com/story/life/tv/columnist/2015/05/17/mad-men-finale-review/27483903/ Accessed 19.05.15.
http://www.apartmenttherapy.com/mad-men-style-at-home-bring-on-season-5-168165. Accessed 20.05.15.
http://www.latimes.com/home/la-lh-mad-men-season-7-sets-photos-photogallery.html. Accessed 18.05.15
http://www.elledecor.com/celebrity-style/a2129/mad-mens-seductive-spaces-a-59397/. Accessed 18.05.15
http://www.telegraph.co.uk/lifestyle/interiors/8118034/Interiors-Get-the-Mad-Men-look.html. Accessed 19.05.15.
http://sissydude.com/2014/05/27/sissydude-loves-great-shots-of-the-awesome-set-design-for-mad-men-via-interior-design/. Accessed 19.05.15.
http://hotpads.com/blog/2015/03/mad-mens-midcentury-modern-set-design/. Accessed 19.05.15
http://www.tvinsider.com/article/906/mad-men-oral-history/. Accessed 19.05.15
http://www.tvinsider.com/article/858/mad-men-museum-of-the-moving-image-exhibit/. Accessed 20.05.15
http://www.seattletimes.com/business/real-estate/so-you-want-to-re-create-mad-men-style-at-home/. Accessed 20.05.15.
http://curbed.com/tags/mad-men. Accessed 20.05.15 http://www.imdb.com/name/nm1980806/?ref_=tt_ov_wr. Accessed 20.05.15
http://www.1stdibs.com/introspective/spotlight_on_design/claudette_didul/. Accessed 20.05.15
http://www.bloomberg.com/news/articles/2015-04-09/want-don-draper-s-office-from-mad-men-here-s-how-to-get-it. Accessed 20.05.15.
http://www.eamesoffice.com/blog/. Accessed 19.05.15
http://curbed.com/archives/2015/03/13/matthew-weiners-mad-men-museum-of-the-moving-image.php#more. Accessed 19.05.15.
http://www.fastcodesign.com/3029186/mad-mens-secret-weapon-herman-miller?partner=rss#1. Accessed 18.05.15.
http://www.gq.com/style/201404/homework-with-trnk-mad-mens-mid-centurystyle#slide=1. Accessed 19.05.15.
http://www.latimes.com/home/la-hm-mad-men-20150516-story.html. Accessed 20.05.15.
http://www.seattletimes.com/business/real-estate/so-you-want-to-re-create-mad-men-style-at-home/. Accessed 20.05.15
http://hotpads.com/blog/2015/03/mad-mens-midcentury-modern-set-design/. Accessed 20.05.15.