The kitchen is the main domestic space within the home and is visited and used by most members of the family. As a space, it often incorporates a dining area and possibly a utility room as well as being the space where the family will meet and where friends will gather. The many roles that the kitchen has to fulfil requires flexibility in function and illumination, which can only be achieved through careful and precise planning. The layout and design of the kitchen will affect the way in which the space is accessed and used, and the important integration of functional requirements is necessary in order to create a pleasant space in which to work. In this latest blog post, we take a closer look at kitchen interior design, as well as some of the best practical uses of the kitchen space.
Kitchen interior design: initial considerations
Before looking into different design layouts of kitchen spaces, it is important to first identify the main considerations of how the kitchen will be used and by whom, and also if you have any particular requirements for the space.
Whilst considering these requirements, it is also important to acknowledge that the basic layout of the kitchen may last considerably longer than the present occupants, and therefore the design should not be so individual that it could in later years, devalue the property.
The questions which you should form in your mind before designing your kitchen space, are:
How many people will the kitchen be used by on a regular basis?
Will a breakfast bar be included to provide a less formal dining area?
Is a more compact layout preferred, or is open-plan preferable?
How much storage will you require? (This will also determine the overall layout, as noted above, being more compact or open-plan)
What are your shopping habits? A large once-monthly food shop will require a larger amount of immediate storage, compared to a weekly shop.
What are your cooking habits? If you are quite adventurous with the cuisines your cook, then you may require more storage and different types of cooking stations – rice steamers, woks, rotisserie, grills, teppanyaki etc.
Best kitchen layouts
Any kitchen layout will be determined by two factors: the size and shape of the space, and the placement of work areas within the room. In order to produce an effective working environment, the initial design of a kitchen should be planned around the work triangle, which connects the relationship between the fridge, the sink and the cooker.
The basic work triangle should follow these guidelines:
Ideally, no one side of the triangle should be greater than 3m or less than 1.5m. This may be challenging in smaller kitchens
The triangle should not be interrupted by traffic or cabinetry
The perimeter of the triangle should measure no more than eight metres and no less than four metres
With kitchens of all different shapes and sizes, the below images show how the basic kitchen triangle can be implemented.
In-line layout:
Although not really a triangle, this layout works well because there is ample counter space between each appliance. Separate wall ovens do not need to be within the work triangle as they are not typically used as often as the sink, fridge and hob.
Corridor/Gallery:
Corridor designs are extremely efficient because you can move around the entire kitchen in just a few steps. By positioning appliances on both walls of a gallery kitchen, you can establish a good work triangle. The main drawback to this layout is that the central aisle can easily become congested within work zones.
Peninsula:
A peninsula offers an open design that incorporates the kitchen and dining room. Its layout allows the inclusion of social space such as a breakfast bar where people can sit and interact with the cook. This arrangement, in essence, provides the same triangle as the Corridor/Galley.
L-shaped:
The L-shaped kitchen is one of the most popular. Its work triangle is uninterrupted by traffic and there is ample room for appliances. Also, by lengthening the leg of the "L", you can create even more storage and counter space. The addition of an island is the ideal arrangement for an open family kitchen as it connects the spaces together.
U-shaped:
The U-shaped kitchen is considered by many to be the most efficient layout, with storage, countertops and appliances surrounding you on three sides. This saves a lot of steps, and if the 'U' is big enough, you can add an island work station in the middle.
Island unit:
An island unit kitchen layout is not as effective and efficient as many of the more common layouts, but it does provide ample countertop space on which to work. The walking distance between points can also be longer than that of a more conventional layout, but this depends on the shape of the island.
Kitchen styles:
Contemporary, traditional, rustic, farmhouse, or an eclectic mix; whatever your style, kitchen designs are so versatile and what can be implemented now, whether colour or material-wise, is a far cry from the mdf and vinyl coverings of yester-year. Below we, profile some of the best kitchen designs of 'deVOL'; the 2016 Homes and Gardens 'Kitchen Designer of the Year' award.
Arts and Crafts style – deVOL:
"This beautiful Arts and Crafts house built in 1887 was impressive, high ceilings, beautiful big spacious rooms full of light and original wood panelling. The owners found this new spot for the kitchen and it was like walking into a very cool restaurant or old school dining hall. Big double doors and leather club chairs for relaxing in the sun, a skinny long refectory table with an assortment of old school chairs and benches looked just the part. A bank of four of our pantry cupboards, sat against the back wall, they are big deep cupboards, housing a full height fridge and freezer and two pantries, yet in this kitchen they were quietly understated and perfectly proportioned". (deVOL, 2016)
Shaker style – deVOL:
"Nestled in a pretty town on the River Thames in Oxfordshire, this simple Shaker kitchen felt so tranquil and calm. The long cooker run featured a dishwasher, a big Mercury range cooker and a mixture of pan drawers and open and closed base cupboards, providing plenty of storage whilst still allowing this family to display their lovely collections of crockery and glassware. The choice of sleek white quartz worktops, a beautifully soft bespoke paint colour and deVOL's 'Pewter' hardware was so spot on and added to the uncomplicated and cool feel of this Shaker kitchen". (deVOL, 2016)
Bohemian style – deVOL:
"If luxe and bohemian can be used together, then it is the perfect description for the Peckham Rye Classic Kitchen. A crazy mix of beautiful bespoke cupboards, ugly marble, collections of stunning art and pottery, this kitchen is already making a stir with our customers and the media. The paint on the cupboards is a cross between emerald and racing green, a great contrast to the deVOL brass door furniture, it is quite a change from the soft muted colours our customers usually choose, but it creates a fabulously dramatic and atmospheric kitchen". (deVOL, 2016)
Contemporary style – deVOL:
"The 'Sebastian Cox' Kitchen just keeps on delighting us with its classic simplicity and the ease with which it seems to fit perfectly into any room. This galley kitchen in a meticulously renovated 4 storey Georgian townhouse in central London was understated, neat and well-arranged with just a little hint of quirky. The cupboards are really substantial yet elegant, they are solid and beautifully made inside and out, but the overriding beauty is in the texture of the band sawn English Beech. The sash window at the end of the room allowed light to fill the kitchen and highlight both the textures of the wood, the smooth honed marble and the little glints of copper". (deVOL, 2016)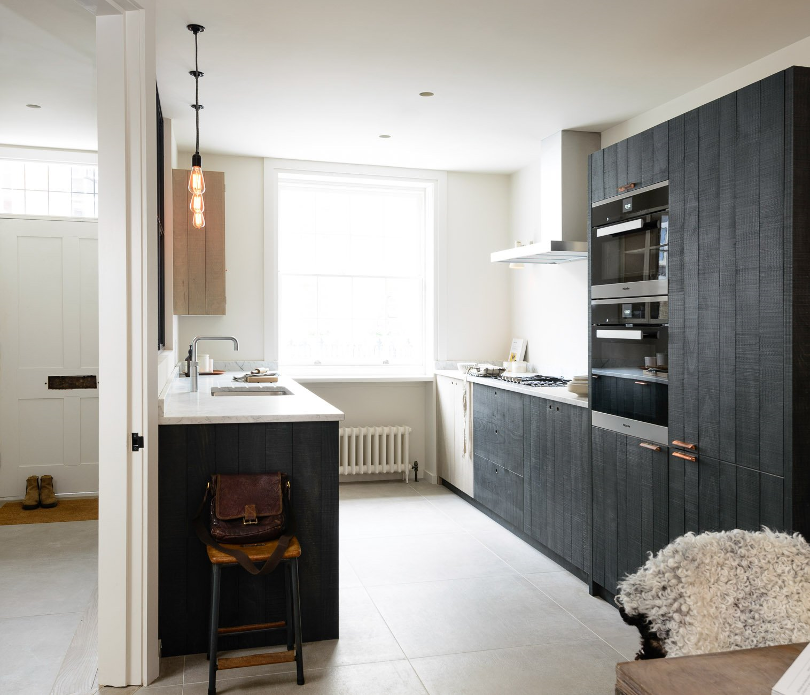 There are kitchen designs to suit everyone; whether it is something more bespoke like the 'deVOL' kitchens profiled here, something more affordable, something unique, an eclectic combination or something a little more d.i.y. However, a new kitchen is a big investment both in time and money, so you want to make sure you are creating a space that will be both functional and aesthetically pleasing. Make sure to research thoroughly beforehand, but don't let that stop you being creative in your kitchen design.
References:
Archiproducts (2016) Peninsula kitchen [Online Image]. Available from: http://www.archiproducts.com/en/products/242909/domina-kitchen-with-peninsula-without-handles-domina-kitchen-with-peninsula-aster-cucine.html Accessed: 20.12.16
Decorpad (2014) Gallery kitchen [Online Image]. Available from: https://www.decorpad.com/designers/Mark-Hampton-LLC Accessed: 20.12.16
Devol (2016) Arts and Crafts kitchen [Online Image]. Available from: https://www.devolkitchens.co.uk/kitchens/shaker-kitchens/arts-and-crafts-kent Accessed: 20.12.16
Devol (2016) Bohemian style kitchen [Online Image]. Available from: Accessed: 20.12.16
Devol (2016) Contemporary style kitchen [Online Image]. Available from: https://www.devolkitchens.co.uk/kitchens/sebastian-cox-kitchen-by-devol Accessed: 20.12.16
Devol (2016) Shaker style kitchen [Online Image]. Available from: https://www.devolkitchens.co.uk/kitchens/shaker-kitchen/henley-thames-kitchen Accessed: 20.12.16
Indesigns (2013) L-shaped kitchen [Online Image]. Available from: Accessed: 20.12.16
Magnet (2016) U-shaped kitchen [Online Image]. Available from: http://www.magnet.co.uk/advice-inspiration/blog/2016/march/how-to-design-a-u-shaped-kitchen/ Accessed: 20.12.16
Sheraton (2016) In-Line Gloss Grey [Online Image]. Available from: http://www.sheratonkitchens.co.uk/kitchens/in-line-gloss-grey Accessed: 20.12.16
Workdon (2014) Kitchen island [Online Image]. Available from: Accessed: 20.12.16