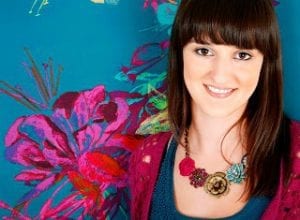 Laura Olivia, never dreamt that one day she'd be supplying her designs to manufacturers all over the world, as well as being selected by Jethro Macey for this years New Designers "One Year On" event in London.
Her colourful designs started off as watercolours, sketches and photographic images inspired by nature. Laura combines digital technology and embroidery to create bright, colourful designs, perfect to lift any mood.
In an interview, Laura talks about her journey from being a textile design student to now owning her own brand and how other people can go about starting their own business.
You studied Textile Design at Nottingham Trent University, did you ever expect to one day launch your own label?
In a word, never! At university we looked at so many options such as buying, visual merchandising, working for someone else in print/embroidery design, and although freelance work was explored, I never thought about having my own product range as well. It is only in the last few years that things have evolved in to the Laura Olivia brand!
Your designs are very bright and colourful with rich fuchsia's and peacock blue's, why have you chosen this colour palette?


As my designs are aimed very much at the home, I don't tend to work too much towards trends as not many people can afford to change their interior decoration every season. I wanted to create pieces that would offer striking and unusual colour palettes that could become a starting point for a design scheme, the initial inspiration, rather than just accessories bought in at the final stages.
Where does your inspiration for your designs come from and how long does it take to go from drawing board to fabric?
It may sound clichéd but my inspiration does mostly come from nature, but also from historical pattern archives, different cultures and from looking at what is happening in the interior design industry. If I am designing for my own collection I will take longer over the design as it will be used on many products over a long period of time. However, when I am working freelance it is not unusual to spend the morning drawing, and the afternoon working in CAD. Once the basics of the design are down it then needs to be worked in to a repeat structure so I would say between one and two days altogether.




How did you go about setting up your own business and what key advice would you give to those wanting to do the same?
It took me a long time to develop all my products to get them to a point where I could wholesale them as I always knew that I wanted to see them in the shops. The best thing I did was join 'Craft Central' which is a network that offers loads of business training, and through this I was given a mentor to guide me. I soon began to realise that I knew much more that I thought I did, and it gave me the confidence to just go for it. 
If you are setting up your own business you will be very surprised at how much support is out there, and I recommend the first thing you do is look for this. Make sure you network and find people who do similar products/services to you, especially if they have more experience from you, it's a quick way of learning what works and what doesn't!.
How do you make sure that you're always on top of the latest trends?
I work a few days a week as an interior designer in a retail showroom, meaning that I get to see all the latest designs in the wallpaper and fabric industry. My agent also sends me regular updates on new trends as it is their role to inform designers on new colour palettes, patterns and influences for the season ahead.
Can you describe your most challenging moment and you managed to overcome it?
Probably getting ready for my first exhibition, everybody says you are never prepared for your first one, and that was very true! I had to pull lots of favours and from friends and family and thank god it all came together in the end!
You've been chosen by Jethro Macey to exhibit your work at the New Designers event "One Year On", how does this make you feel?
This was my first goal of the year and I am so excited to be selected!  I've been wanting to do this exhibition for years and knew that I would only get one shot at it as you have to be in your first year of business. There were hundreds of people that applied so I'm thrilled that I got one of the forty places, and to be chosen by Jethro Macey is fantastic.
You were a former tutor at the National Design Academy in Nottingham, what three main pieces of advice did you give your students when helping them with their Interior Design projects?
Really explore lots of ideas at the beginning and make sure that you have a concept to your work, however broad, before you move on to anything else. The concept is what will inspire you and keep you going throughout the project, so make sure it is there!
Try to develop your own personal handwriting through your drawing skills, presentation and even branding. Even though you feel that you have little time to do anything other than your coursework, you must make time to work on key skills such as computer skills, presentation etc. I was always too busy to work on CAD at university and looking back, if I had done it from the start my work would have been so much better by the end.
If you could describe yourself in three words what would they be?
Imaginative, driven, complicated.
Where do you hope to see yourself in 12 months time?
I hope to be working for one of the best agents in the UK,  selling my products to more and more retailers, or to have been snapped up by a successful design studio!
If you would like to see more of Laura's designs or place contact her for orders, you can check out her website, www.lauraolivia.com
Well done Laura from all the NDA team!