Interior design is possibly one of the most important aspects of a horror film. In this blog, we will take a look at some of the most artistically acclaimed horror films in history. They're not always just about scaring you silly, some of them have artistic conviction and deserve respect from aspiring designers. Fear can teach us a lot about our emotional reactions to space, light and colour.
An Iconic Example
Do you remember these 'creepy' triangular windows? Number 112 Ocean Avenue, Amityville is one of the most well-known pieces of Dutch Colonial architecture in the world. The house is subject to many books and several film adaptations due to its significant history of tragedies and one very infamous paranormal haunting.
Amityville: The Awakening (2017)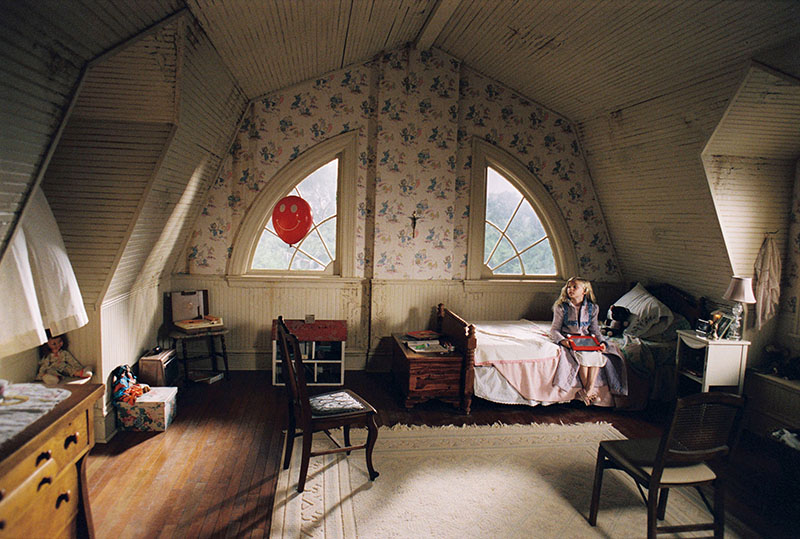 The Amityville Horror (2005)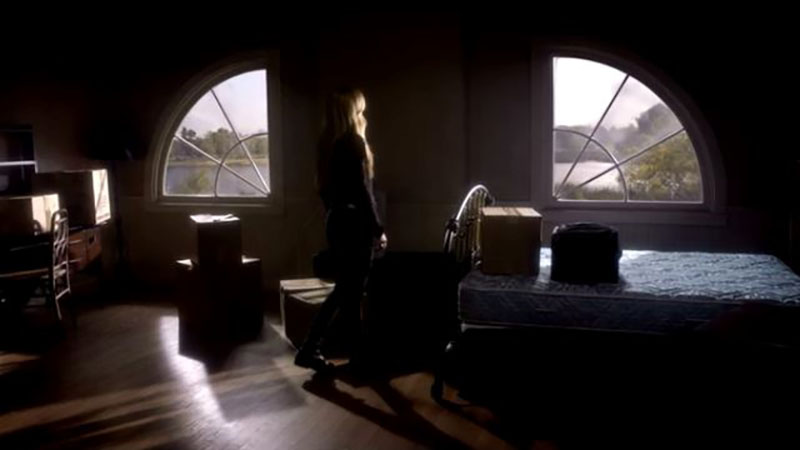 Amityville: The Awakening (2017)
It is widely thought that the story told by the Lutz family is what truly animated this otherwise generic building. In a way even, exhilarating this forgotten architectural style into the very foundations of modern horror films in America. The story is also responsible for creating one of the most iconic interior shots of all time, the symmetrical triangular windows featured on the original house (unfortunately the current owner replaced them to be square, but imagine living there).
The Unlikely Use of Colours and Patterns
Interior scenes in horror movies don't necessarily have to feature peeling wallpaper, old Victorian furniture or signs of abandonment. Talented film makers and directors have the ability to reflect the mood of their characters through the art of set design and clever use of colour.
For example, Stanley Kubrick's The Shining is famous for its use of colour and patterns to create an unsettling atmosphere and to disorientate the viewer with this continuous loop of hexagonal shapes.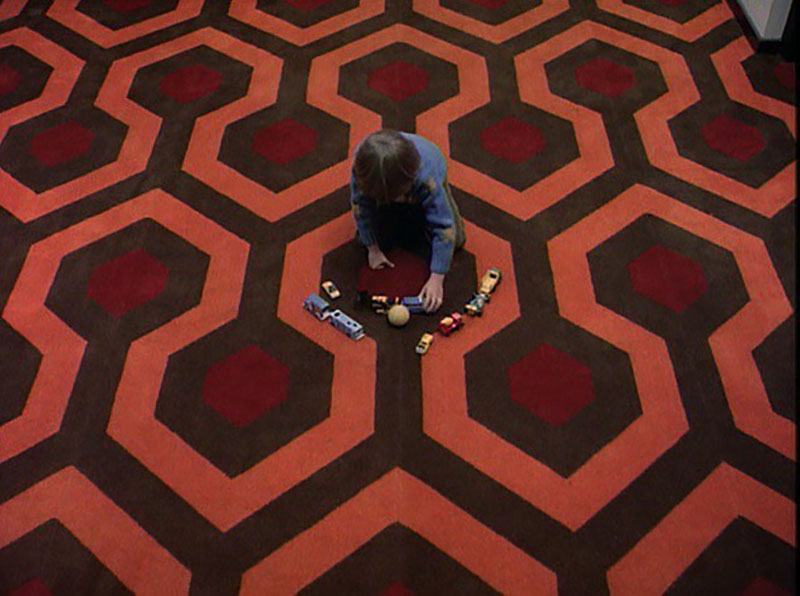 Danny plays with his toy cars on the iconic carpet. The Shining, Stanley Kubrick (1980)
Since Kubrick's use of it, the iconic pattern of this carpet has been used to portray unsettling scenes in many pieces of film and television. It is almost like subliminal messaging to make the viewer feel disoriented, as well as a nod to one of the most talented film makers of all time.
Perhaps one of the most obvious signs of horror film colour themes would be the heavy use of deep red, and Suspiria (1977) is one of the most aesthetically beautiful examples of this. The film, though extremely dark and disturbing, is known as having some of the best colour-based set design in horror history.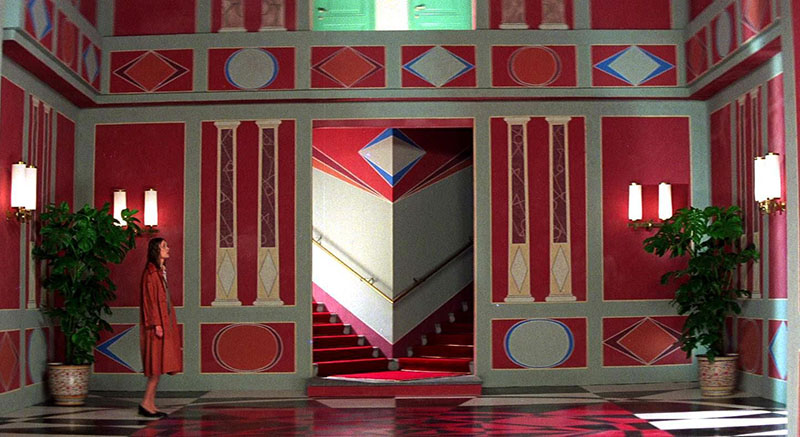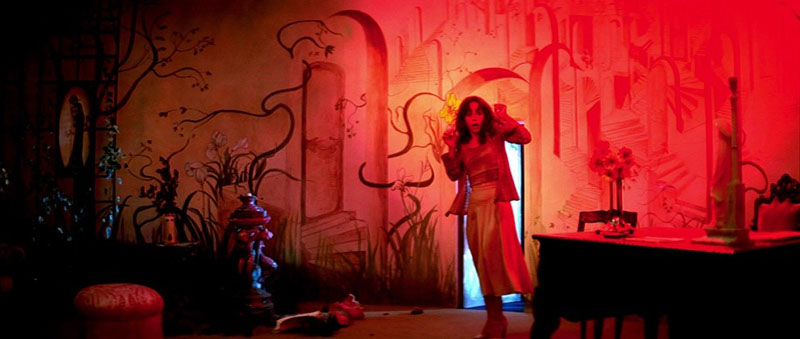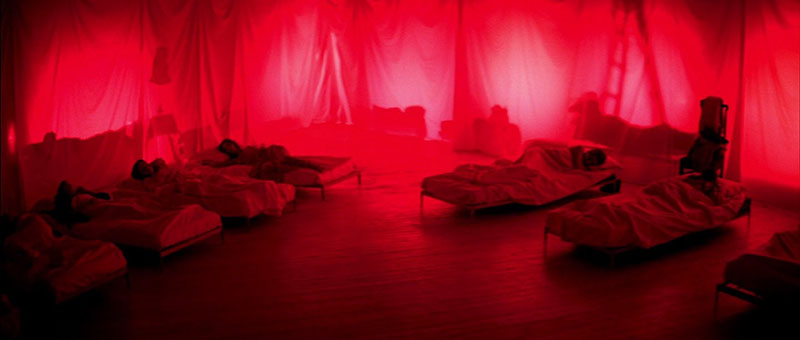 Suspiria (1977)
The 'Over the Top' Use of Decoration & Props vs. Emptiness
The Babadook is critically acclaimed for its use of familiarity. The scenes are set in the home of a widowed mother and her son who own many different children's toys, games and books. The shots are designed to leave the viewer scanning the screen to take in all of the interesting decorations in the house, such as the film's main focus, the haunted story book that summons a monster hiding in the shadows.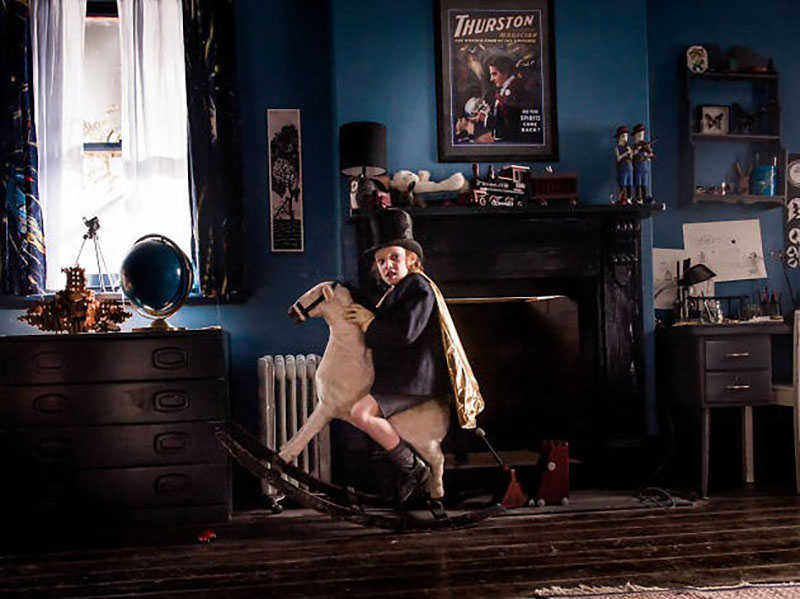 The Babadook, Directed by Jennifer Kent, 2014.
SPOILER ALERT! – Don't read the next paragraph if you want to watch Cabin in the Woods without spoiling the story!
Not unlike The Babadook, Cabin in the Wood's focuses on the many haunted objects in the house that if interacted with, will summon a monster depending on which object has been tampered with. This leaves the viewer terrified of the characters touching any of the antique furniture, paintings or other creepy household décor.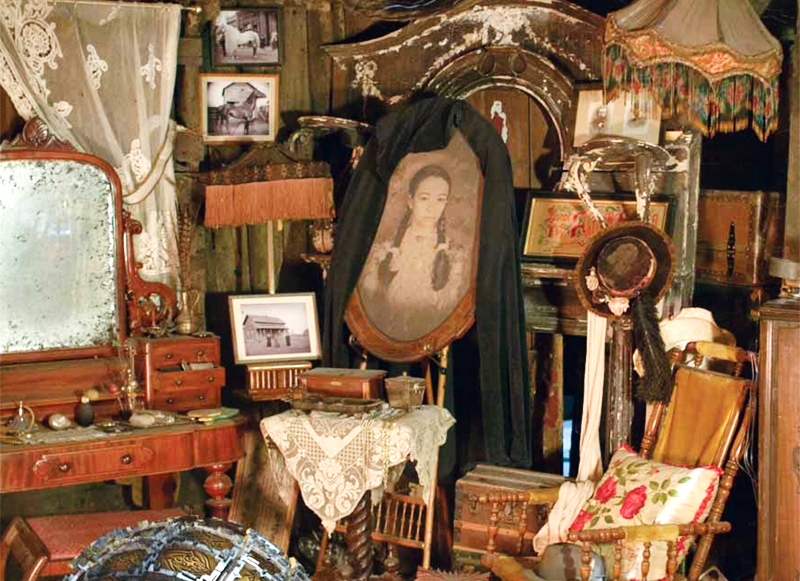 Cabin in the Woods, Directed by Drew Goddard, 2011.
One of The Ring's spookiest scenes doesn't necessarily feature any jumps or conventional horror tropes, but instead has Samara (the antagonist) sat in an empty interview room with clinical green lighting and shining tiled walls creating an intense, unsettling feeling of emptiness. This forces the viewer to confront the famous "young girl with long black hair" image without distraction.
By positioning a person or single piece of furniture, such as this creepy hospital wheelchair amongst a vast expanse of space and darkness with no decoration, Session 9 and many other horror films, make the viewer feel isolated. This is most prevalent in horror films about abandoned places.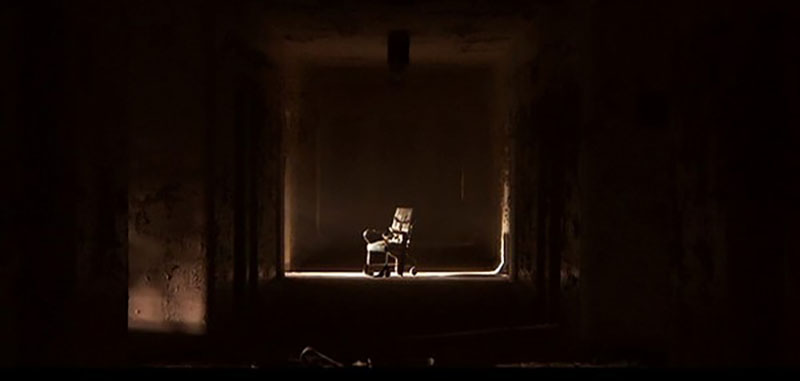 So, which set design element made you feel the most uneasy?
Thanks for reading and keep an eye out for the 4th volume of this blog series as we get closer and closer to Halloween 2017!
Recommendations:
Here's a list of my most recommended (and more artistic than scary!) tasteful and aesthetically inspiring horror films for artists and designers in Halloween 2017:
The Shining (1980) – Possibly the best horror film of all time, a dream to watch for those interested in interior design and architecture.
It Follows (2014) – Has won several awards with its very unique and original story line.
The Babadook (2014) – Emotional, deep and touching with inspiring interior shots.
Ex Machina (2015) – Not necessarily horror but science fiction, this film is filmed in the Juvet Landscape Hotel in Norway, a contemporary masterpiece.
Let the Right One In (2008) – Swedish film, lots of Scandinavian themes (be sure to watch the Swedish version!)
Suspiria (1977) – Incredible interior architecture and set design.
The Boy (2016) – An unsettling film about a baby sitter at a British mansion with a significant architectural twist.
Crimson Peak (2015) – Beautiful scenes of a historical Victorian mansion directed by award winning Guillermo del Toro.
Alien (1979) – A timeless science fiction horror with one of the strongest female leads in film history.
We Need to Talk about Kevin (2012) – A touching film about a mother and her difficult son. One of Tilda Swinton's greatest roles.
The Cabin in the Woods (2011) – Extremely clever writing and unexpectedly brilliant story.
Goodnight Mommy (2015) – A tale set in a German contemporary home. Twin sons start to suspect that their mother isn't who she says she is.
What we do in the Shadows (2014) – Hilarious comedy about vampires that includes many great interior gothic scenes. A must watch if you want a laugh!
The House of the Devil (2009) – Contemporary, free of clichés horror film set in a large mansion in Connecticut.