Returning to education as an adult can be a daunting task, especially when you have two small children. When Nawara Adra decided to pursue her passion for interiors and architecture she chose the National Design Academy Diploma in Professional Interior Design. The flexibility of distance learning appealed to Nawara, with her young family. She recently completed her Diploma and was awarded a progression scholarship onto the BA (Hons) Interior Design degree.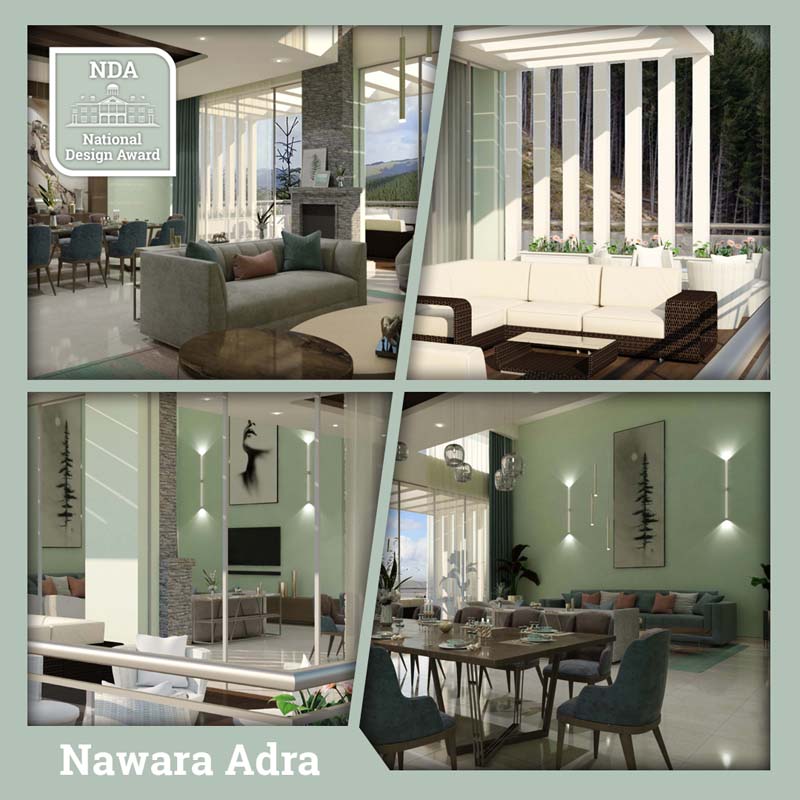 You may have seen Nawara's stunning renders on our Instagram feed as in addition to completing the first step towards her goal of becoming a world-leading interior designer, earlier this year. This is our annual competition, in collaboration with Dulux, to showcase the best student interior designers from across the world. 
We caught up with Nawara to find out how she found the course, where she finds her inspiration and her plans for the future.
What made you want to become an interior designer?
My passion for art and aesthetics drove me to study interior design as a science, to enhance my knowledge of how can a space be designed to fit us emotionally and to meet our needs practically.
I had an early interest in archeology and how people designed wall proportions, ceiling decorations, lighting effects, ornate doors, fancy tessellated floors, pillars, arches, corridors, and more of the architectural details that I could see as being more alive than just passive constructions.
At 30, as I started my 3D visualization journey at Al Khawarizmi College in Abu Dhabi, I had the freedom of exploring a diversity of design possibilities and I worked on various styles which developed my understanding of an interior space. I studied Software Architectural Programs which meant delving in practical details beyond the CGI and virtual imagery and I recognized how important the effect of design is on the dwellers and how wonderful the process of transforming their surrounding into a comfortable piece of art by means of the creativity and science of "interior design".
If you could describe your style in 3 words?
Peaceful: to create peace and comfort within an interior space is my priority
Practical: to complement the peace of the place with flexibility
Personalized: It's important to customize a space to meet each individual's personal needs
Who is your biggest inspiration?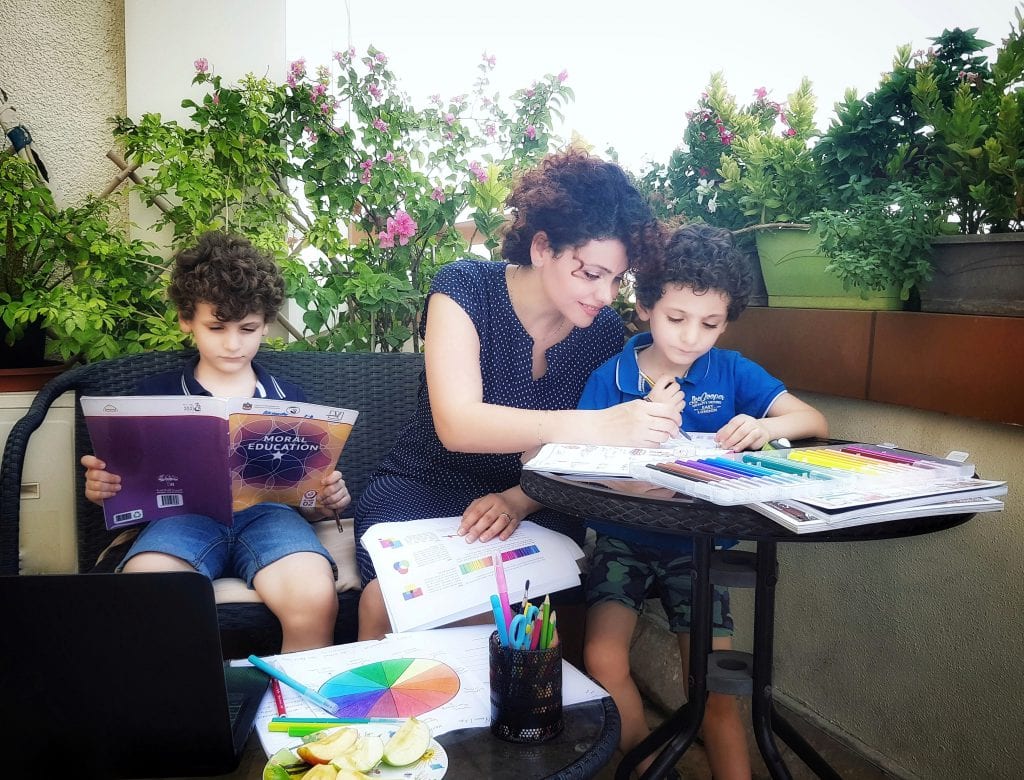 What keeps me inspired is my family environment. Zuhir Mahfoud, my husband, who is a civil engineer with a great passion for architecture, is always immersed in construction projects and his support has underpinned each of my steps in the interior design journey.
The fun part is that our two kids seem to have already started their career by drawing sections and elevations of rooms and buildings which gives me positive energy and enthusiasm to improve and advance in interior design.
I am impressed of the work of many interior designers and I like the work and success of Kelly Hoppen. I also like the work and style of Rebecca Robeson and her spectacular vibes.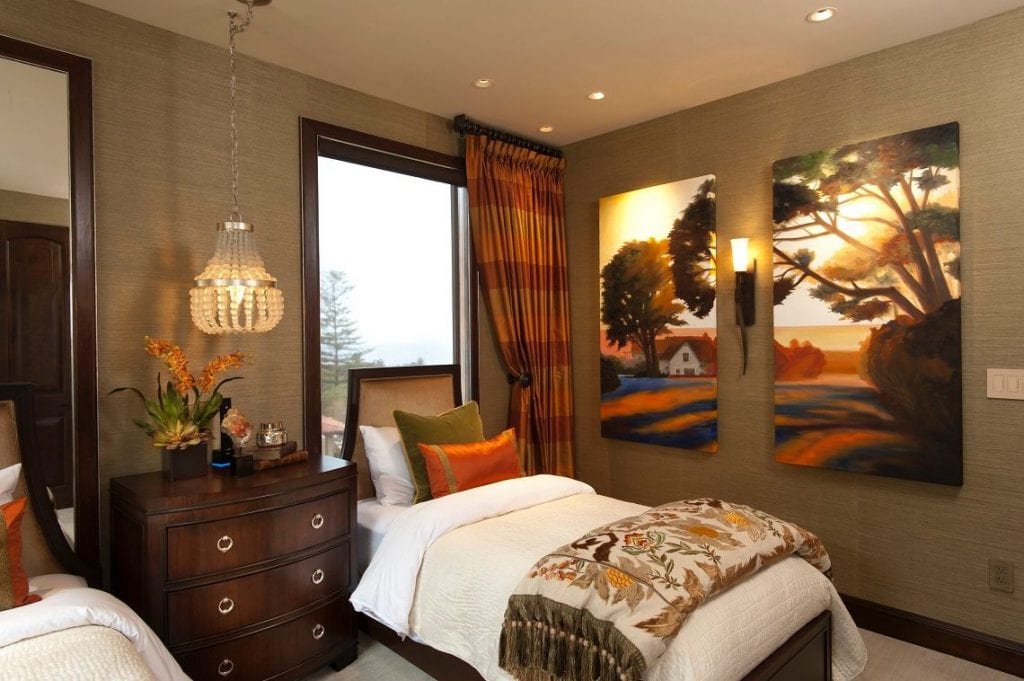 How did you find the Online Interior Design Diploma course?
The course was organized and I considered it to be rich shedding light on a great deal of topics. Resources were sufficient, clear, helpful, and they were updated frequently.
Moreover, the aspect of studying online was a great experience being around my family and having all my work done easily at my laptop without the need to go out worrying about who I left behind. All the resources I needed I found in the Resources and Gallery sections, and all my questions were answered clearly through the Virtual Learning Studio.
What was your favorite module of the course?
My favorite module in the Diploma was 'Lighting', it was really enjoyable. I enjoyed the lighting module because it tackled the fundamental aspect of lighting as an aesthetic appeal that magically transforms the mood and ambiance in the interior space. It was a rich module that dealt with lighting sources in terms of types, fixtures distributions, lighting plans, styles, and functions and how the designer is able to make the living space dynamic rather than flat and boring just by layering lighting sources that speak life to the interior design.
Who was your tutor and how was your communication with them?
My tutor was Caroline Walsh to whom I owe appreciation for her responsive support and detailed feedback throughout the course. The VLS Mail facility was a great was a great way to communicate with Caroline too as it meant that I could send an email and the time difference didn't matter.
Who would be your dream interior design client?
My dream interior design client can be anyone sharing my vision in design, mostly the contemporary style that suits the contemporary busy and rapid lifestyle we now lead. I would like to help as much as possible any client to get the most out of the often-small spaces they live in. Despite this, I would like to do more villas, duplex houses, and high-end residential projects.
You've just finished your Diploma. What's next?
Now I am confidently preparing for the next step which will be continuing with the BA in Interior Design along with my freelance work that I enjoy doing so much.
If you could give someone considering studying interior design any tips what would they be?
I advise people who are considering studying interior design to think deeply about their own style, research as much as possible, and generously enrich their assignments with information as if they are already a job for a client. Finally, enjoy the process!
Can you tell us about the 3 projects you're most proud of?
I can say it is just the start of my career. However, I am proud of what I have achieved so far especially of Villa E project that included the design of six bedrooms of different styles, sitting rooms, dining area, home office, reading room, a gym and many areas that can make a complete home.
I am also proud of Villa D for almost the same reasons since I enjoy working on wide open spaces and large rooms with generous natural lighting.
Another project I like is the Industrial Offices project distinguished with the usage of natural and raw elements of wood, concrete, and the plentiful use of plants. This project focuses on the notion of hot desking, open offices, relax areas, and greenery environment for more productive workflow.

Has Nawara's work inspired you to take the leap and study interior design?
Why not take a look at our courses. From Diplomas to Degrees, we offer a learning level to suit everyone.