Who doesn't like decorating for Christmas, but at this time of year, money can be tight for new decorations. But with a little imagination you can make the most wonderful decorations yourself. We share our favourite how-to ideas and inspirations to help inspire your to get DIY crafting this Christmas.
NDA's Crafting at Christmas: How-to Christmas Crafts
We could all take inspiration from how the Scandinavians decorate their homes at this time of the year. They are very much in touch with nature and love to bring natural foliage into the home, they would always have a real tree and they make great use of candles. But Christmas doesn't have to cost a lot, these key festive elements can be recreated on a budget. With some creativity, you can get crafting and make your own decorations this year.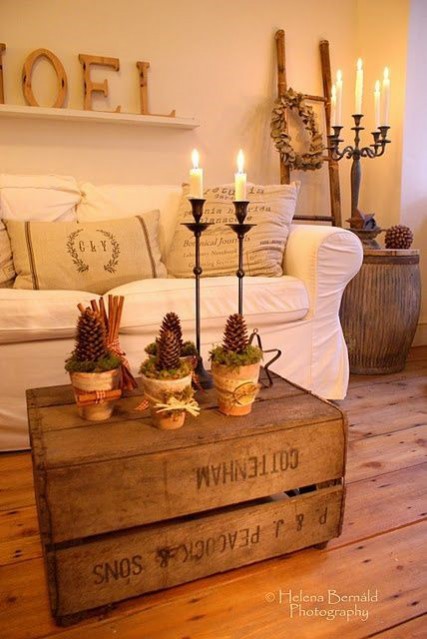 DIY Candleholders
If you don't already have candle holders or candelabras, old jam jars can be used to great effect decorated with white lace and snow covered pine cones, perfect for tea lights. Bottles decorated with small branches of pine secured with natural string make an impressive display for taller candles.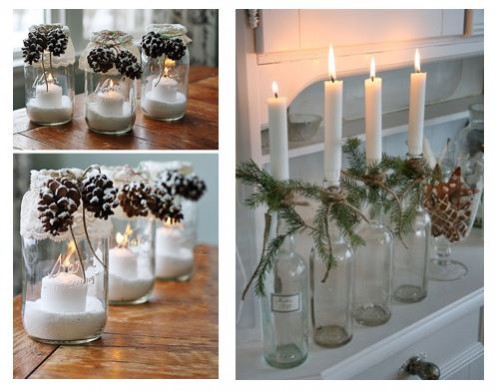 Or how about this idea, cover pillar candles with cinnamon sticks  secure to the candles with decorative ribbon and berries. This way you will get a wonderful cinnamon aroma as well as a display of different sized candles.

The Scent of Christmas
Christmas is all about the festive smell of pine cones, rich spices and wonderful Christmassy scents that waft through our interiors each year. But before you invest in expensive scented candles, get creative. It is possible to dry slices of orange that then can be form into a Christmas wreath like the one below, they have been layered with bay leaves and cinnamon sticks, then add a gingham bow ready for hanging.
Individual orange slices can also be hung from your Christmas tree with string, intersperse these with your tree decorations for a Christmassy aroma for all who pass it.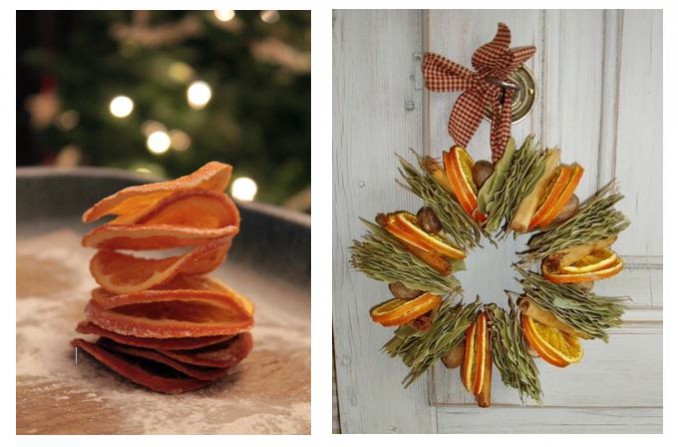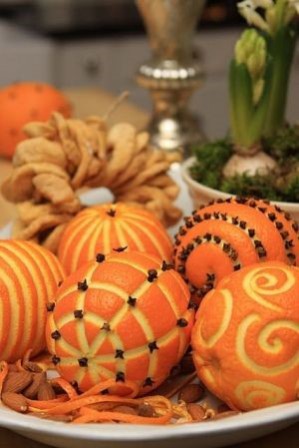 Along with the aroma of cinnamon, orange and cloves are another scent associated with Christmas. Orange and cinnamon pot pourri can be expensive to buy, but you can get the same aroma and an extra decoration by carving into oranges just under the skin then studding them with cloves.
Make your own Christmas Decorations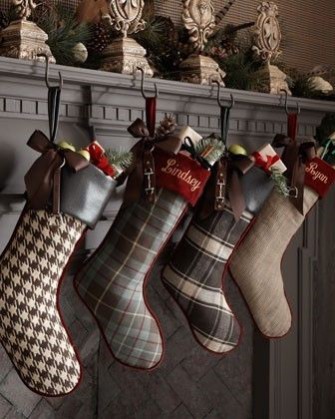 If you like sewing why not make all the family a stocking each, they can be made of any fabric you have spare and are really simple to make.
1) Cut out the stocking shape in fabric, the back can be a different fabric from the front.
2) Then it is only a matter of placing the wrong sides of the fabric together and machining round the shape, turn through to the right side and give it a good press.
3) Decorate with bows and any other trimmings you have, or add their initials for a personalised touch.
Simple! Everyone likes a stocking even the older generation and it shows you have gone to a little extra trouble instead of buying a generic one from the high street.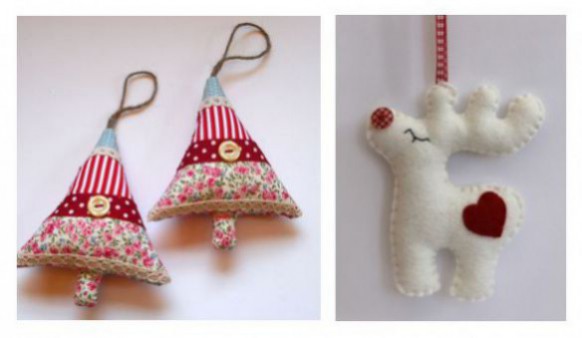 A great way to get older children involved, is by making simple felt animals like little Rudolf here:
1) Once the shape has been cut out go round the outer edge with a small running stitch, leaving a small area open to stuff with wadding.
2) Add a small button for a nose and stitch on a ribbon loop on to hang on the tree.
3) Simple triangles of fabric stitched together and padded make cute-looking, stylised Christmas trees with button and ribbon trims.
The same method can be used to make this very pretty heart wreath.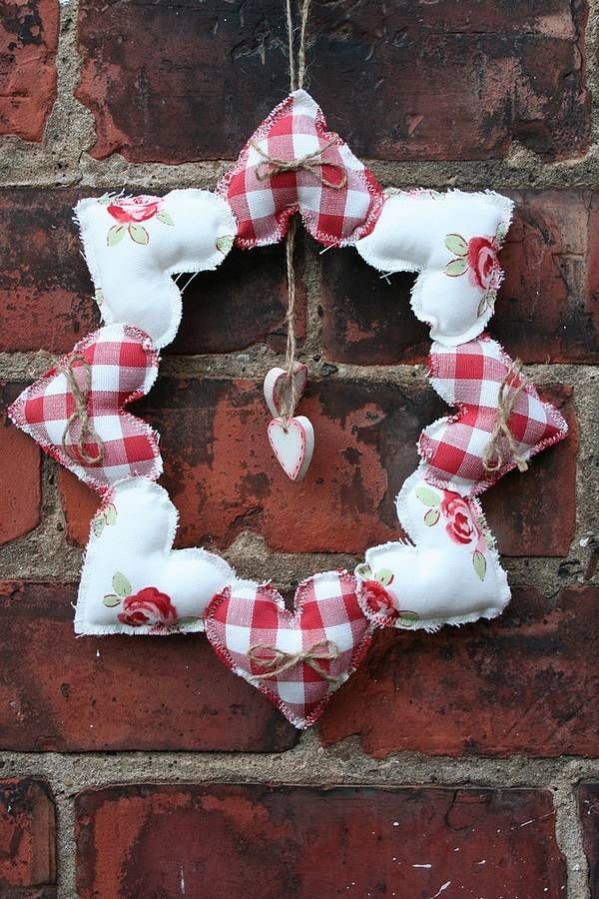 If you don't like to sew how about some paper craft, these angle wings are simple to make and look particularly affective using music score paper but would look just as good using Christmas paper or paper doilies.  Strips of stiff paper can make paper chains or paper hearts, another good activity for children.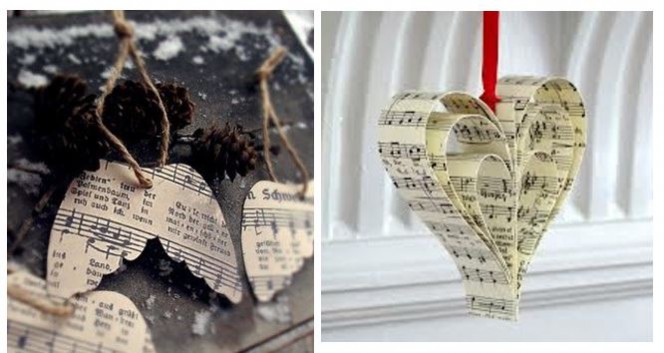 I hope that has given you some ideas to make an individual handmade Christmas, Happy Crafting.
Websites:
Redonline (2015) [online] Available from: http://www.Redonline.co.uk/ [Accessed 01.12.2015]
Nordic House(2015) [online] Available from: http://www.Nordichouse.co.uk/ [Accessed 29.11.2015]
Art Ekstrax (2015) [online] Available from: http://www.Art.ekstrax.com [Accessed 01.12.2015]
Indulgy (2015) [online] Available from: http://www.Indulgy.com [Accessed 02.12.2015]
Cook Quilt Make & Bake (2015) [online] Available from: http://www.Cookquiltmakeandbakewordpress.com [Accessed 02.12.2015]
The Kitchen (2015) [online] Available from: http://www.thekitchen.com.folksy.com.tenderblue.tumblr.com/[Accessed 29.11.2015]
Not on the highstreet (2015) [online] Available from: http://www.notonthehighstreet.com/[Accessed 29.11.2015]