This week's podcast was all about hotel design. Stephen, Amy and SJ discuss the future of hotels from a designer's point of view. What does your dream hotel look like? Have you ever been to a haunted hotel? How has the phenomenon that is Airbnb apparently bypassed SJ? All burning questions you can get the answers to by listening to 'An Evening at Claridges'. 
Listen to the podcast and scroll for the accompanying blog written by tutor SJ.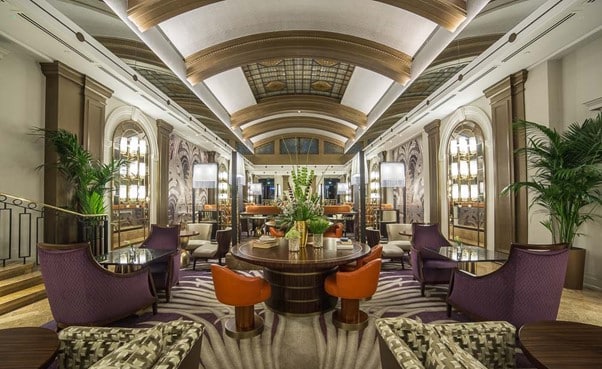 Hotel Design is one of the most dynamic areas of the Interior Design profession. There is literally something for everyone. Whether you select a hotel for a specific purpose such as reputation, indulgence, sustainable values, or even if you simply want the most reasonably priced hotel for your required destination, hotels can offer that 'next level' experience you are looking for. More often than not, the great hotels are ascribed to certain features, experiences, styles, and prestige that delves into a world of escapism full of panoramas, provocative beauty, environmental heroes, culinary visionaries, and so much more. In recent years, the rise of independent and boutique hotels has also proven to set a precedent for new Interior design products, concepts, and materials.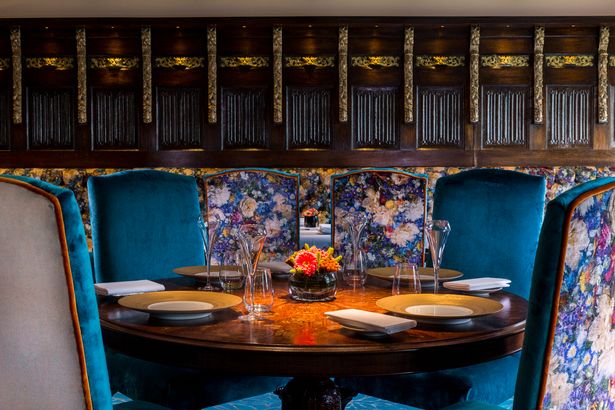 Many of the greatest hotels have popular and very ingeniously designed bars and restaurants that often serve different cuisines, styles, or gastronomic extravaganzas, such as the Sheraton Grand London Park Lane with an Italian and English restaurant, as well as a beautiful bar and lounge. Michelin Star restaurants are also commonly found in a hotel setting as a way to boost attraction to overnight guests and add an element of exclusivity whether you're a guest or not. 
Often some of the most indulgent hotels are the tallest buildings within the city skyline to provide the best views of a city, as an example, this view from a room at the Shangri-La -at The Shard in London is a great example.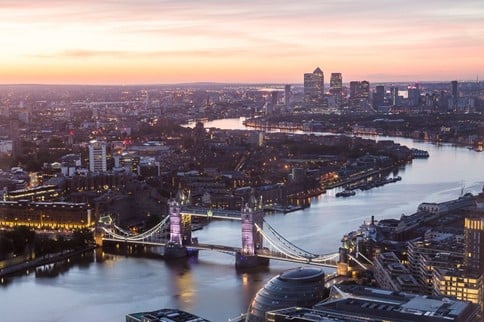 London has welcomed its latest boutique hotel, the Chateau Denmark. The hotel spans 16 distinctive buildings in and around Denmark Street Soho, which is a street often referred to as the birthplace of the British music scene and Rock n Roll history. The Chateau boasts a design by London-based practice Taylor Howes, imagining a time where "punk rock and vintage gothic meet modern psychedelia with a timeless grandeur".  
The new hotel brand comprises 55 'Session Rooms' and apartments each kitted out with a distinct style. This will include superior luxury, with gold-trimmed, graffitied beds, bold colours, and kitchenette maxi bars in the deluxe rooms. The apartments will be located in a collection of Grade II listed townhouses, a mews house and mansion buildings along Denmark Street.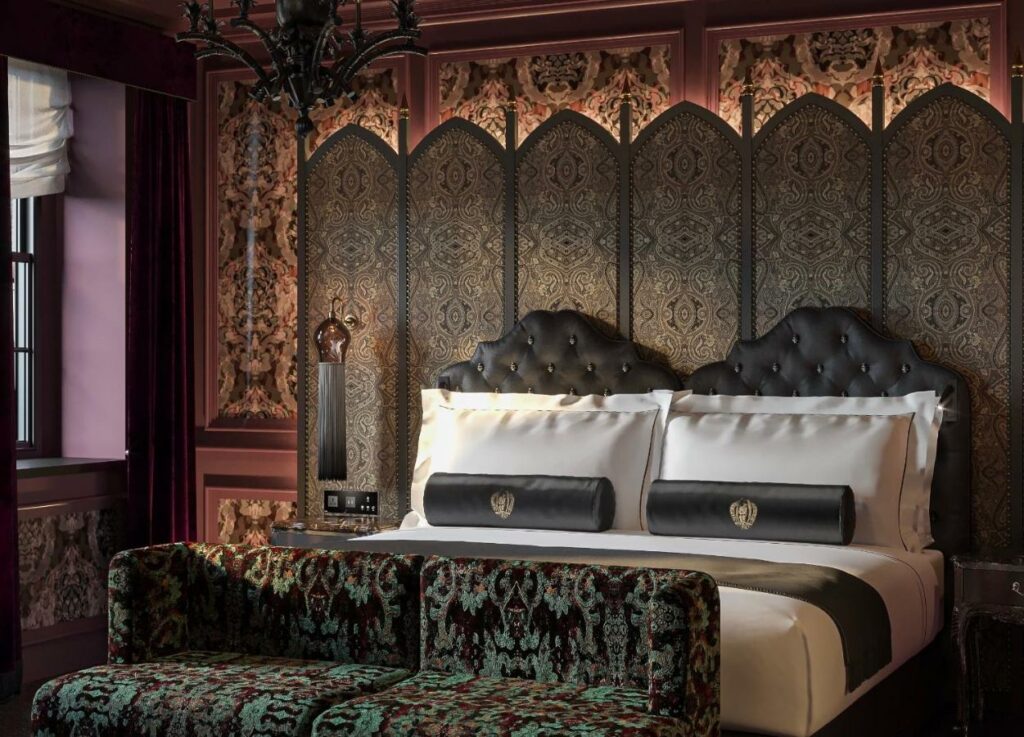 Chateau Denmark has a team of butlers, otherwise known as BTLR, as well as service-enhancing technology. The hotel will also have a collection of art, including paintings, sculpture, photography, and illustrations acting as a platform for London's creative talent, including Magnus Gjoen and Radek Husak. Room rates will start from £510 per night and apartments from £660.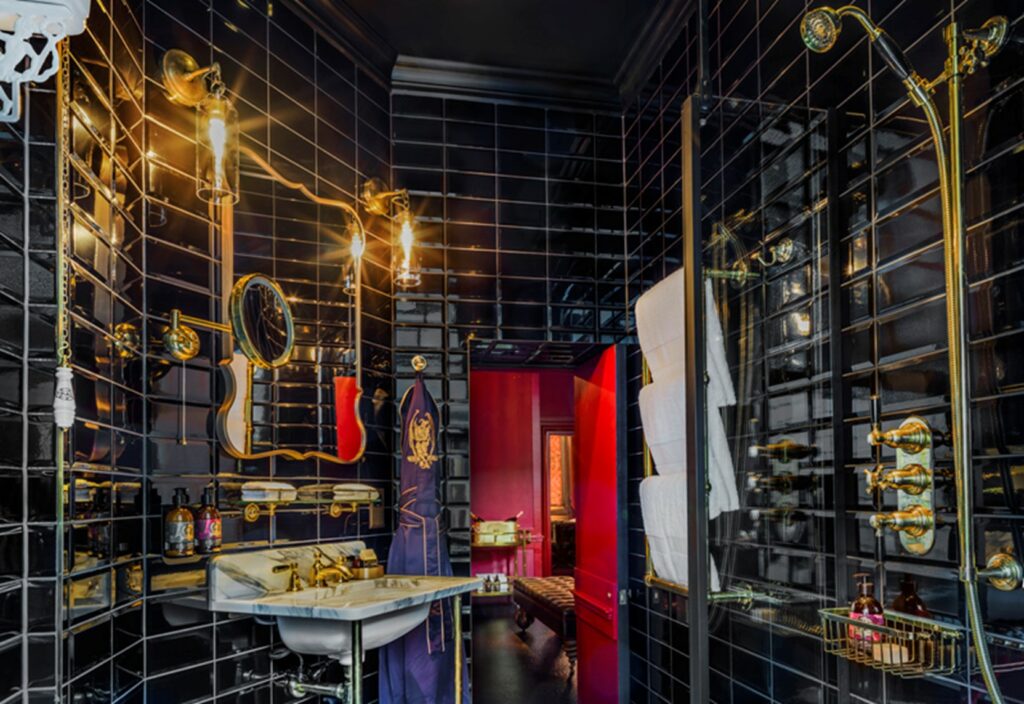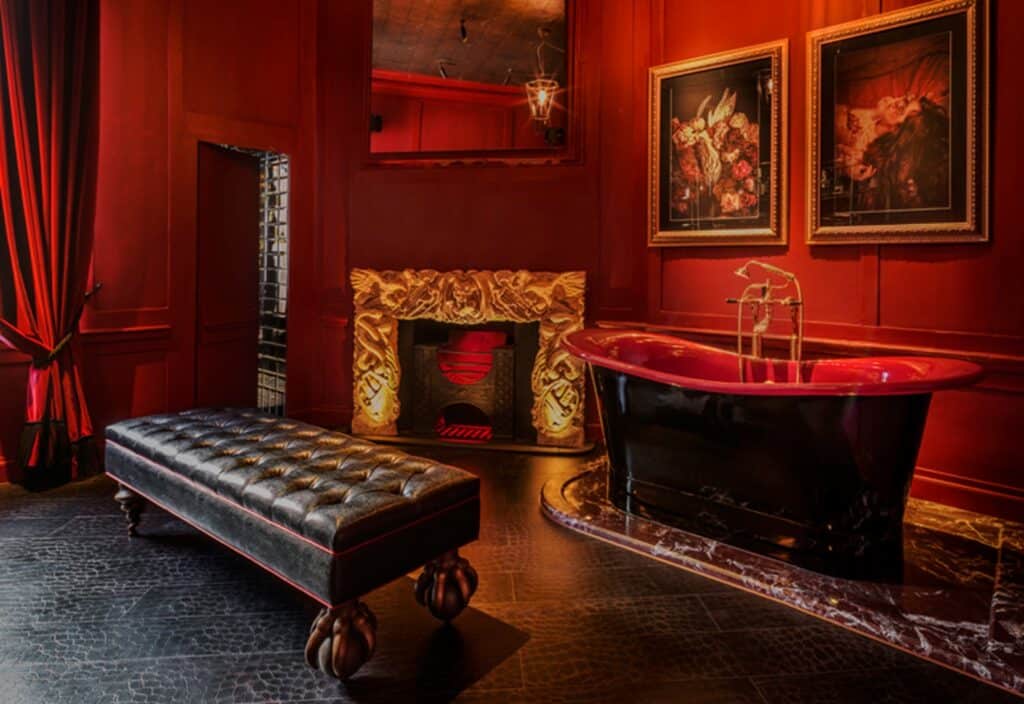 "Chateau Denmark brings together creative expression and fine architectural detail to present something fierce" Katherine Price, the caterer Feb 2022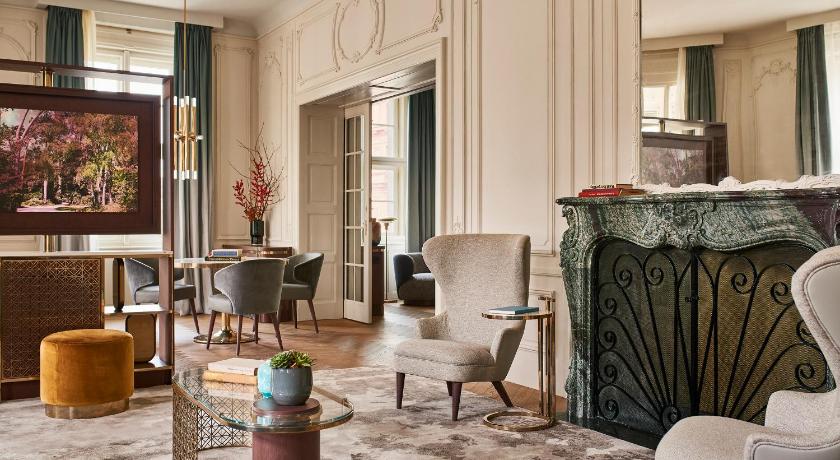 Andaz Prague is located on Senovážné square in the heart of the historical centre of Prague. The hotel encompasses the iconic Sugar Palace and takes inspiration from the rich local culture to provide an unforgettable stay. Part of the Hyatt group, this hotel is a juxtaposition of heritage and modernity that encapsulates local culture while offering luxury and comfort designed to elevate the senses.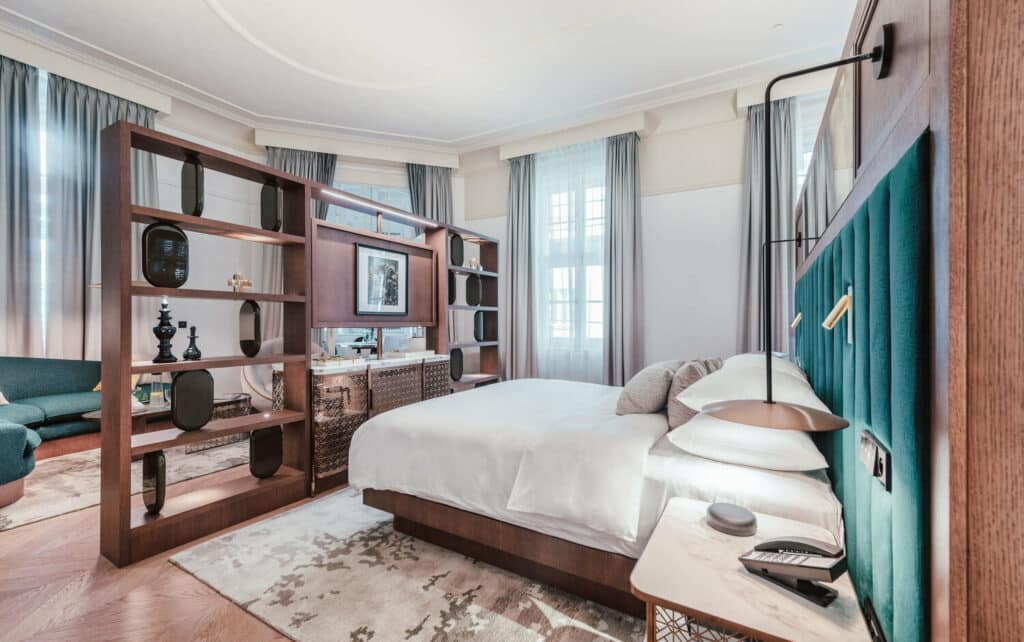 This stunning hotel design was created by Brime Robbins, specialists in interior design for hospitality environments. Their portfolio includes work for all of the large luxury hotel chains – Marriott, Hyatt, Hilton and IHG. Their website is full of inspiration.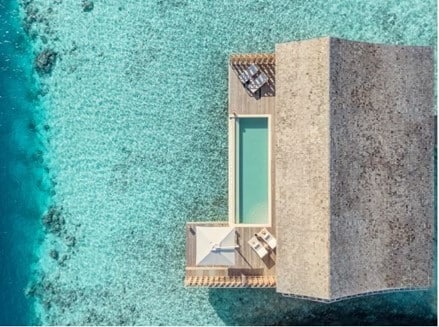 Moving from city-based hotels to remote, secluded locations that offer that complete sense of escapism. The following image is an aerial view of Kudadoo Maldives, a private island which is the archipelago's first fully sustainable resort.  The all-inclusive and exclusive resort boasts 15 Japanese style villas designed by Yuji Yamasaki, emphasising the characteristics of air and light.
Nominated for the Interior Design 'Best Resort' in 2019 and the Dezeen Award for Best Hospitality Architecture, Kudadoo isn't Yamasaki's only work on hotel design. His website is filled with sustainable hospitality projects all over the world.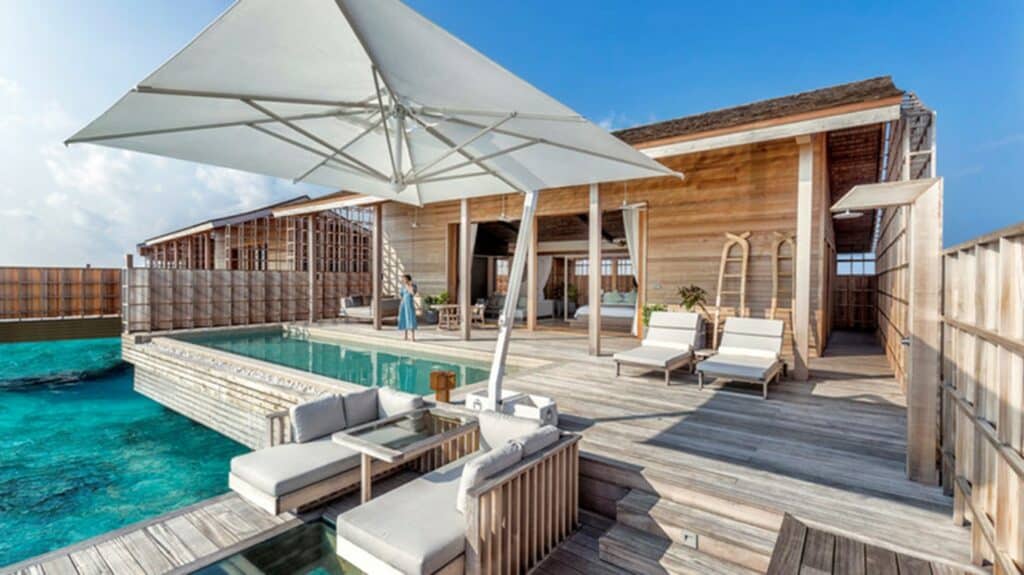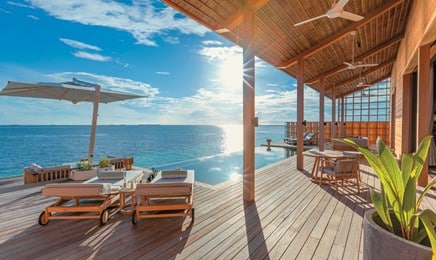 The Conrad, Washington DC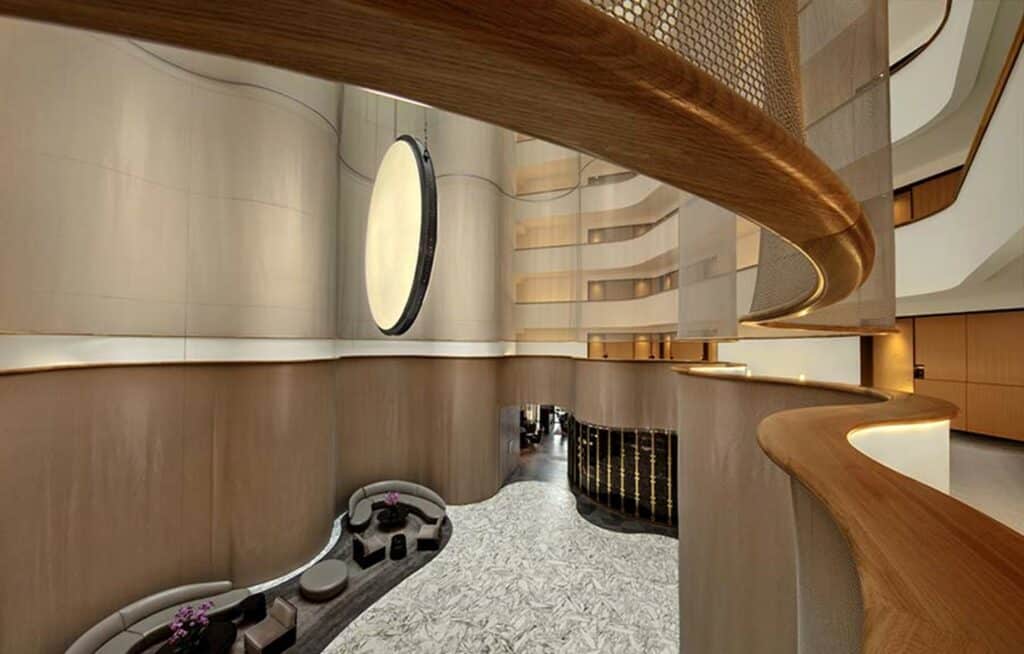 The Conrad, Washington DC is a contemporary urban escape that celebrates organic fluidity. The architecture is by the Pritzker Prize-winning Swiss firm Herzog & de Meuron and designed by Houston-based Rottet Studio. The hotel is part of Hilton's luxury portfolio, capturing a completely different design approach, a distinctive combination of art and style, with floor-to-ceiling glass walls in the guest rooms, an expansive skylit atrium, landscaped terraces next to the bar, a café on the third floor, and a rooftop garden. Located in the heart of the District, the hotel is a high-end, development featuring ten acres of luxury retail stores including the infamous Tiffany's.
Images: The Conrad, Hilton Hotels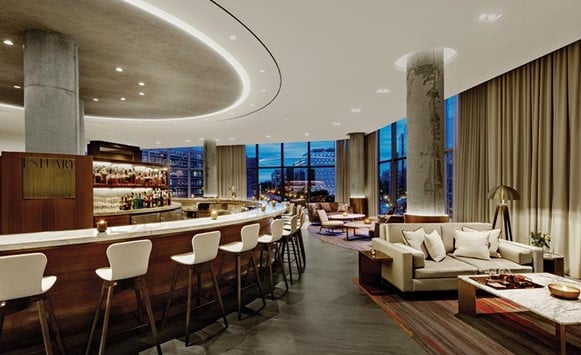 The Future of Hotel Design
The future of hotel design is and will always be an area of design that demonstrates innovation and sets a precedent not only in materials but in technology as well.  Areas of development for the future will most likely include, the digitalisation and implementation use of glass, artificial intelligent room controls, and everything becoming wirelessly controlled.
AI, and hospitality interior design practices are working together to provide predictions of what to expect to see over the next 15 years. The future and integration of technology will perhaps be a balance between AI and personal service that will compete and complement one another.
"Technology has quickly provided us with the ability to access things with touch and fingerprint recognition.  Digital showers are already on the market, however moving forward we expect to find digital technology boards which can detect the optimal shower temperature for your body by using the heat levels from the touch of a finger," says Sara Canatario, Product Marketing Manager at Guestline.
Jo Littlefair, the Co-founder and Director of Goddard Littlefair (an award-winning, luxury interior design studio) shares her thoughts on 'wireless hotel' concepts where keeping minimalism at the forefront when designing a hotel room will be of great importance. After designing rooms for The Principal Hotel, The Hilton Hotel, The Intercontinental Hotel, and the Marriott Hotel she believes it is crucial that luxury be blended with technology.
 "Plugs and sockets will probably disappear completely. The trend will continue towards hidden or invisible technology, with the provision that medical research on the effects of wireless connection has not come up with anything negative in the interim. The interface and balance between wellbeing and technology will be key,"
Let us know where you think the future of hotel design will be in 10 years' time and which hotels inspire you as a designer! Use the comments or head over to our social media feeds to join in the conversation.