In episode 3 of The Awkward Corner podcast, Stephen, SJ and Amy discuss their favourite and most influential design period. After much deliberation they each settled on one, although it was not an easy decision. Read on to find out which each of them chose…
Stephen - The Tudor Period
Splendid, dark oak panelling, sumptuous velvet fabric, decorative tapestries and exquisitely carved four poster beds.  Just some of the many features that make up the decorative nature of a Tudor interior.  Choosing a favourite period of design was a very difficult decision, as I have many, but there is something about the Tudor period in British history, which captures the very essence of early interior design in the UK.
A period of history that spans the reigns of five monarchs, beginning in 1485 and ending with the death of Elizabeth I in 1603.  This was a period of wealth and prosperity from the ever-expanding trade routes Britain had established.  A time when royal favourites were offered large amounts of land, allowing them to build large and lavish houses.  One of my particular favourites is Hardwick Hall in Derbyshire.
Hardwick Hall: National Trust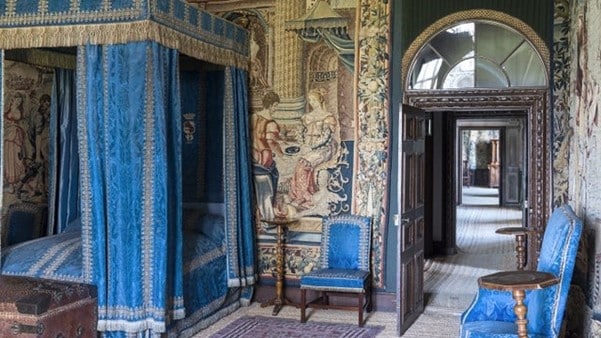 This country house epitomises the grandeur and status of its owner. Built for Elizabeth Talbot, Countess of Shrewsbury, this grand manor sits atop a hill on the outskirts of Chesterfield.  However, the imposing Elizabethan manor that is seen today is not the original.  Around the time of her fourth husband's death in 1590, she decided it was time to build something that would truly reflect her tastes, status and place in Elizabethan society.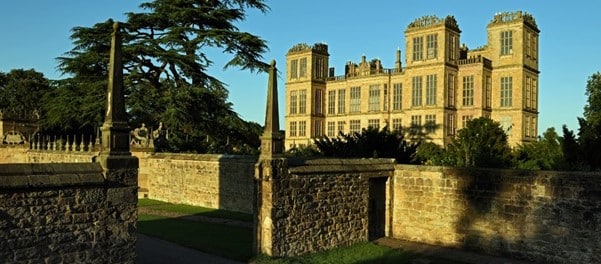 Rebuilding Hardwick was not difficult for the Countess; the dowager was one of the wealthiest women in England, after her namesake, Elizabeth I.  Commissioning Freemason Robert Smythson, who's' work already included the impressive Longleat, he helped her design one of the most distinguished and grandest houses of the period.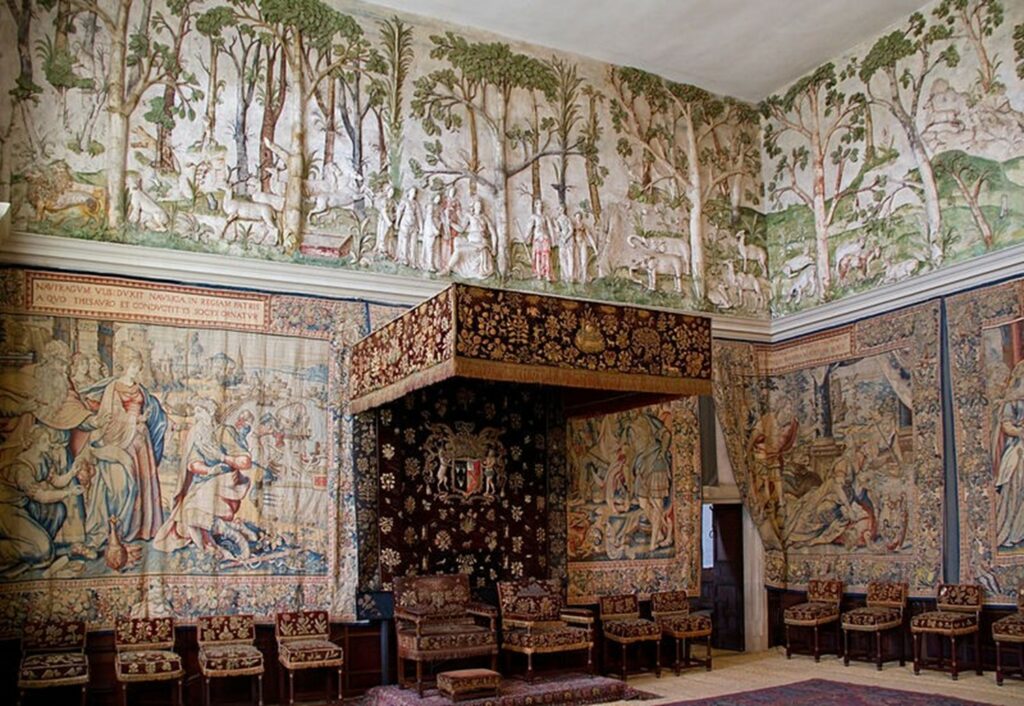 There are many great rooms within the walls of Hardwick Hall, but perhaps the most breath taking is that of the High Great Chamber.  A place where the Countess would often dine, surrounded by decadent tapestries hung from the walls and the ornate, detailed frieze that runs along the top of the room, wrapping itself around the entire space.  A design feature, which remains just as spectacular and imposing as the great woman herself, it is little wonder then, that she is remembered fondly as Bess of Hardwick.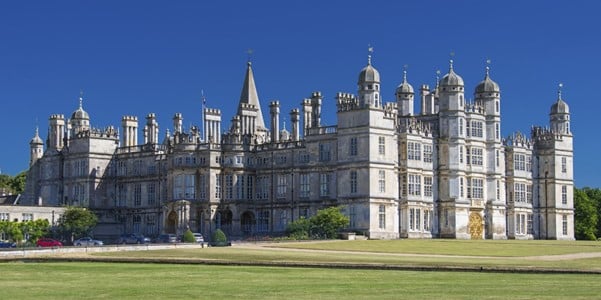 Another example of exquisite Tudor design can be found nestling in the Lincolnshire countryside. Burghley House is a testament to the design, craftsmanship and foresight of the period.  William Cecil, who became the Lord High Treasurer to Elizabeth I, commissioned the impressive house.  Such is the scale of the building; the lead roof alone extends to three quarters of an acre.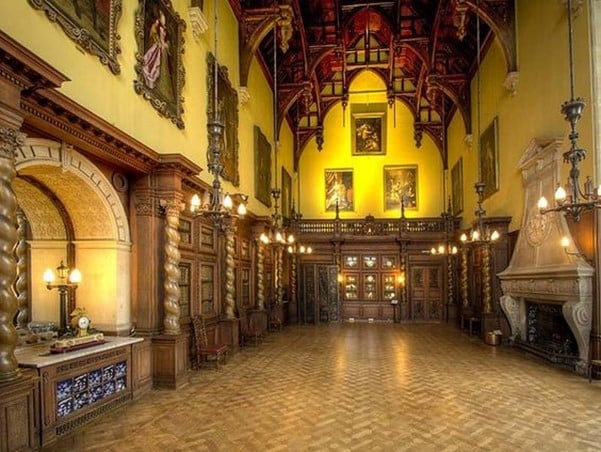 The Tudor period is a special period of design; it paved the way for a different approach to designing grand palaces and lavish country houses.  Both Burghley House and Hardwick Hall embrace the idea of natural light.  Something at the time that came with great expense.  However, this courage and foresight to look to the future would open the door for the likes of Inigo Jones and the Classicism he would bring back from Europe.  Taking British architecture and design in a completing different direction.
For more wonderful examples of Tudor design, take a look at the list I have made below.  These buildings maybe over 500 years old, but no other period of history quite evokes the past as much a Tudor building.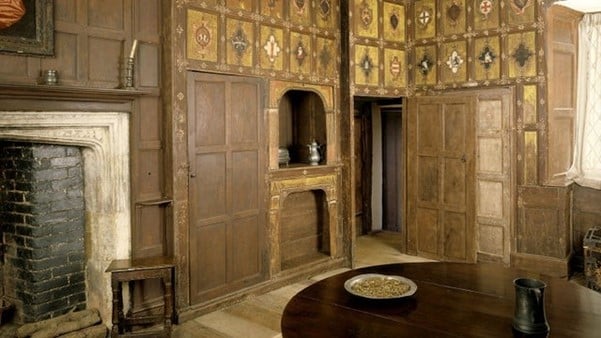 Canons Ashby, the family home of the Drydens since Elizabethan times, Canons Ashby's interiors include original late 16th century murals depicting Old Testament tales, vast chimney pieces and elaborate plasterwork featuring typical Tudor symbols of thistles and pomegranates. (NT, 2022)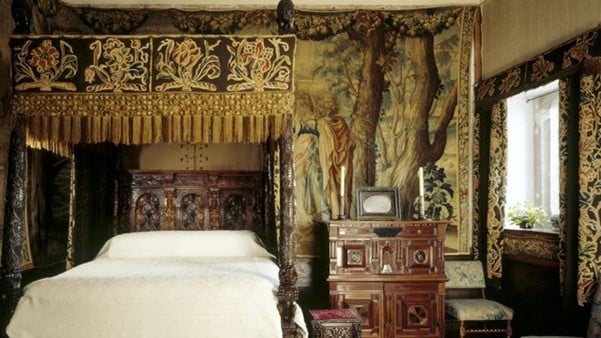 Cotehele, Cornwall, this atmospheric house with its superb collection of arms, armour, textiles and furniture, was built between 1485 and 1560 with later modifications. It features large Tudor fireplaces and ornate hangings. (NT, 2022)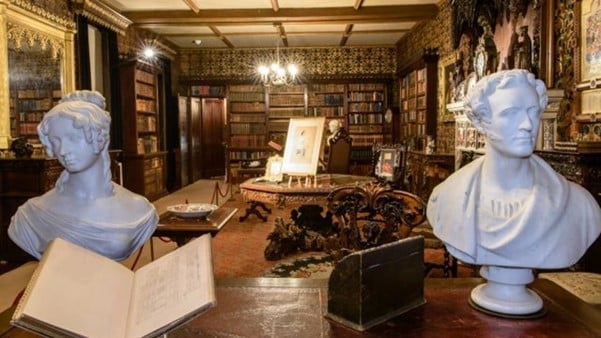 Oxburgh Hall, Norfolk, is the quintessential Tudor moated manor house has a magnificent gatehouse and accessible priest hole. The rooms show the development from medieval austerity to neo-Gothic Victorian comfort and include displays of embroidery by Mary Queen of Scots. (NT, 2022)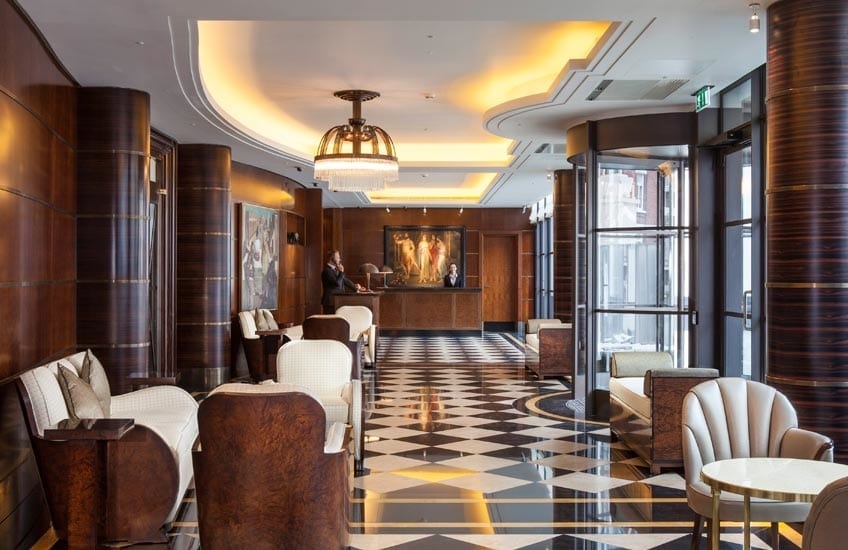 It is almost impossible to choose a favourite design period when we have centuries to choose from, however I have always had a soft spot for Art Deco, something which has been feed by one of my great loves, Golden Age Crime Fiction.  Christie, Mitchell, Sayer and Marsh, I cannot get enough, and any which take place in a classically Deco interior have my full attention immediately. Travelling on the Orient Express is a lifelong dream, and although this first started almost 20 years before the Art Deco period, there are many elements which are most definitely of that time period. Like the headboard in the Prague Grand Suite.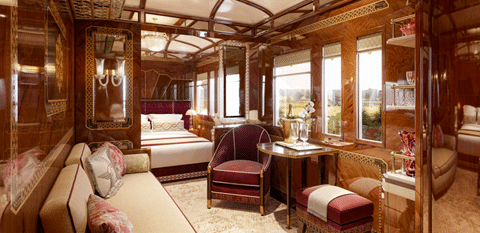 Art Deco emerged after the trauma of WWI, the roaring twenties were a time not only for reflection but celebration. It gave rise to a desire for opulence and decadence, with materials and finishes including ebony, ivory and plenty of gold trim. In this period designers such as Émile-Jacques Ruhlmann emerged using exotic materials.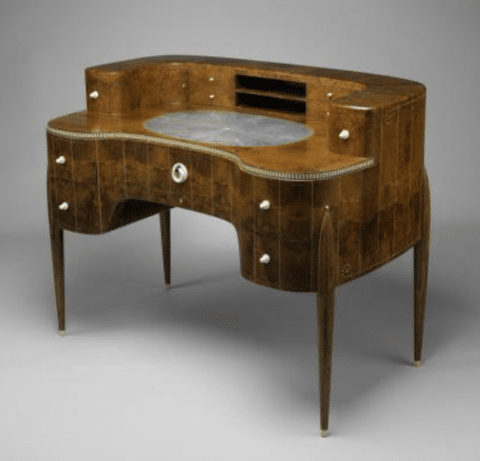 The period is easily recognisable through it's use of motifs such as zigzags, chevrons, step formations and triangles. As well as the occasional scantily clad woman…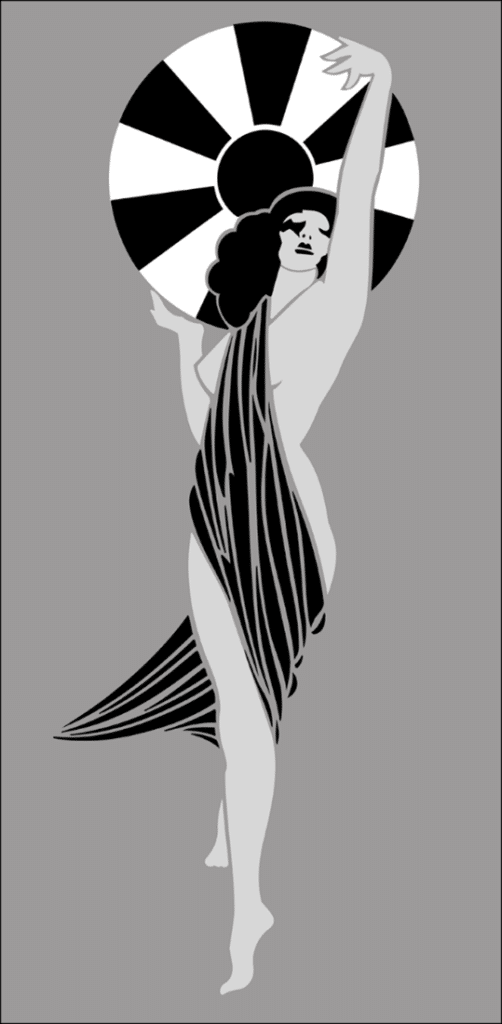 This is a period that gave us treasures like Clarice Cliff's Bizzare Ware, which was abstract, geometric as well as affordable. Cliff was hugely influenced by the Art Deco period, and is still one on Britian's most revered ceramicists.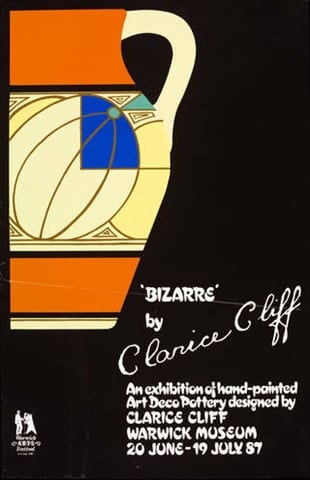 I was recently lucky enough to visit The Empire State building, and this has to be one of the best examples of Art Deco architecture and design on an international level. Completed in 1931 and up until 1972 was the world's tallest building.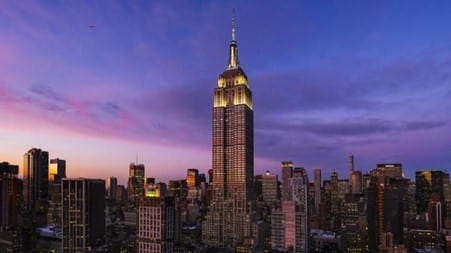 There are now two lobbies in the building, the first a contemporary lobby added as the initial entrance for visitors, however on your way out you'll get a chance to visit the historic golden lobby adorned with traditional art deco motifs, including an image of the building with the classic sunburst emblem behind. The skyscraper itself even became an artistic motif, used as a celebration of technological achievements at the time.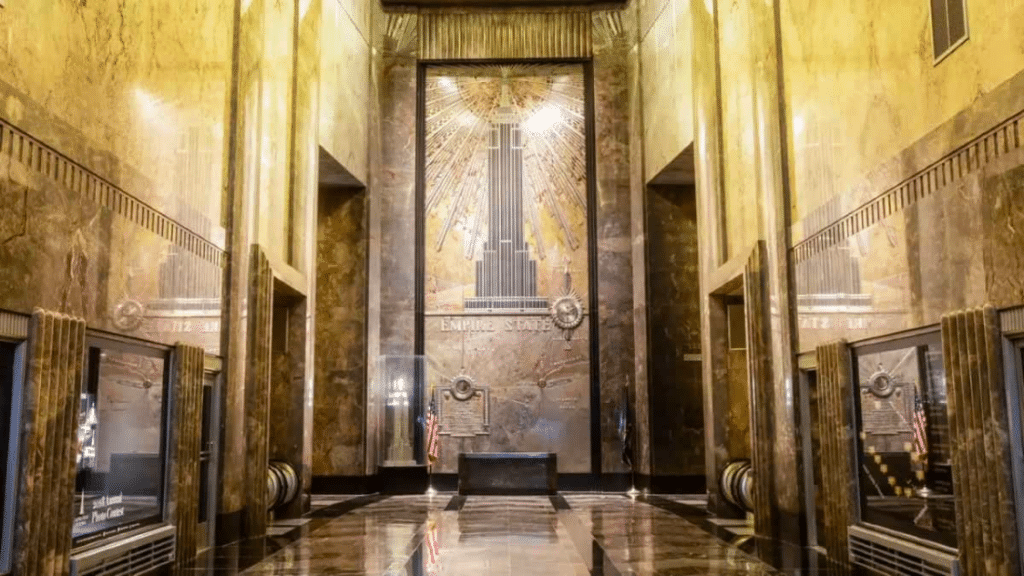 The Hoover Building, is one of my favourite British buildings. Based in West London, the first part of this property was finished in 1932, and designed by Wallis, Gilbert and Partners. Again, the sunburst pattern can be seen in the extraordinary entrance, surrounded by the black wrought iron geometric railings, which perfectly frame the expansive white and green of the façade.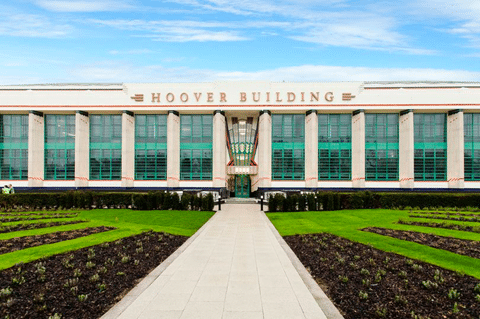 I could talk for hours about this wonderful period, it's ethos and technological advances not to mention it's significance to the Women's rights movement. But really there is only one way to truly experience Art Deco for yourself, and that's by visiting one of the buildings from the period and immersing yourself in the grandeur.
SJ - Georgian & Regency Period
Last, but certainly not least – one of the most insightful periods that definitely has something for everyone. The era that is beloved by so many is the Georgian and Regency period. This era spans the reign of the four Hanoverian King Georges from 1714 to 1830, marked by the death of George IV in 1830. 
The Georgian period did not just consist of one architectural and design style but changed throughout so that it encompasses many of the elements we love and admire today. From Baroque, Palladianism, Rococo and Neoclassicism to Regency, early, mid and late Georgian offer something that everyone can admire and take inspiration from.
The Georgian era brought about a new social lifestyle that included lavish parties, book collecting, and parlour games. It also brought with it a style consciousness where people decorated and furnished their homes, not only for function and efficiency but also for aesthetic merits and sophistication. The Elegance of Palladian design is so typically representative of the Georgian period characterised by balance, symmetry and proportion, quintessential British elegance.
The popularity of Baroque continued into the early eighteenth century, at which point it was promptly rejected in favour of the purer neo-classical forms advocated by Palladianism. A new generation of architects began intentionally reviving Palladio's vision to replicate the principles that had underpinned this ancient architecture. This included proportion, symmetry, and the correct use of the classical orders, championed by architect Robert Adam. 
Drawing of a view of the Gallery, or Library, Syon House, Robert Adam, 1763 – 73, London. Museum no. E.1063-1940. © Victoria and Albert Museum, London. www.vam.ac.uk
Another typical example of Palladian architecture and design is Basildon Park, Berkshire. The rooms include intricate plasterwork ceilings and classically inspired furnishings.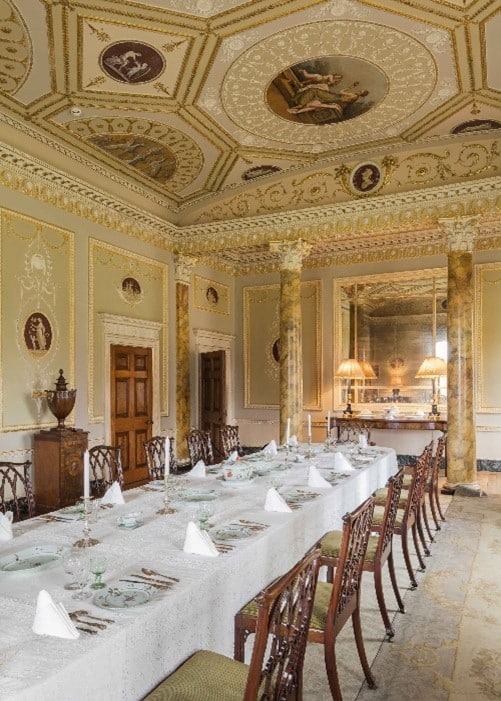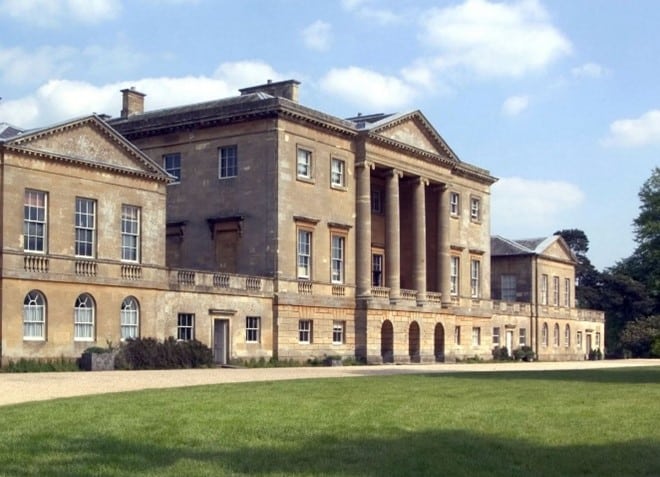 The Dining Room at Basildon Park. Photograph © National Trust Images/James Dobson
Characteristics and Features of the Georgian & Regency Period
Characteristics and features typical to Georgian and Regency properties were the use of semi-circular fanlights above the front entrance doors as well as cambered arches over the sash windows. The front façades of houses used the key features of proportion, order and symmetry for alignment.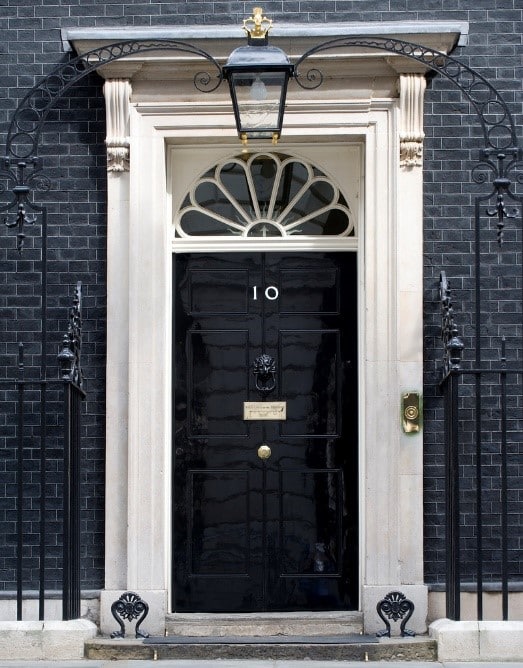 Panelling was replacing plaster on interior walls, which was a predominant feature both then and now prevalent to contemporary interpretations of the Georgian period and adding character to walls in contemporary homes today.
Semi-circular fanlight above the front entrance door here also boasts columns, stonework and pilasters that surround this famous Georgian front door.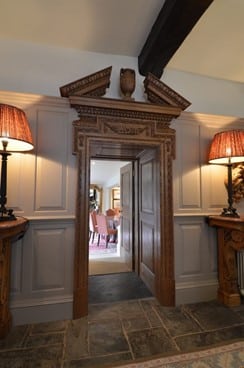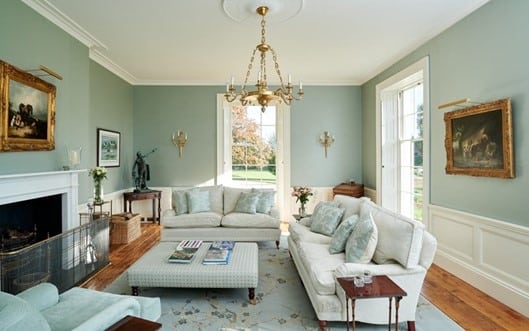 The Sash window is a truly emblematic and fashionable feature of the period and one of the most used styles of sash windows was the six panels over six panels. They were both aesthetically pleasing and functional by allowing anyone to fractionally open them.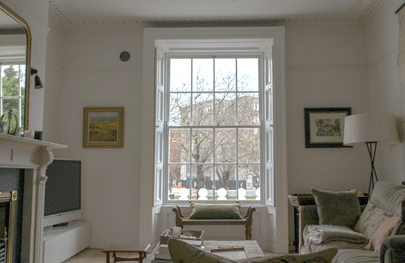 Georgian doors and mouldings were designed with fastidiousness to mimic the detailed order of classical columns and towards the end of the Georgian period, you can see an outburst of different moulding styles.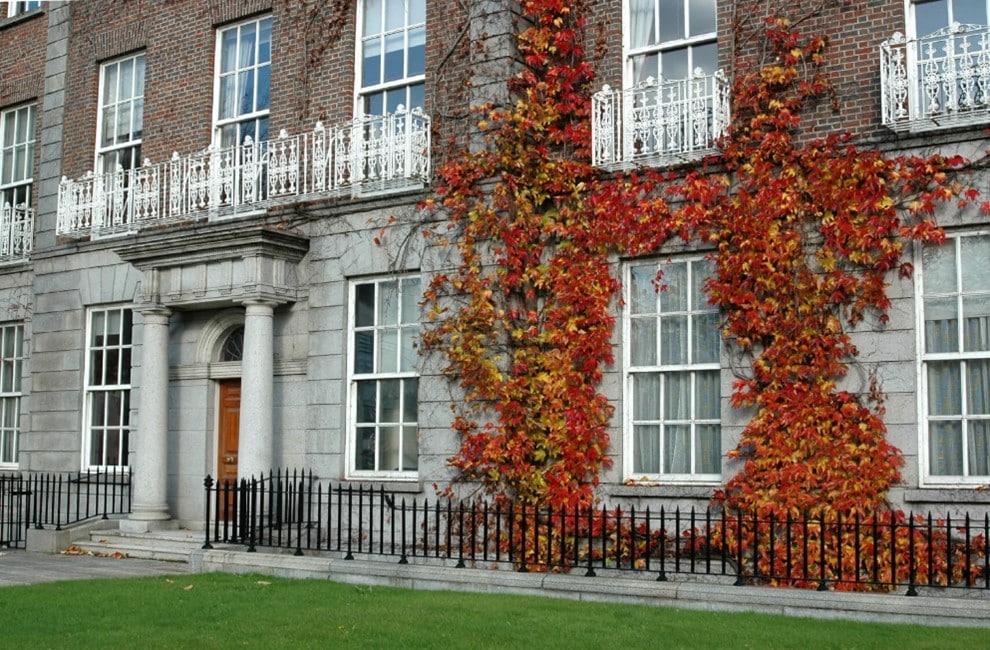 Other elements typical of the period are embellishments to alcoves, doors and mouldings. Rooms were designed so that everything was seen as a whole, so that skirting boards, architraves, fireplaces, dado, and ceiling details all had related shapes.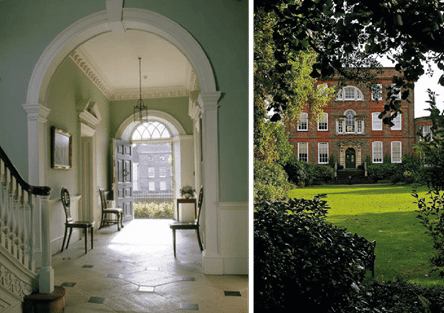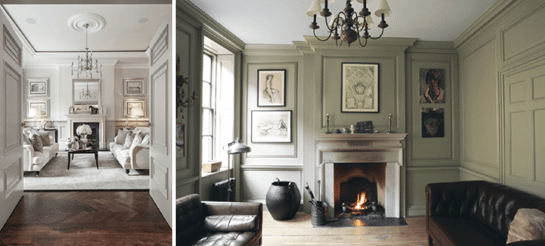 Examples of Georgian Houses to Visit
Influential Designers of the Georgian Period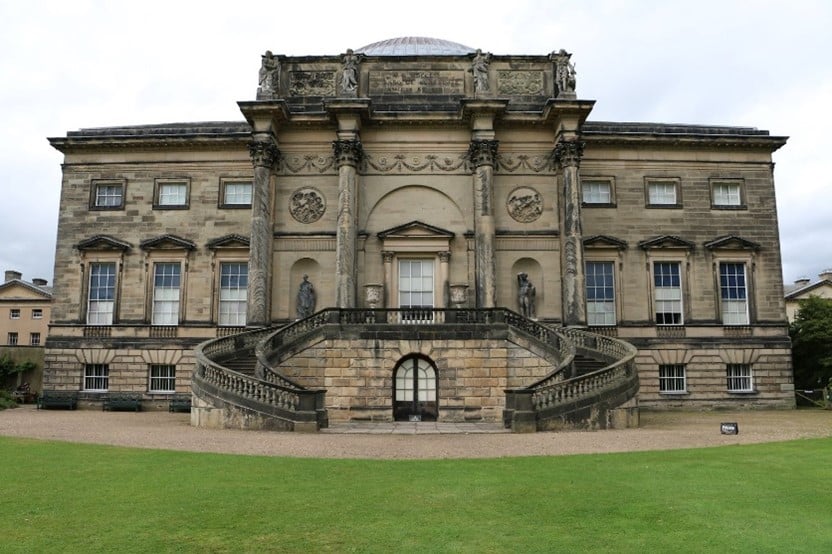 Robert Adam – British neoclassical architect, interior designer and furniture designer. The image above shows Kedleston Hall, designed by Robert Adam.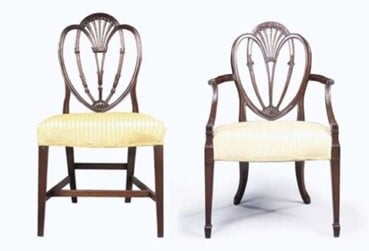 George Hepplewhite – Furniture maker in the late Georgian period.
Contemporary Designers to Look Out For
Have a look at the following designer's portfolio for contemporary Georgian interiors today by Etons of Bath.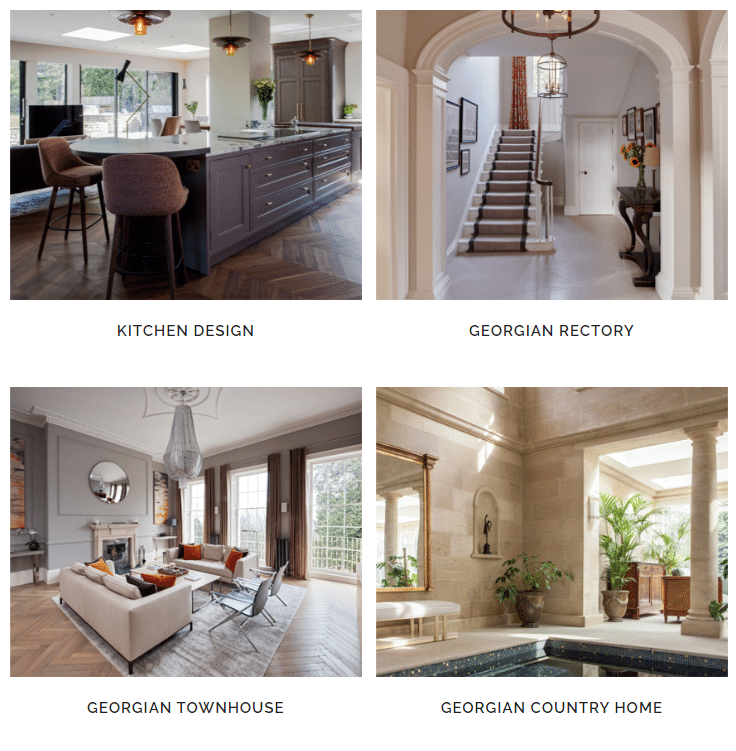 'Etons of Bath are a multi award winning practice of experienced interior designers and project managers in Bath and Bristol focused on classically inspired interiors. We have a unique specialism in Georgian and Regency homes and hotels.'
The Awkward Corner Podcast
Each week our tutors discuss a different design topic and debate the good, bad and ugly in design.