Garden Design courses are popping up all over the internet and the longer we spend in lockdown, the more time we're spending outside. So, if whether you're looking at recreating the Hanging Gardens of Babylon in your own back yard, want to study something worthwhile to develop on a passion or fancy getting a new garden design and landscaping business underway, here are some of the most frequently asked questions about our Outdoor Living and Garden Design Courses.
Do I need to be able to draw?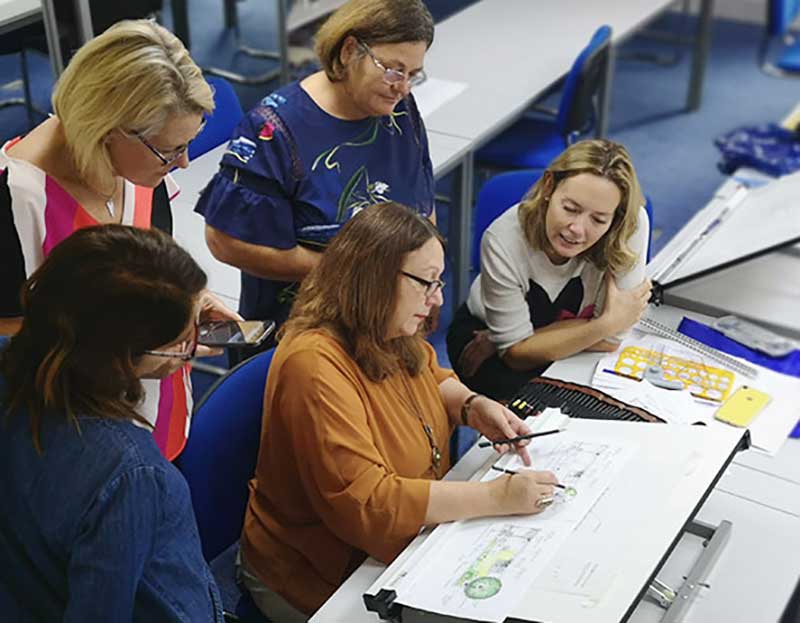 On the Diploma course, we teach you how to produce professional plans, visuals and presentation boards, guiding you on correct techniques, graphics and layout.  If you already have drawing experience, then clearly that is an advantage but we also support and develop less confident students.  In addition to resources on our online platform, the Virtual learning Studio (VLS), our tutors are always available during office hours to give additional guidance and support, whether that be via telephone conversations, Skype calls or emails. 
Drawing, like most things, is a skill that can be learned, and we do all we can to help students find their own personal style. Some students take advantage of free CAD software for the duration of the course although this is hugely time consuming to learn.  We'd always recommend that a beginner learns to draw by hand first.
Our BA (Hons) Design for Outdoor Living degree blends Interior Design with Garden Design and assumes that you have already studied a Diploma or other qualification in one subject or another. As with most design degrees, you'll be expected to communicate visually in a confident manner.
What equipment will I need to start the Garden Design courses?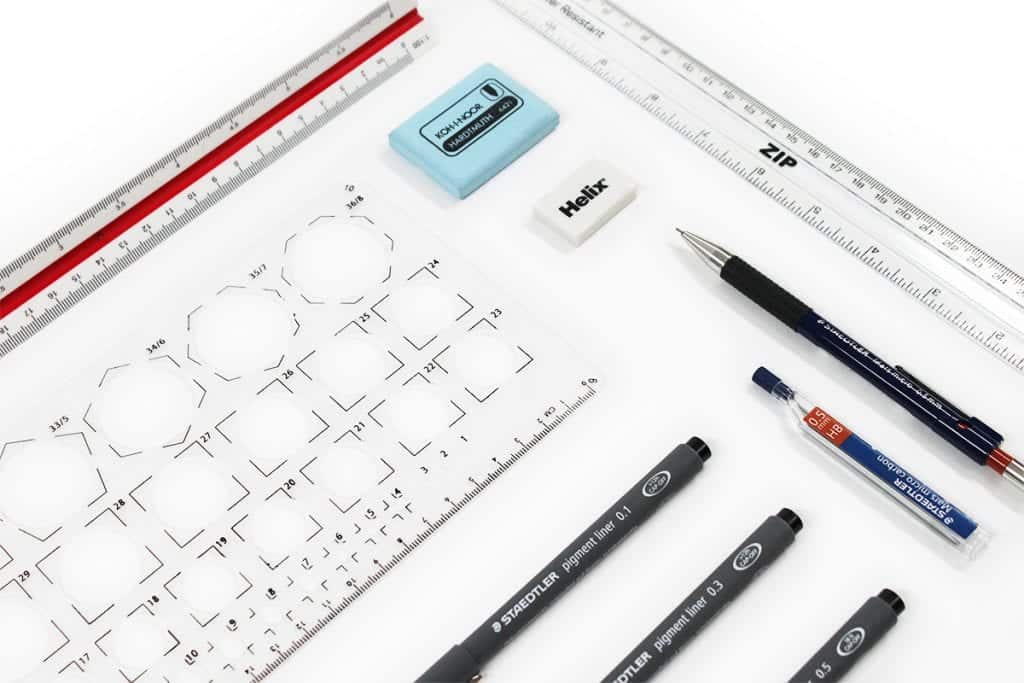 We provide a list of equipment you will need, much of which can be ordered from the NDA shop, even at the moment during lockdown.  A very basic kit can be bought for as little as £19.95 but, in addition to this you'll need an A3 drawing board with parallel motion, a compass with long arm extension and, of course, paper (tracing paper and layout paper).  Drawing equipment isn't required until the third unit so you can start the course without having to wait for it to arrive. 
One of the biggest benefits of studying an online garden design course is that it frees you from the restrictions of term-times. You can start the course at any time of the year, which is so useful right now. Our tutors are also available during school holidays, apart from two weeks at Christmas, so you're never without support.
How much time will I need?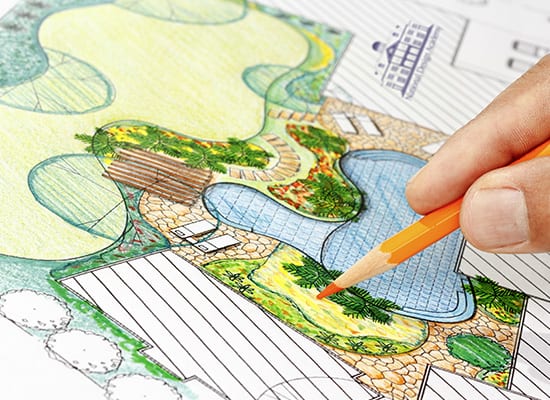 For the Garden Design Diploma, on average, you will need around 9 hours per week, but this can vary, depending upon how challenging or straightforward you find each assignment and how quickly you are able to work. Obviously, the more time you can dedicate, the faster you'll finish the course.
The BA (Hons) Design for Outdoor Living obviously takes longer. We say 'three years flexible study' but you can take up to 5 years to complete the course. Any full-time university course assumes that you'll spend 21 hours per week studying. This equates to just over four hours per day, five days a week, 'term-time' only and allows you to complete the course in 3 years. When you study with the NDA, there are no term times and you get 8 weeks holiday to use in each year of study, shrinking the amount of tine needed to complete your course. Study full, or part-time and fit your studies around your other commitments in life!
There are no exams at all on any of our Garden Design courses.  The course is awarded entirely based upon the work that you present at the end of each of 10 units (Diploma level) or modules of the BA degree.  Even in the worst-case scenario where work is not of a sufficient standard to pass, students are given two further opportunities and tutors will give every support to explain very clearly what needs to be done.  Our aim is to see you succeed!
Do I need to find a garden to use for the course?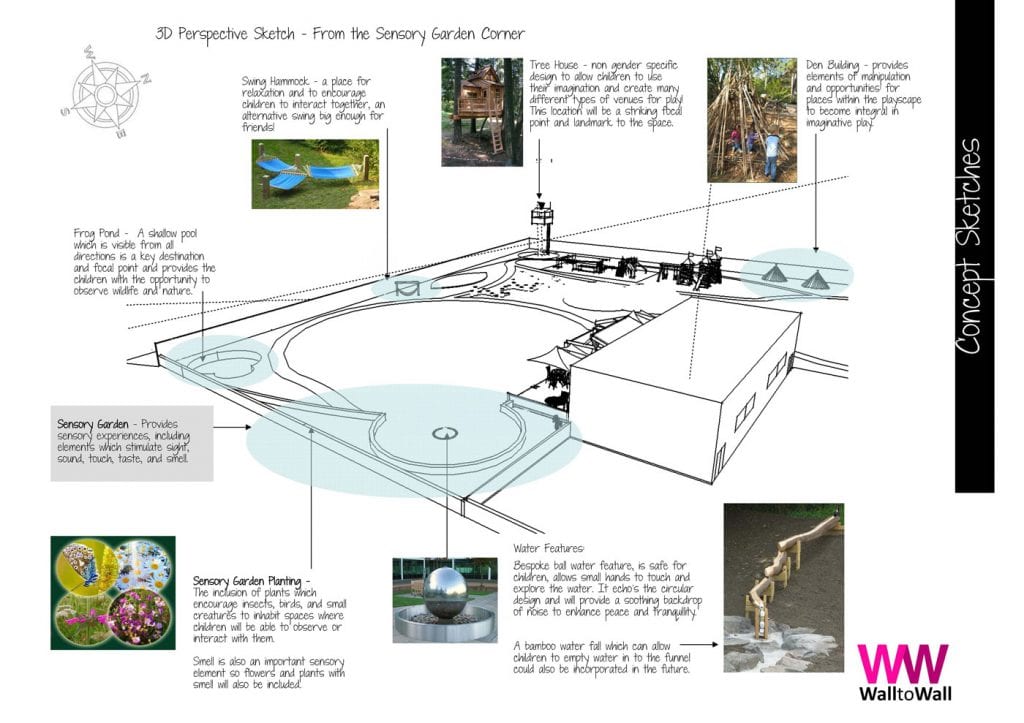 During the course, you will have the opportunity to design two gardens, both of which are for fictitious clients/sites that are provided in the course material. You don't need to have a physical space to work with so you can study our Garden Design courses even if you live in an apartment!
What will I get at the end of it?

On completion of our Professional Garden Design course you'll receive an accredited Diploma which is internationally recognised. Our BA (Hons) Design for Outdoor Living degree is awarded by De Montfort University, where you'll take part in the full graduation ceremony.
Whichever course you choose to study with the NDA, you can be sure that it's an accredited, professional qualification which employers and other training providers will recognise. If you choose to study at Diploma level, all Universities will accept the Diploma for entrance onto a degree course. If you decide to continue your learning with the NDA, you'll also receive a progression scholarship towards your tuition fees.
Our Professional Garden Design courses have been created to give you the very best grounding in the industry. You'll learn all the fundamentals to be able to design and landscape your own garden or outside space, start a new career or build on an existing business. Our garden design course can be studied online or in our Nottingham studio.
Can't Wait to Get Started?
Our application process is quick and simple.