Over the past ten years, porcelain paving has become a highly popular choice for the contemporary garden.  One enormous benefit is the ability to use it both inside and out, providing the opportunity to create a continuous surface from house to garden. There are a great variety of colours and styles from which to choose and this is increasing every day. Porcelain paving has been around a relatively short time so how much have we really learnt about this product? In this blog, Garden Design tutor and expert Gill talks us through the durability, practicality, cost and environmental impact of porcelain tiles for outdoor use.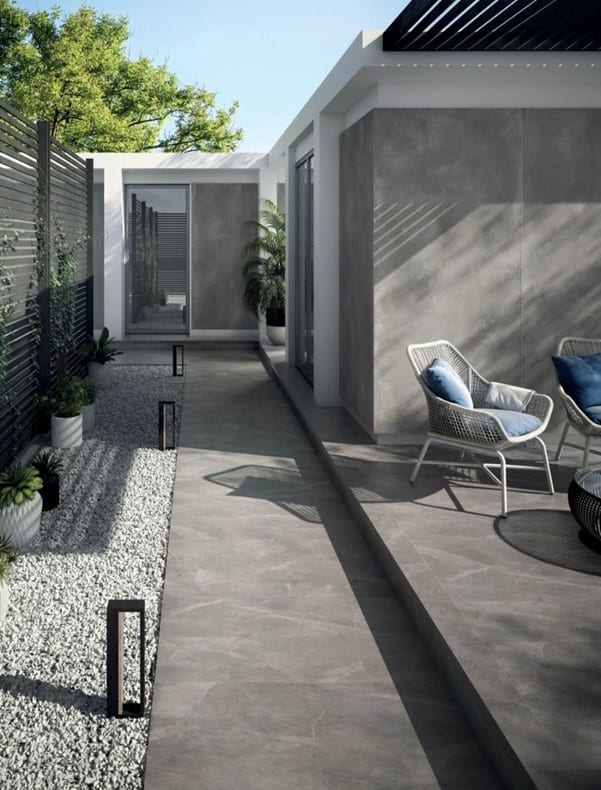 Is Porcelain Paving a Premium Product?
While the cost of installation may be comparable to stone, (£50-£75 per square metre), landscape contractors often will argue that porcelain paving should be seen as a premium product.  Traditionally, Italy, Germany and Spain have been volume suppliers, but the market has expanded to many other countries, such as India and China. As manufacturing costs are so much lower outside of Europe, products from Asia can be much cheaper.
With competition there are also technological advances and Asian factories may also manufacture in larger quantities.  However, if you select an inferior product, it's important to allow for the increased costs of laying and wastage so choose carefully. One of the best ways to make sure that you're getting a quality product is to ask the advice of an experienced supplier who is familiar with the product.

Laying Porcelain Tiles Outdoors
There are two main ways in which porcelain paving can be laid.  The gold standard method would be to lay it on a concrete raft (e.g. 150mm with mesh).  Moisture should always be kept away from the underside of the tile and this is achieved through the use of an appropriate membrane. 
Alternatively, porcelain tiles can be laid over a sub-base of MOT type 1 and a sand/cement mortar bed with a primer.  A C2 class tile adhesive is used to bond the tiles to the surface below. 
The key to successful durability of the finished paving is fully to understand the product being used, the water table and ground conditions.  For example, there have been incidences of tiles having been laid in the traditional method for paving, then having to be taken up due to land-heave and re-laid over a concrete raft.
Tiles may also be laid on a pedestal system with 5mm gaps or rubber gaskets.  This tends to be more common on roof gardens but it's important to understand what happens to the water as it percolates and ensure that there is a suitable run-off.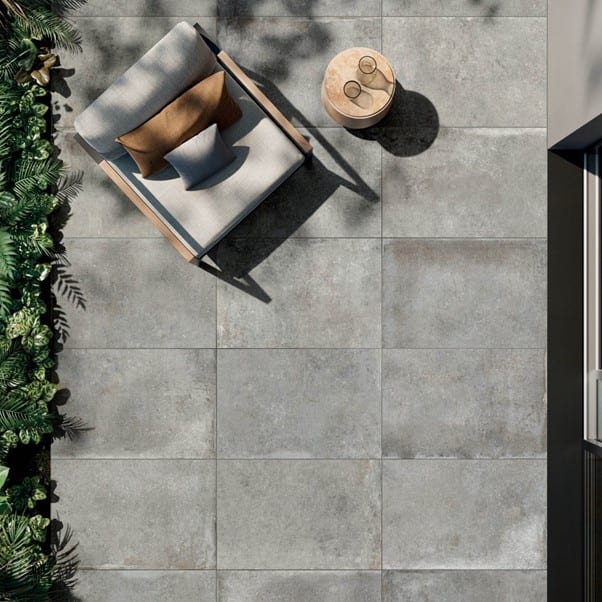 Cutting Porcelain Paving to Size
Porcelain tiles have to be wet cut and inferior quality products are particularly temperamental in this regard, so expect this to increase the cost of a project both in terms of time and wastage.  Edges should be chamfered because a cut corner is sharp enough to cut someone's toe! 
Of course, no hard landscaping is maintenance free and porcelain is no exception.  Tiles, especially if they are light in colour, must be kept clean and tidy as they are prone to staining, especially by the tannins in leaves.  Some suppliers and contractors will recommend a sealant, while others will advise against due to its tendency to break down.  Certainly it is not required and perhaps this is a conversation to have with your client and contractor.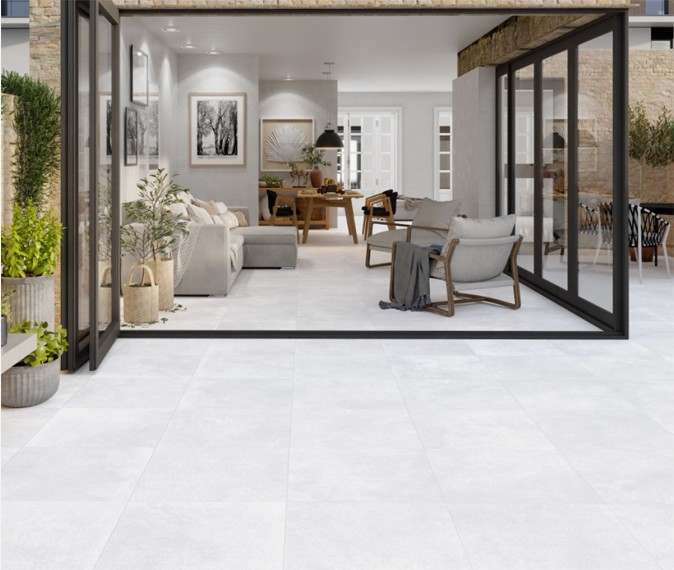 The quality of the product is directly affected by the duration and temperature of the baking process.  Competition and technological advances have driven down prices but beware because the quality varies enormously.  Cheaper products are likely to be more difficult to lay, being more prone to snap during handling and often have greater variation in the surface finish, for example with bowing present.  Sourcing a cheap product will often lead to a greater proportion of wastage of product and time on site and a disappointed client. Be sure to discuss this prior to quoting.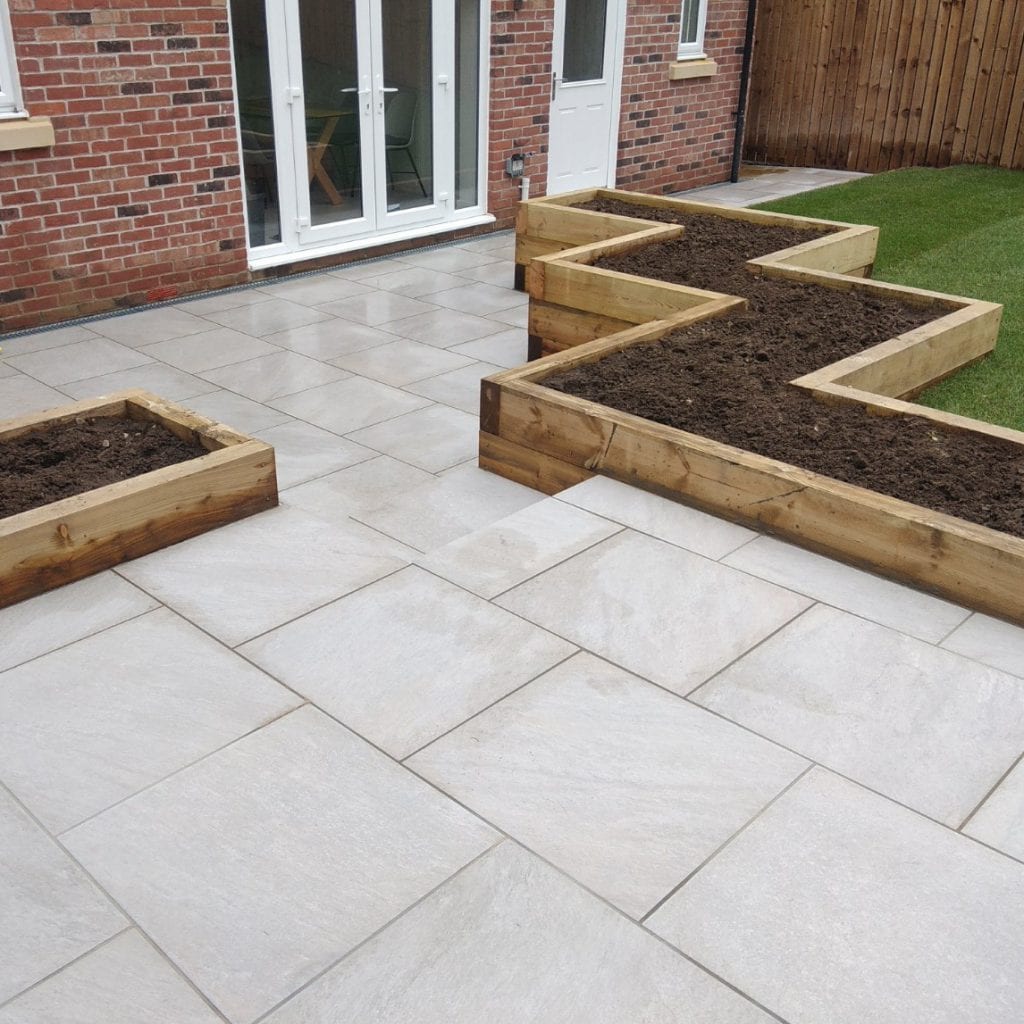 Are Porcelain Tiles Environmentally Friendly?
The carbon footprint of porcelain paving is impacted not only by its method of raw material sourcing, manufacture and transportation, but also but the manner in which it is installed.  The clay, sand and kaolin used to make porcelain appear to be relatively environmentally friendly and although not inexhaustible, they are in plentiful supply.
Responsible manufacturers such as CASATUA recycle all water and porcelain waste back into the manufacturing process.  You may also wish to consider the source of electricity used in the manufacturing process.
But what of the tiles that are taken up in a few years when the current fad has passed?  We don't yet have a method for removing bonding from the rear of tiles that have been taken up and this may have significant implications for recycling.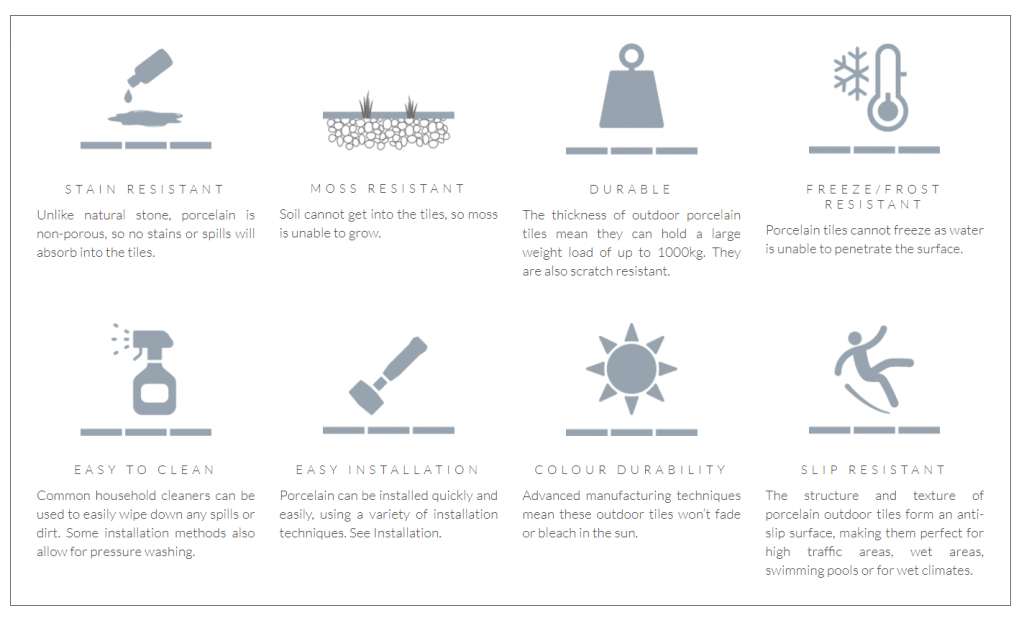 A Sustainable Future in Garden Design
As designers, we have a responsibility to do what is right for our clients and for the planet – sometimes this means not doing the obvious.  One of the implications of installing a product that is 'on trend' is the certainty with which we know it will be ripped up and replaced by the new craze in the relatively near future and so the questions relating to sustainability and recycling are of great importance.  Moving forward, it has been suggested that a traffic light system applied to landscaping materials and planting would be helpful to designers, clients and contractors alike and this is certainly something I would welcome.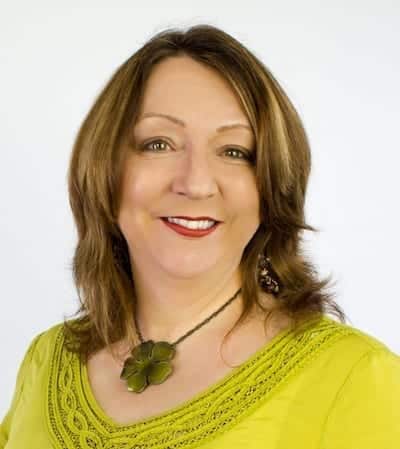 Graduating from the English Gardening School (EGS) with Distinction and 3rd prize, Gill Lotter has a been a practising Garden Designer for just over 20 years. She has also taught Garden Design and Horticulture at Pershore College and Moreton Morrell.
Having worked on a wide range of projects, from large rural gardens of several acres to small town courtyards, Gill is a mine of information on traditional and contemporary garden design methods and materials.
Want to Create Beautiful Outside Spaces?
Our Professional Garden Design Diploma requires no prior experience, just a passion to grow! Learn at your own pace online or via Zoom or keep an eye out for our In-Studio course dates.